A sweet cherry crisp topped with a crunch from toasted almonds - and best of all - it doesn't require an oven! Get the ice cream ready, you are going to want to dive in!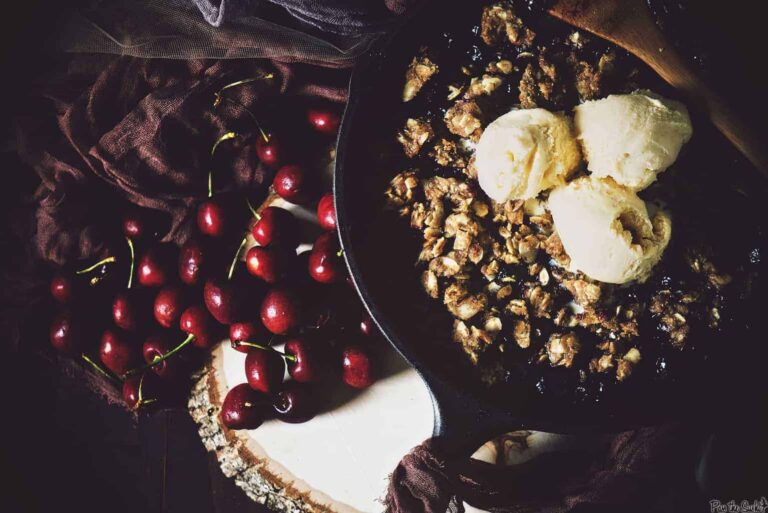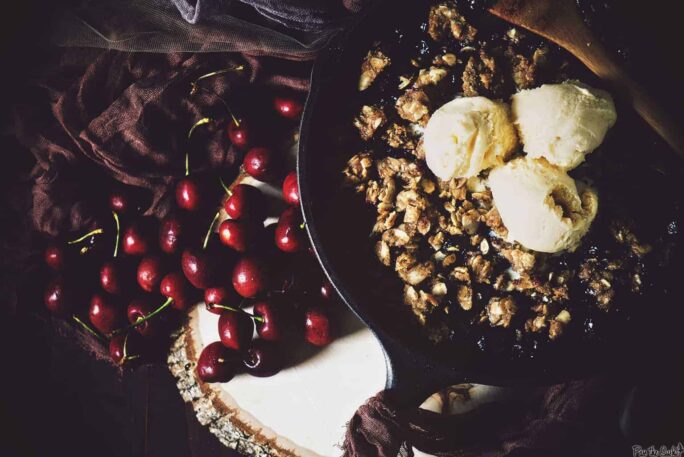 Did your family take camping trips growing up? Do you still go camping? I love it. Something about getting a little lost in the woods makes me happy. I love cooking over a fire and wandering around for hours. I could sit on one rock and enjoy the noises around me all afternoon... but, camping doesn't like me. It's definitely a one-sided relationship. Let's not talk about the great mosquito infestation of Chincoteague Island when I was a child and the giant mud pit I collapsed into.  Last time I pitched a tent it suddenly was monsoon season, the tent pretty much blew down the mountain, and the water at our campsite wasn't functioning. Every single time I camp, rain. And not a little light oh we can still walk about rain. Sideways hate your life rain. For days. For anyone who has been in a tent in weather like that, you are with me when I say, no fun. I'd do it again in a heartbeat.
It's full on summer camping season and I can't say I'm not tempted to try. Maybe it's been a few years and Mother Nature and I can be besties again. I want to roast marshmallows over an official campfire and snuggle into an awesome sleeping bag just to find the one out of place rock and make due all night. I want to get in some serious hikes and laugh under some amazing views.
Are there any wild wilderness adventures on your summer plans? I'd love to hear about them! Or any funny stories that share in my camping misery 😉 We can roast marshmallows together.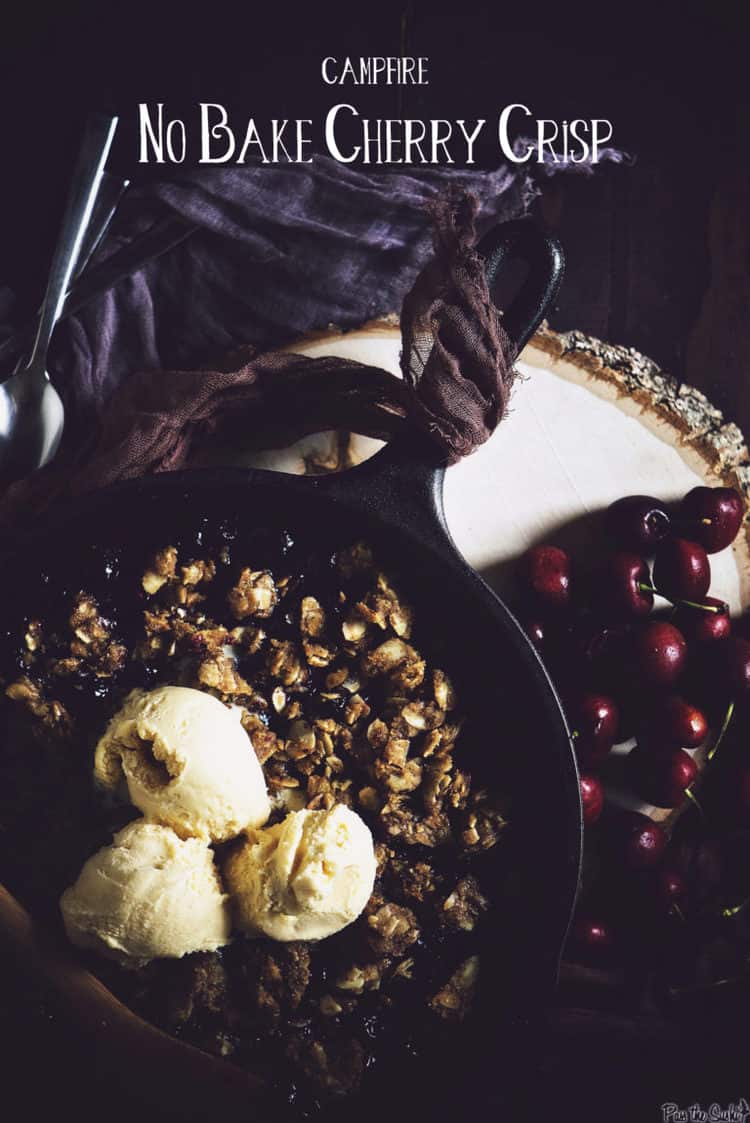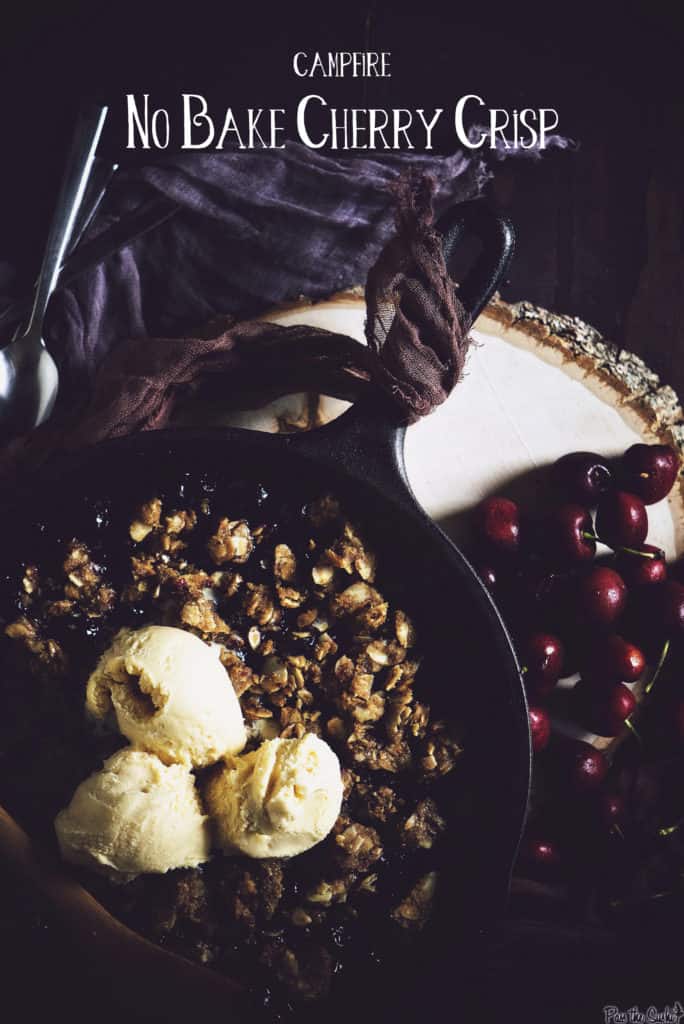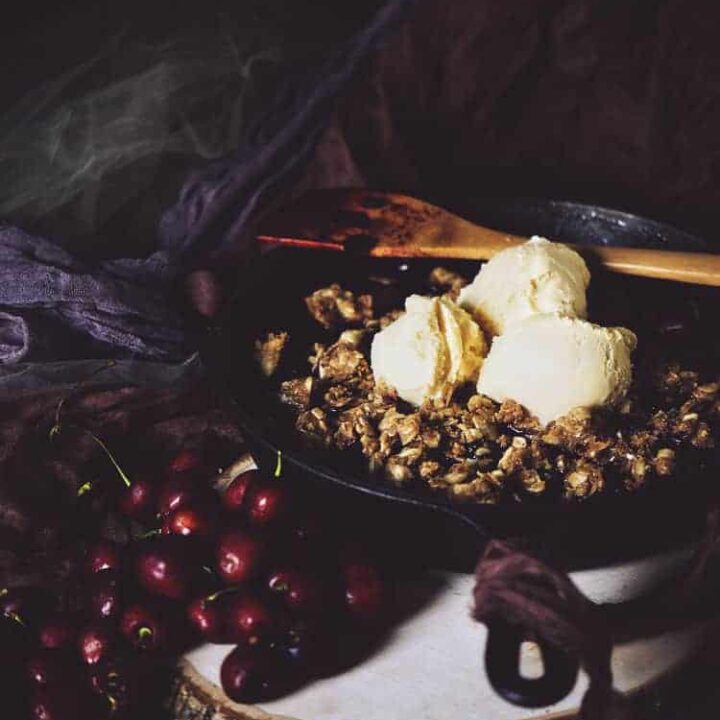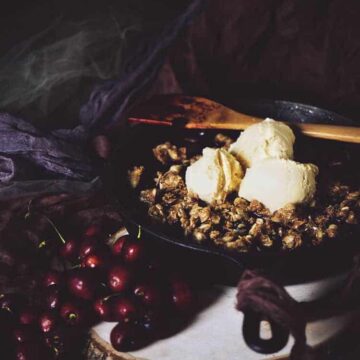 Ingredients
For the Topping
¾

cup

sliced almonds

¼

cup

flour

¼

cup

light brown sugar

¼

cup

sugar

½

teas vanilla

¼

teas ground cinnamon

¼

teas salt

4

tbs

unsalted butter

-

melted
for the Filling
½

cup

sugar

1

tbs

cornstarch

2

lbs

frozen sweet cherries

1

tbs

lemon juice

1

teas vanilla

½

teas salt

¼

teas amaretto

⅔

cup

dried cherries
Instructions
In a food processor, pulse ¼ almonds until chopped (about 3 pulses) with the flour, brown sugar, sugar, vanilla, cinnamon, and salt. Add the butter in a stream and pulse until the mixture resembles coarse sand (1 - 3 more pulses). (If camping, pulse the almonds ahead of time to have ready for this step - use a large bowl and a wooden spoon instead of the food processor).

In an oven safe 10" skillet, toast the remaining sliced almonds over medium-low heat, about 4 minutes. Add the flour mixture and cook for 6 to 8 minutes, stirring often, until just browning. Transfer to a bowl and carefully wipe down the skillet with a paper towel.

Make the filling by combining 2 tbs sugar and cornstarch in a small bowl. In the skillet, add the cherries, lemon juice, vanilla, salt, and almond extract. Cook covered for 7 minutes over medium heat. Stir once or twice while cooking. Remove the lid and stir in the dried cherries. Cook 3 to 4 minutes longer until the dried cherries have softened.

Over a low simmer, stir in the cornstarch mixture, until thickened (about 3 minutes). Remove the skillet from the heat and sprinkle the topping evenly over the cherries. Return the skillet to the heat and cook until the filling is bubbling, a few minutes later.

Remove from heat and allow crisp to cool 30 minutes before serving with ice cream.
Notes
Cook's Country June/July 2014
Nutritional informations provided as a courtesy and is only an approximatation. Values will changes based on ingredients used.
⭐ Tried this recipe? Rate it ⭐
Help out the next person and give it a star rating below!