Red velvet krispie treats are a chocolaty version of classic rice Krispies treats with everyone's fun favorite red cake flavor. Festive enough for the holidays, but delicious enough to eat any time of the year.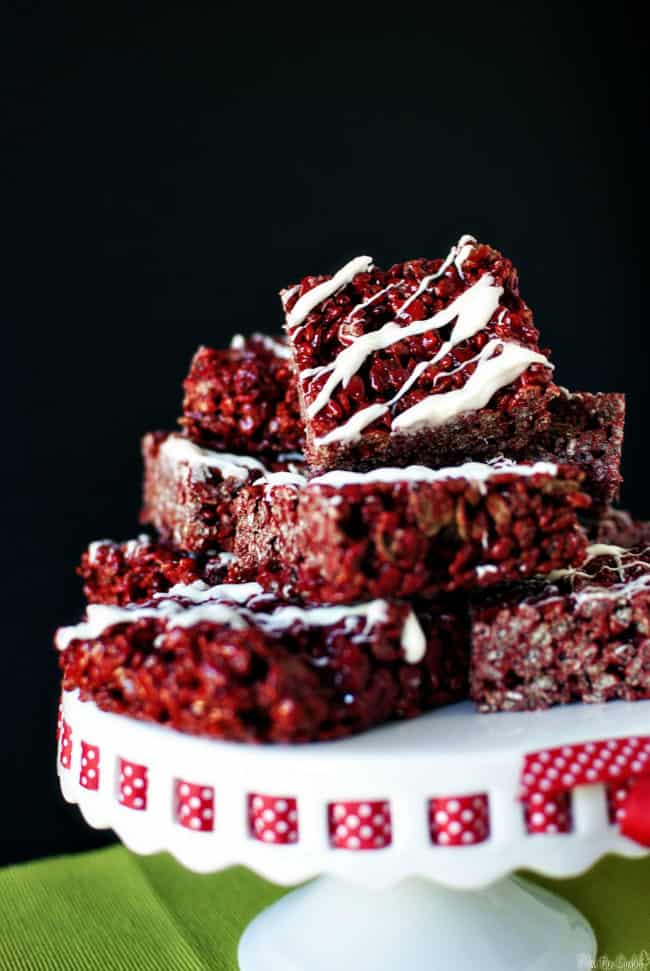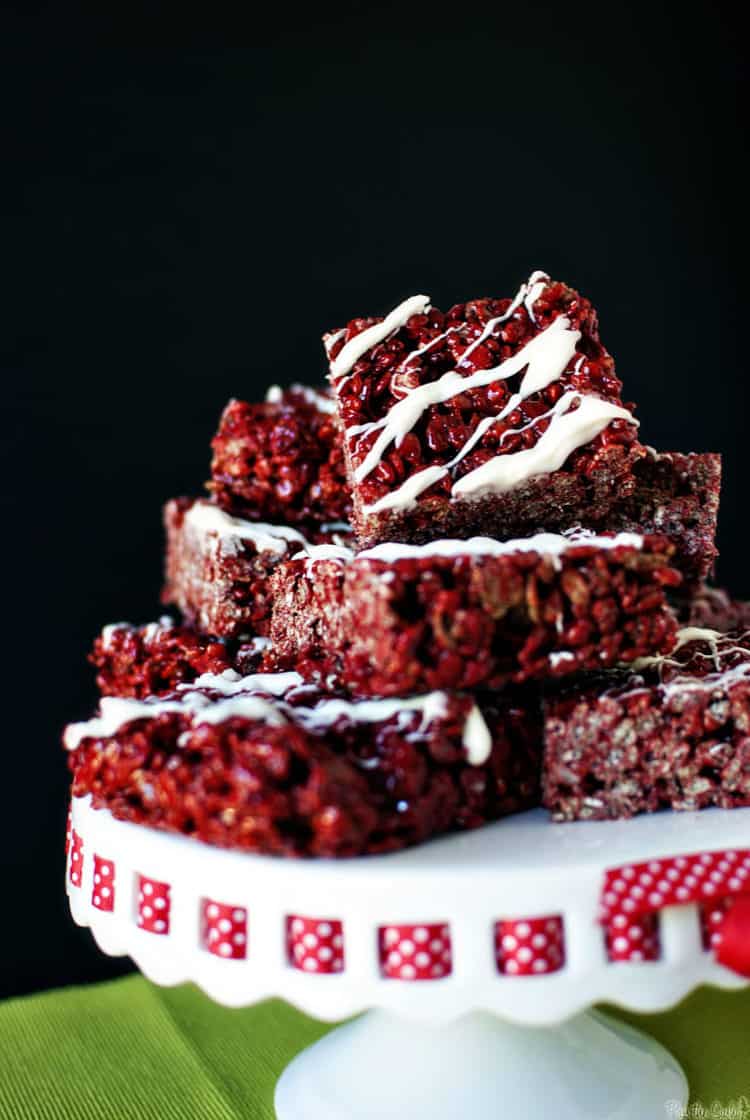 Anyone else remember absolutely loving rice krispies as a kid? I mean, I even loved the treat cereal that was loaded with sugar and went so well with cold milk. Then they made them into grab and go packs for my lunch. OMG. And now, with all the things in the world being better every day, they have giant gourmet ones at every bakery counter. Temptation everywhere.
But as far as tempting things go, these aren't the worst thing you could be snacking on and one often hits the spot just right. When you combine the magical cereal with my other favorite dessert, red velvet cake, things just get too good to be true though. And even I can't resist just one. Yep, using a little cake mix in my treats is such an easy trick to infusing new flavors!
I took these into my local comic shop and shared with friends. Sadly, I didn't get a chance to snack on them because they were gone in a blink! But, they did tell me these were the best rice krispies ever, so I took that as a win and made myself another batch.
What I really love about them is that they are so stinkin' simple to make – just regular cocoa rice cereal and a bit of cake mix. THAT'S IT. I mean, besides the butter and marshmallows. THAT IS IT. Also, it doesn't take a full box of cake mix to make these, so stock up on the cereal cuz chances are you will be making a second batch. Or these milkshakes. Just sayin'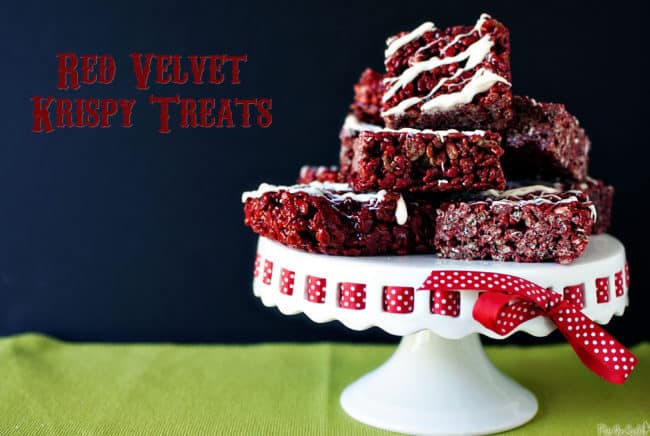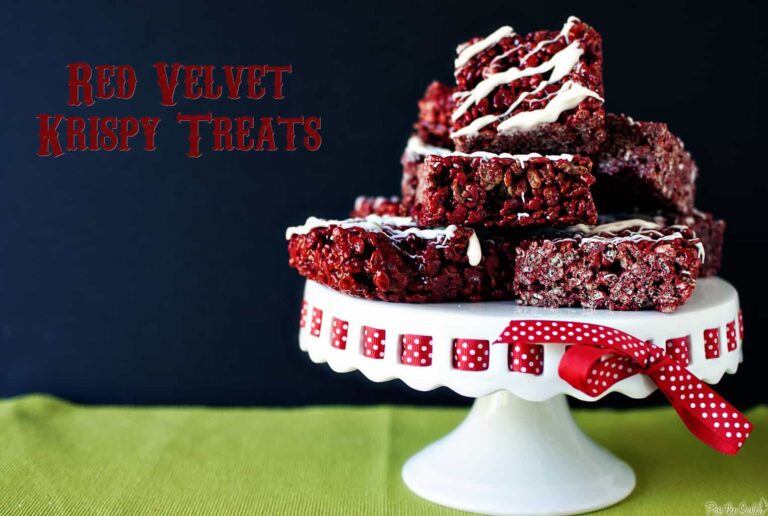 How to make Red Rice Krispie Treats
Just like the classic recipe, you need a pan to press the mix into, and pro-tip, line it with lightly greased wax paper or parchment paper for later, trust me. And then the signature ingredients butter and marshmallows are melted until smooth. For this version, add in a little red velvet cake mix before folding it all in with cocoa rice cereal. Once they are pressed into a pan, drizzle with a little white chocolate if you're feeling fancy. (because cream cheese frosting seemed like overkill – though, let's be honest, I would do it in a heartbeat).
Pro Tip: Grease the back of a big spoon to help you press the treats into a baking sheet quickly without making a sticky mess!
Mini Marshmallows Vs Big Marshmallows – Does it Matter?
In short, no, it doesn't matter what size the marshmallows are. As long as the marshmallows are completely melted, they will coat the cereal and work like the delicious glue that holds them together. However, melting the mini marshmallows just seems to work quicker. Think about it, they just aren't as big for the heat to get through. But really, whatever you have on hand works, just make sure to stir constantly to avoid any burning as they melt.
But could I just use marshmallow fluff? That's like melted marshmallows, right?
Yes, and, No. Despite its similar flavor, Fluff isn't just melted marshmallows and has a few other ingredients that give it that signature sticky – and oh so perfect for a Ritz cracker and peanut butter flavor. But, it's that same sticky magic that makes it impossible to use – without – melting it with the butter first! So yes, you could indeed use Fluff to make this! Just stir over low heat with the butter until combined.
Keeping them Fresh!
No one likes it when these treats gets hard or soggy while sitting around waiting to be devoured. So, to keep them fresh, cut them up into portions and store them in a resealable airtight container for up to 3 days.
And, if they do get too hard on you, pop them in the microwave for 15 seconds. It's not going to bring back the fresh, but it's a good trick to making them soft again!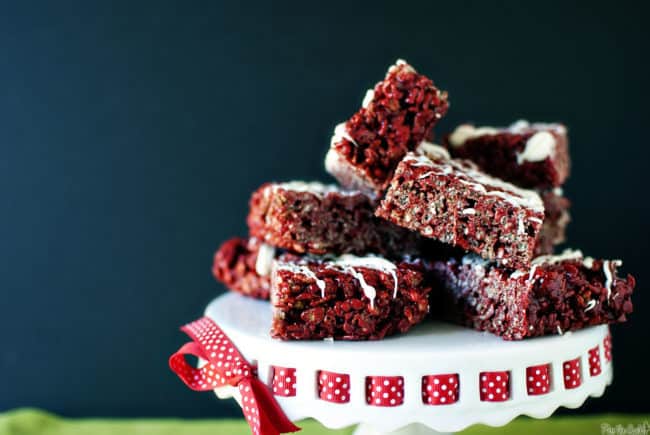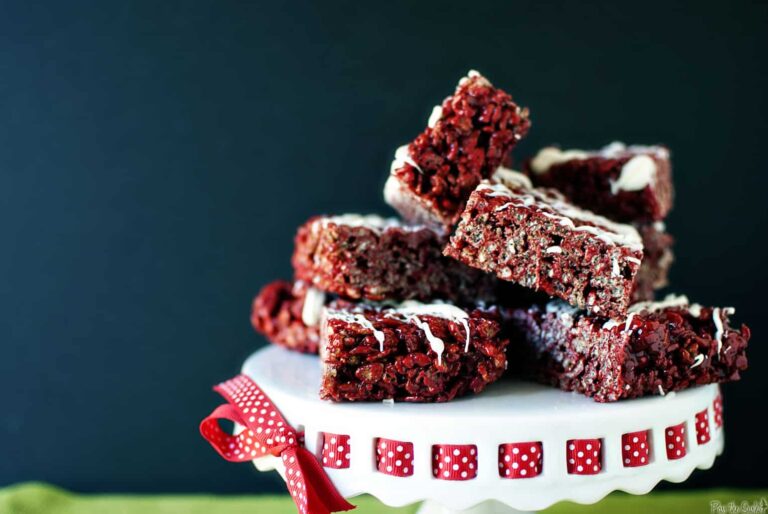 Obsessed with Red Velvet Cake like me? Check out these other totally amazing recipes!
Yield: 24 treats
Red Velvet Krispie Treats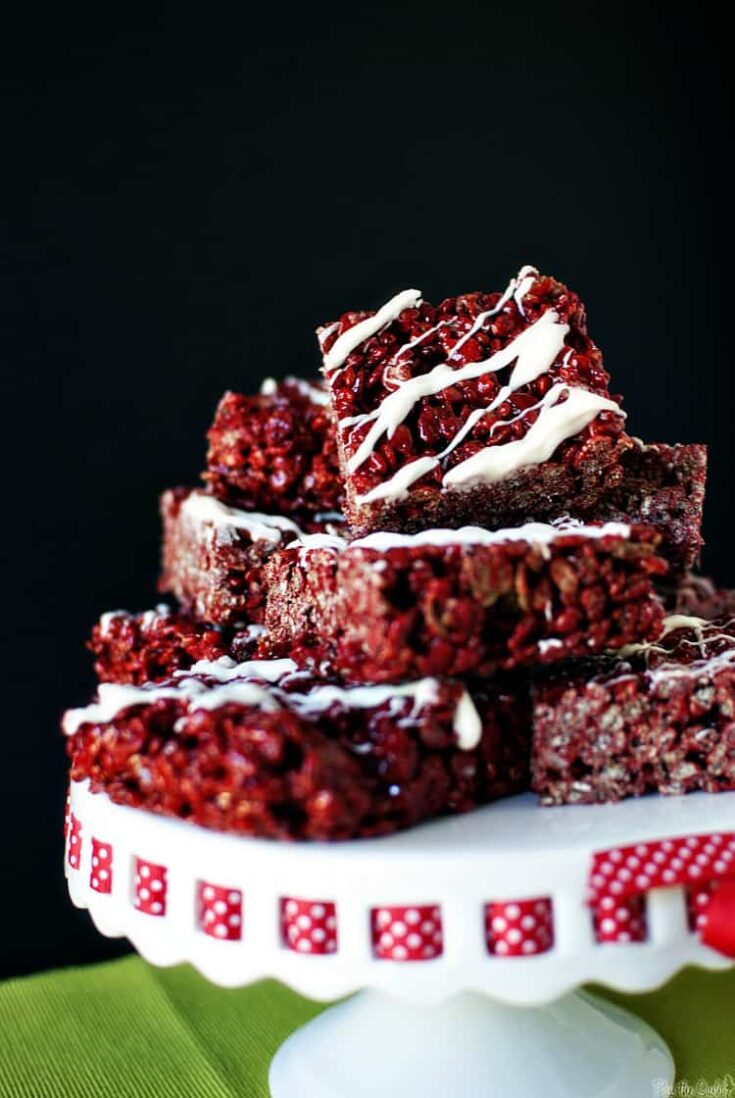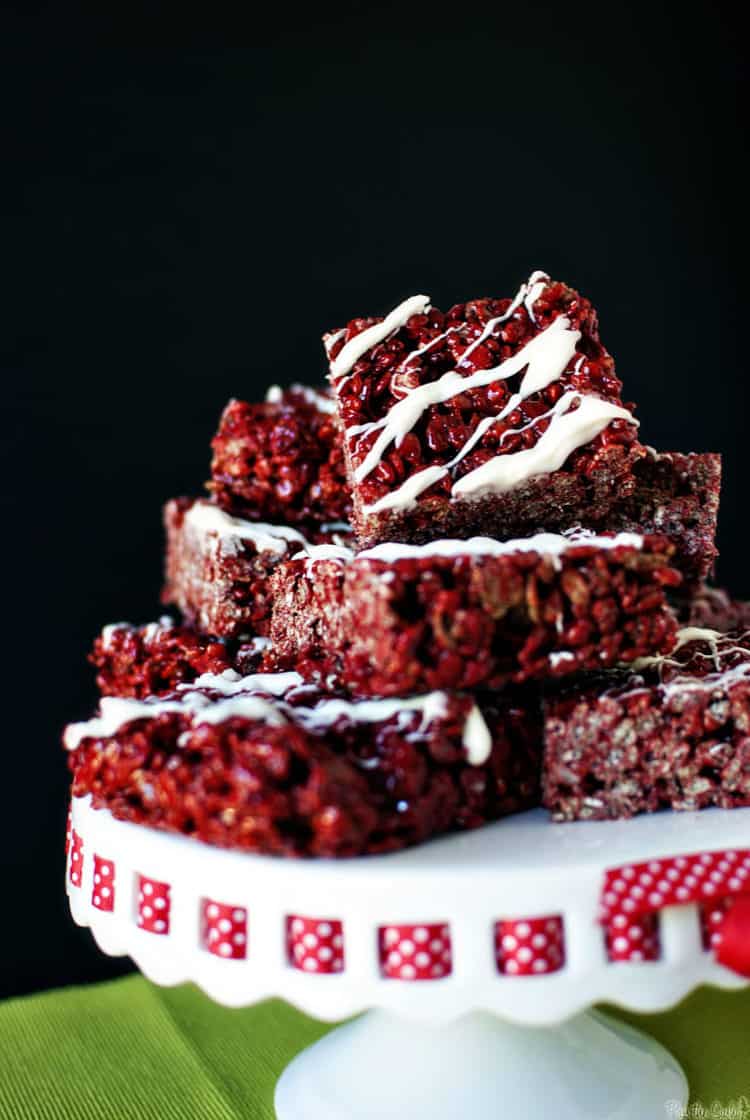 A simple but gourmet twist on the classic rice cereal treat! These red velvet krispie treats are so simple and are made with only 6 ingredients!
Ingredients
3 tablespoons butter
1 (10.5 ounces) bag mini marshmallows
1 teaspoon vanilla extract
3/4 cup red velvet cake mix
6 cups Cocoa Rice Krispies cereal
4 ounces white chocolate chips, melted
Instructions
Line a 9x13-inch pan with wax or parchment paper and grease well.
Heat a large skillet or saucepan over low heat. Add the marshmallows, cake mix, and vanilla.
Stir frequently as the marshmallows melt until the mixture is smooth. Quickly fold in the rice krispies to the marshmallow mixture until combined and everything is coated.
Transfer sticky cereal mixture to the prepared pan, pressing down with the back of a greased spoon or your fingers until the top is level.
Allow the krispie treats to set, at least 15 minutes before cutting and serving.
Drizzle white chocolate over the top, if desired.
Nutrition Information:
Yield:
24
Serving Size:
1
Amount Per Serving:
Calories:

150
Total Fat:

7g
Saturated Fat:

3g
Trans Fat:

0g
Unsaturated Fat:

1g
Cholesterol:

11mg
Sodium:

43mg
Carbohydrates:

18g
Fiber:

4g
Sugar:

5g
Protein:

5g
Nutrition information provided is an estimate from nutritionix.com. For specific health concerns, please put the recipe into your Dr recommended nutrition calculator.