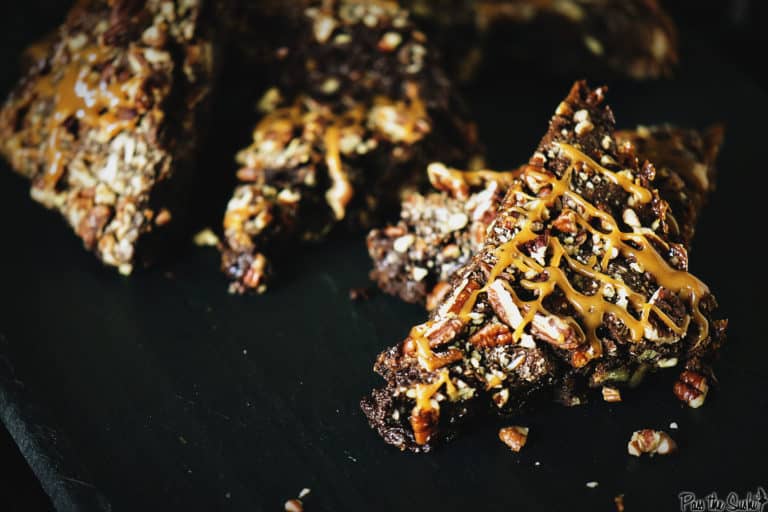 Work the hustle. Every single day.
See, the thing is, I am a fan of good juju. I believe what goes around comes around even if it always doesn't seem that way. It's hard some day, maintaining all of the things and not fraying at the ends. Trust me, even the best fray. But they don't let it keep them down. As summer has warn down, I have started warming up, getting back into a swing of things and letting the days run their course instead of fighting them. There's more time for bikes, more time for running, oh, and let's not forget, more time for baking.
At the end of the day, there are 999999.9 things that didn't get done. But they will always be there tomorrow and as long as I am content with the things that I got done, and worked towards a better future, then it will all come out in the wash (even if it's like three crazy gross stinky bike kit loads of wash later).
Today, I sent out a few requests to peers in my industry, a leap of faith with fingers crossed. I scouted out a stunning location for a wedding I am photographing this month, I gave the boys baths (which, is seriously a big deal according to them), and baked these decadent bites. Call that winning.
"What's in them?"
"Everything" 
I got my three non-negotiables done (starting with running) and let the rest of the day play its course. And tomorrow, I will hit rinse and repeat on the whole darned thing. But, with one of these bad boys for breakfast.
Think on it:
What are three things that you could do today that would make you more productive and happier if you made them mandatory?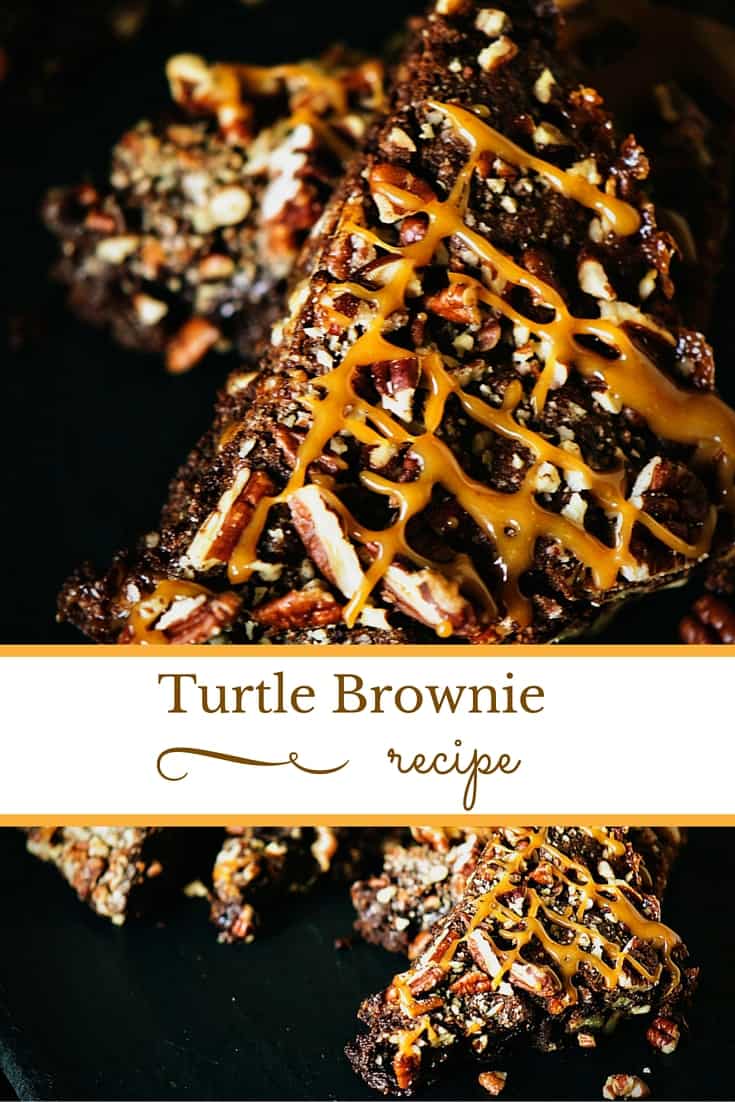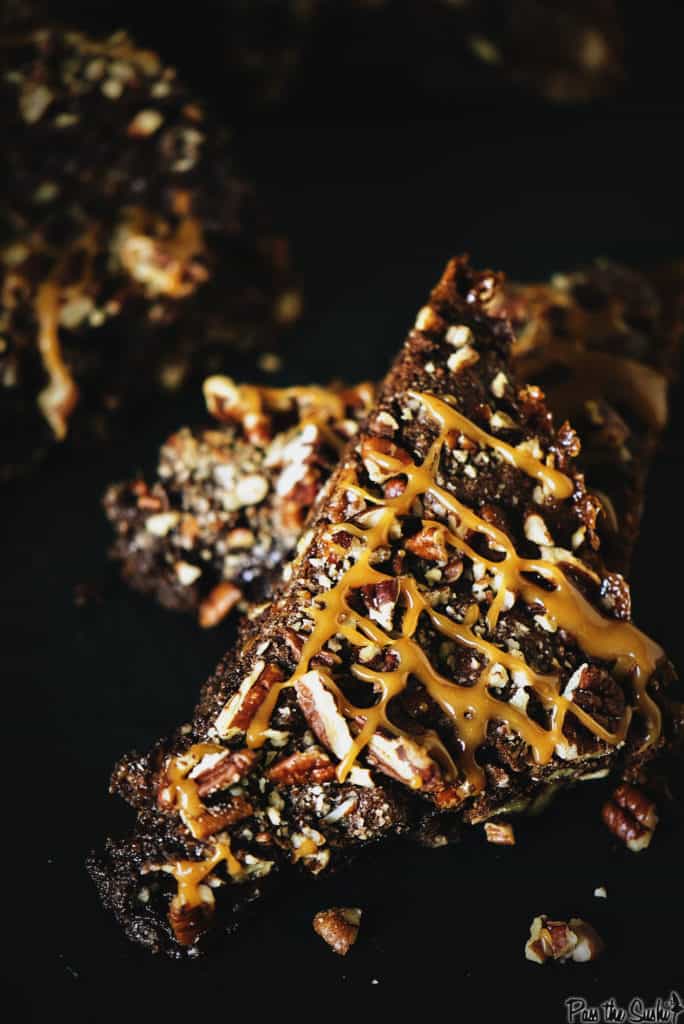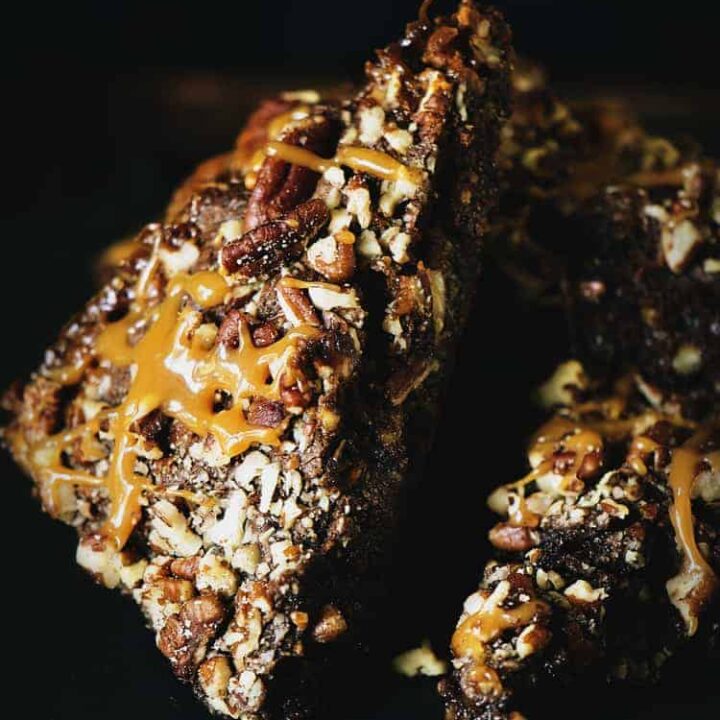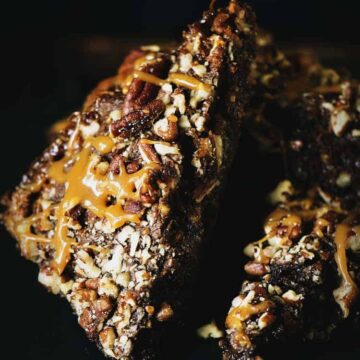 Ingredients
3/4

cup

flour

1/2

teas baking powder

1/2

teas salt

6

tbs

unsalted butter

3

oz

unsweetened chocolate

-

chopped

1

cup

sugar

2

eggs

2 1/4

teas vanilla

-

divided

3

tbs

heavy cream

20

caramel candies

-

soft, unwrapped

1 1/4

cup

pecans

-

toasted and chopped
Instructions
Preheat the oven to 325 degrees F. Line an 8" baking pan with foil and grease.

Whisk the flour, baking powder and 1/4 teas salt together in a large bowl.

Melt the butter and chocolate in a microwave-safe bowl, 30 seconds to 1 minute, stirring once or twice. When smooth, whisk in the sugar and eggs. Add 1 1/2 teas vanilla.

Stir the chocolate mixture into the flour until combined.

Spread half of the batter into the prepared pan. Bake for 12 to 15 minutes, until just set.

Meanwhile, add the cream, remaining vanilla and salt to a bowl with the caramels. Melt the caramels in the microwave in 30-second bursts, stirring as needed, until smooth.

Sprinkle the brownie batter with half of the toasted pecans and all but 2 tbs of the caramel mixture. Spread the remaining batter over top and sprinkle the rest of the pecans on top. Set aside the remaining 2 tbs of caramel for later. Bake the brownies for 25 to 30 minutes longer, until set.

Cool on a wire rack for at least 1 hour. Heat the remaining caramel in a microwave if needed to make pourable. Drizzle the caramel over the brownies and let sit for 30 minutes before slicing and serving.
Notes
Cook's Country | February/March 2012
Nutritional informations provided as a courtesy and is only an approximatation. Values will changes based on ingredients used.
⭐ Tried this recipe? Rate it ⭐
Help out the next person and give it a star rating below!