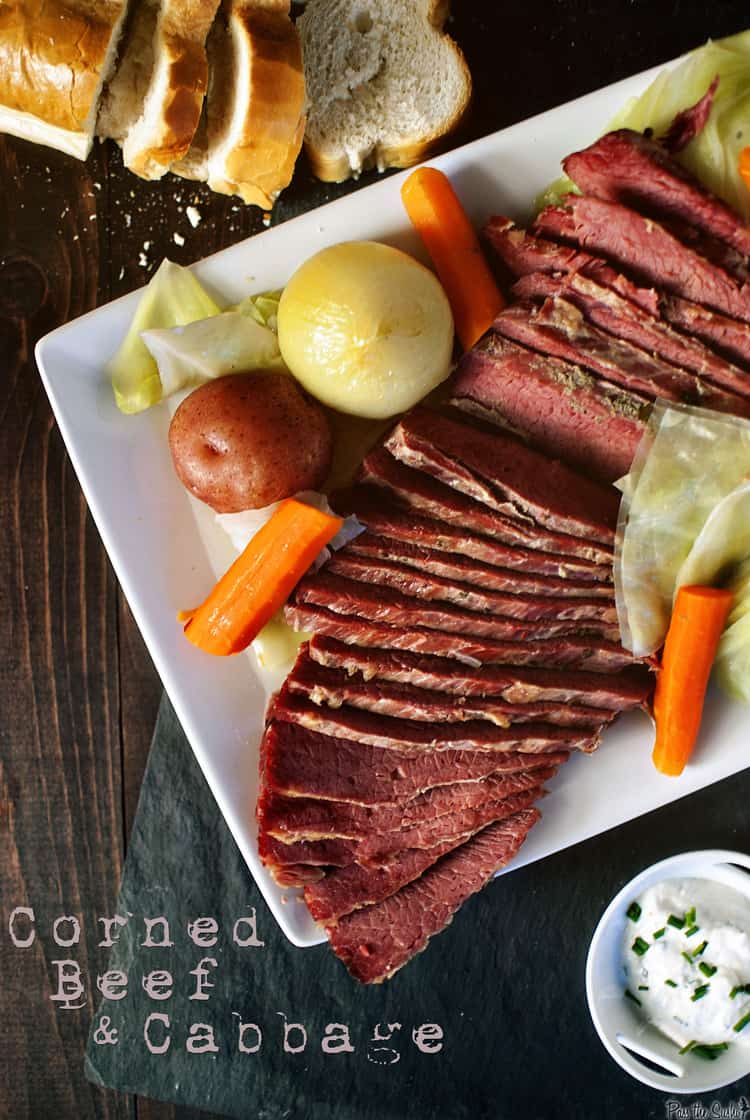 I thought for sure that I would be able to use the last week to catch up on some reading. For those who may not be regulars here, I had my wisdom teeth pulled, and was kind of looking forward to a few days 'vacation' from normal duties. But now I feel like I owe everyone a huge apology. A blogging friend of mine asked how I manage my time the other day.
Between cooking and getting the posts up (not to mention the dishes) food blogging can take up a large chunk of time. She asked how I returned every comment or commented on others posts. My answer, I don't. At least not on every single post. And please, don't think it's not because I don't want to.
I comment when I can, and I thought this weekend would be an awesome time to sit back and read hundreds of beautiful food posts… it just didn't happen. Instead I coded two sites and got a large chunk of spring cleaning done.
I didn't even make time to read my comics from last Wednesday for this weeks podcast. I do check out a lot of blogs every day, but I try to only comment when I have something genuine to say about the post. Everyone posts tempting food

Part of all good hobbies, is not letting it become work, and just enjoying it. I allow myself time every day to check out other sites, but I have to manage my time to, spend it with my family and drink up the sunshine (I was also counting on at least one snow storm to render my booty in trapped in the office all day).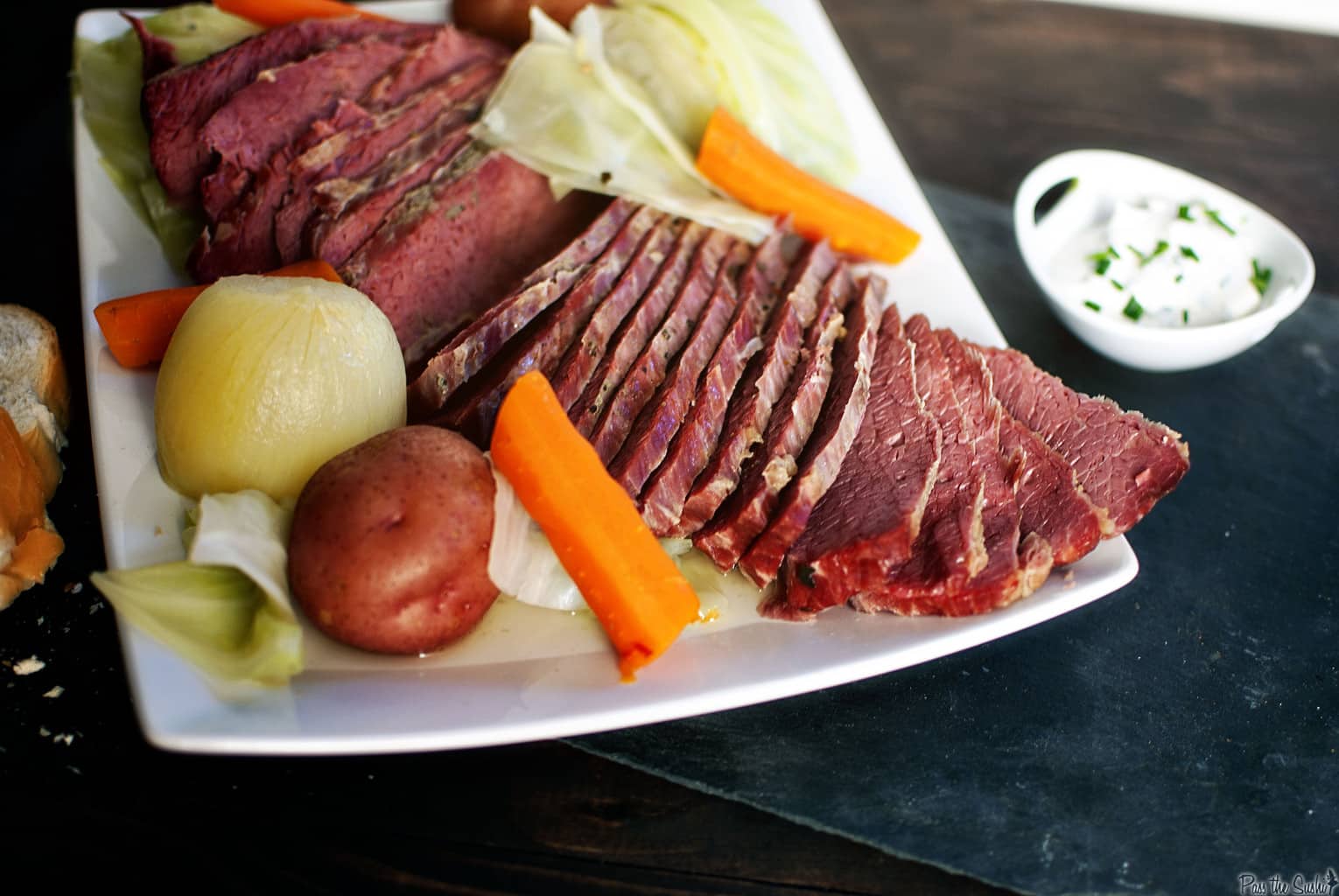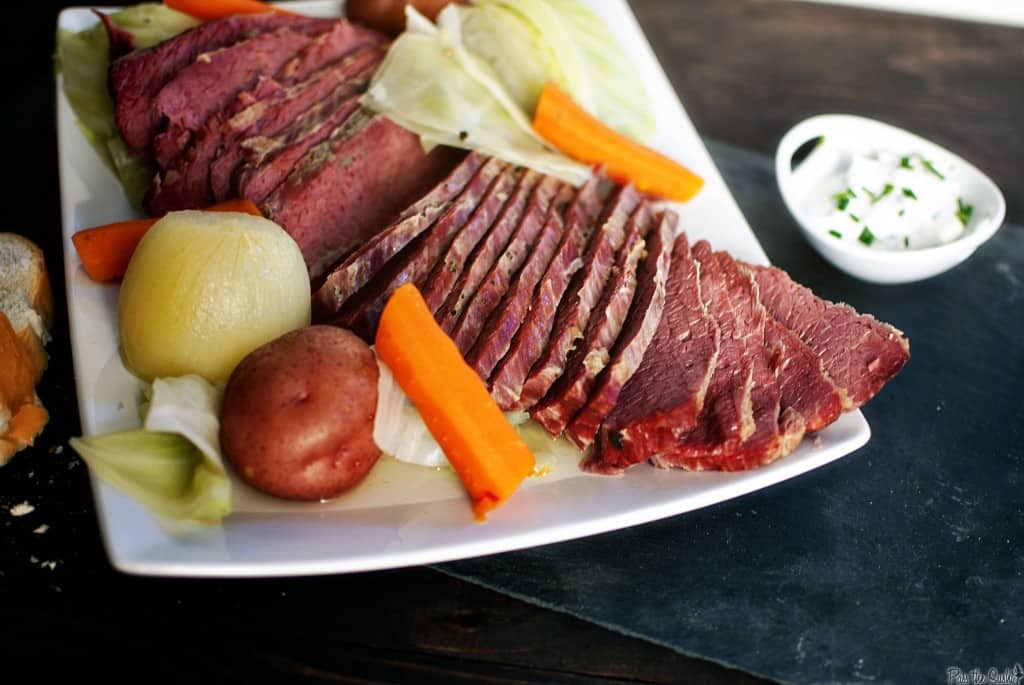 A recent post I read and am guilty of not saving a link to, broke down why comments shouldn't be the only thing we bloggers crave, and I have to agree. I am guilty of not leaving comments on every post, but I do check almost every single one that comes through my reader or on Foodbuzz. I am working on a little time management to sneak some comment leaving love in.
So today, I am sorry this post contains no alcohol, I'll make up for it tomorrow as we continue on our Irish themed celebration this week, and I am working on leaving comments. Promise, though the alcohol one is guaranteed… for tomorrow. Seriously.
Looking to round out the full menu? Try a delicious cullin skink with this corned beef and cabbage recipe. Its a mouthwatering thick and hearty soup from Scotland that you're going to love.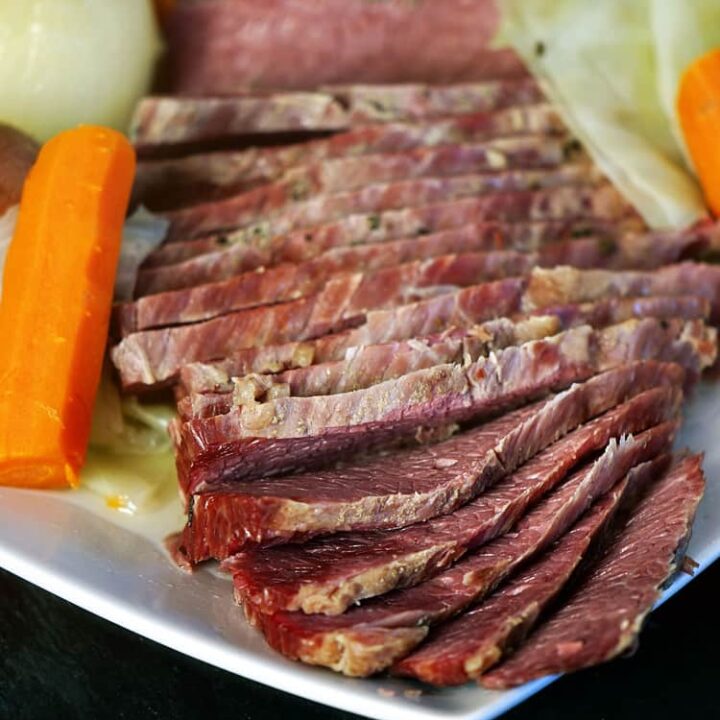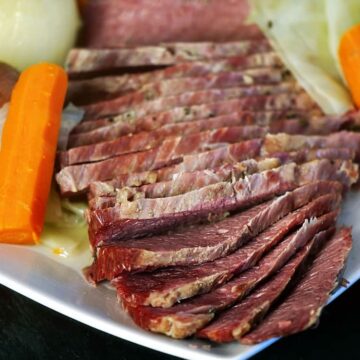 Ingredients
6

lbs

corned beef

-

with packet

2

lbs

small red potatoes

1

lbs

carrots

-

peeled and cut in half

1

onion

-

peeled

1

head cabbage

-

divided into 6 wedges
Instructions
Fill a large stock pot with enough water to cover corned beef. Place beef, and contents of seasoning packet if included with purchase, in stock pot and bring to a simmer. Cook for 2 to 3 hours, until a toothpick or wooden skewer can be inserted easily into the meet.

Preheat oven to 200 degrees. Remove beef from water and place in roasting pan with a ladle of cooking liquid. Place in oven to keep warm.

Meanwhile, place potatoes, carrots, and onion in the stock pot and bring to a boil, cooking for 10 minutes. Add cabbage and boil an additional 10 minutes.

Remove beef from oven and slice against the grain. Serve with drained vegetables.
Notes
Adapted from a call to a friend and Cook's Illustrated
Nutrition
Serving:
1
g
|
Calories:
1773
kcal
|
Carbohydrates:
18
g
|
Protein:
126
g
|
Fat:
129
g
|
Saturated Fat:
43
g
|
Polyunsaturated Fat:
67
g
|
Cholesterol:
667
mg
|
Sodium:
6644
mg
|
Fiber:
3
g
|
Sugar:
3
g
Nutritional informations provided as a courtesy and is only an approximatation. Values will changes based on ingredients used.
⭐ Tried this recipe? Rate it ⭐
Help out the next person and give it a star rating below!