This Irish Dream Cheesecake is a smooth creamy classic, updated with everyone's favorite after dinner cocktail.  The perfect way to finish off a meal, or when you just want something decadent.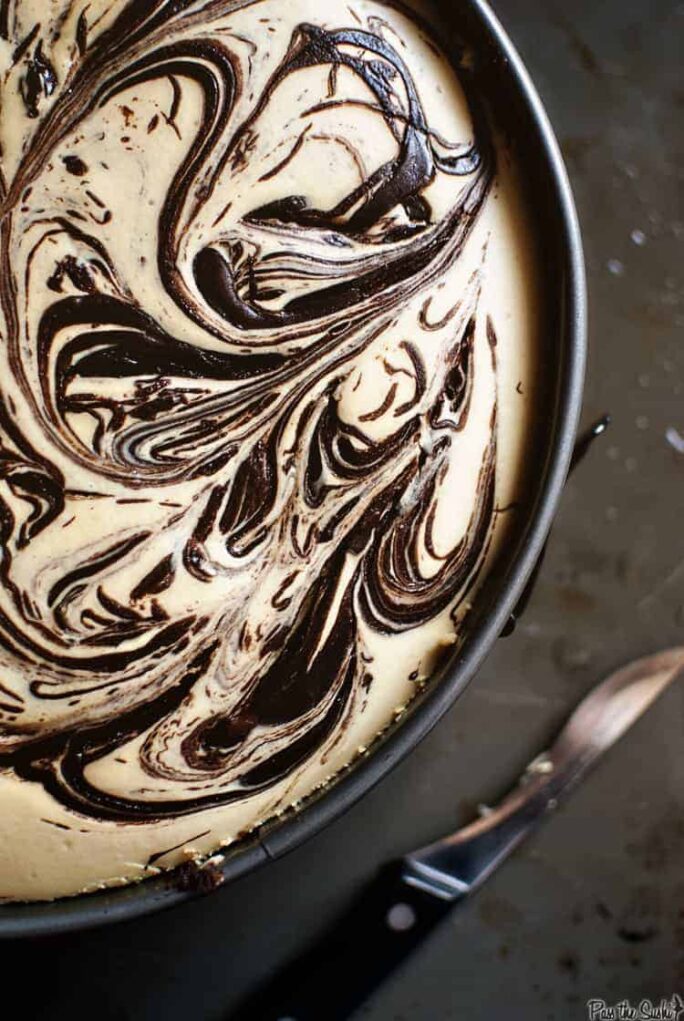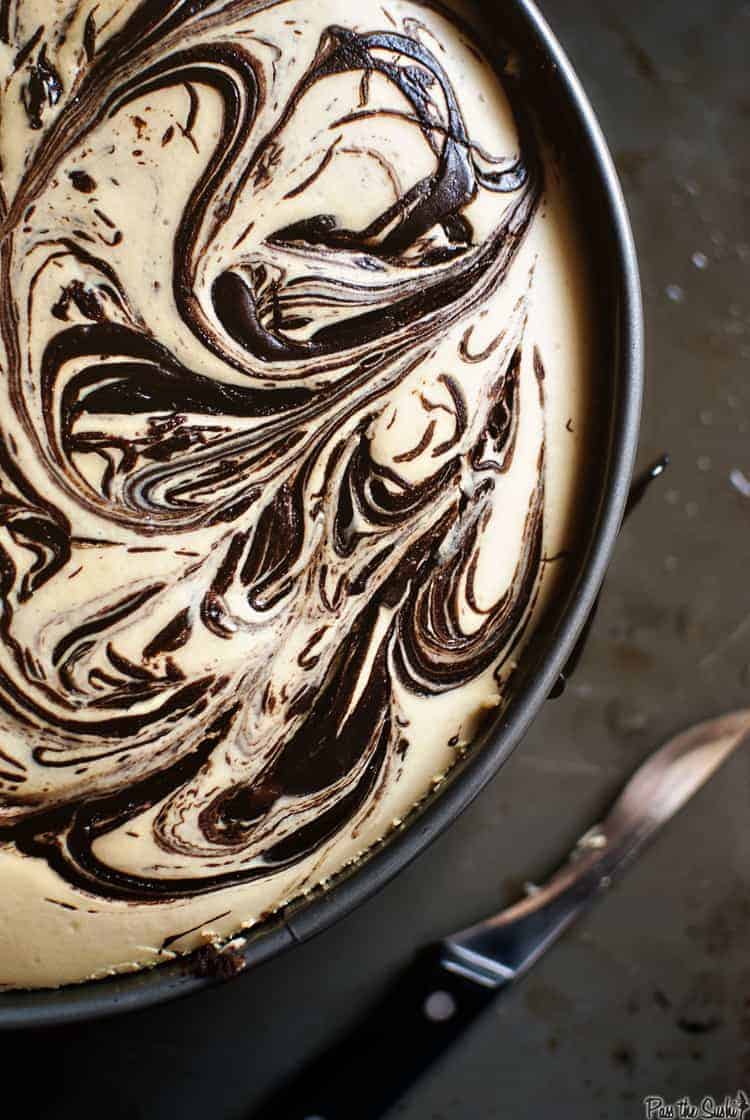 First order of business: I know that you are here drooling over this Irish Dream Cheesecake, but did you check out my shiny new blog all about the love and joy of all things carnivorous and rolled in bacon? Please go check out Girl Carnivore, my new baby and like the page on facebook as well for more slaphappy Kita randomness. I just referred to myself in the third person... awkward. But seriously. Girl Carnivore is going to be my new home for a much more defined and structured blog where I explore the world of grilling, butchering, smoking, grinding and creating great food that sticks to the key theme - meat. Get it.. carnivore...
But what about Pass the Sushi, the adoring fans cried out into the night. Pass the Sushi is and always will be my little corner of the web. And no worries, it's not going anywhere. It has grown and become more than a few food goals to get myself eating from the kitchen and cooking more, into a fun place where I can share stories and food with you (and random strangers) on a day to day basis. But it never had a niche. I post what I want here when I want.
Girl Carnivore
Girl Carnivore is a new goal for myself. I am taking one facet of Pass the Sushi, one I happen to enjoy a lot, and I am going to polish it. Who knows, maybe it will be your next favorite blog (unless you're vegetarian, then you may just want to stick to this one), or it may go up in smoke. Here's to hoping 😉 Desserts will still be in full force here at Pass The Sushi, so don't worry about that.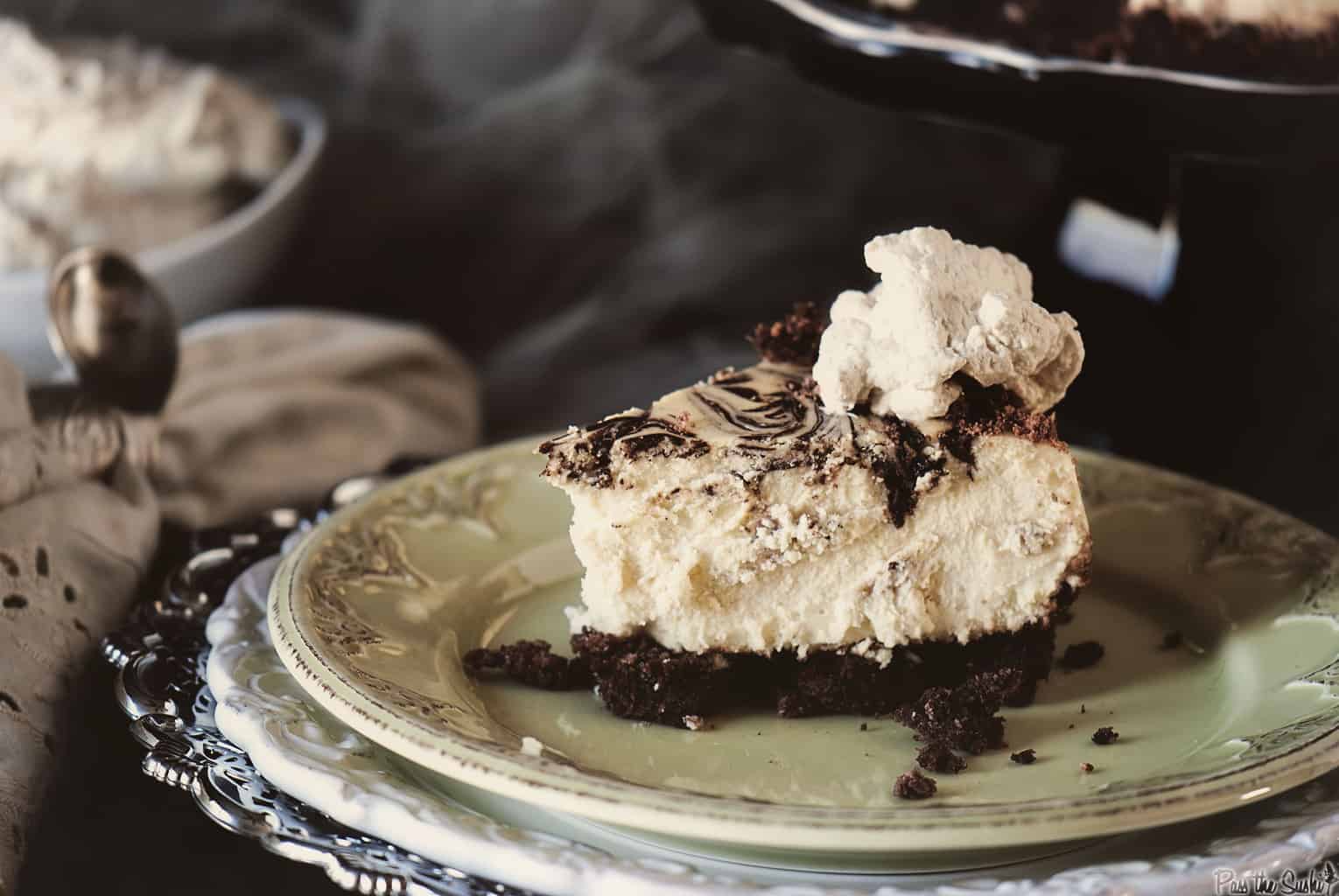 Now, For this Irish Dream Cheesecake.
Cheesecake. Just the idea of having a cake made with cheese (any kind of cheese really) gets me smiling.
Cheesecake is a sweet layered dessert. The thickest, and sometimes only, layer, consists of a mixture of soft cheese (typically ricotta or cream cheese) eggs, and sugar. The bottom layer, if there is one, is usually a crust or base made from crushed crackers, cookies or pastry. This recipe uses wafer cookies. It may be prepared baked or unbaked depending on the recipe.
Cheesecake is usually sweetened, and may be flavored in many different ways. This Irish Dream Cheesecake gets its flavors and distinctive coloration from a mixture of Irish Cream, melted chocolate, and coffee. It makes for a pretty amazing presentation, and the flavor is on point.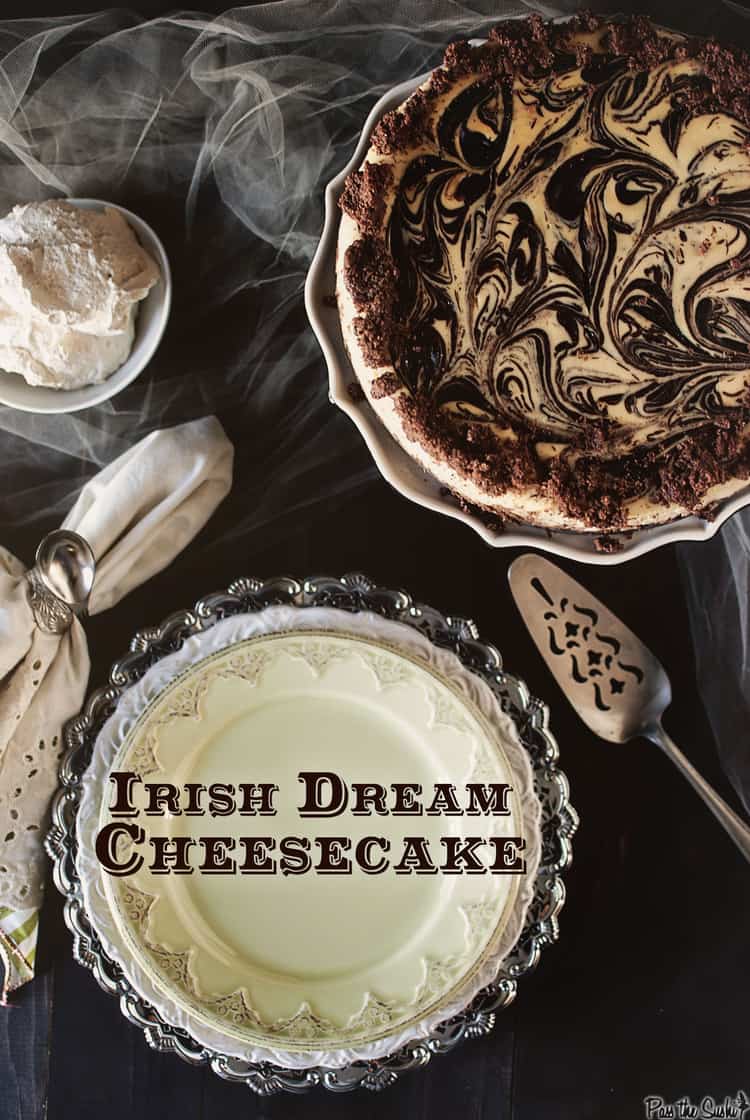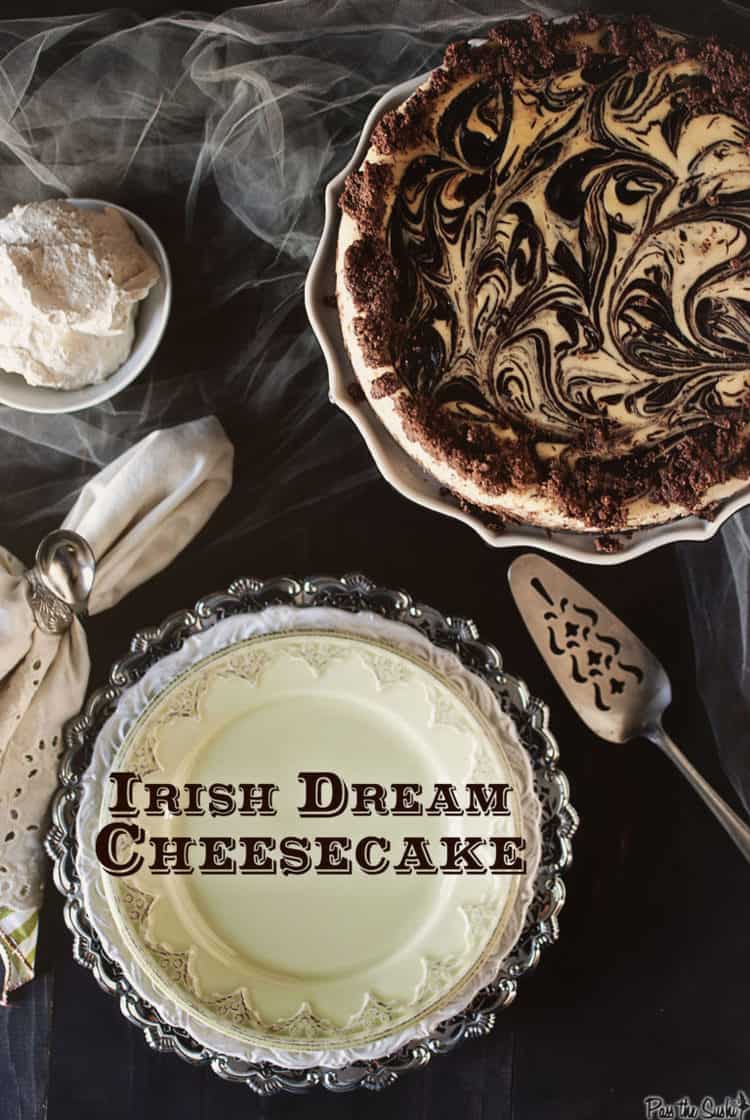 For more decadent desserts, click here! You won't be disappointed. And if you are a cheesecake addict like I am, these are sure to keep you busy!
If you've tried my Irish Dream Cheesecake recipe, or any other recipe on passthesushi.com please don't forget to rate the recipe and let me know where you found it in the comments below. I love hearing from you! You can also follow along for more good eats and travel tips on Instagram @passthesushi & @girlcarnivore, Twitter & Facebook.
Yield: 1 cheesecake
Irish Dream Cheesecake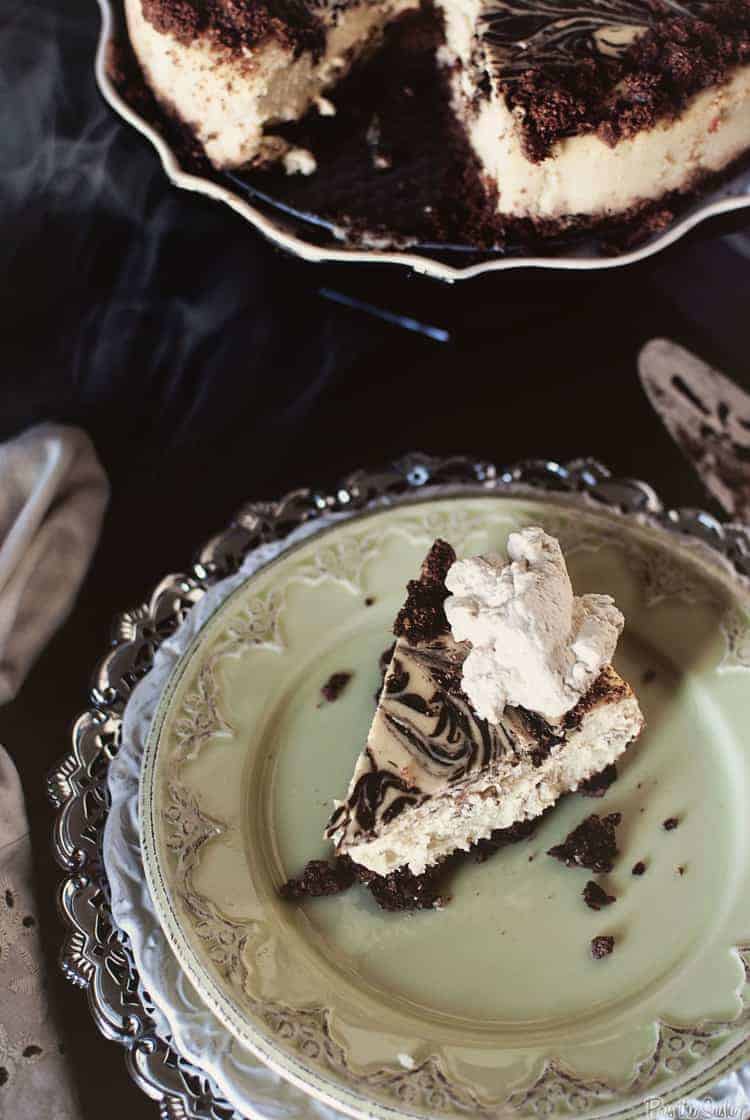 This Irish Dream Cheesecake is a smooth creamy classic, updated with everyone's favorite after dinner cocktail. The perfect way to finish off a meal, or when you just want something decadent.
Cook Time
2 hours
20 minutes
Total Time
8 hours
40 minutes
Ingredients
9 oz chocolate wafer cookies
⅛ teaspoon fine sea salt
7 tablespoon unsalted butter, melted
2 lbs cream cheese, at room temperature
1 cup granulates sugar
5 large eggs, at room temperature
1 teaspoon vanilla extract
¾ cup Irish cream liqeur
¼ cup heavy cream
¾ cup chopped semisweet chocolate, melted
1 ½ teaspoon instant coffee powder
1 teaspoon hot water
1 ½ cups heavy cream
1 ½ tablespoon granulated sugar
Instructions
Preheat the oven to 350 degrees F.
Make the crust:
Pulse the cookies in a food processor until they are a fine crumbs. Add the salt.
Coat the bottom of a 10" springform pan with a little bit of the melted butter.
Toss the crumbs with the rest of the butter.
Set aside ½ cup of the crumbs. Press the rest of the crumbs into the bottom of the pan.
Bake for 6 minutes. Set aside to cool.
When cool enough to handle, wrap the pan in two layers of heavy duty aluminium foil.
Make the filling:
In the bowl of your stand mixer, fitted with the paddle attachment, whip the cream cheese on medium speed for 2 to 3 minutes.
Add the sugar, mix for two minutes longer.
Reduce the speed to medium-low and add the eggs one at a time scraping down the sides after a few to make sure all things are combined.
Add the vanilla, liqueur and heavy cream. Increase the speed to medium and mix for 4 more minutes, stopping the machine and scraping the sides halfway through.
Pour the batter into prepared crusts.
Pour the melted chocolate over the top and using a butter knife, swirl about, taking care not to touch the bottom.
Place the springform pan in a large baking dish with high sides. Fill the pan halfway with boiling water, taking care to not spill any water in cheesecake, making a water bath.
Bake for 25 minutes. Without opening the oven, reduce the heat to 225 and bake for 1 hour 45 minutes longer or until the middle is no longer shiny and the cheesecake is firm.
Remove the pan from the oven and water bath. Run a thin knife around the inside edge of the pan. Let cool completely then loosely cover and refrigerate for at least 6 hours.
Make the whipped cream.
Combine the instant coffee with the hot water until dissolved. Whip the heavy cream with the sugar until soft peaks form.
Add the cooled coffee and whip 45 seconds longer – being careful not to beat too dry.
Sprinkle reserved crumbs around the edge of the cake. Serve with the whipped cream!
Recommended Products
As an Amazon Associate and member of other affiliate programs, I earn from qualifying purchases.
Nutrition Information:
Yield:
12
Serving Size:
1
Amount Per Serving:
Calories:

754
Total Fat:

54g
Saturated Fat:

31g
Trans Fat:

0g
Unsaturated Fat:

18g
Cholesterol:

211mg
Sodium:

434mg
Carbohydrates:

53g
Fiber:

1g
Sugar:

42g
Protein:

10g
Nutrition information provided is an estimate from nutritionix.com. For specific health concerns, please put the recipe into your Dr recommended nutrition calculator.