Homemade white bread, when it's still warm from the oven, and slathered with butter. Comfort food and then some. There's no better tasting bread than this recipe!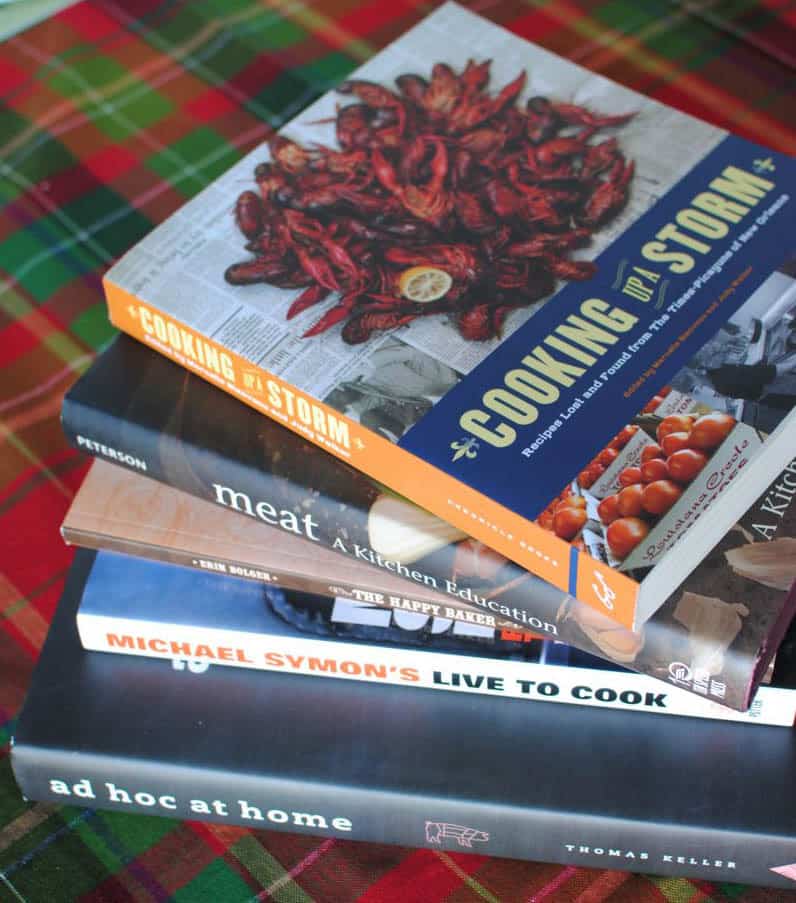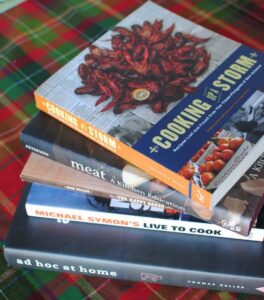 Remember that whole bit about not being a spoiled brat. Yeah, throw that out the window because this year I was indeed spoiled rotten for Christmas.
First of all, no one caught the holiday spirit in my neck of the woods, but I told my parents I refused to open presents without a tree. So, they put up the tree – just for me, because they rock. My boyfriend's parents gave me my first piece of Le Creuset cookware (a new shiny red loaf pan) and some other kitchen must haves that were way awesome. My boyfriend gave me Thomas Keller's Ad Hoc at Home and some other non-kitchen things. And then there were the gifts from my parents.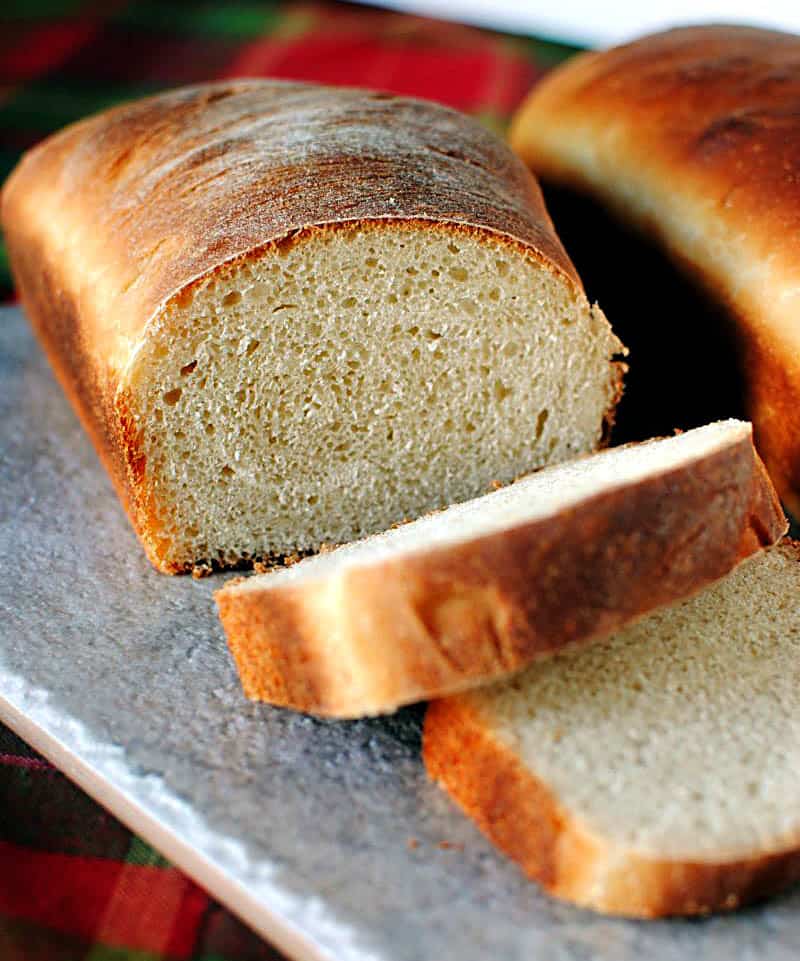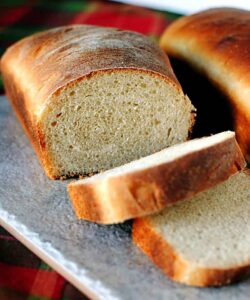 Not knowing what I wanted this year, I picked through my mounting Amazon wish list and sent them some ideas. They bought everything I sent a link to… Yeah, don't I feel like a jerk? 4 cookbooks, 5 CDs, tart pans, cupcake tins, pie weights, and more. They are never getting an idea list again.
I was more than done and very happy at my amazing pile of loot.
And then it happened – there was a box off in the back corner of the room that Dad "didn't notice" earlier. To me, from Santa. I really thought perhaps they mislabeled it and just needed to put it away for later when friends and family came over. Dad had me tear back a little corner; if it was indeed mislabeled, it could be re-wrapped. I tore the paper a bit and then I had a heart attack.
One cherry red anniversary edition KitchenAid stand mixer has never been unwrapped and hugged so quickly in their 90 years in production. My dad gets me every year! Doesn't he rock?!
With my brand new KitchenAid I set out to do some bread baking!
Homemade white bread. Warm, with lots of butter. There is nothing to compare to that kind of awesome.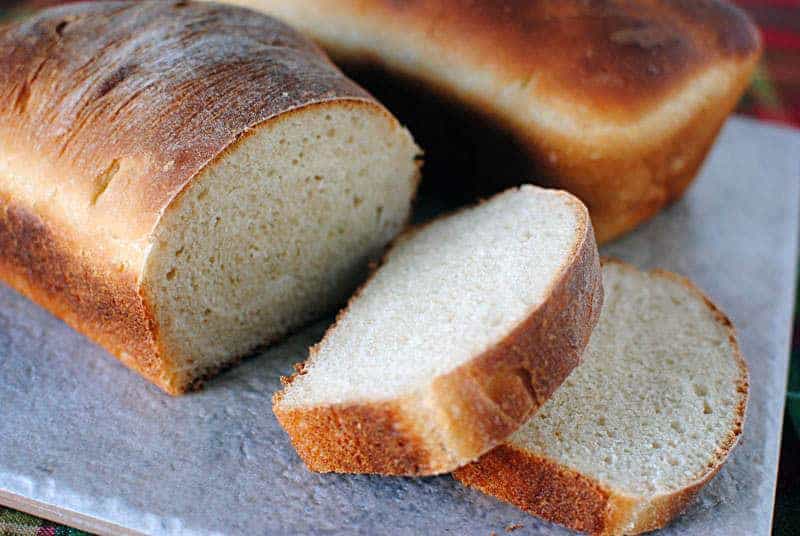 Homemade White Bread
from KitchenAid instruction and recipe booklet (also on Epicurious)
Ingredients:
1/2 cup lowfat milk
3 tbs sugar
2 teas salt
3 tbs butter
2 packages active dry yeast
1 1/2 cups warm water (105 – 115 degrees)
5 to 6 cups AP Flour
Preparation:
Place milk, sugar, salt, and butter in small saucepan. Heat over low heat until butter melts and sugar dissolves. Cool to lukewarm.
Dissolve yeast in warm water in warmed mixer bowl. Add lukewarm milk mixture and 4 1/2 cups flour. Attach bowl and dough hook to mixer. Turn to speed 2 and mix about 1 minute.
Continuing on Speed 2, add remaining flour, 1/2 cup at a time and mix until dough clings to hook and cleans sides of bowl, about 2 minutes. Knead on speed 2 about 2 minutes longer, or until dough is smooth and elastic. Dough will be slightly sticky to the touch.
Place dough in a greased bowl, turning to grease top. Cover, let rise in warm place, free from draft, about 1 hour or until doubled in bulk.
Punch dough down and divide in half. On a lightly floured surface, roll each half into a rectangle approximately 9″ x 14″. A rolling pin with smooth the dough and remove gas bubbles. Starting at the short end, roll the dough tightly. Pinch to seal the seam. Pin the ends and turn them under. Place the dough seems sides down, in a greased 8 1/2″ x 4 1/2″ x 2 1/2″  loaf pans. Cover and let rise in warm place, free from drat about 1 hour, or until doubled in bulk.
Bake at 400 degrees until golden brown, about 30 minutes. Remove from pans immediately and cool on wire rack.
The BF wanted to know if we had to serve the homemade white bread immediately….. What do you think my answer was?