Our final Soup Kitchen Monday is here! I'm kind of sad about this one, as my inner obsession with soup really made itself known during the last 13 weeks.
We're going out with a bang though! The wonderful people over at BigKitchen worked some Christmas magic, and were able to send me a beautiful Le Creuset French Oven to whip up these classic soups and stews for you while I was running the Soup Kitchen. Talk about making the holidays cherry and bright!
The French Oven has pretty much replaced all of my old stock pots, except for that giant over-sized one that I use for turkey brining.  The value of the product speaks for itself the first time you lift the sturdy handles of this hefty cast iron behemoth. If you have never experienced the joy and quality that is Le Creuset, rush on over to BigKitchen and check out all that they have to offer! Start small, as their collection can quickly add up. But in the long run, it's worth every penny, as it's probably the last one you will ever need to buy. Call it an investment when you are justifying it to your spouse. 😉
Or try your luck at winning one of your own!
For the full soup and stew category click here!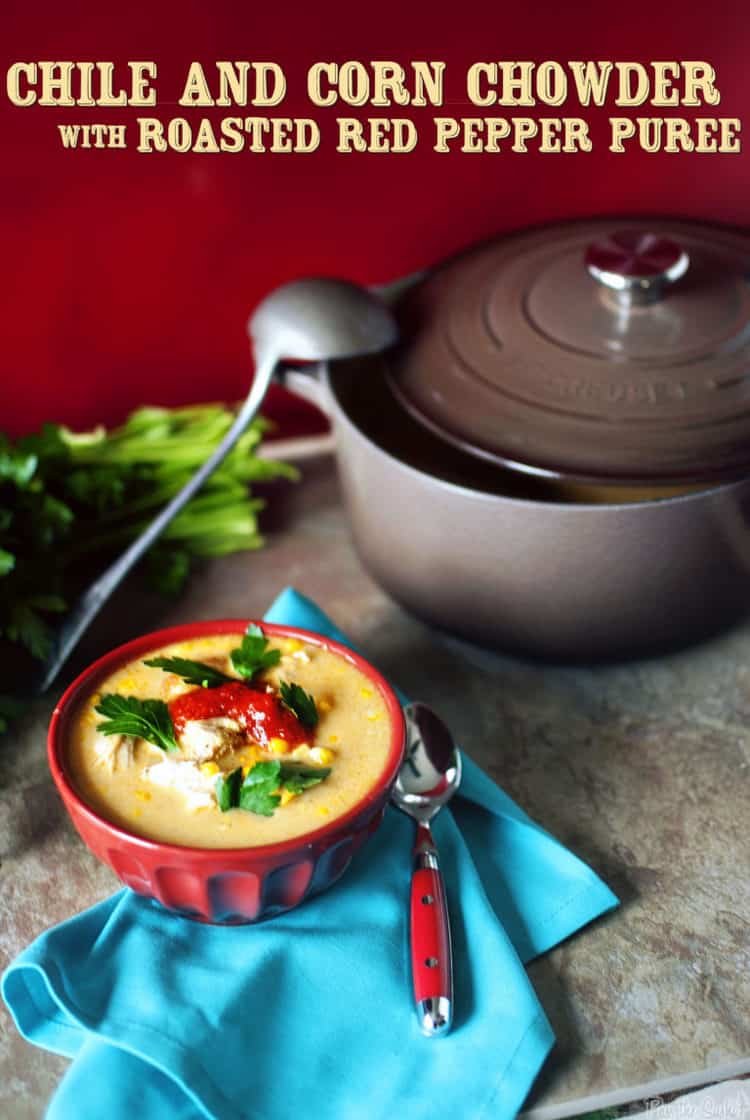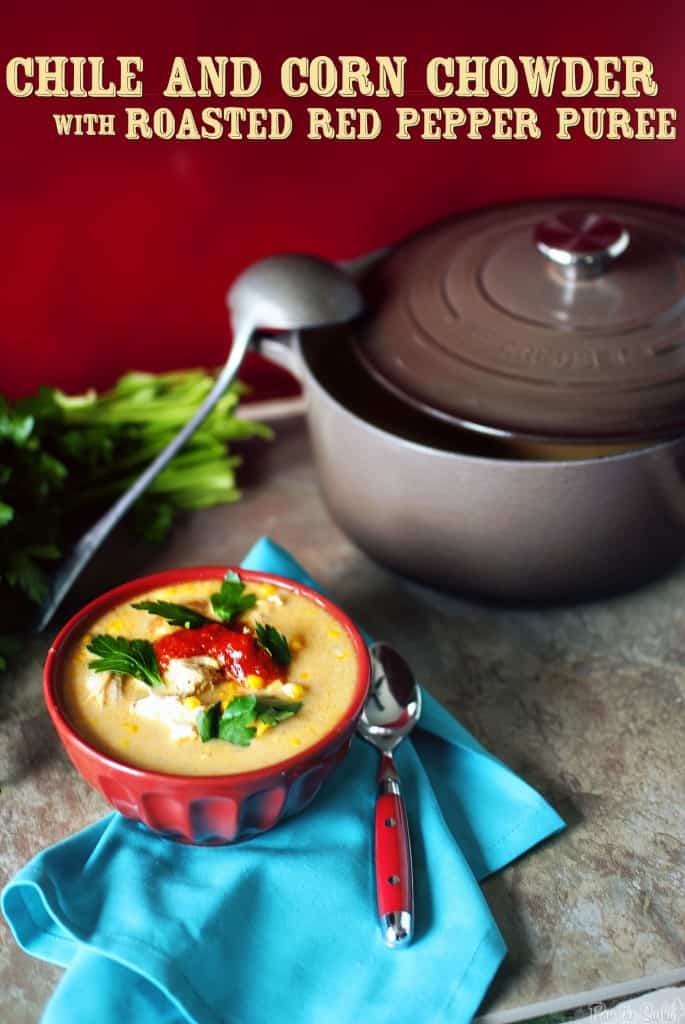 Chile and Corn Chowder with Roasted Red Pepper Puree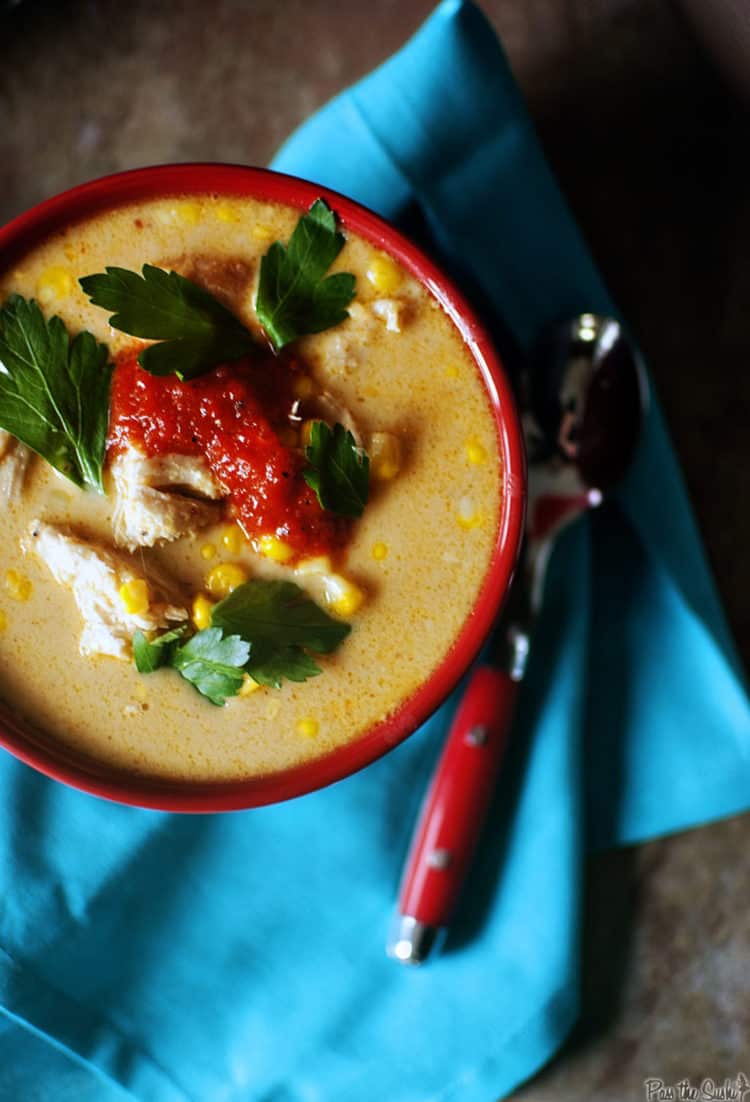 adapted from BHG Special Interest Publication Soups
Ingredients:
2 tbs olive oil, divided
1 ½ lbs chicken, boneless, skinless, skins or thighs
salt and pepper
1 small onion, chopped
1 tbs canned chipotle peppers in adobo sauce, chopped
4 cups fresh or frozen corn kernels, divided
1 14.5oz can low sodium chicken broth
1 12oz can fat-free evaporated milk
3 tbs fresh cilantro, snipped
1 7oz jar roasted red peppers, drained
½ teas smoked paprika
Preparation:
Heat 1 tbs olive oil in a large stock pot over medium heat.  Season the chicken with salt and pepper. Add the chicken and brown on all sides. Remove the chicken from the pot, cover and set aside.
Add the remaining tbs olive oil to the pan. Saute the onion and chipotle peppers until soft, about 5 minutes. Add ½ cup of the corn and chicken broth. Bring to a boil, reduce heat to low, and with an immersion blender, carefully process the soup until smooth.
Add the evaporated milk and chicken to the pot and bring to a boil. Reduce heat and simmer for 30 minutes. Using a flat spatula, break the chicken into large chunks. Stir in the remaining corn and let heat through.
Meanwhile, make the roasted red pepper puree. In the bowl of your food processor, pulse the red peppers and paprika until smooth.
Serve the soup in bowls with cilantro and red pepper puree as toppings.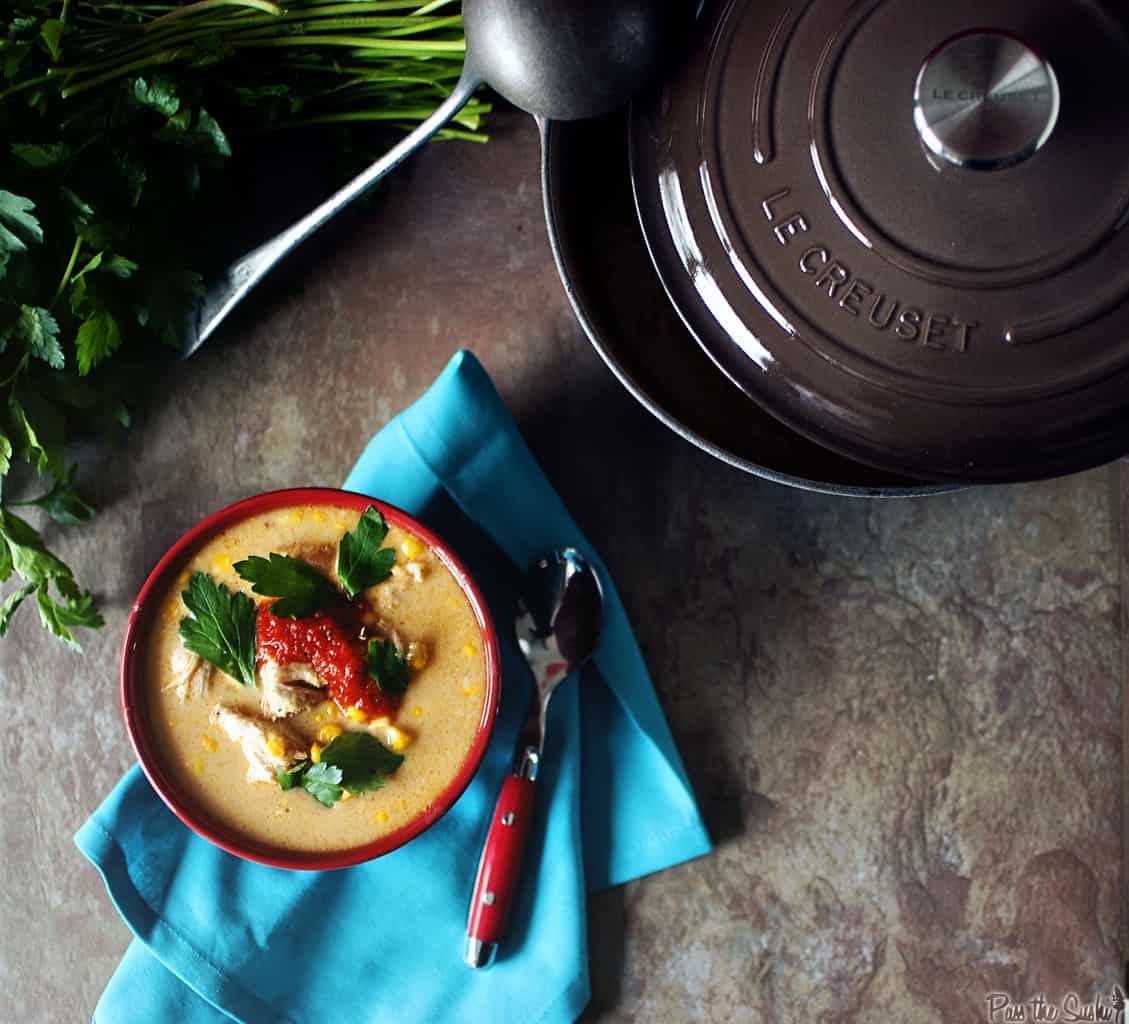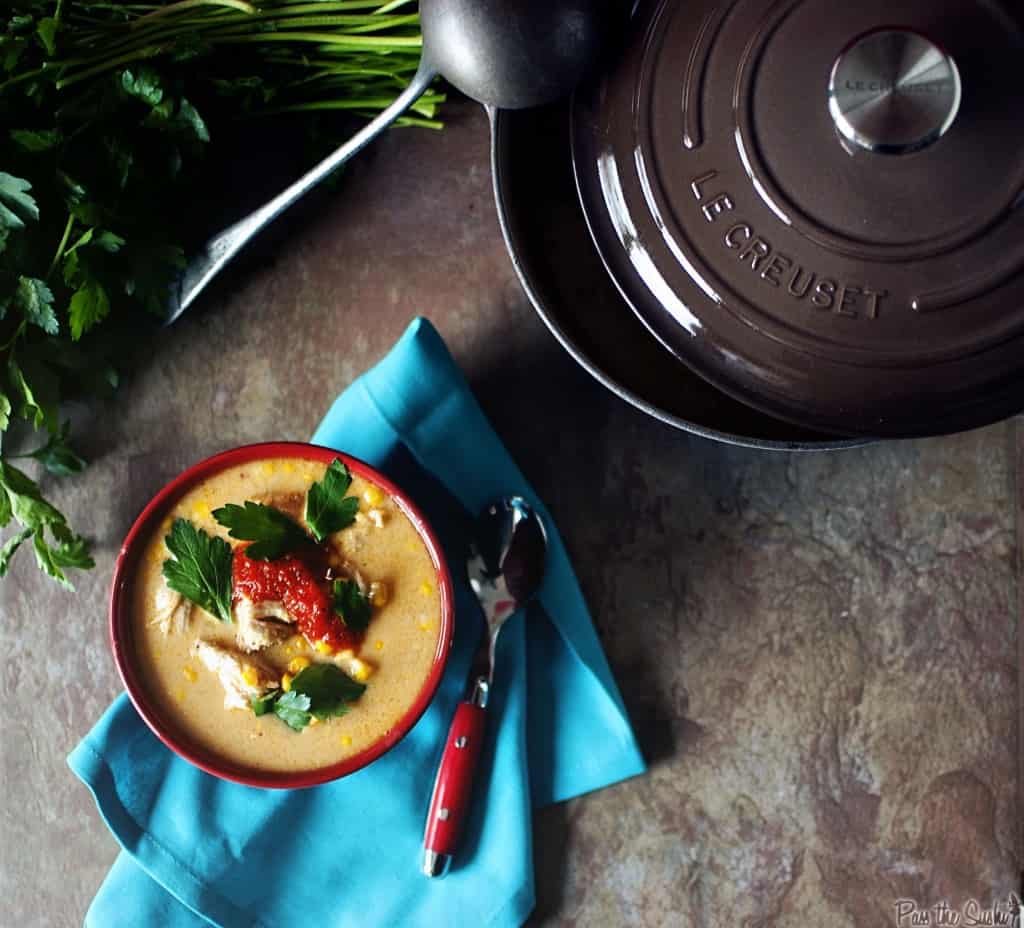 Le Creuset French Oven #Giveaway
To enter to win your own Le Creuset French Oven hop over to BigKitchen then come back here and tell me what the dreamiest product was.

Earn Extra Points by doing the following and leaving me a comment saying you have:
Following Pass the Sushi on Facebook 
Joining the Email Subscription
Following Pass the Sushi on Twitter
<3ing @BigKitchenStore on Twitter 
Tweeting about this giveaway including @passthesushi
Subscribing to my RSS Feed
Google +ing this post
And as always, bribery and flattery goes a long way in the PtS kitchen. 
Entrees accepted through midnight Sunday December 23rd 2012. Winner will be announced on December 25th's post. Winner must live in the United States.