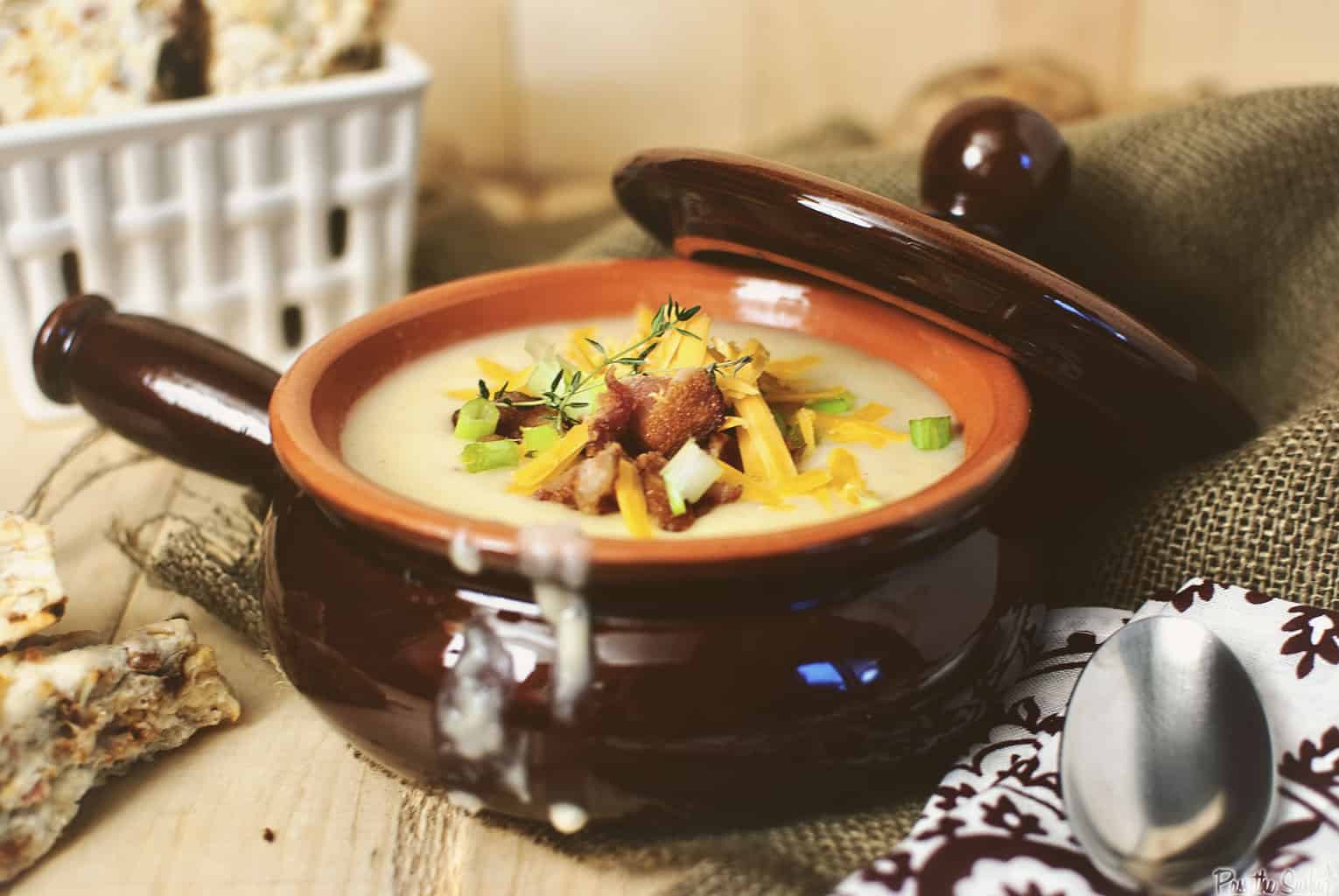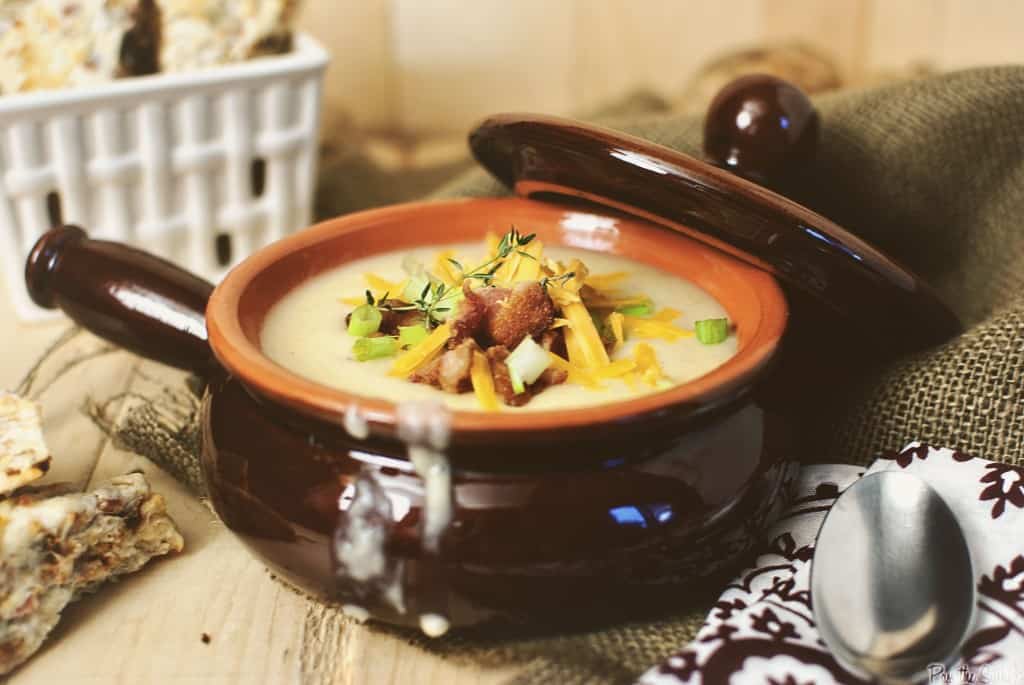 It's Monday and you know what that means - Soup's on! It's easy to forget in the warmer months how much I love soup, but these past few weeks and rekindled a love affair too deep for a few warm days to make is disappear. It was a beautiful 70something degrees today but tomorrow calls for rain and I'm betting a bowl of this soup is really going to hit the spot.
Now, as far as soups go, potato soup didn't jump out at me as one I had to make, but it was one my boyfriend swore he loved. and you all know what we do for our better halfs. 😉  I like my soups packed with flavor and textures. Even as I taste tested this a few times, I wasn't in love with it. I bumped up the flavors a bit by adding shredded horseradish cheese instead of just cheddar and sour cream instead of heavy cream. With a little smoked sea salt and pepper, this soup become pretty good.
Loaded Potato Soup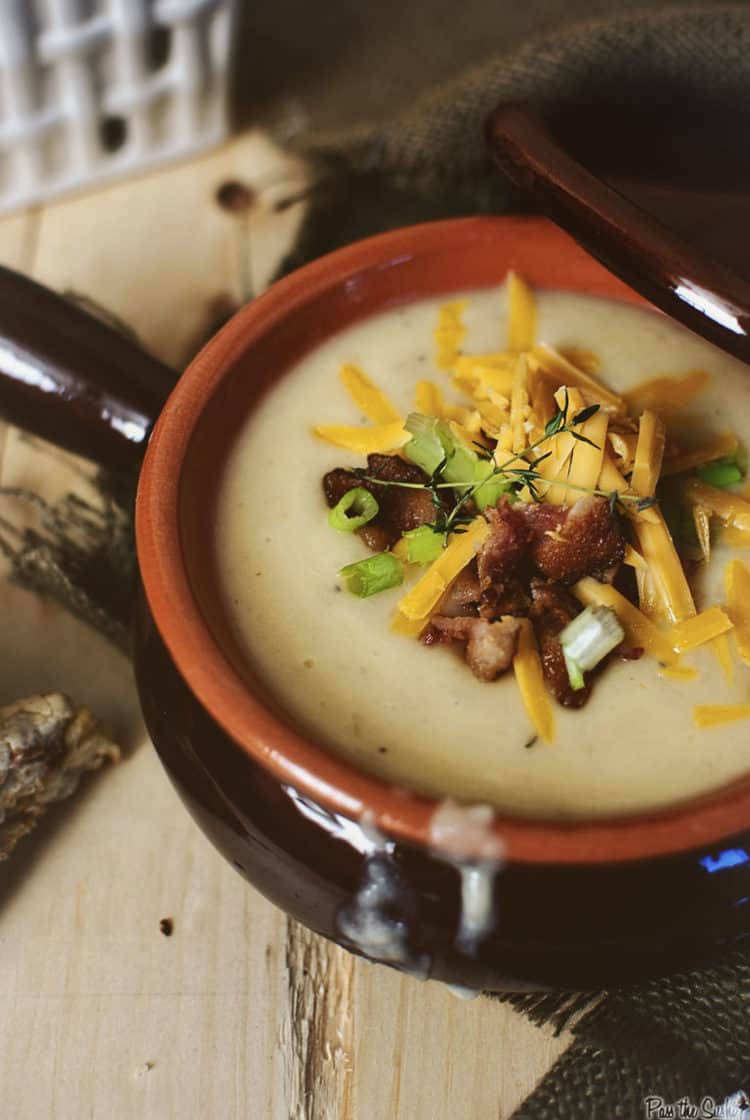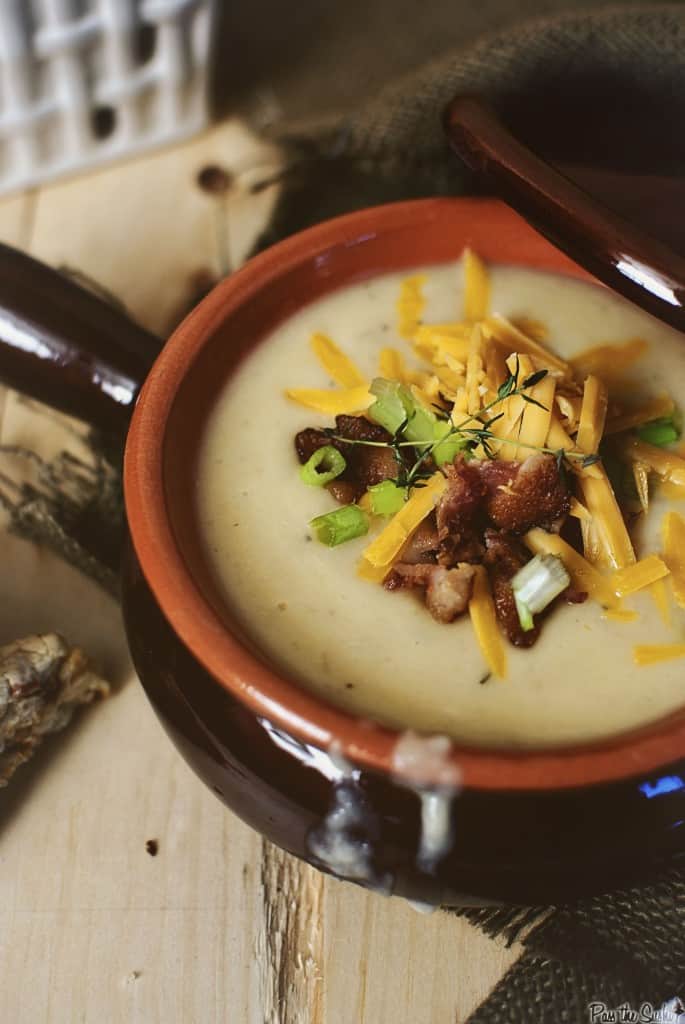 from Slow Cooker Revolution
Ingredients:
8 oz bacon, chopped
1 onion, minced
2 garlic cloves, minced
1 ½ teas minced fresh thyme
2 tbs flour
4 cups low sodium chicken broth
3 lbs russet potatoes (about 6 medium, peeled and cut into ½" cubes
2 cups shredded cheddar cheese, plus extra for topping*
½ cup heavy cream*
salt and pepper
scallions sliced thin for serving
Preparation:
Cook bacon in a 12" non stick skillet over medium heat until crisp. Transfer to paper towel lined plate to drain. Reserve 2 tbs of bacon fat in the skillet. Cover bacon and refrigerate until ready to serve.
Add onions, garlic, and thyme to fat in skillet and cook over medium high heat about 8 - 10 minutes, or until onion is softened and lightly browned. Stir in the flour and cook for 1 minute. Whisk in one cup of the chicken broth, scraping up and browned bits as needed; transfer to slow coker.
Stir remaining 3 cups broth and potatoes into slow cooker. Cover and cook until potatoes are tender, 4-6 hours on low.
Transfer 2 cups cooked potatoes to a bowl and mash until smooth with potato masher (alternatively, whip out the immersion blender and go to town). Stir in cheddar and mix until evenly melted. Stir in cream and mashed potatoes. Let soup heath through.
Reheat the bacon. Ladle soup into bowls and serve with bacon, extra cheese, and scallions.
* I added shredded horseradish cheese and sour cream instead of just cheddar and heavy cream.
Bacon Scones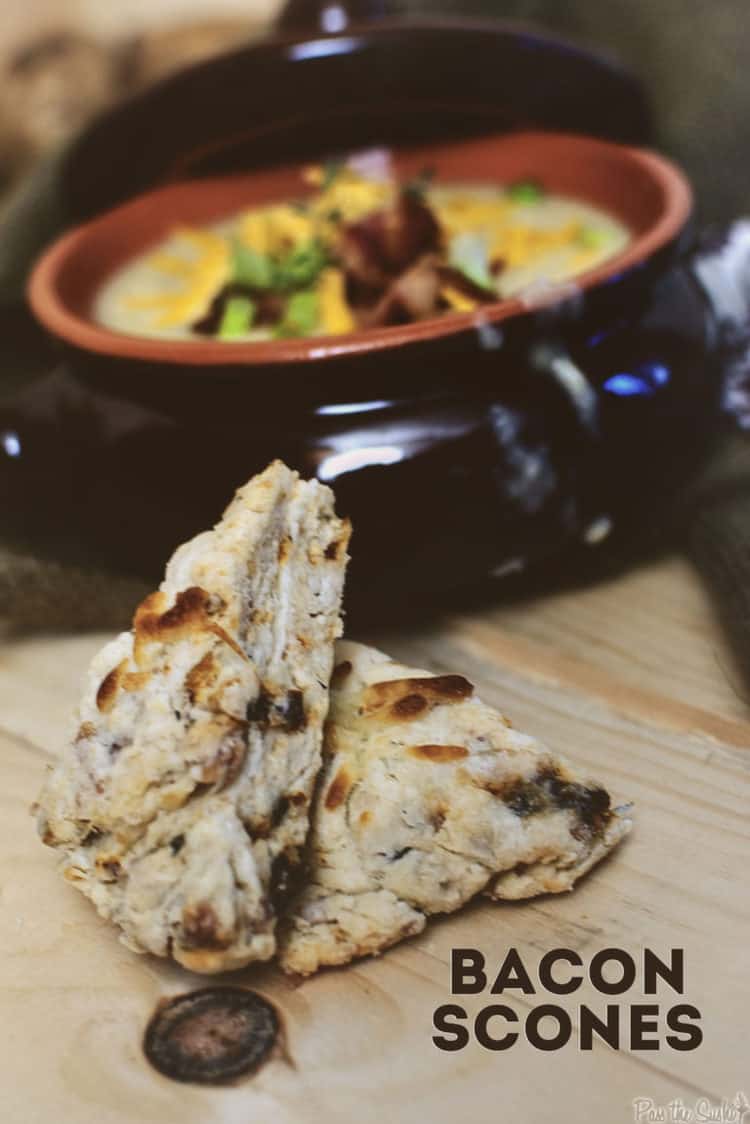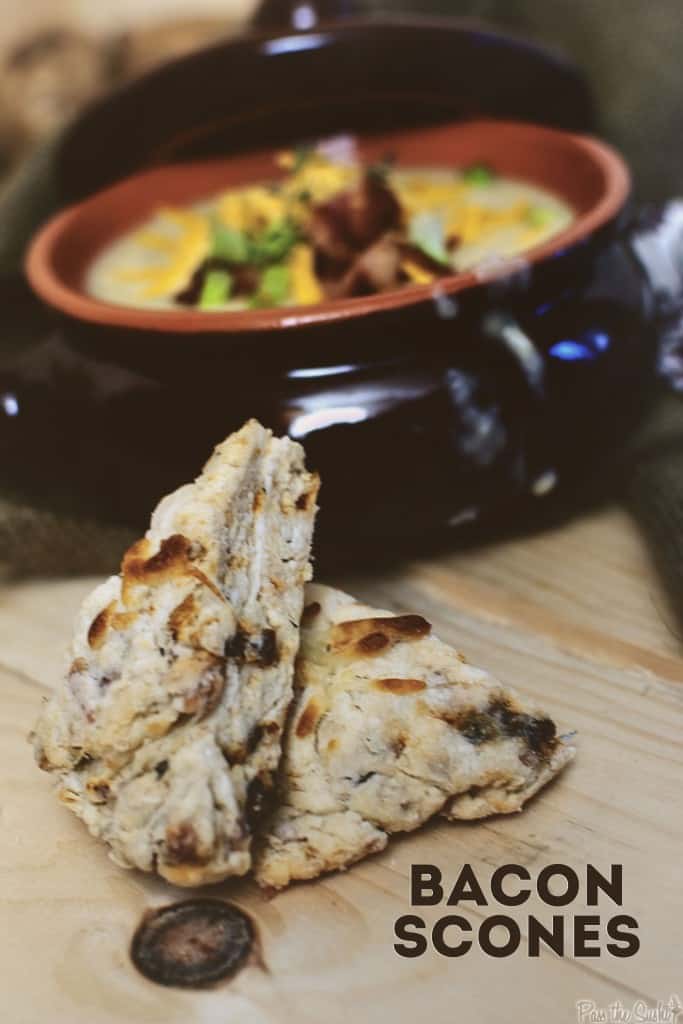 from BHG.com
Ingredients:
•    ¾ cup dried tomatoes (not oil-packed)
•    2 ½ cups flour
•    1 tbs baking powder
•    1 teas dried basil, crushed
•    1 teas dried oregano, crushed
•    ¼ teas garlic salt
•    ¾ cup butter, cut up
•    8 slices bacon, crisp-cooked, drained, and crumbled
•    ¼ cup sour cream
•    2 eggs, lightly beaten
•    2 tbs milk
•    ½ cup shredded mozzarella cheese
•    Crisp-cooked bacon, crumbled (optional)
Preparation:
Preheat the oven to 400 degrees F. Line a baking sheet with parchment paper and set aside.
Place sun dried tomatoes in a bowl and cover with boiling water. Let stand 5 minutes, drain well, chop and set aside.
In a large bowl, combine flour, baking powder, basil, oregano, and garlic salt. Using a pastry blender or your fingers, cut in the butter until the mixture resembles coarse crumbs. Stir in the chopped bacon and tomatoes. Make a well in the center of the flour mixture.
In a small bowl, combine the sour cream, eggs, and milk. Pour into the center of the flour mixture and stir with a fork until just combined. Don't over mix!
On a lightly floured surface, turn out the dough and knead 10 to 12 times until the dough comes together. Divide in two and form each half into a 7" circle. Divide into 8 wedges.
Place wedges 2" apart on prepared baking sheet. Bake for 5 minutes. Remove from oven and sprinkle with mozzarella cheese and bacon. Bake an additional 7 to 8 minutes or until the tops are lightly browned. Serve warm.
The winners of last weeks Muir Glen giveaway were Kari M, Shari, Frances Tran, Sarah,  and Lynde. All winners have been contacted via email.