Slow cooker tomato soup is creamy and comforting, and pairs exceptionally well next to a grilled cheese sandwich. This easy slow cooker recipe is a must make!
Hunger Games… This post may lose me a few readers. I just finished the third of the books and am still trying to figure out if I liked them or not. Obviously, I liked some aspect of them because I read all of them.
So, where I may have enjoyed reading the Hunger Games, do I think it could have better better? Hells yes. And here's why. The concept is great, a post revolutionary country divided into sections with forced manual labor and the constant reminder of the supreme power government holds over us, brilliant idea. The idea of one girl breaking all of it by unknowingly finding a way out and becoming integral in another larger plot. Great. But I felt that where these books had a great start, if they had been written for an adult audience, and expanded more upon the weight and consequence of every action instead of the meals and outfits, it would have been an outstanding series. I feel like these books were just the tip of an iceberg for what they could have been.
I loved that they were written for a YA crowd, as it meant I didn't have to flip past pages of overly forced love triangles, that the only romance is a few misinterpreted kisses and some cuddling here and there. I thought the level of violence was acceptable and didn't need any further details, especially as the books went on, which is also something that would have been further drawn out for a mature audience. But I believe the whole thing that tied all the books together, the government conflict and how almost every character was just a pawn in the game, would have benefited from a writing style more targeted towards the adult reader. The main character may have weighed her actions a little more, understood the cause and effect – however – her behavior and thinking was perfect for the Hunger Games books as they were written.
I thought the final ending was unsatisfactory to the whole series and feel almost as if the entire three books, death of a majority of the cast, and change in regime may have had little to no effect on the possible future of the fictional society. I also feel that the undoing of Peeta's character and his return to his old self at the very end of the third book is too quick. I pity the main character as things by the end of it never seem like she could be truly happy again and it seems that she is left with questions unanswered even as she takes things into her own action with the final draw of her bow.
I also felt that each of the books didn't have a natural closing. It's one thing to be an amazing writer so that your readers are drawn to you and want to buy your next book, but to force us into it with an obvious to be concluded isn't a great writer, to me.
Where I enjoyed the overall concept and story outlined by the Hunger Games, I would love to see it in written again for an adult market so that the entire morality of it could be weighed in on. I think those would be amazing Hunger Games books. But am I looking forward to the movie? Um, yeah.
Now, I extend this creamy slow cooker tomato soup recipe to you as an offering for your forgiveness before you pelt me to death.
It seems rather uncomplicated when you are throwing it all into the slow cooker, but the final product is rich with flavor and depth. It's the kind of soup that you could easily make a meal of on its own without realizing you have dipped your spoon in one too  many times or makes the perfect accompaniment to a great sandwich on a cold winter night.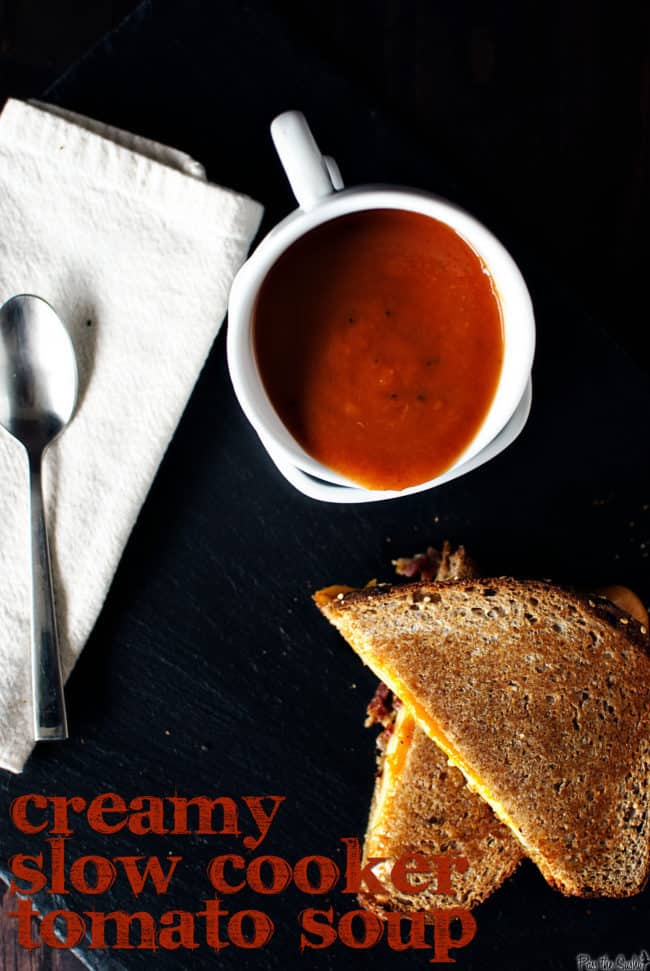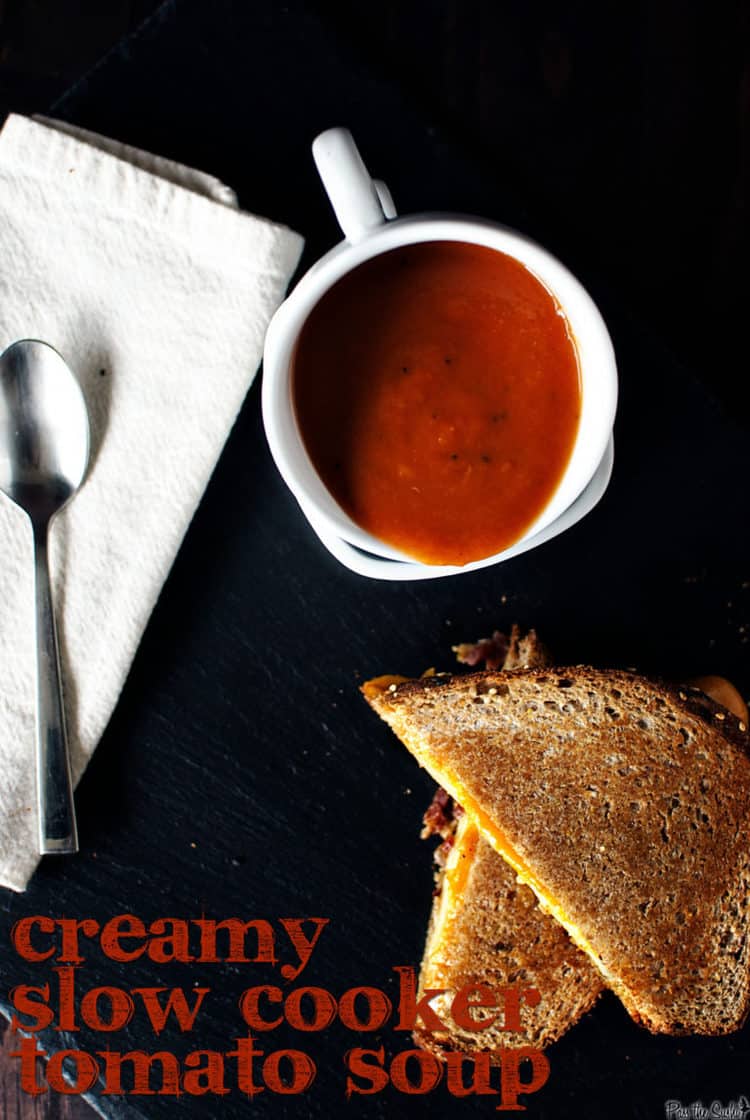 Creamy Slow Cooker Tomato Soup
Ingredients:
2 tbs unsalted butter
3 14.5 oz cans diced tomatoes, drained but reserve the juices
1 onion, minced
1 tbs brown sugar
1 tbs tomato paste
salt and pepper
2 tbs flour
3 cups low-sodium chicken broth, plus extra if needed
2 bay leaves
1/2 cup heavy cream
2 teas dry sherry
pinch cayenne pepper
Preparation:
Melt butter in 12-inch skillet over medium-high heat. Add tomatoes, onion, sugar, tomato paste, and 1/2 teas salt and cook until tomatoes are dry and lightly browned, 8 to 10 minutes. Stir in flour and cook for 1 minute. Slowly whisk in 1 cup broth, scraping up any brown bits; transfer to slow cooker.
Sit remaining 2 cups broth, reserved tomato juice, and bay leaves into slow cooker. Cover and cook until tomatoes begin to break down, 4 to 6 hours on low.
Discard bay leaves. Working in batches, puree soup in a blender, or with an immersion blender until smooth, then transfer to a large saucepan. Stir in cream, sherry and cayenne and add additional chicken broth as needed to adjust soup consistancy. Reheat soup over medium-low heat until hot. Season with salt and pepper to taste and serve.
Pesto Grilled Cheese
Ingredients:
2 tbs butter
4 slices wheat bread
2 oz sharp cheddar sliced thin
2 oz Munster cheese sliced thin
1/4 cup pesto
1/4 cup bacon, crumbled into bits
Preparation:
Preheat a medium skillet over medium heat.
Spread 1tbs butter on outside of each piece of bread.  Layer the filling on top, cheese, pesto and bacon, top with another slice.
Place 1 tbs butter in skillet and when foaming subsides, place sandwiches in skillet. Cook until golden brown and cheese is starting to melt, 3-5 minutes. Flip and cook until other side is golden and cheese is melted through.