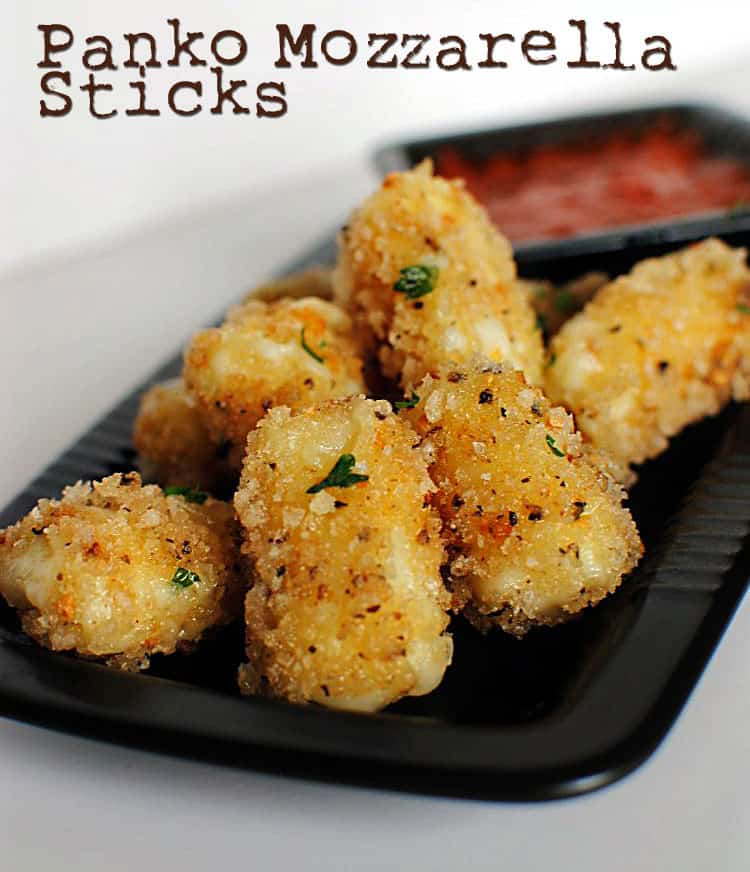 I saw this recipe a while ago while cruising food sites and knew I had to try it. I love mozzarella sticks – especially the horrible ones they serve at the bowling ally. The problem was, when to make it? Talking myself into actually making the deep fried cheesy delight was a hard one. It was totally worth it though.
Add this to the favorites tab because your going to love it.
Panko Mozzarella Sticks

Adapted from http://une-deuxsenses.blogspot.com

Ingredients:

16 pieces string cheese, removed from wrappers
1/2 cup flour
2 eggs
3 tbs milk
2 cups panko bread crumbs
1 tbs dried parsley
1/2 tsp. pepper
1/2 tsp. salt
1/2 tsp. granulated garlic
Canola oil, for frying

Preparation:

Slice the string cheese in half.

Place the flour in a small bowl. In another separate bowl, combine the bread crumbs with the parsley, salt, pepper and garlic, stir to combine. In a shallow dish, whisk the eggs with the milk to combine.

To assemble, one by one, dust the cheese in the flour, tapping the excess off. Next, dip the cheese in the egg mixture, covering completely. Then lastly, roll the cheese in the panko crumb mixture. Gently remove and place on a baking sheet. Place the sheet in a freezer for 20 – 30 minutes to flash freeze sticks.

To cook, fill a medium saucepan with the canola oil until it reaches a height of about 1 inch. Heat over medium-high heat until hot.

When hot, add the mozzarella sticks, 8 pieces at a time. Watch closely and turn over to evenly brown, cooking less than 2 minutes. Do not allow the cheese to bubble and leak. Remove and drain on a paper towel lined plate. Enjoy!
What I did different:
Substituted fresh parsley for dried
Used the Italian style panko bread crumbs (really, these kind of rock).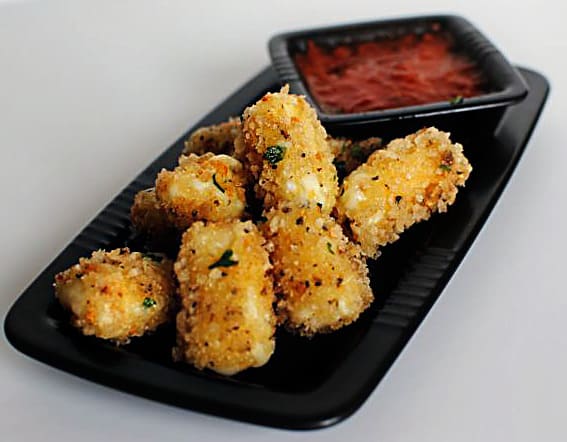 These were unexpectedly delicious. I really wish I hadn't eaten lunch and was able to pig out on these they were that kind of good. Even after they cooled and weren't all stringy the flavors of the garlic and parsley really stood out.