Black and white chocolate brownies are the perfect brownie for chocolate lovers. You get white chocolate and dark bittersweet chocolate in the same bite.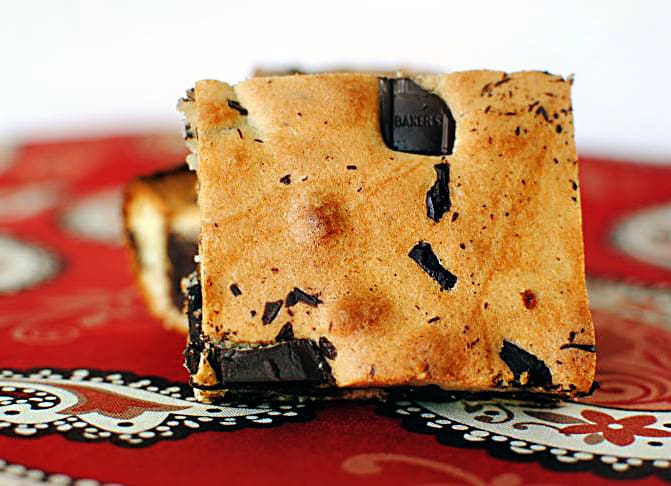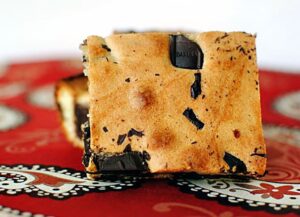 How important is good design when it comes to food blogs? How much of a role does in play in your interest in a site? Personally, I love a clean design but as long as the food looks good, I am not too influenced by the design.
However, the other day I rolled up the sleeves and redesigned the theme for Pass the Sushi. There are more pics, a spiffy slide show and more room for things on the sidebars. Getting used to the change is rather difficult for me but the 5 people I polled said they liked it. What do you guys think?  Do you like it?
Just in case you hate it, I made you some black and white chocolate brownies so we can get over this hump together. 🙂
Black and White Chocolate Brownies
from King Arthur Flour
Ingredients:
1 cup chopped white chocolate
¼ cup (4 tablespoons) butter
¾ cup granulated sugar
2 teaspoon vanilla extract
¼ teaspoon ground nutmeg
¼ teaspoon salt
2 large eggs
1 ¼ cups King Arthur Unbleached All-Purpose Flour
½ teaspoon baking powder
1 cup bittersweet chunks or chopped chocolate
Preparation:
Preheat the oven to 350°F. Lightly grease a 9" square pan.
Place the white chocolate, butter, and sugar in a heatproof bowl. Heat at low power in the microwave at 1-minute intervals, or over simmering water, until the chocolate softens; white chocolate is sensitive to scorching, so be careful.
When the butter is melted and the white chocolate looks soft, stir in the vanilla, nutmeg, and salt. Let the mixture cool to lukewarm. Beat in the eggs.
Whisk together the flour and baking powder, and stir into the egg mixture.
Stir in ¾ cup of the chocolate chunks. Spoon the batter into a greased 9" square pan, and sprinkle the remaining chocolate chunks over the top.
Bake the brownies for 25 minutes, until they're light golden brown and the edges pull just slightly away from the pan.
Cool completely and serve.

These are black and white chocolate brownies through and through. The white chocolate flavor is rich and delicious. They stayed moist in the middle and I like the chunks of bittersweet chocolate mixed in to even things out. On top of it all, they are quick and easy! I had them in the oven by 8:30 am before my day even started. Enjoy!
If black and white chocolate brownies aren't your thing, you can always make one of these other brownie recipes: