Red velvet brownies are a spin on red velvet cake. Moist, fudgy brownies, with a pop of red food coloring and white chocolate frosting.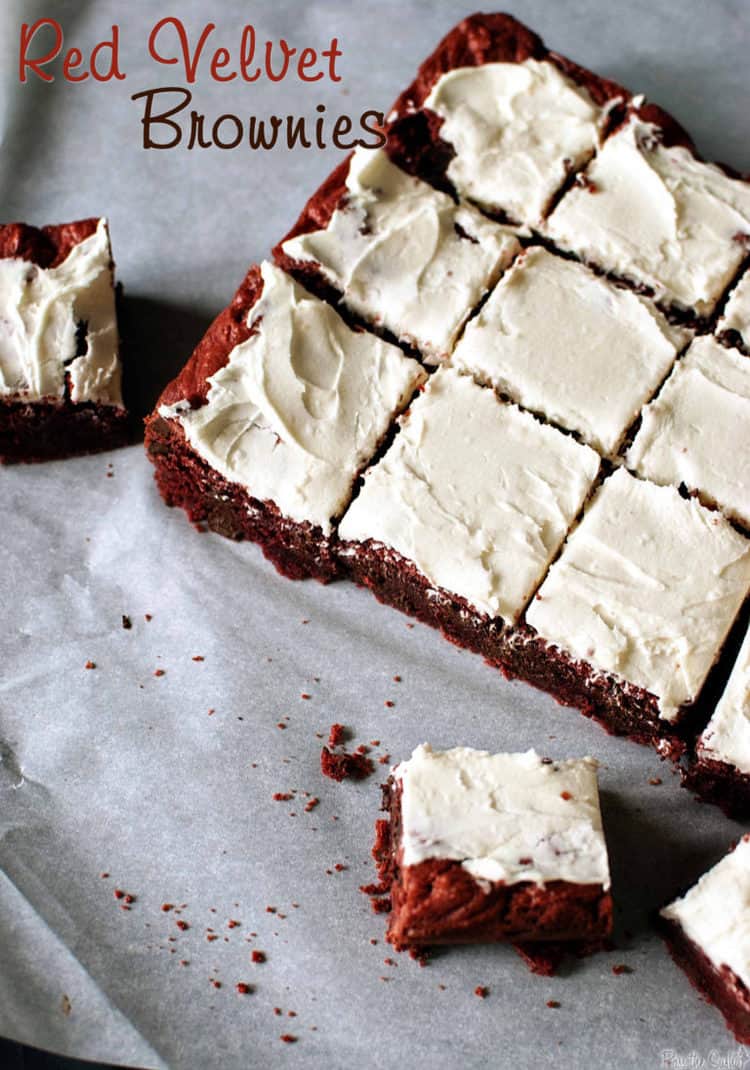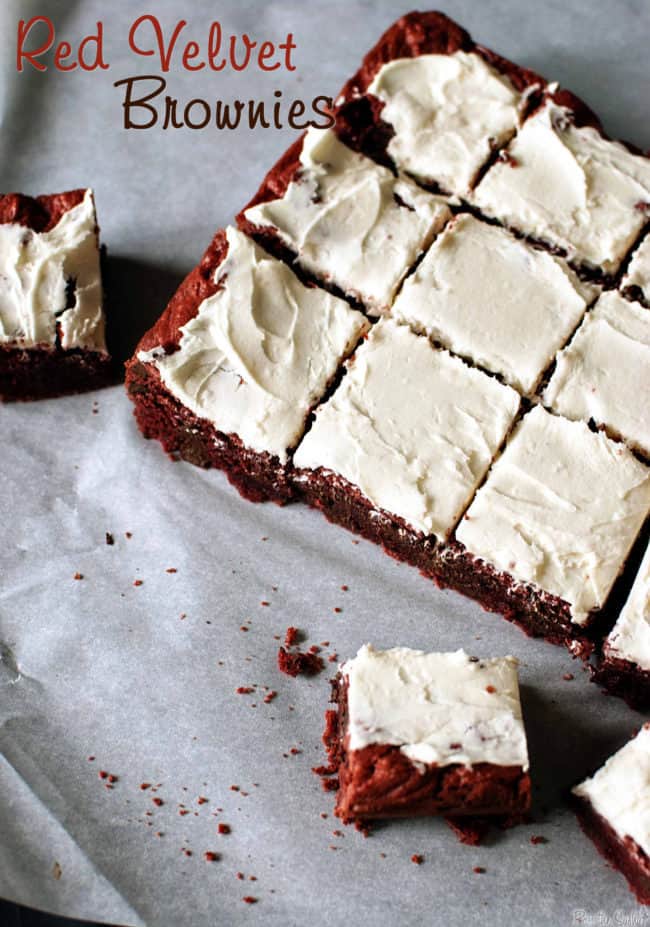 Red velvet cake has got to be my number one guilty pleasure. Not sure what it is, but it's the one dessert I will not pass up - even if that means sacrificing the main course just to make sure there's room. I know its chocolate cake with food coloring (lots and lots of food coloring), but something magical takes place when the red dye is added and the cake is baked to perfection.
I'm 99% sure that something may have a lot to do with red velvet's traditional frosting, that magical cream cheese frosting that no one is immune to.
Needless to say, when I spotted the red velvet brownies recipe on Runs with Spatulas they went in the file to be made. At the next family get together (the one where daddy wanted red white and blue cupcakes with sparklers and sprinkles. Yeah, no pressure), these little babies were made. And just in case Danielle was right and they were irresistible, two batches were made.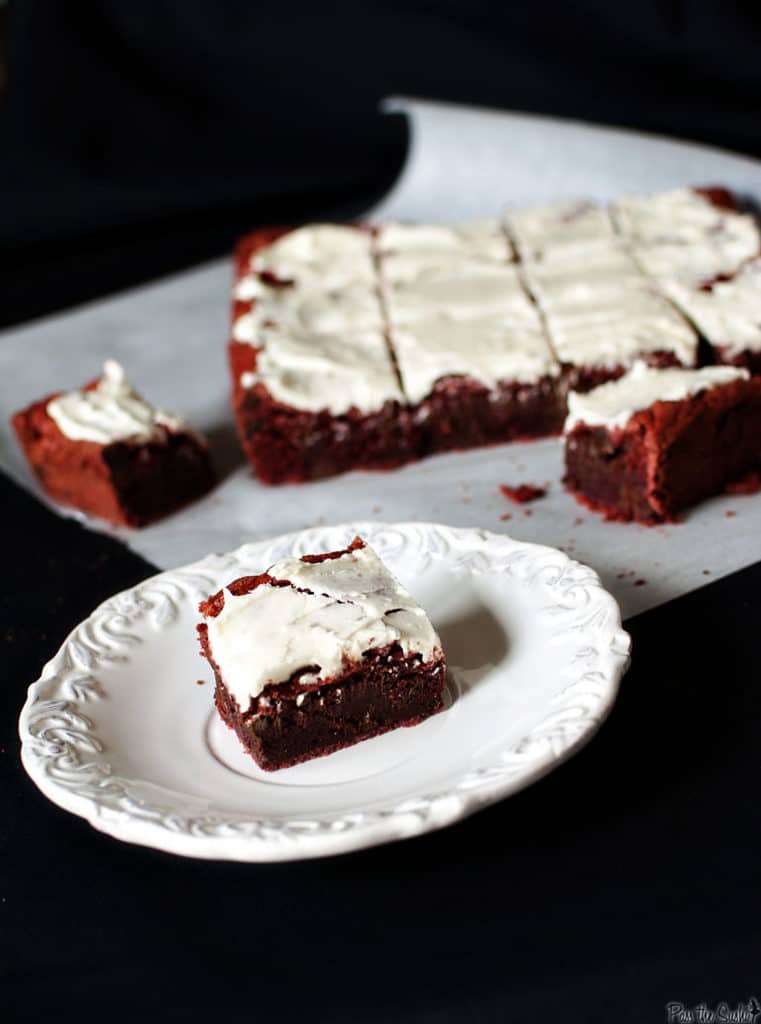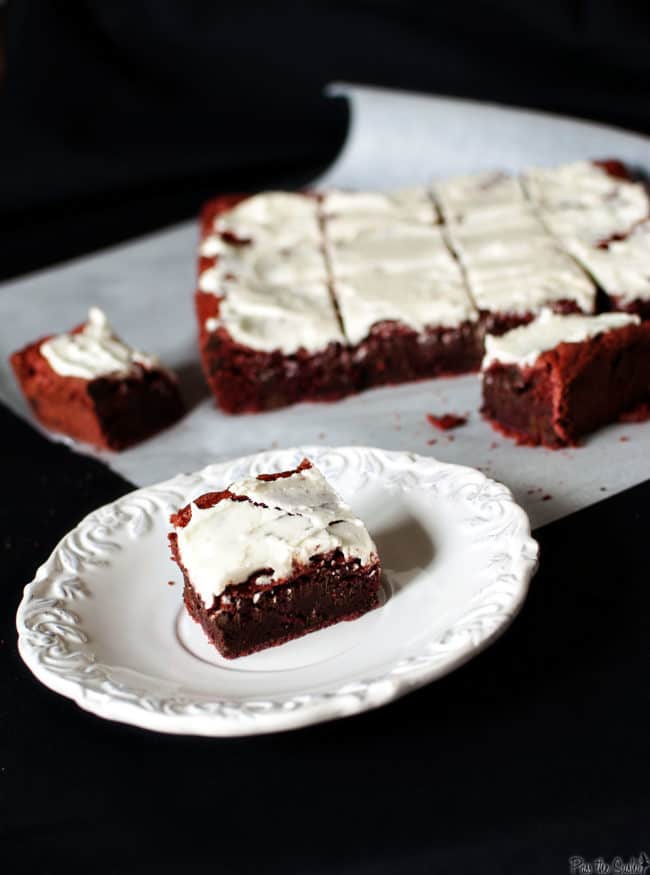 She was right.

Ingredients:
For the brownies:
3 tablespoons cocoa powder
2 tablespoons red food coloring
2 teaspoons vanilla extract
½ cup butter, at room temperature
1 ½ cups sugar
2 eggs
¼ teaspoon salt
1 ¼ cups flour
⅔ cup chocolate chips
For the Icing:
¼ cup butter, at room temperature
1 ¼ cups powdered sugar
½ teaspoon vanilla extract
2 ounces white chocolate, melted
1 tablespoon milk
Preparation:
Preheat oven to 350 degrees F. Grease and flour a 8 x 8 baking dish.
Stir together cocoa powder, red food coloring, and 1 teaspoon vanilla in a small bowl; set aside.
In a large mixing bowl, cream butter and sugar until light and fluffy. Beat in eggs one at a time. Add 1 teaspoon vanilla. Mix in cocoa powder mixture, beating until batter is completely red (add more food coloring if desired). Stir in flour and salt, mixing until just combined. Fold in chocolate chips. Pour batter into the prepared baking dish. Bake for 25-30 minutes, or until a toothpick inserted in the center comes out clean. Cool completely.
Meanwhile, make the icing. In a large mixing bowl, cream butter until smooth and fluffy. Add vanilla. Slowly stir in powdered sugar. Mix in melted white chocolate and beat until incorporated. Add milk with mixer on low speed until consistency desired is achieved.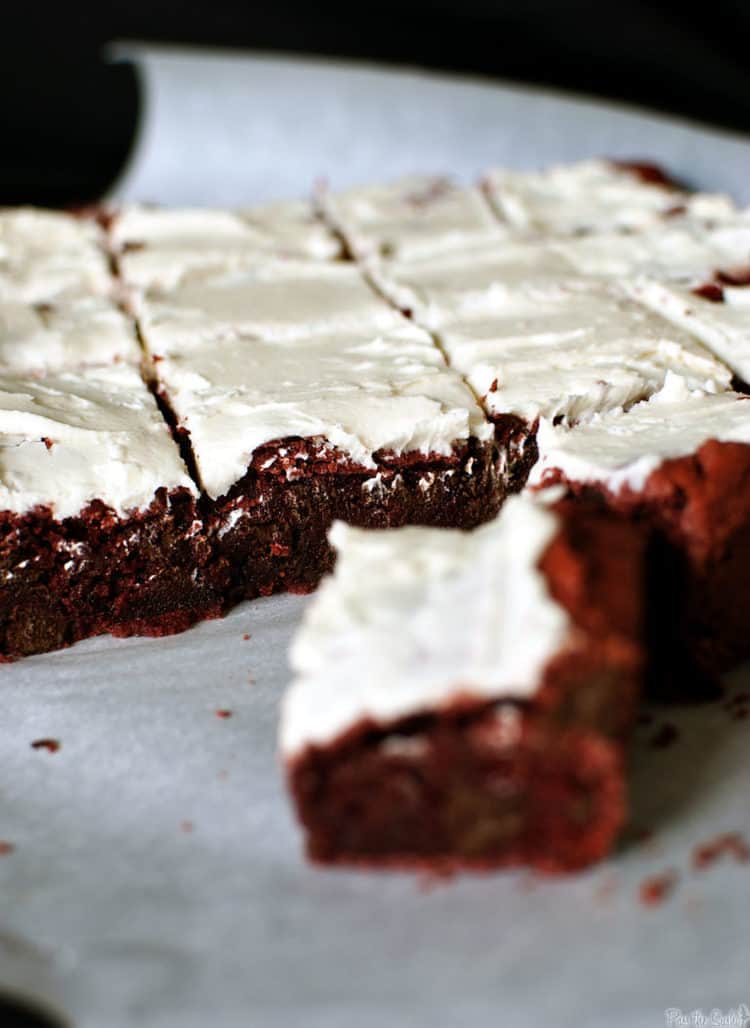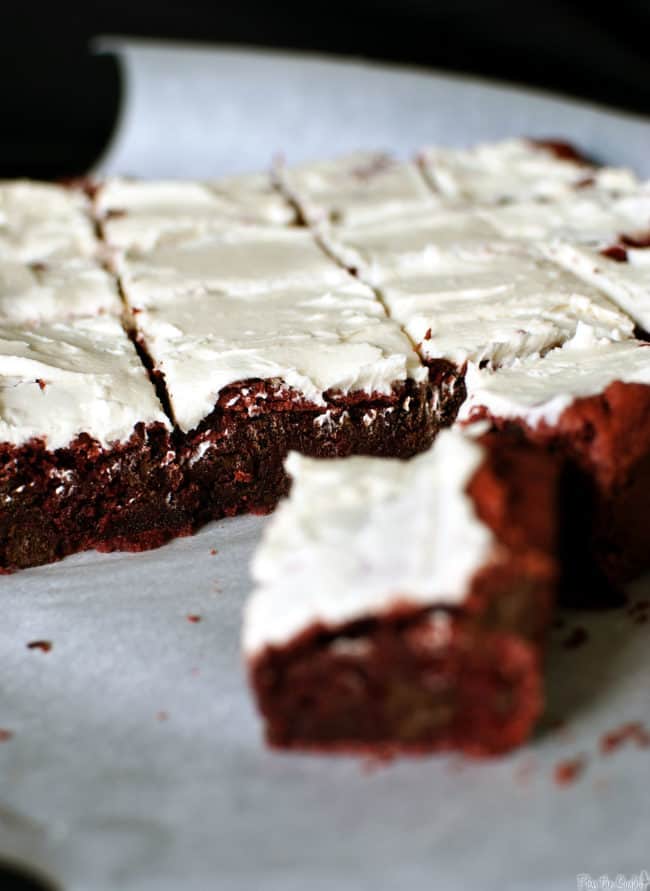 Be weary that these red velvet brownies can go from just right to dry in a split second if overcooked.
And it's hard to tell for proper doneness with all those gooey chocolate chips hanging out in the brownie pool. In other words, don't murder the brownies by letting them cook too long.
These brownies were great. They don't taste like a traditional brownie, so that will throw those brownie purist into a fit, but its not traditional - it's red velvet. They can stick to plain Jane brownies and we can sit here and eat every last crumb of any variation we can think of... Not that I would do that... Ever... 😉