Are you ready for some football?
Good, cuz I'm not.
To be honest, I know nothing about football. I only watch one game a year, and sadly, since Janet Jackson decided to flash a stadium full of people and several million all-age viewers via cable, I can't even say it's for the commercials. Come on - admit it! They have not been nearly as amusing as they used to be.
But on that one cold day at some point in 2012, I'll be into football. I'll pick a team based on a little knowledge of the players, who else is in the room, and the uniforms. Then, cheer them on for a few hours, in a room filled with friends, laughter and good eats.
Oh, the eats. The football season seems to be an awesome excuse to fill the counter tops with the cheesiest dips, the heartiest chili, the stickiest wings and everything in between. We won't even begin to mention the tailgating. Yeah, I may not know a darned thing about the game - but I love me some football food!
Since today is the start of the football season, I figured we could get our nosh on in honor of the sport.
(Thank you to my Facebook friends for the tip on the date.)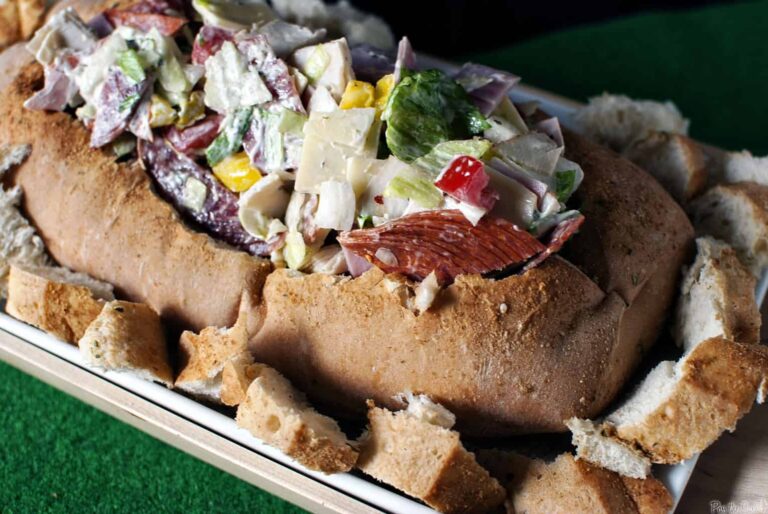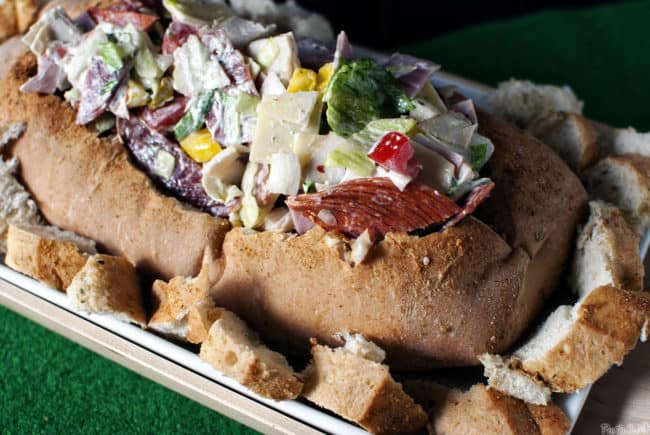 Football Hoagie Dip
from Food Network Magazine October 2009
Ingredients:
1 medium onion
2 pickled pepperoncini peppers
½ head iceberg lettuce
1 large tomato, halved and seeded
¼ lb deli-sliced genoa salami
¼ lb deli-sliced ham
¼ lb deli-sliced prosciutto (I substituted deli-sliced pepperoni)
¼ lb deli-sliced turkey
¼ lb deli-sliced provolone cheese
½ cup mayonnaise
1 tbs olive oil
1 teas dried oregano
1 ½ teas dried basil
½ teas red pepper flakes
1 10-12" round loaf of Italian bread
8 hoagie rolls, cut into pieces for dipping*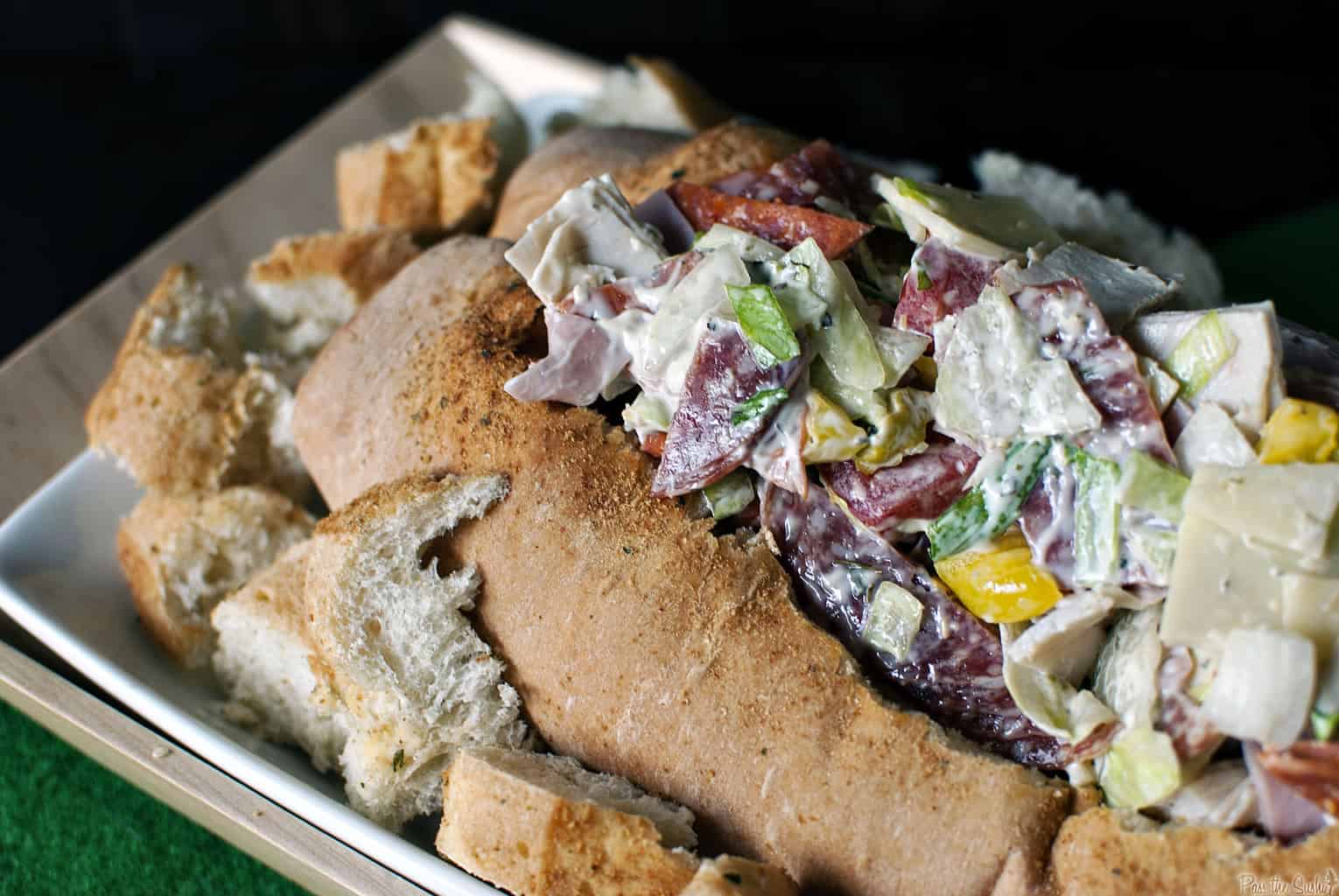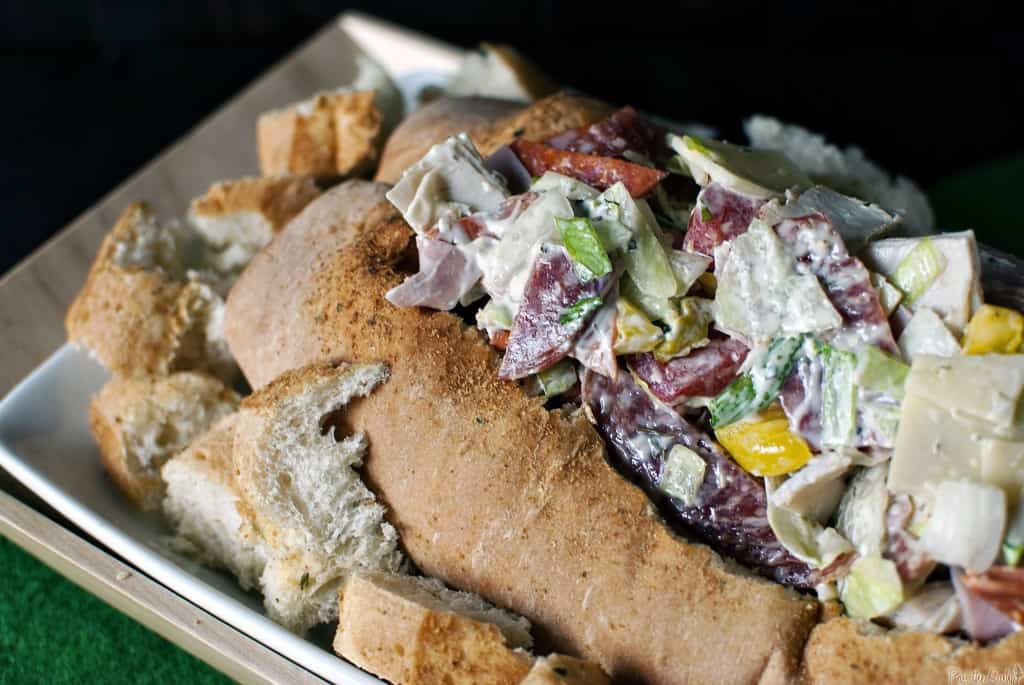 Preparation:
Chop the onion, pepperoncini, lettuce and tomato into bite-size pieces. Dice the meats and cheese. Combine the chopped vegetables, meats and cheese in a large bowl.
In a small bowl, whisk together the mayo, olive oil, oregano, basil, and red pepper flakes. Stir into the meat and vegetable mixture and combine. Refrigerate until ready to serve.
Carve out the center of the bread loaf to make a bowl being careful not to cut through the bottom. Cut the scraps into bite-sized pieces, and the additional hoagie rolls into slices. Serve together and scoop out dip onto bread.
*Wont lie, there was no pretty way to scoop this dip. We made plenty of messes trying to delicately scoop - and then we just gave up and enjoyed it. 😉