Cheesecake chocolate chip cookie bars exist because, let's face it; we all need a little something something sweet from time to time. And let me tell you, these bars are it.
Oh, they're it, alright…
A layer of cheesecake sandwiched in between chocolate chip cookies? Yeah, we need that.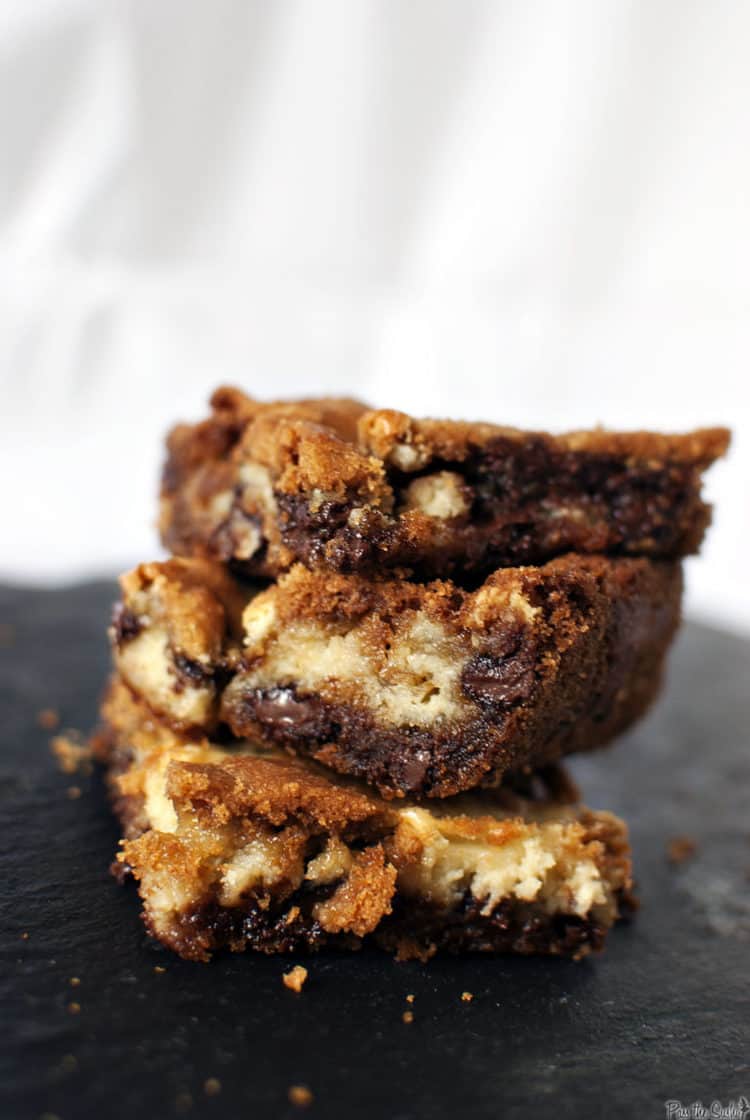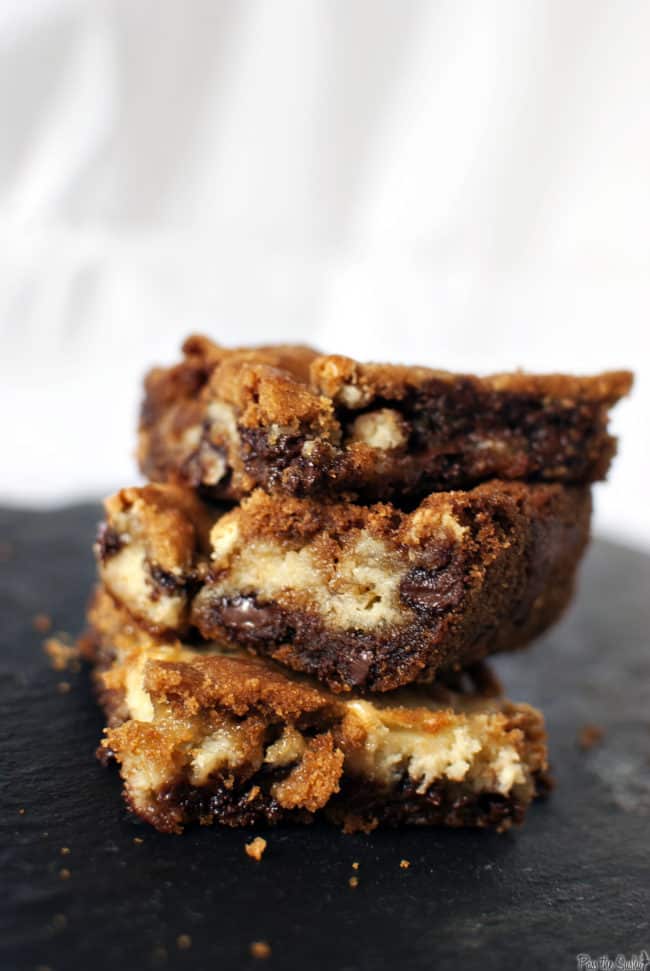 Cheesecake chocolate chip cookie bars are chewy cookies, stuffed with a layer of smooth, creamy cheesecake filling. You need them ASAP.
Cheesecake Chocolate Chip Cookie Bars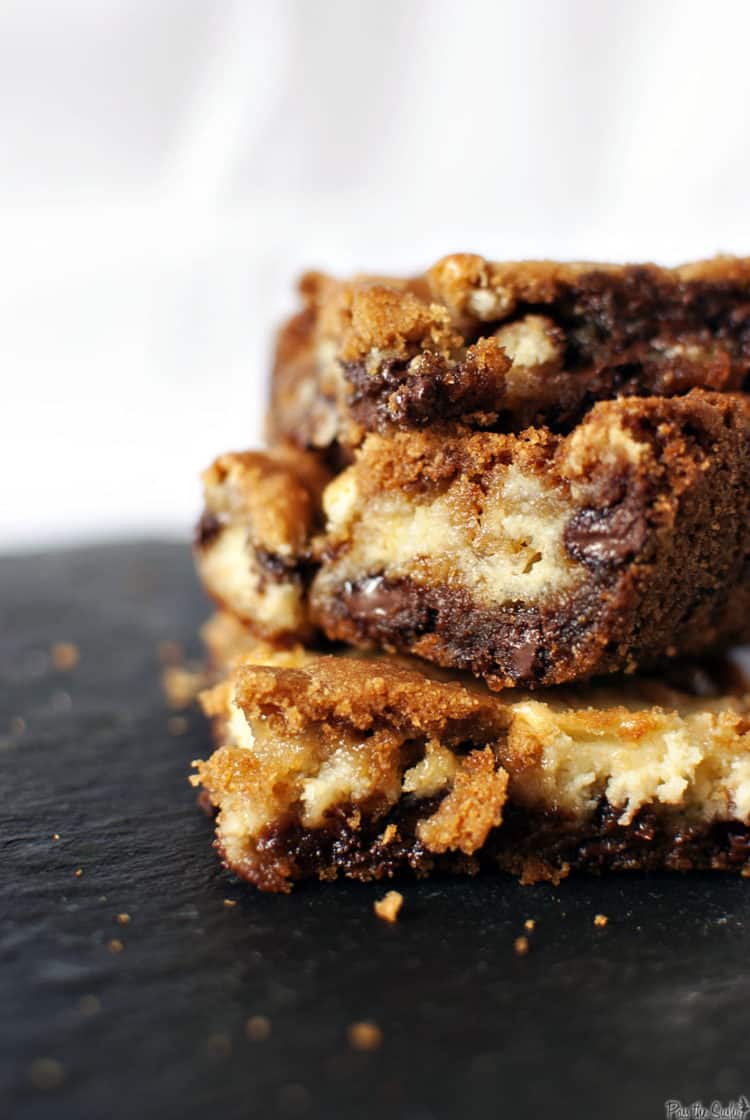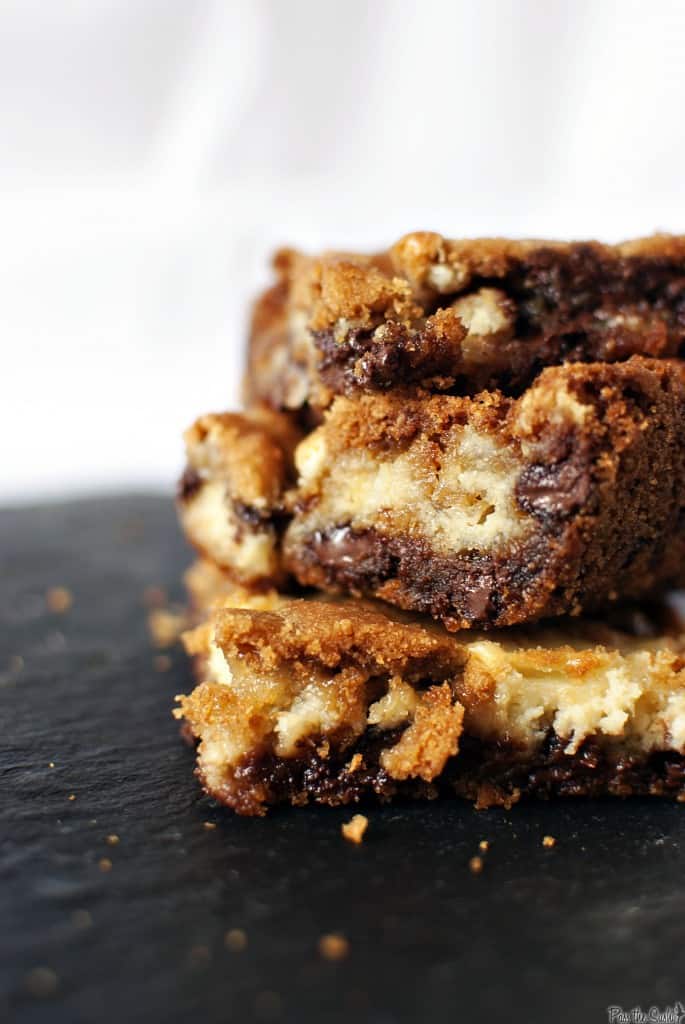 Discovered on Tracy's Culinary Adventures,  from Heat Oven to 350
Ingredients:
For the Cookie Dough:
1/2 cup unsalted butter, at room temperature
1/2 cup shortening
1 cup packed light brown sugar
1/2 cup granulated sugar
2 teaspoons vanilla extract
3/4 teaspoon salt
1 tablespoon cider vinegar
large egg
1 teaspoon baking soda
2 cups all-purpose flour
2 cups semisweet chocolate chips
For the Cheesecake:
8 oz  cream cheese, at room temperature
1/2 cup sugar
1 egg
1/2 teaspoon vanilla
Preparation:
Preheat oven to 350 F.  Spray a 13×9 pan with cooking spray.
In the bowl of a stand mixer fitted with the paddle attachment, cream the butter, shortening, both sugars, vanilla and salt on medium speed until light and fluffy, about 3-4 minutes.  Beat in the egg until well combined.  With the mixer on low, add the baking soda and flour and beat just until incorporated.  Stir in the chocolate chips.  Press half of the dough into an even layer over the bottom of the prepared pan (I found it easiest to use my fingers to do that).  Set aside the other half of the dough.
In the bowl of a stand mixer fitted with the paddle attachment, beat the cream cheese on medium until smooth and fluffy, about 2-3 minutes.  Add the sugar, egg and vanilla and beat just until incorporated. (I rinsed the bowl of my stand mixer & used it here but you could also do this with a hand mixer in another bowl if you'd rather.)
Pour the cream cheese mixture over the cookie dough layer in the bottom of the pan and spread to the edges.  Use the second half of the cookie dough (that you set aside earlier) to top the cream cheese.  The easiest way to do that is to grab pieces and flatten them into discs between your hands then place them around the cream cheese layer.  You don't have to cover the cream cheese layer completely.
Bake for 35-40 minutes, or until the top is brown and cooked through (the bars will begin to pull away from the sides of the pan slightly).  Transfer the pan to a wire rack and cool to room temperature then store in the refrigerator.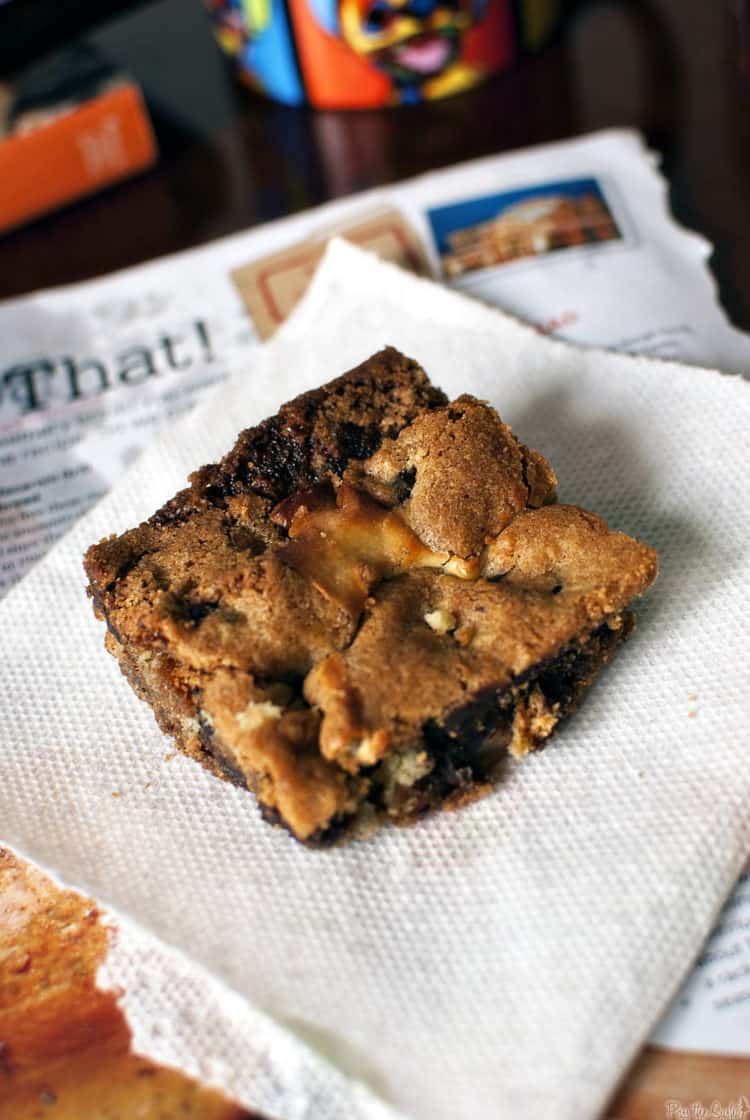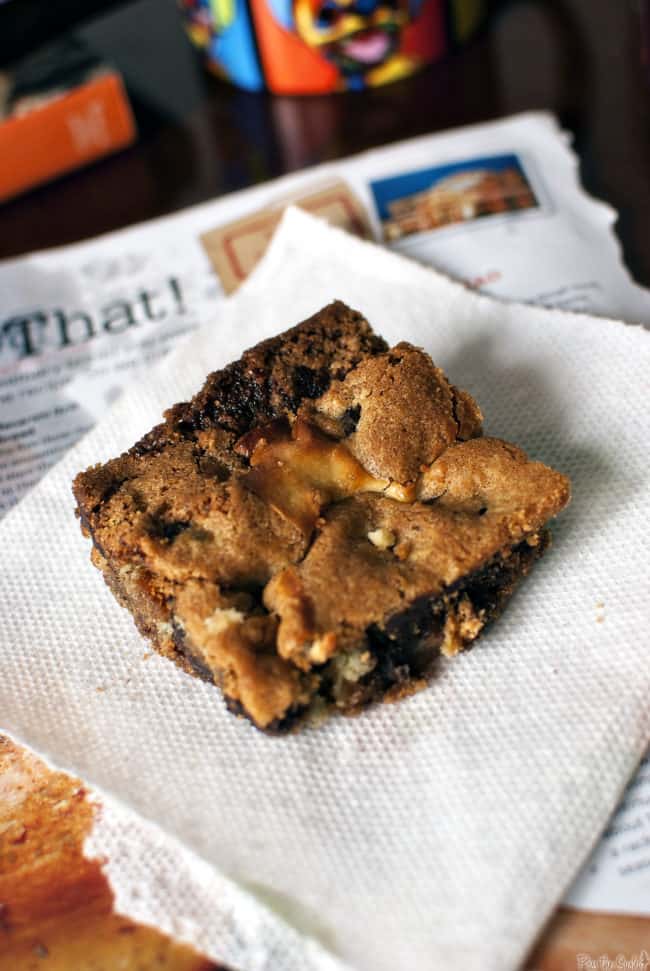 Rather different pics for me, but I wanted to show what my desk can look like from time to time. Not to mention my awesome Stitch mug. Yeah. I love that mug.