Love the flavor of coffee ice cream? Take everything to the next level with this tequila infused mocha coffee ice cream inspired by the love of hot spices from Mexico. It goes down smooth but leaves a warm sensation from the cayenne. This Spiked & Spicy Mexican Mocha Ice Cream Recipe is an adult twist on a classic treat.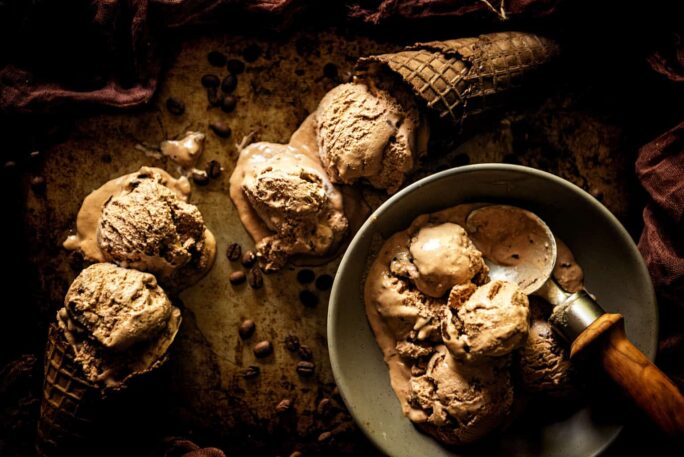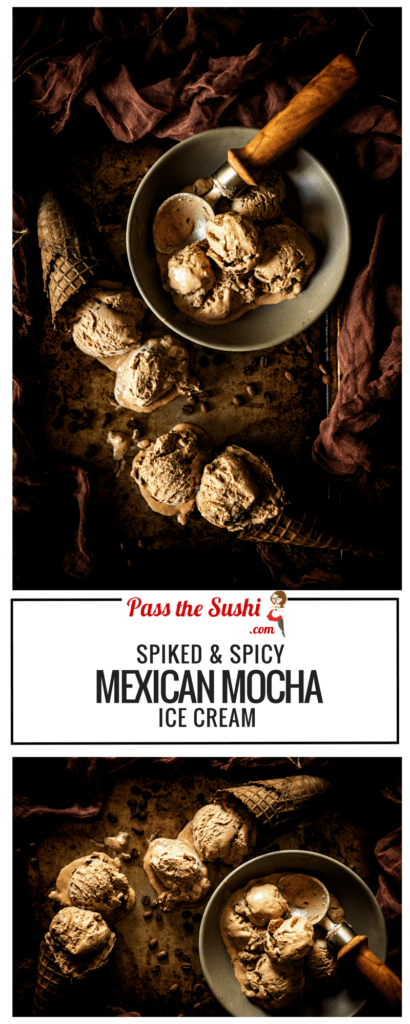 Current addiction – cold brew coffee. Have you tried it yet? It's a total new danger zone of coffee (at least for myself). It's all of the caffeine and then some. Because you know what I needed more of in my day to day life, caffeine. But, being the big cheap-0 that I am, I wasn't willing to fork over $3 to $5 for every one of my countless daily boosts. So, I started scoping out some of the brands at the market to see if I could curb the spending and still be happy. Plus, I am really trying to limit myself to 1 to 2 drinks a day with tons more water in between. (<–That is a bold faced lie. I am a hummingbird of pure caffeine these days).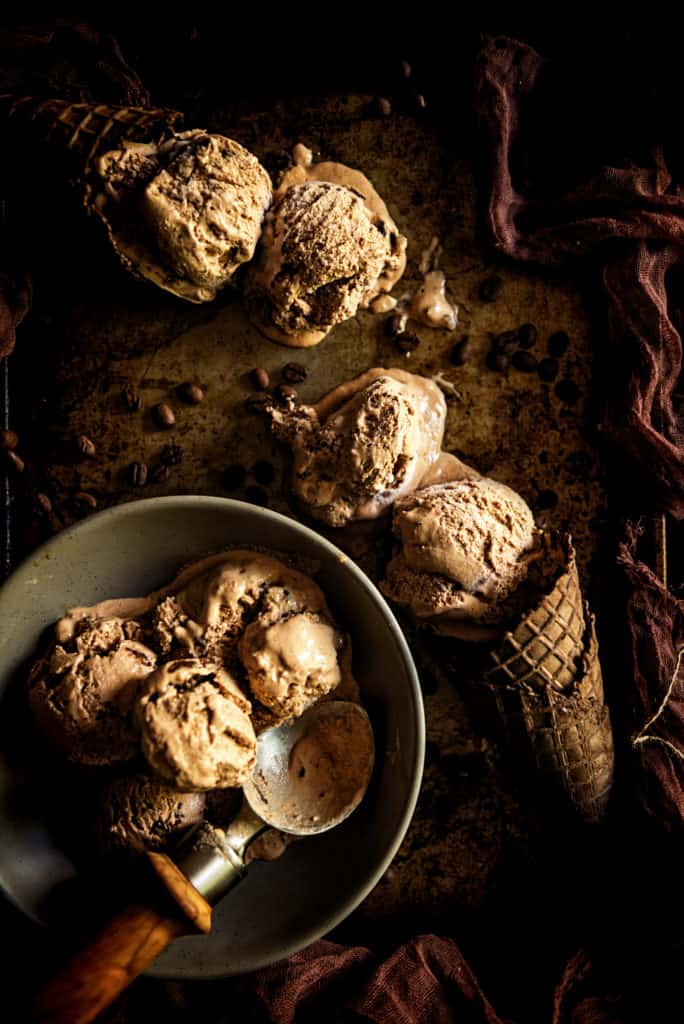 Stone cold fact, I got addicted to coffee this year. Never before have I needed it. But, I took on the Whole30 and bam, coffee was my crutch. Sugar-free hateful coffee. It tasted awful. But, no lie, you learn to like it. (Because being an adult means forcing yourself to drink enough of it black or with cashew milk that eventually you just give in). Now, it's a little Cali-Farms unsweetened Cashew milk (or there super rich creamer) and straight black coffee. Seriously, now I'm addicted to this stuff too.
So now, in between Whole 30 rounds, I am dreaming up creations like this.
Bonus! See this amazing milkshake I made with the Spiked and Spicy Mexican Mocha Ice Cream! 
Spike and Spicy Mexican Mocha Ice Cream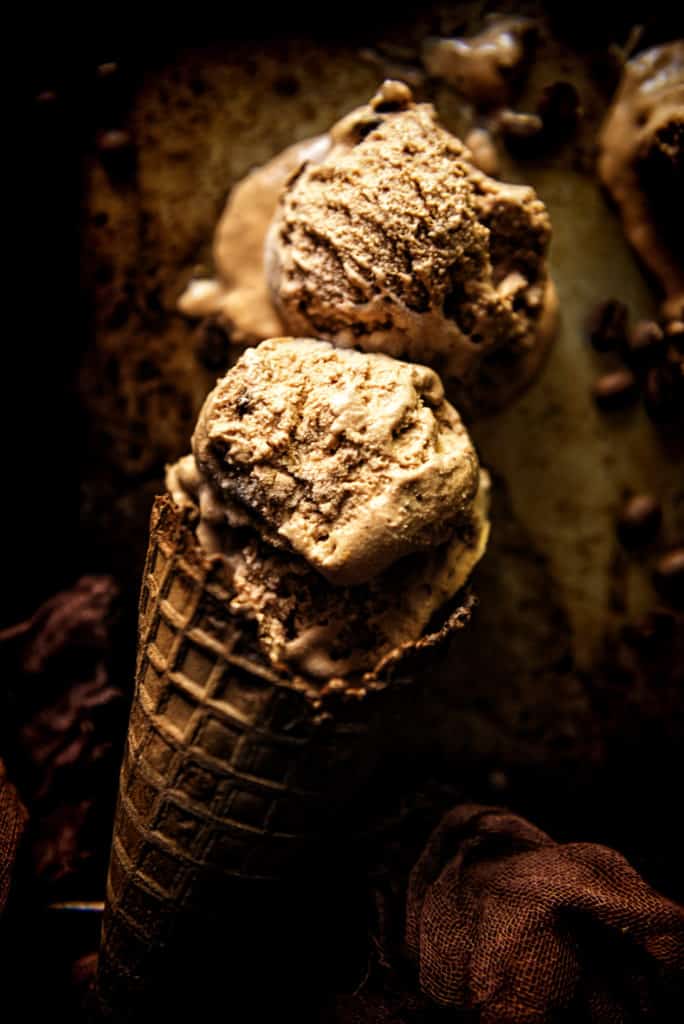 Spiked & Spicy Mexican Mocha Ice Cream
Total Time:
10 hours
35 minutes
Ingredients
6 egg yolks
3/4 cup sugar
2 cups heavy cream
1 cup iced mocha
1 tbs cayenne pepper
1 tbs vanilla extract
3 tbs tequila anejo
1/2 cup semisweet chips
1 tbs corn syrup
Instructions
In a medium bowl, whisk the egg yolks and sugar together until pale yellow; set aside.
Combine the cream and mocha in a medium-sized heavy bottom sauce pan. Cook over medium heat, whisking occasionally, until the mixture just starts to bubble around the edges of the pan.
Slowly drizzle the chocolate into the egg mixture, whisking constantly until combined. Transfer hot mixture back into the saucepan.
Cook over medium heat, whisking constantly, until the mixture is thick enough to coat the back of a spoon and registers 170 degrees F on a candy thermometer. Strain the mixture with a fine mesh sieve into a medium bowl. Stir in the cayenne, vanilla and tequila anejo. Place the whole bowl over an ice bath and whisk until cool. Cover with plastic wrap and allow to chill in refrigerator for at least 4 hours.
When chilled, process the mixture in your ice cream maker according to the directions from the manufacturer. Meanwhile, melt the semisweet chocolate chips in a double boiler with the corn syrup. Stir until smooth.
When the ice cream is just about set (usually indicated by the clanking of my machine, or about 25 - 30 minutes after I start churning) swirl in the melted chocolate with the machine running. The chocolate will harden immediately so be careful not to drop too much in at once.
Transfer to a resealable container and freeze over night before serving.