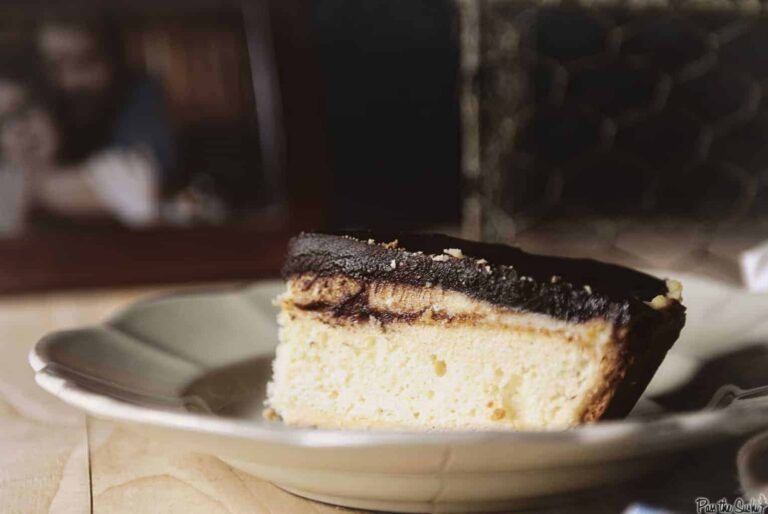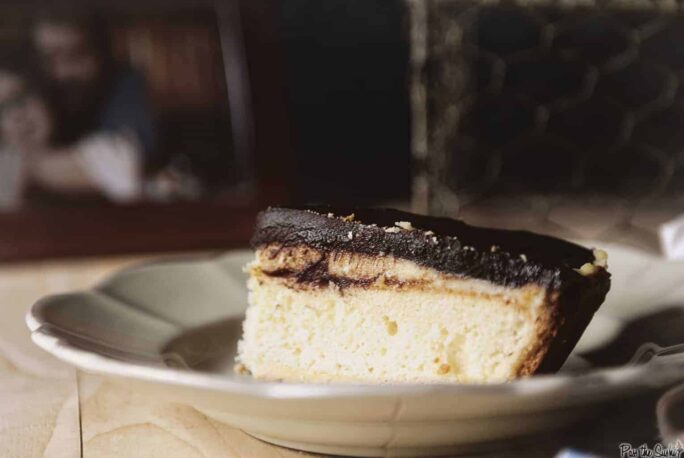 Today is all about Dad. The man of the house, the king of the castle, and speaking as my daddy's little girl - the most awesome, selfless, coolest, tougher than nails, genuine, always make you smile, give you the shirt off his back, truest person that I will never know. I am blessed to have an amazing father and a great relationship with him. We are best friends, and I can't imagine it being any other way. He's where I get my stubborn streak (ask Handsome, he is the one who points this out to me all. of. the. time.) my sense of humor, my mad people skills, and my food pushing. 😉 Dad can make you belly laugh once a day - any day - and twice on Sundays. Seriously, you should all come to a barbecue at our house some day. You'd love him.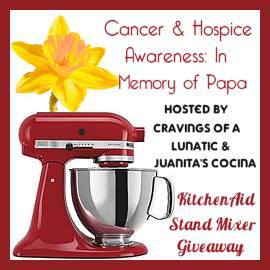 As for others, the opportunity to love their father's lives on through their memories. That's why a bunch of us bloggers have teamed up to celebrate dad and raise some awareness. So as I'm sitting outside grilling with my Papa Smurf tonight, I will be enjoying our time together, and thinking of many others and hoping you are enjoying your time too.
Today's event is being hosted by Kim of Cravings of a Lunatic and Jen of Juanita's Cocina. They teamed up with their blogger friends to help raise awareness and support for Cancer and Hospice today in memory of Kim's dad. We encourage everyone to read the posts and share their own experiences with cancer. We also would like to encourage everyone to donate to the Canadian Cancer Society, the American Cancer Society and also to the Canadian Hospice Palliative Care Association. Hospice was a key element during Kim's father's battle with cancer. They made it possible for Kim to care for him at home. So please show your support and donate if you can. You can also contact your local Hospice and donate directly to them if you wish. A little goes a long way!  #recipesfromtheheart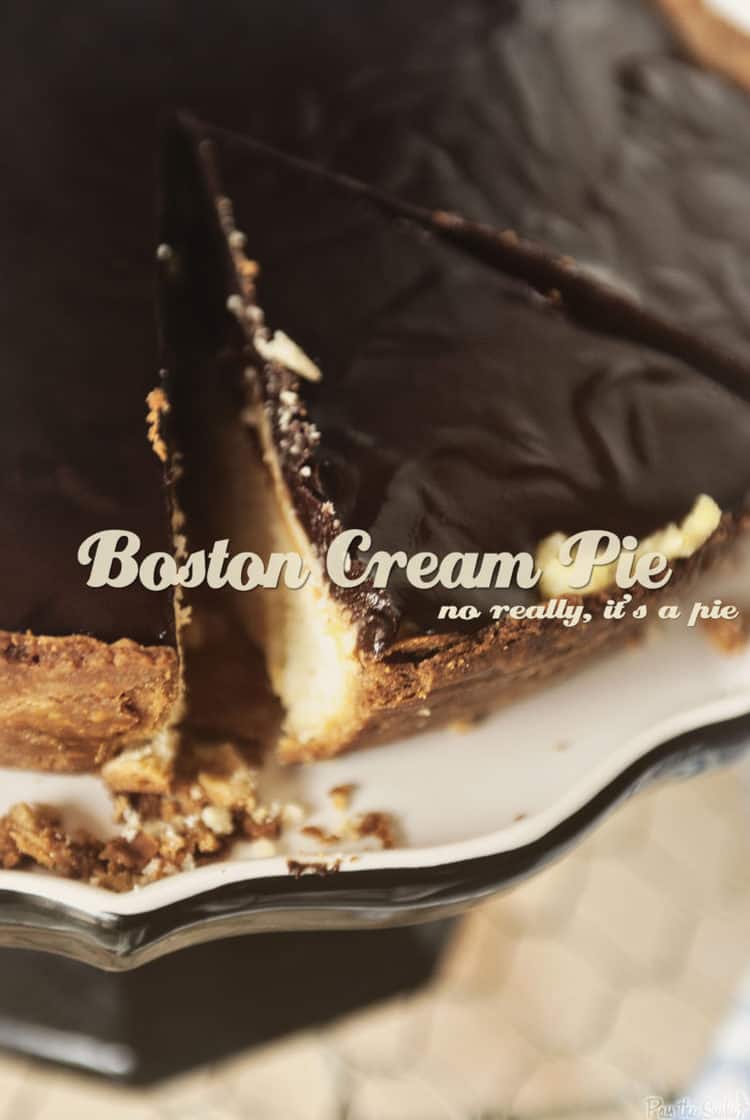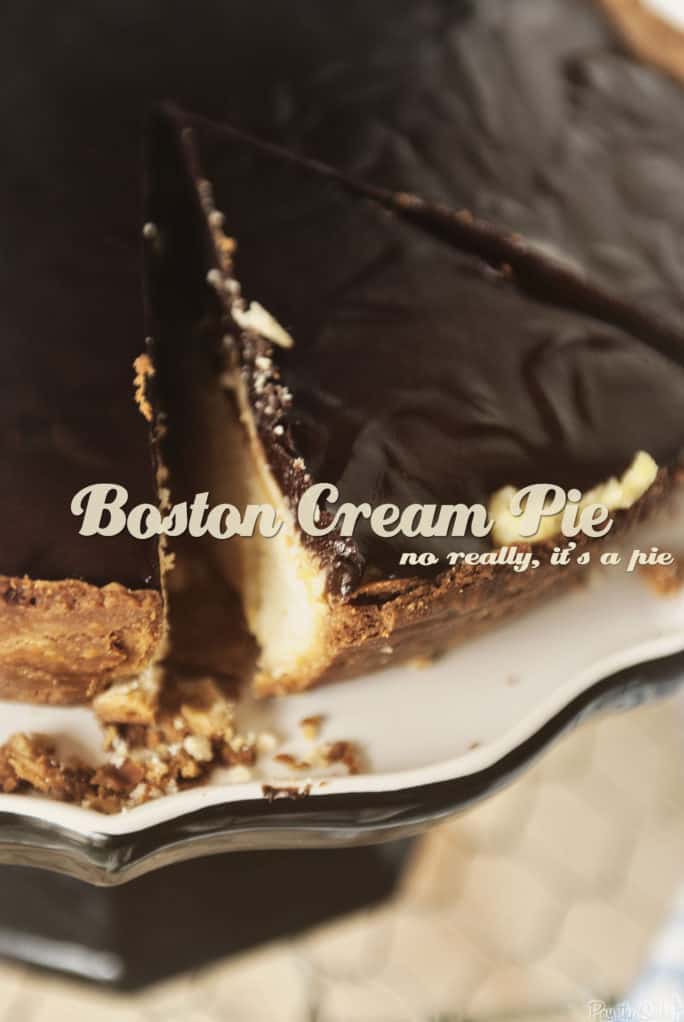 Boston Cream Pie
From: Pie it Forward
No really. It's a pie. With a cake inside. With pastry cream. And chocolate ganache. Oh snap.
Ingredients:
For the pie crust:
For the Cake:
½ cup sugar
½ cup unsalted butter
1 egg

1 teas vanilla extract

1 cup flour
1 teas salt
1 teas baking powder
½ cup buttermilk
For the Cream Filling:
¼ cup sugar
2 tbs cornstarch
3 egg yolks
1 teas vanilla bean paste
½ cup milk
½ cup heavy cream
For the Glaze:
2 tbs unsalted butter
¾ cup heavy cream
1 tbs corn syrup
pinch of salt
8 oz bittersweet chocolate
Preparation:
Preheat the oven to 350 degrees F. Line a 9" pie plate with the dough (don't worry about making this one pretty. I removed all the extra crust before serving the pie anyway. I would say even try a deep tart pan) and freeze it for 20 minutes. Line the crust with parchment paper and fill with pie weights. Bake for 15 minutes; Set aside.
In the bowl of a stand mixer fitted with the paddle attachment, cream the butter and sugar together until light and fluffy. Add the eggs and vanilla and beat until combined, scraping down the sides as needed.
In another bowl, whisk the flour, salt, and and baking powder. Add the flour mixture, alternating with the buttermilk, to the sugar in three additions. Mix until just combined.
Pour the batter into the pie crust and bake for 1 hour, until cake springs back and a toothpick inserted into the center comes out clean.
Let cool completely.
Meanwhile, make the cream filling. In your clean mixing bowl, whisk the sugar, cornstarch, egg yolks, and vanilla with the whisk attachment until fluffy.
In a heavy bottomed saucepan, simmer the milk and cream until the edges just start to bubble. With the mixer running on low, pour the milk in slowly. Increase the speed to high. Stop and scrape down the bottom. Mix again on high until smooth. (This only takes a few seconds).
Transfer back into the saucepan over medium heat. Whisk constantly and cook until thickened and is the consistency of mayo. Place plastic wrap directly on cream and cover. Place in fridge until cool. (I just set the pot on a trivet in the fridge).
When the cream is cool, make the glaze.
In a saucepan, combine the butter, cream, and corn syrup over medium low heat until it just begins to simmer and butter is melted. Remove from heat and add the chocolate. Do not stir. Let sit for 5 minutes. Walk away, check facebook, look at kitten pictures. Let the chocolate do it's thing. After it has set for 5 minutes, whisk until smooth and shiny. Let sit again for 5 minutes while you ready the cake.
Spoon the cream over the top of the cake and smooth. Pour the glaze over the cream and smooth with an offset spatula. I let it run over the sides, cuz who doesn't love extra chocolate. Let set and serve.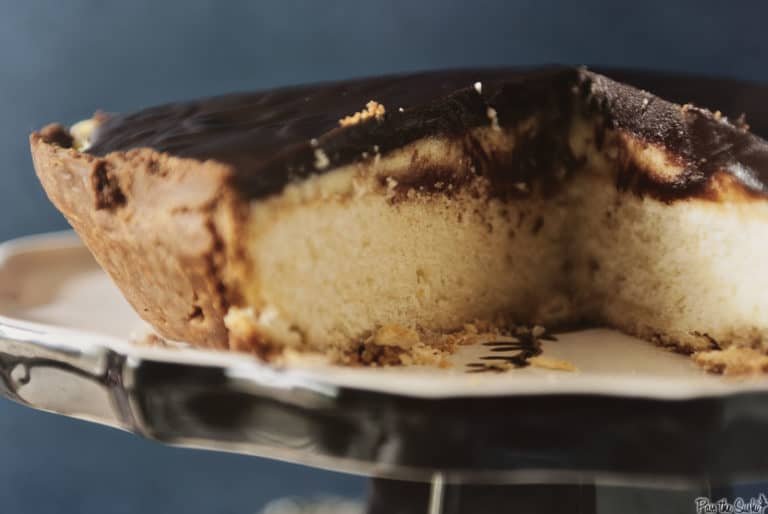 Enter for your chance to Win an Artisan® Series KitchenAid®  Stand Mixer in the color of your choice (there are 26 to choose from) as well as an Ice Cream Maker Attachment. A sweet choice for all,  this creative attachment features the largest ice cream bowl capacity in the industry. Prepare 2 quarts of ice cream, sorbet, gelato or other frozen desserts. We're pleased to announce the giveaway is open to Canadian residents, as well as U.S. Residents. Winner will be chosen and announced during the pinchatlive event, described below. Winner will also be notified via email and has 48 hours to respond. If winner does not respond another winner will be chosen. 1 Stand Mixer and 1 Ice Cream Attachment are being given away as a group, not 1 per blog just to be clear for our readers. 
There are bonus prizes for the pinchatlive event. We are giving away 1 Vanilla Infused Gift Box Set, 1 Lemon Infused Gift Box Set and a $30 Amazon Gift Card.  In order to participate in this event follow the Pinterest Board #recipesfromtheheart. Hop on the Pinterest board on June 22 at 2 pm Est to follow along. We'll ask questions and those who comment are entered to win the bonus prizes. There will be a G+ Hangout on Air during the event as well. Winners of the pinchatlive event must be Canadian or U.S. residents.
We are giving away 1 Artisan Series KitchenAid Stand Mixer and 1 Ice Cream Attachment to 1 lucky reader. The winner will get to choose from 12 colours so they can match their own kitchen. Giveaway is open to Canadian and U.S. residents ONLY! Winner will be drawn on June 22 at 12 a.m. (Est) and will be announced live during the pinchatlive event. They will also be notified by email. Winner has 48 hours to respond before a new winner will be chosen. Bonus prizes of 1 Vanilla Infused Gift Box Set, 1 Lemon Infused Gift Box Set and a $30 Amazon Gift Card will be drawn randomly during the pinchatlive. Winner needs to respond during the event to win. Bonus pinchatlive giveaway is open to Canadian and U.S. residents only.
Please check out all the other awesome blogs participating in #recipesfromtheheart
Vanilla Bean Ice Cream with Home-made Strawberry Topping by Cravings of a Lunatic
Chili Verde by Juanita's Cocina
S'Mores Brownies in Jars by That Skinny Chick Can Bake
Dark Chocolate and Orange Muffins by The Dutch Baker's Daughter
My Fathers Day Recipe Round Up by Curry and Comfort
Tropical Smoothie by Dinners, Dishes and Desserts
Mini Gugelhupf by Masala Herb
Sauteed Strawberry and Sugarsnap Salad by Cook The Story
Cranberry Cashew Breakfast Muffins by In Fine Balance
Arugula Salad with Sundried Tomatoes and Mushrooms by Crazy Foodie Stunts
Spicy Beef Sliders by Katie's Cucina
Thai Red Curry Soup by Damn Delicious
Suman (Sweet Rice and Banana Leaves) by Culinary Adventures with Camilla
Fresh Vegetable Salad by White Lights on Wednesday
Peanut Butter Cup Ice Cream Sundae by The Girl in the Little Red Kitchen
Cinnamon Chip Cookie Butter Bars by The Messy Baker
Berry/Cherry Fro-Yo Ice Cream by Cookistry
Honey Beer Bread by Hungry Couple
Cinnamon-Chocolate Chip Pancakes by The Spiffy Cookie
Chocolate Cherry Granola Bars by Sweet Remedy
Cookies and Cream Brownies by Cooking in Stilettos
Blueberry Lemon Cake by Roxana's Home Baking
Angel Cake by Ninja Baking
Knit (or crocheted) Grey Brain Cancer Mustache Pin by Knit, Purl, Damn!
We are hosting a pinchatlive event on Saturday June 22 at 2 pm EST. The event will be live on G+ and also on Pinterest. You can join us by following along on G+ Hangouts on Air, and also by following the PInterest Board #recipesfromtheheart. The winner of the KitchenAid Stand Mixer and Ice Cream Attachment will be announced live. There are bonus prizes up for grabs during the pinchatlive for those who participate in it. We're giving away 1 Vanilla Infused Box Set, 1 Lemon Infused Box Set and a $30 Amazon Gift Card. So make sure you join us for this event!