Banana Cream Pie. Simple, smooth and perfect. There's something about this simple southern pie that screams summer!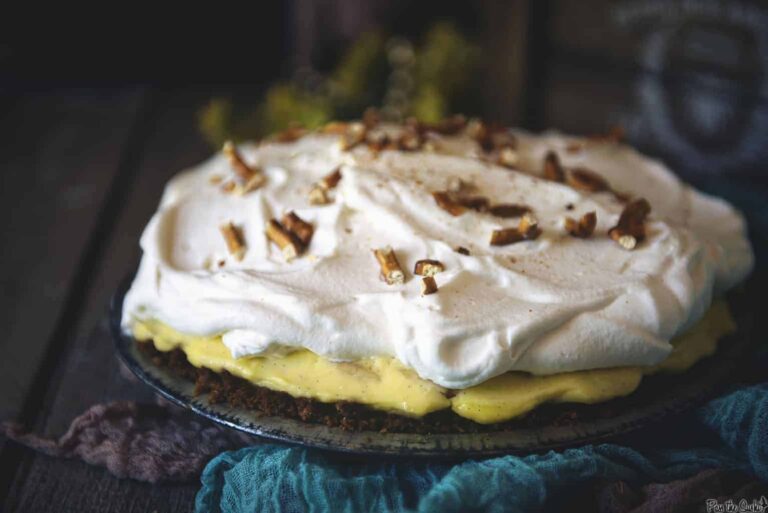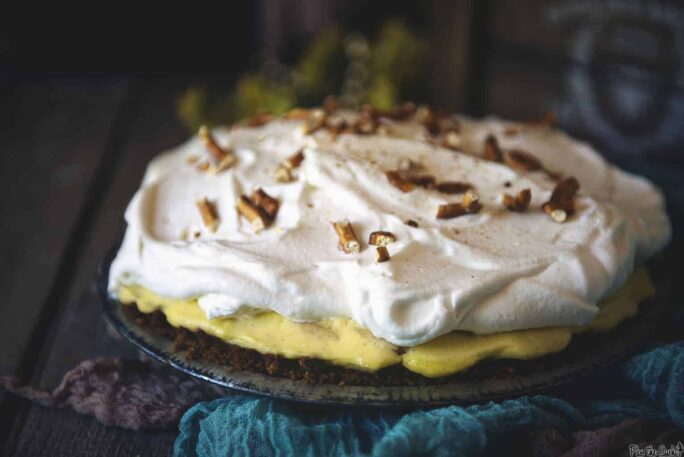 Southern Style Banana Cream Pie
With it's simple graham cracker crust, vanilla custard, and layers of bananas, southern-style banana cream pies are just about as delicious as one bite can possibly get!
True story; I want to run away to somewhere in the south. (Those of you from the south, withhold judgement at my idealized notions). Every time I travel to the South, it's like a step back. A tiny reminder to slow down and enjoy things.
People seem to talk a little slower. Things seem to take a little longer. And no one is acting like it's a big deal or that they are in such a hurry that it's a problem.
The days are hot and humid and the evenings are a little sweeter because of it as you sit on the porch and talk. The moss hangs from the trees and the lightning bugs zip by. Life just seems a little more plesant.
And then there's the food… If there was one region I would LOVE to eat my way through it would hands-down be the south!
My best friend's mother was from the south. She cooked every single meal from scratch and with love. I am convinced this is why it was some of the best food I have ever enjoyed. (Not to mention the lard, butter, bacon, and sugar). In the morning she would prep the recipes for the evening, make breakfast and lunch for the family, head to work and come home and occasionally roll biscuits from scratch.
There was never too much to do and she was never too tired to prepare a proper family meal. Every night we sat down at the dinner table and enjoyed supper together. It's something that I charish, something my family does, and something that I hope everyone makes time for every now and then.
Talk a little slower, savor your meals, laugh with good company, and roll those biscuits from scratch.
And of course, make sure to bake a banana cream pie when you want to make an amazing dessert.
Tips For Making Vanilla Custard
By using a starch to thicken the cream, the custard making part of the equation is not too complicated. There are a few handy tips to make sure you get it right.
You don't have to worry as much about the custard separating, but you can still overcook it. Keep an eye on it. When it thickens then it will coat the spoon and slide off rather than drip off. When it coats the spoon you can pull and quickly cool it.
It will thicken as it cools but putting the custard pot onto some ice is not a bad idea still. It will still have more time to chill and set up, but at least it won't still be cooking.
Make sure to have vanilla beans handy. Yes, you can get by without one and just use the vanilla extract. But trust me, it is insanely better if you add the actual vanilla bean.
Cooking the custard a day ahead is not a bad way to go. It will set up properly that way. You should also do the pie crust a day ahead. Because you want that cold as well when you add the custard to it.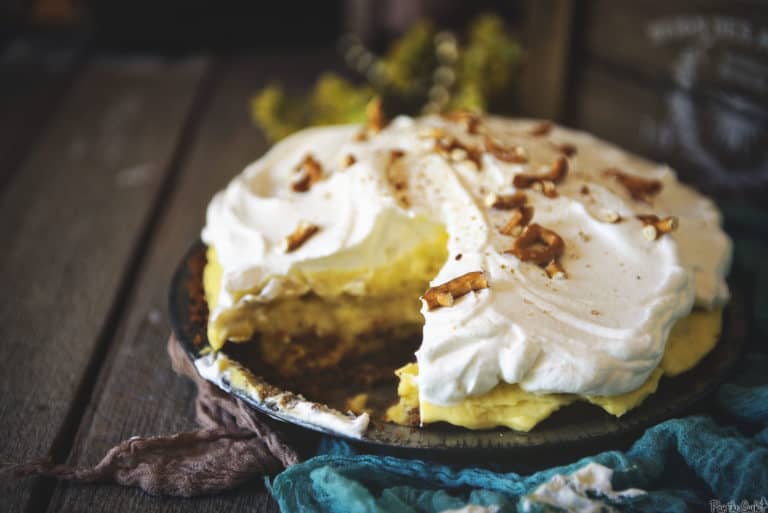 How To Store a Banana Custard
You can store this in the fridge up to a week or you can even freeze it and serve frozen like an ice cream pie.
I recommend if you are storing it, that you don't store it with the bananas on top. Inside they are fine, but the ones on top will oxidize and the pie won't be as attractive as a result.
The whipped cream on top is best added at service too. That way you don't worry about it getting running on top of the custard if you put some back in the fridge.
Tips For A Graham Cracker Crust
A graham cracker crust is so easy to make and Nilla wafers add a nice flavor to it too. Make sure to mix well with your butter.
If you are game for it, then you can always use the other style of graham crackers like chocolate or cinnamon graham crackers. The Nilla wafers are still good to mix in because they add a bit of vanilla too.
No need to over-process when you combine the butter and crumbs. Pulse to combine them. Don't cook the mixture with a hot processor blade.
Make sure to press the pie crust in evenly. Avoid thicker and thinner areas, even on the sides.
Remember, it will still be hot and cooking when you pull it out. So don't over-brown it in the oven or else it get crumbly.
Spread a very thin layer of butter on the bottom of the crust just as it cools. This will help keep the custard from making the bottom crust soggy.
Ideally, let your crust cool and set up before you add the custard. Cooking the crust and custard ideally should happen a day ahead of assembly.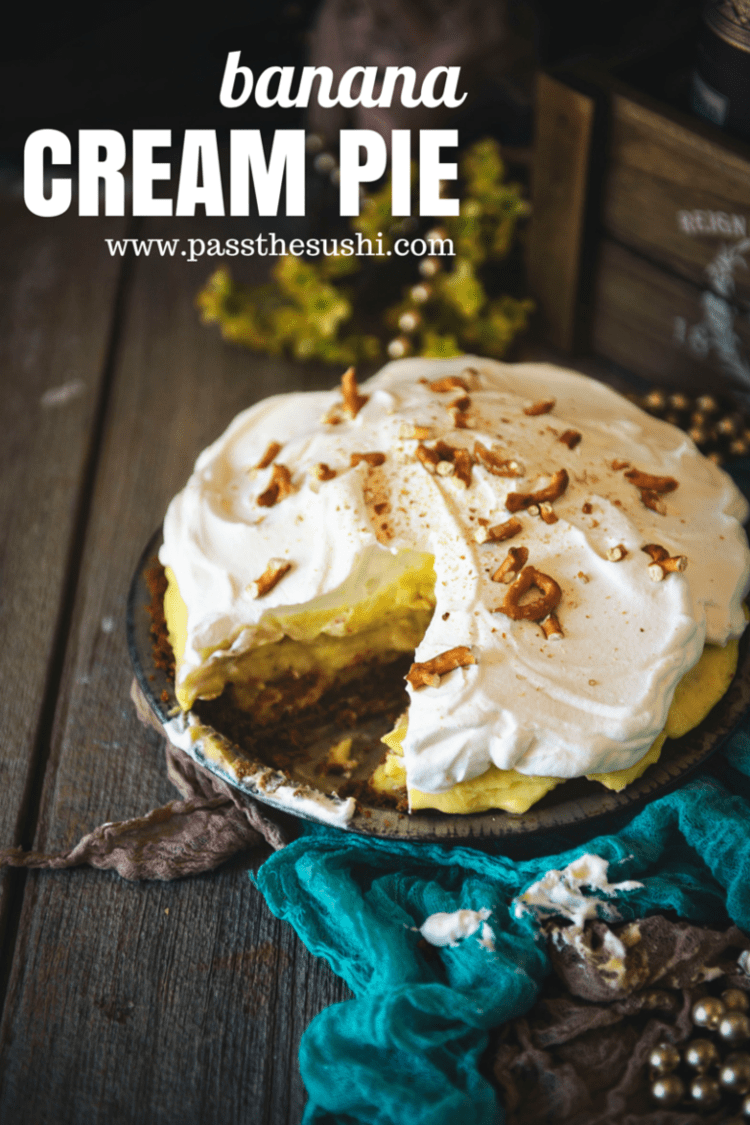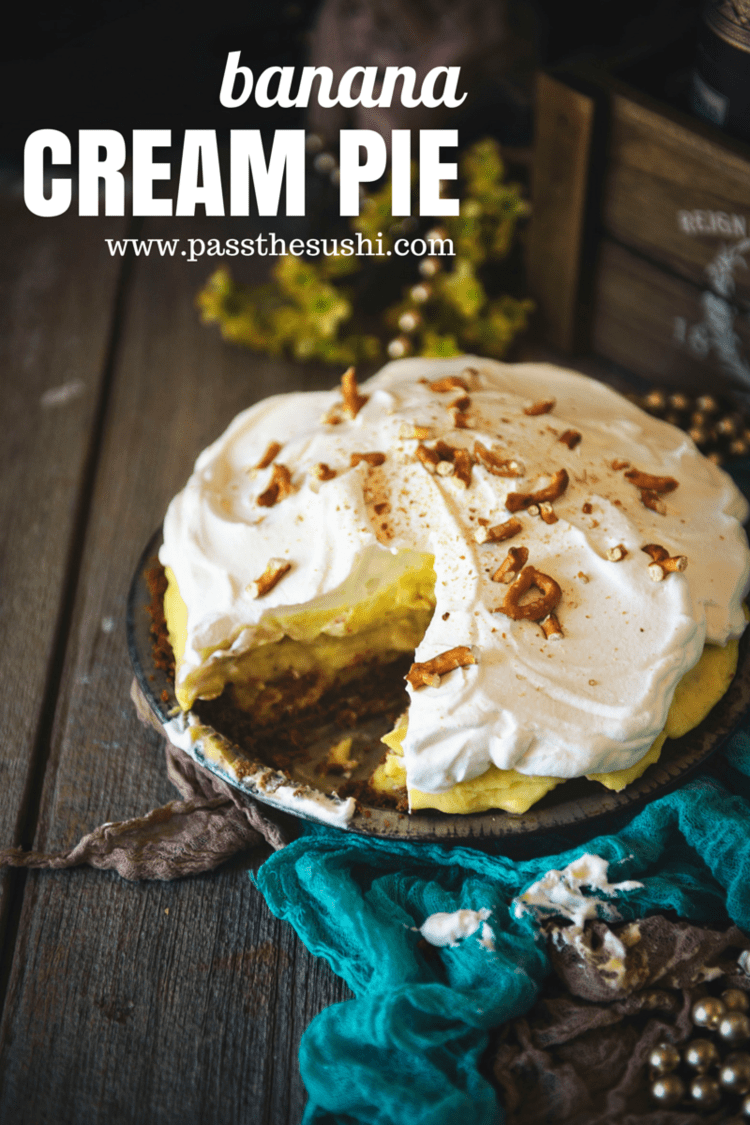 More Banana Cream Pie Tips
Only add the whipped cream on top when you are ready to serve. If you put it on and plan to store it, then the whipped cream will eventually weep and seep down. It still tastes ok, but it doesn't look as good, and it does make your crust soggy.
If your custard is too thick, you can whisk in some whipped cream and stir it until you get the perfect custard consistency and smoothness.  
Stick to the theme and pair this with a smoothly sippable Dirty Banana cocktail.
More summer recipes to try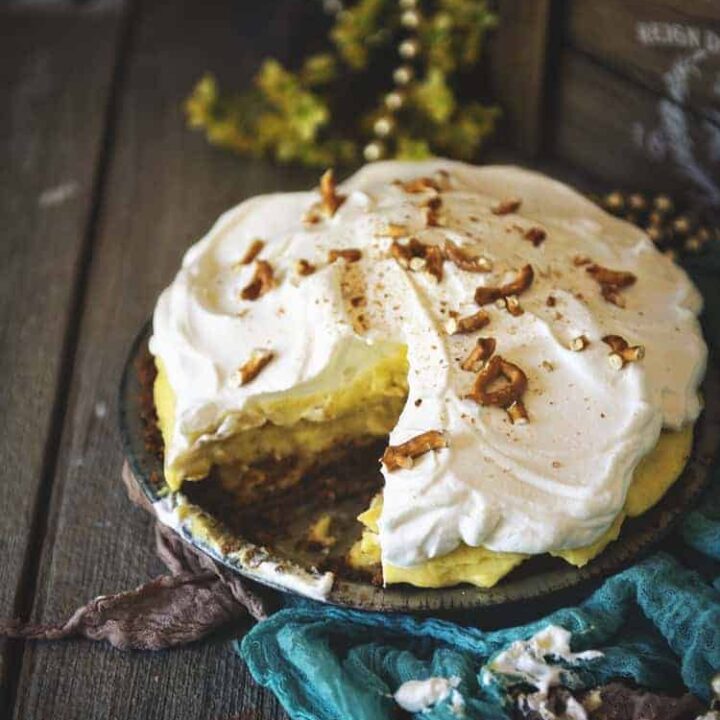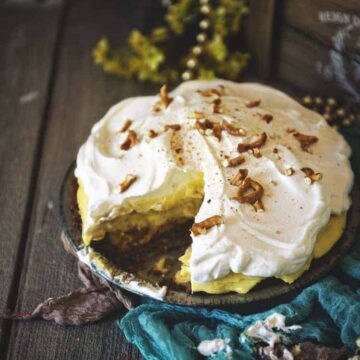 Homemade Banana Cream Pie
This classic southern style favorite is a perfect slice of summer, loaded with bananas, smooth cream, and classic salty-sweet crust!
Print
Pin
Rate
Ingredients
For the Crust
8

tbs

unsalted butter

-

melted and cooled

10

classic graham crackers

5

vanilla wafers

dash of salt
For the Custard
4

cups

heavy cream

-

divided

1 1/2

cups

whole milk

1 1/2

cups

sugar

1

vanilla bean

3

large egg yolks

2

large eggs

1/2

cup

cornstarch

3 to 4

bananas
For the whipped cream topping
1 1/2

cups

heavy cream

1

tsp

vanilla

2

tsp

sugar

Handful of crushed pretzels if desired
Instructions
For the Crust
Preheat the oven to 350 degrees F.

Pulse the graham crackers and vanilla wafers in a food processor until they are nothing but fine crumbs.

Add the salt and butter and pulse a few more times to combine.

Press the crumb mixture into a 9" pie plate and up the sides.

Bake for 15-17 minutes until golden and fragrant. Allow to cool.
Make the filling
Slice the vanilla bean in half and carefully scrape out the seeds.

In a saucepan over medium heat, stir the sugar, heavy cream, milk, vanilla bean and seeds.

Heat until bubbles around the edges appear and just start to pop, stirring often.

Meanwhile, whisk the egg yolks and cornstarch together in a large bowl until smooth and pale yellow.

When the milk is steaming, carefully remove the vanilla bean and whisk, a little at a time, into the egg mixture.

Whisking the whole time, pour the egg mixture back into the saucepan and return to medium-heat until thickened, about 5 minutes.

Remove from heat and stir to make sure everything is smooth.

Transfer to a bowl and cover with plastic wrap directly on the surface of the custard.

Allow to cool in the fridge for 4 hours.

When ready to assemble, slice the bananas.

Spread a bit of custard over the bottom of the graham cracker crust.

Arrange a layer of bananas over the first thin layer.

Top with 1/3 cup of custard and top with another layer of bananas.

Repeat 2 (or more) times, pressing and covering with custard each time.

Top the final layer with a thick layer of custard.

Wrap with plastic wrap and place in the fridge 4 hours.
Assemble and Serve
When ready to serve, whip the heavy cream to soft peaks.

Stir in the vanilla and sugar and whip a moment longer (soft moist peaks, not dry stiff peaks).

Spread a heaping layer over the top of the pie and top with some crushed pretzels if desired.

Slice and serve with a smile.
Notes
From: Martha Stewart
I mix vanilla wafers into my graham cracker crust to add just a bit of sweetness to the classic. Feel free to omit or use chocolate graham crackers too for a bit of fun!
Nutrition
Serving:
1
g
|
Calories:
872
kcal
|
Carbohydrates:
71
g
|
Protein:
11
g
|
Fat:
63
g
|
Saturated Fat:
38
g
|
Polyunsaturated Fat:
21
g
|
Trans Fat:
2
g
|
Cholesterol:
287
mg
|
Sodium:
252
mg
|
Fiber:
2
g
|
Sugar:
47
g
Nutritional informations provided as a courtesy and is only an approximatation. Values will changes based on ingredients used.
⭐ Tried this recipe? Rate it ⭐
Help out the next person and give it a star rating below!