Nothing is a good as a refreshing quick summer cocktail classic like the margarita. I bumped up the flavor with some fresh pineapple to make this a perfect happy hour hit for all your friends. Cheers to the Summer Cocktail, a 5 Ingredient Pineapple Margarita!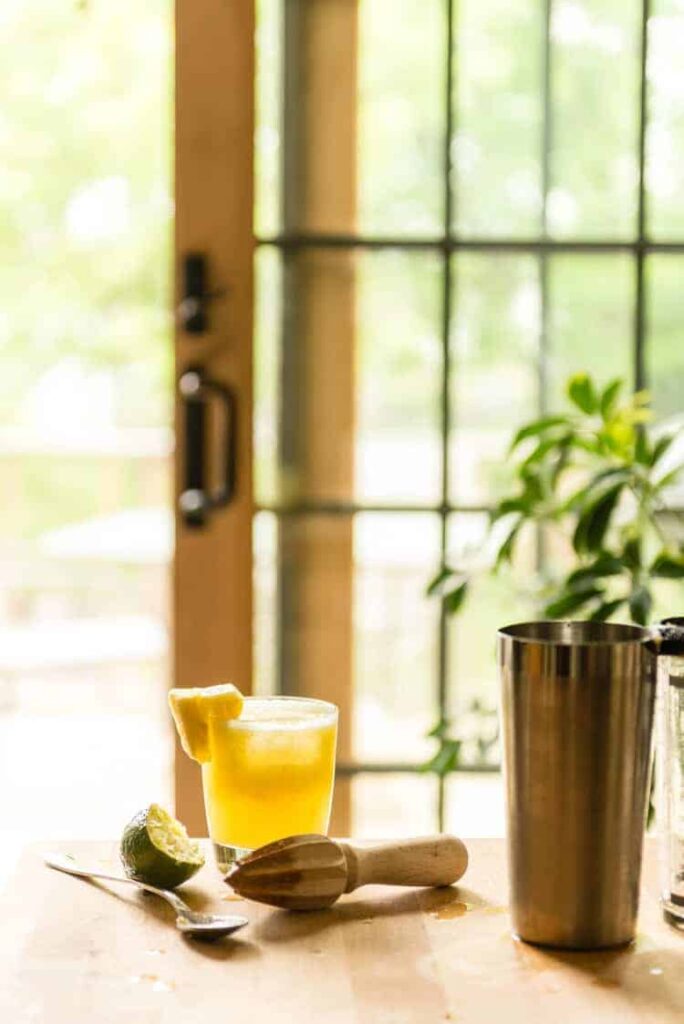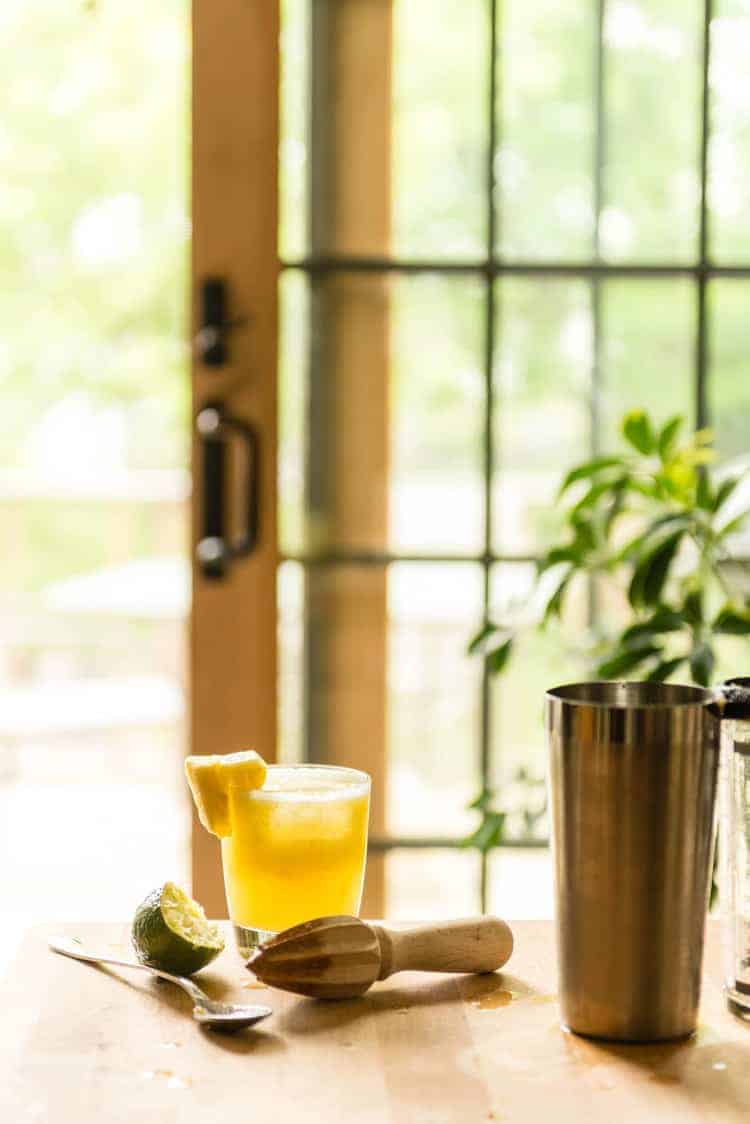 Let's have a little toast. It's Friday and happy hour isn't far from calling everyone in to bring on the weekend. Here's what I'm thinking, let's toast to birthdays. Mine came and went this year and to not say a whole lot, it was a big one. Like the oh-my-god-you're-an-adult one. No pressure. My dad's wife asked what it was like to look back over the last 10 years.
The other day I was sitting on a plane doing the Sudoku puzzle provided in the airline magazine to clear my mind. I breezed through easy and medium and started to put the book away. I knew I wasn't good enough to even attempt hard. I glanced over and the young woman next to me was carelessly bouncing around between all three puzzles, making random guesses and scribbling them out. After a few minutes, she hopped over to the crossword and played around with that for a few moments longer, working and reworking her guesses to make them fit.
I watched and noticed that she wasn't striving for perfection. It didn't matter to her that she didn't have the answers. No one was going to be scoring her on her perfection of the puzzles. She was careless and free in her answers as she skipped back and forth without commitment between all of them. I was inspired by her. It was a careless abandon, on something as trivial as puzzles in the back of a magazine, that really motivated me.
I would have never allowed myself to attempt the hard puzzle. I couldn't possibly have all the answers....
What does it like to look back over 10 years? I don't. I don't want to look back because there were some highs and some lows. All I know is that whatever stars aligned (read stone cold head down hard work) things are really starting to play out. I could write a list to myself of things I wish I'd known then, but you guys know how that reads, it all works out and things get better. What I didn't know is who I was. I thought I knew. I thought I was the badass from the other side of the tracks that got up, got out and made something, refused to quit, and earned it. Oh shit. What little I knew.
True story, I know nothing. But, for the first time ever, I have clarity in my goals. I have little to no idea about how I am going to achieve them, but I have clarity. And with clarity, things just get easier. I have crazy big dreams and I am going to kick their asses. I have a vision for this blog, and a goal for GirlCarnivore. I have workout commitments to myself and personal accomplishments I finally believe I can achieve. I have curated the best group of people (that is truly a blessing from the cosmos) in my life and they elevate me, inspire me, and push me harder. They also get really wrapped up in funny card games, create killer recipes, and seriously make me feel good. Which isn't something I ever knew was tangible for myself. Holy crap, whatever you do, find these people in your life, and bust your ass to make them aware of how much they mean to you.
Goals? Wanna hear em?
Pass the Sushi: Travel, Curate, and Teach. Stick to cocktail Friday's and crazy ice cream flavors. Tell the stories I haven't figured out how to put on paper because at the end of the day, those who want to will read them. Those who don't aren't here anyway so stop trying to be the Martha Stewart of blogs, you aren't ever going to be her anyway (seriously, my shirt said tequila last month as I sat on panel of speakers of beautiful talented women in stunning dresses - clearly, Martha was never my thing).
GirlCarnivore: Yeah, I am girl mother f-ing carnivore. Own it and be unabashedly awesome with it. I am done standing on the sidelines thinking I am not enough. I know my way around the grill and it's time to celebrate that.
Teach, photograph, and learn. Photography is my be all and all. My passion and my way of telling my stories. I am going to work to put my head down and apply my skills instead of just saying I am not good enough. I am working on my second foodie photo workshop right now and I am more excited than ever. I have some great trips planned and making promises to not hide my photography on a drive anymore but to show it off and be proud of how far I have come. It's something I never knew was ok to do. Something I need to do far more of. Cheer myself on as much as I cheer on others.
What does all of this have to do with a sudoku puzzle on a crowded flight? This is me trying the hard puzzle. Not being afraid to put answers on the paper and be wrong if a few moves down the road things don't work out. This is not trying to be all things to all people. This is just about being myself without limitations. Removing that invisible barrier holding me back.
For those of you who have read this, thank you. I look forward to sharing the next 10 incredible years with you. Things are going to go up from here.
So, Cheers.
Run with the best, and eventually you will start catching up.
Now, enjoy this 5 Ingredient Pineapple Margarita.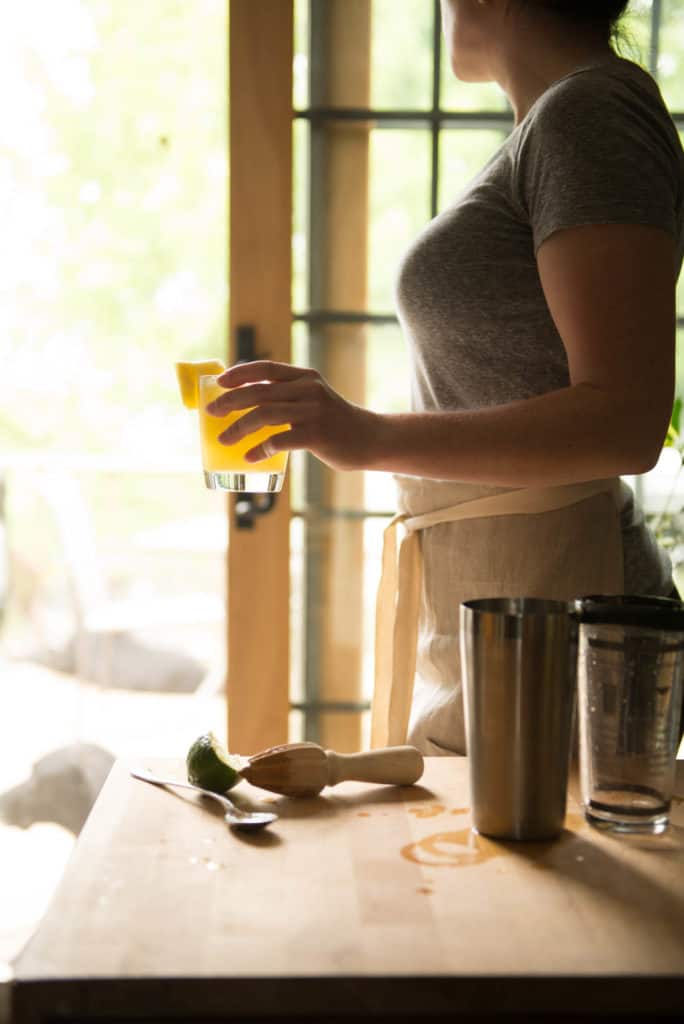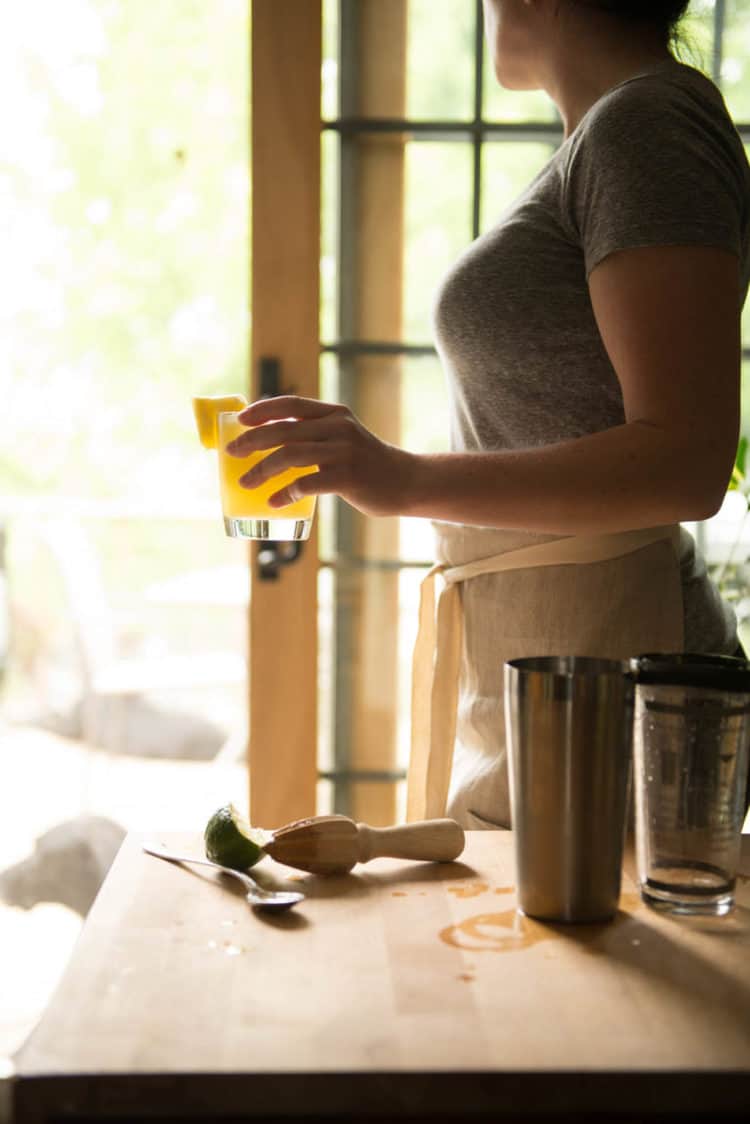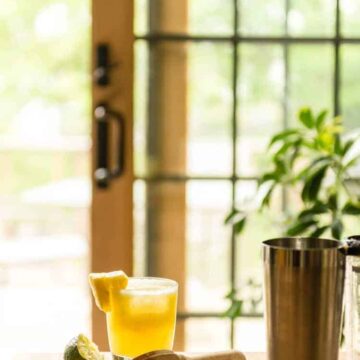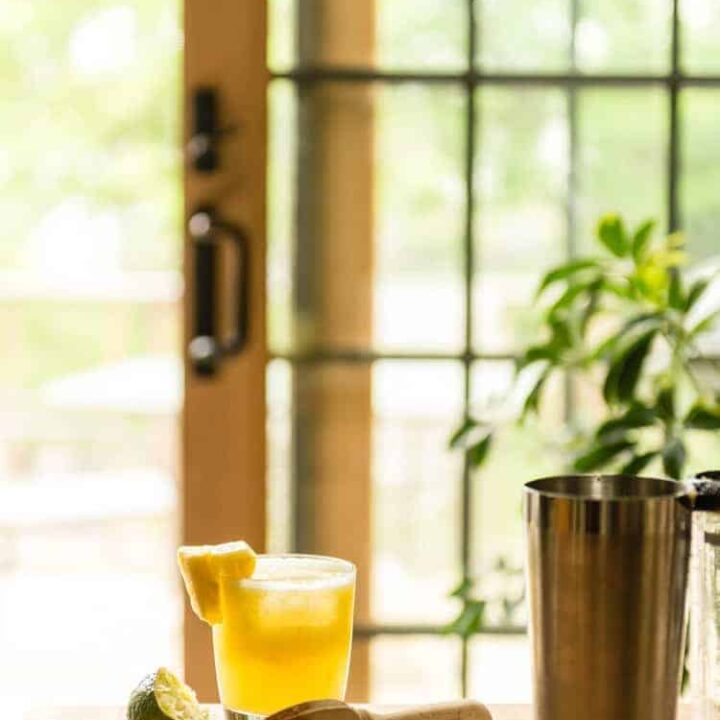 Ingredients
½

cup

Fresh Pineapple

-

frozen then pureed

2

oz

reposado tequila

1

oz

triple sec

2

oz

fresh pineapple juice

Fresh squeezed lime juice
Instructions
Make sure the pineapple puree is strained through and no large chunks remain. Add to a cocktail shaker over ice. Add in the tequila, triple sec, pineapple and splash of lime juice to the cocktail shaker and shake well. Strain over fresh ice and serve in a salt rimmed glass if desired.

Feeling fancy? Puree the mixture with ice and serve the pineapple margarita frozen.
Nutritional informations provided as a courtesy and is only an approximatation. Values will changes based on ingredients used.
⭐ Tried this recipe? Rate it ⭐
Help out the next person and give it a star rating below!