Who doesn't love Kabobs?  Quick, easy, and hand held meat on a stick!  Try these Pineapple Beef Kabobs and pretend you're in a tropical paradise!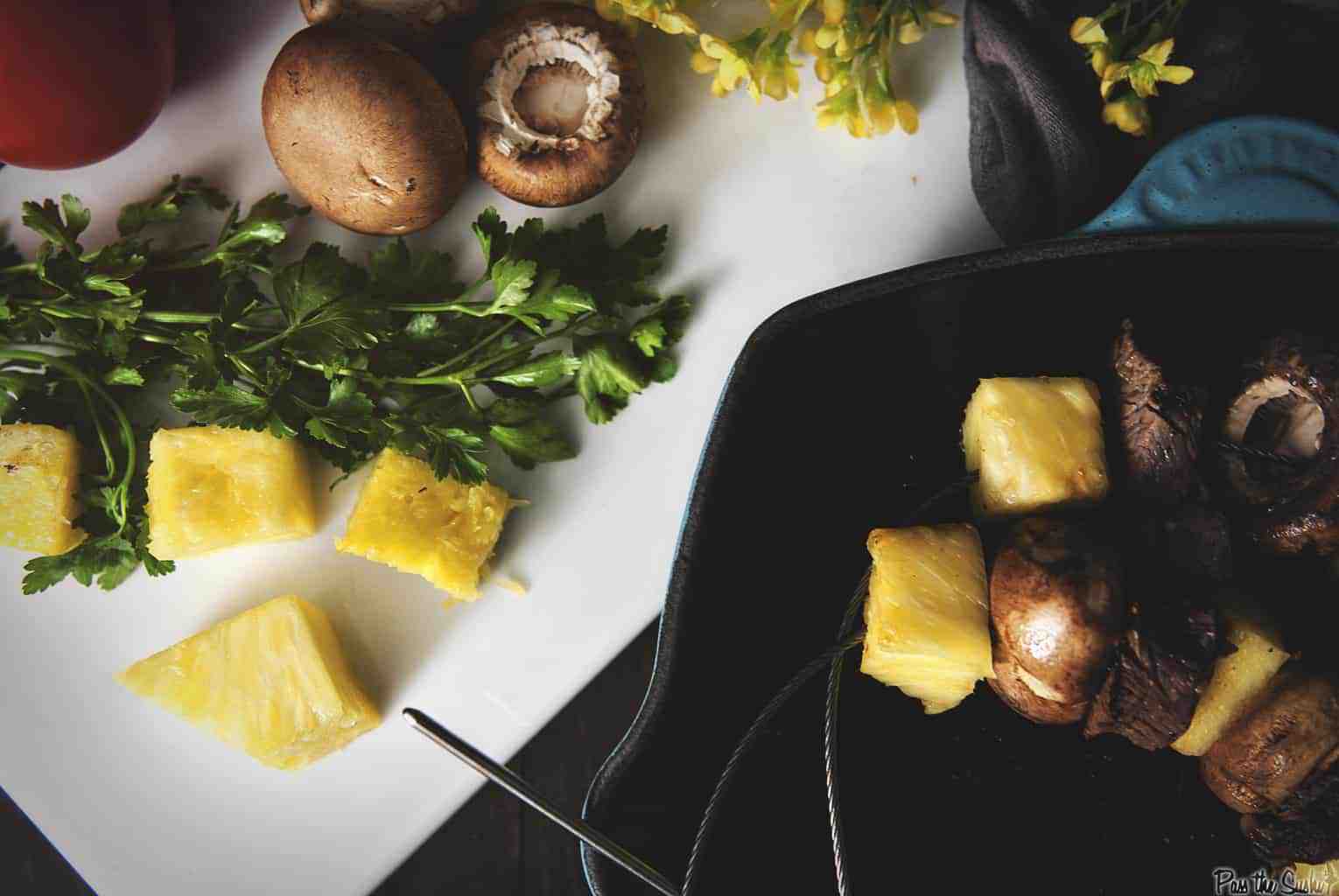 I don't know about you - but I am quitting this winter. I am quitting it so hard, that even as you read this, I am sipping a fruity cocktail on a beach somewhere. A warm beach, with palm trees, coconuts, and pool boys. Who needs a pool boy at the beach? Who cares! There will be pool boys (and if they want a good tip, they will be feeding me a steady stream of coconut rum).
Bring on heatwaves, bring on sunscreen, and insufferably humid days. Bring on spring gardens,  bad tan lines, and s'mores. Bring on massive piles of ice cream. Bring on running, racing, and mountain biking (because we all know that's what I'm really waiting for). I love comfort food - but as I look out at my snow covered car (yet again), I am ready to swear off mac and cheese for 8 months just to enjoy a slice of watermelon and bust out the grill!
Bring on grilling season! 
Still trapped under snow? Well, I'm bringing grill season to you! The awesome people at Le Creuset and Fire Wire Grilling have sent over some the best tools to help shovel out of this snowpocalypse and start dreaming of summer days! With fun Fire Wire flexible skewers marinating and grilling on any size surface is a breeze. With this heavy duty Le Creuset grill pan you don't need to wait until it's warm enough to light the charcoal. Let's bring the grill season indoors and bring summer to us!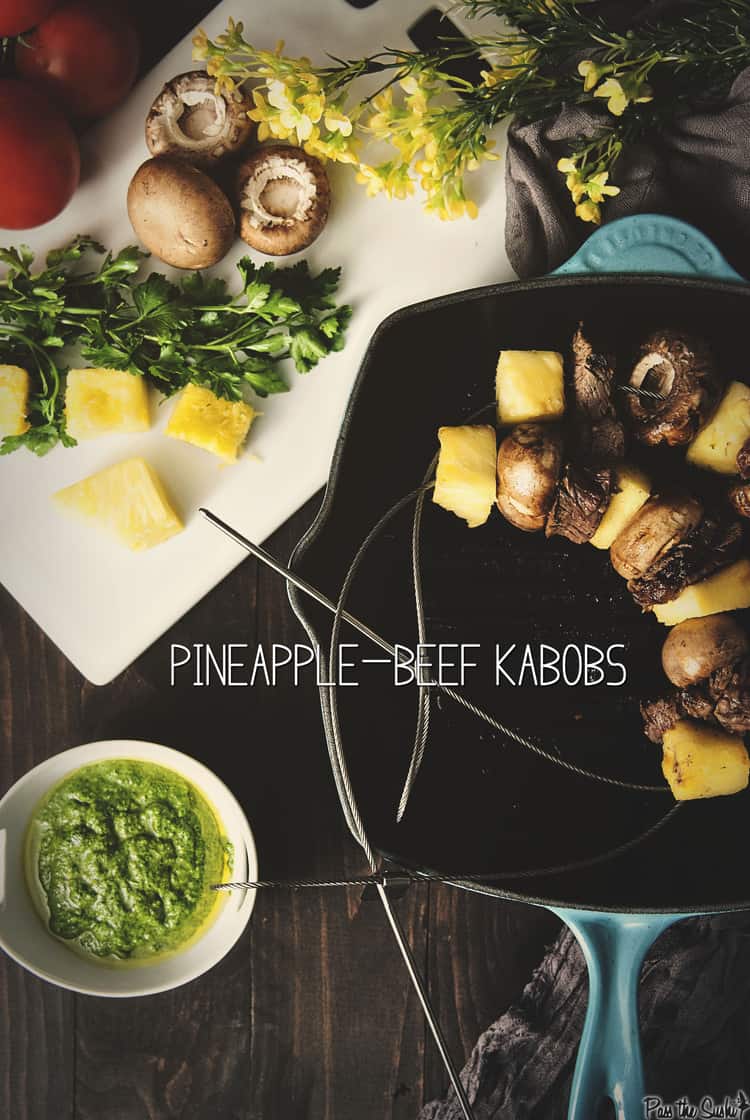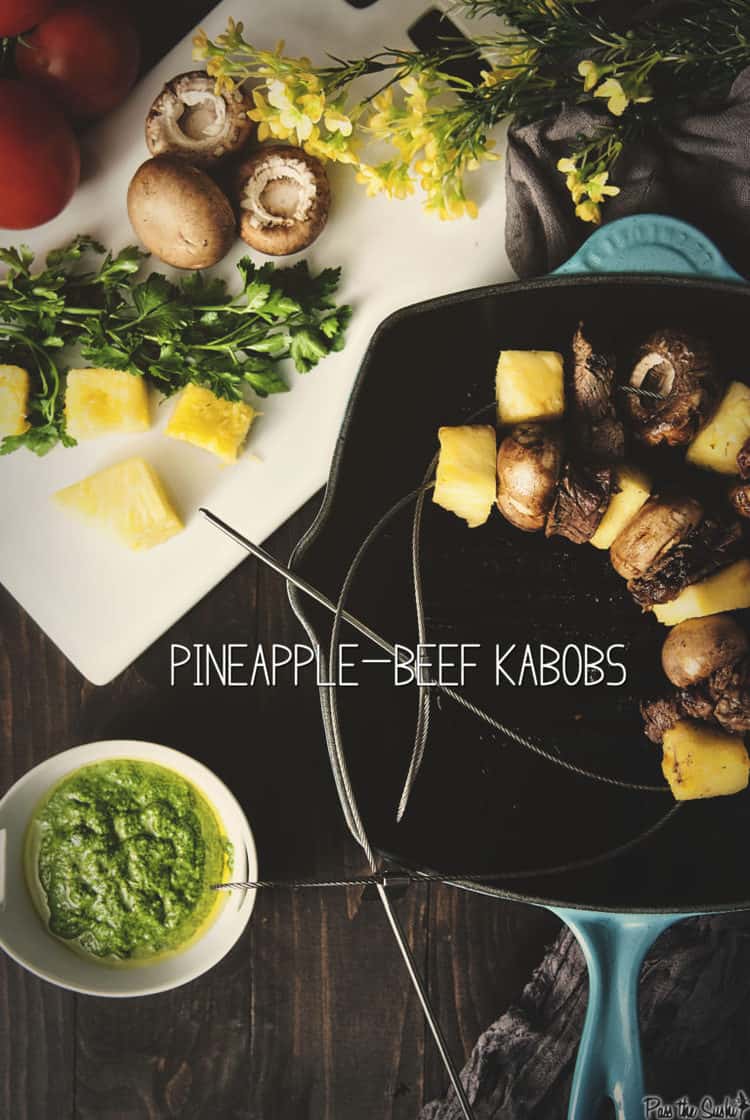 If you've tried my Pineapple Beef Kabobs recipe, or any other recipe on passthesushi.com please don't forget to rate the recipe and let me know where you found it in the comments below, I love hearing from you! You can also follow along for more good eats and travel tips on Instagram @passthesushi & @girlcarnivore, Twitter & Facebook.
Really, who doesn't love Kabobs?  Quick, easy, and hand held meat on a stick!  Try these out if you're feeling adventurous.
Grilled Venison Kabobs with Romaine
Yield: 6
Indoor Grilling: Pineapple-Beef Kabobs
Ingredients
For the dipping sauce
3 cups fresh parsley
2 cloves garlic, peeled
2 tablespoon red wine vinegar
1 teaspoon crushed chili flakes
1 teaspoon sugar
salt and pepper
½ cup olive oil
For the Kabobs
1 ½ pounds beef fillet, trimmed if needed and cut into 1" cubes
1 pineapple, cut into 1" pieces
1 lbs baby bella mushrooms, rinsed and stems removed
Instructions
Make the dipping sauce:
Add the parsley, garlic, vinegar, chili flakes, sugar, 1 ½ teaspoons salt, and ½ teaspoon pepper to the bowl of your food processor and pulse until smooth.
Using the feed tube, with the machine running, drizzle in the olive oil. Scrape down the sides and pulse once or twice more just to get any last bits.
Store in an airtight container in the fridge until ready to use.
Make the Kabobs
Meanwhile, pat the beef dry with a paper towel and season with salt and pepper.
Preheat your grill pan to medium high heat.
Place the pineapple, mushrooms, and beef on grilling skewers, alternating ingredients for fun colorful skewers.
Spray the grill pan with non stick cooking spray and grill 2 to 3 minutes per side until cooked to desired temp for the beef.
Serve the kabobs with the parsley sauce on the side for dipping. (I served some naan with this and it make a perfect weeknight meal)