Sausage kabobs are a quick and easy recipe for the grill, and perfect for grilling outdoors on a holiday weekend. Spicy sausage is skewered with fresh artichokes and mushrooms for this quick dinner!
It's Memorial Day, and that means its officially summer. Well, not according to the calendar, but where I'm from it's all the more pomp and circumstance than needed to mark the start of summer. The pools are open, the kids are biding their last few days in school, and the extra propane tank is filled waiting for its moment in the spotlight. In my family, summer also marks the beginning of birthday season, so it's one reason to celebrate after another!
To mark the joy of summer, I am going to be featuring at least one recipe hot off the grill (or smoker) every week from Memorial Day through Labor Day. So let's turn those sprinklers up and dig out that awesome pair of teal glitter flip flops! It's summer time!
What do you and yours have planned for the summer of 2011? (I'm planning to live vicariously through your awesome vacation stories)
Sausage Kabobs with Artichoke and Mushrooms
Ingredients:
1 lb hot sausage
1 can artichoke hearts, drained and cut in half
2 cups mushroom caps, removed of stems
Sausage Kabobs Sandwich
Ingredients:
1 lb hot sausage
large red bell pepper, cut into large sections
1 large green pepper, cut into large sections
1 onion, divided into 8 sections reserving the largest pieces only
8 slices of a hearty baguette, about ½ inch thick
Preparation:
For the artichoke and sausage kabobs: Alternate placing sausage, artichoke, and mushrooms onto a grill safe skewer.
For the sausage sandwich kabobs: Slide baguette onto grill safe skewer and alternate filling the skewer with peppers, onion and sausage; ending with another piece of baguette.
Grill over medium heat for 8 to 10 minutes (or according to directions on package for your sausage, depending on what kind you picked up) making sure to rotate often to not burn the bread or artichoke.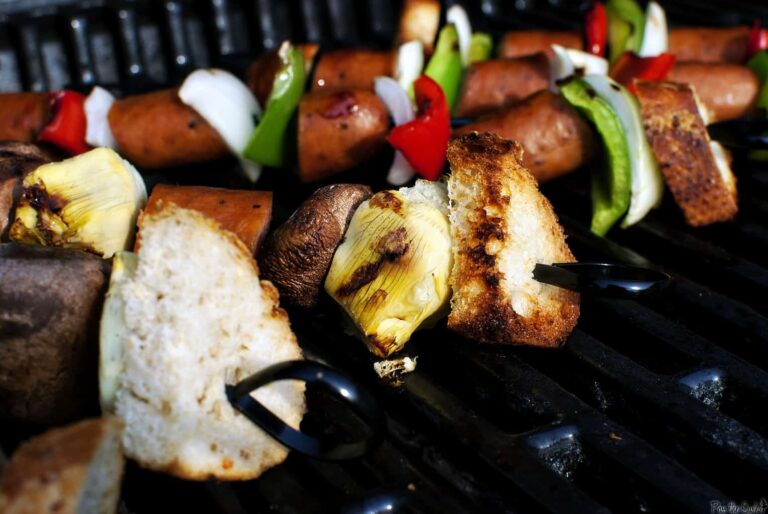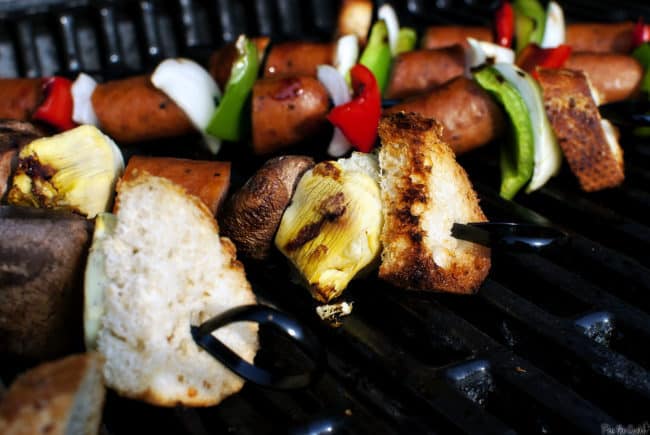 For me, this will be the only year I can remember not grilling and spending the day with friends and family on Memorial Day. A local restaurant we love is  honoring all Vets, and not just ones with an active ID. It's a great thing, and Handsome and I couldn't miss the opportunity to spend a night out at one of our favorite restaurants. Since he was in the military, might as well splurge a little today for him.