Tropical kabobs are skewers of chicken, shrimp, and pineapple that have been marinated in a tropical flavored marinade. Easy to make, and so delicious!
I don't know about your neck of the woods, but we've been stuck in a heat wave of the tropical sort for one too many days in a row. The weather finally broke and we are back in the comfortable range, but I've come to the conclusion that no matter what the weather, someone is going to be complaining about it.
Inspired by the heat (or maybe suffering from a minor unexpected heat stroke) and a bottle of coconut oil the kind people at Kelapo sent me, I set out to create some island inspired tropical kabobs.
Knowing nothing of the islands, or what supper would be like there, pineapple in one hand and coconut oil in the other, I pretty much decided to wing this one.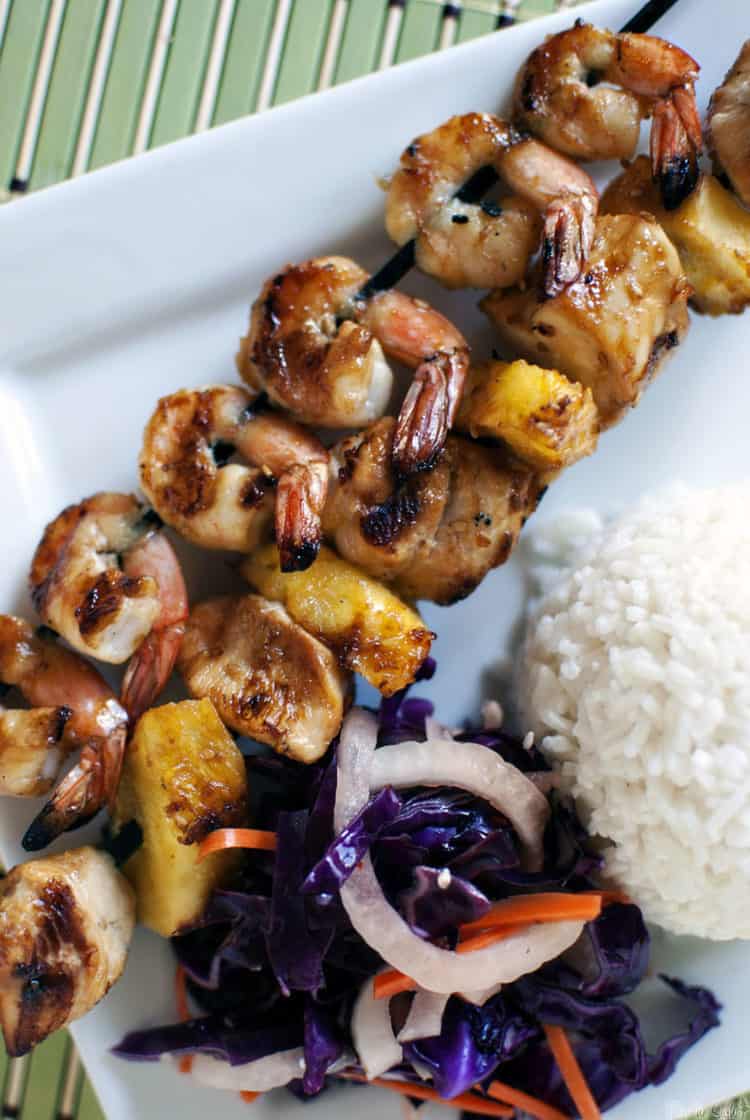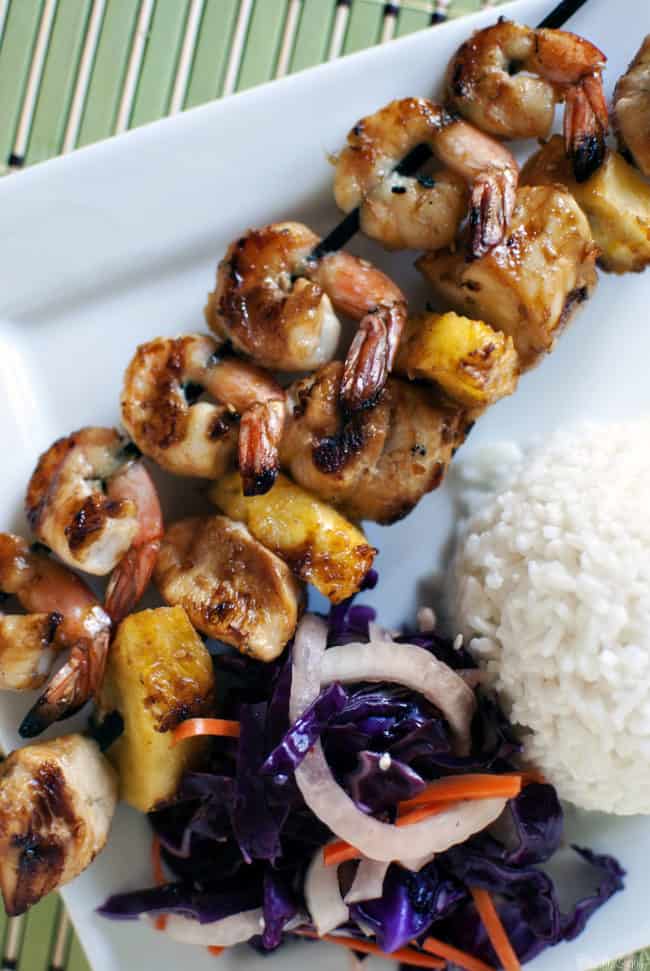 Tropical Kabobs: Chicken Pineapple and Shrimp on a Stick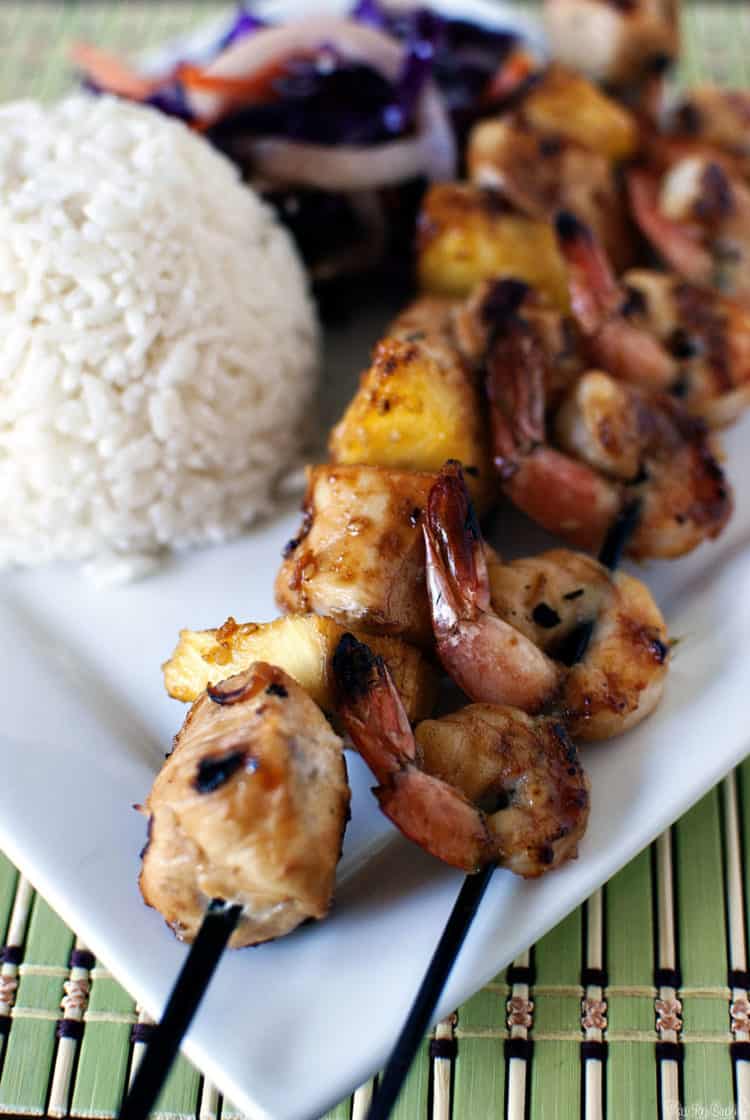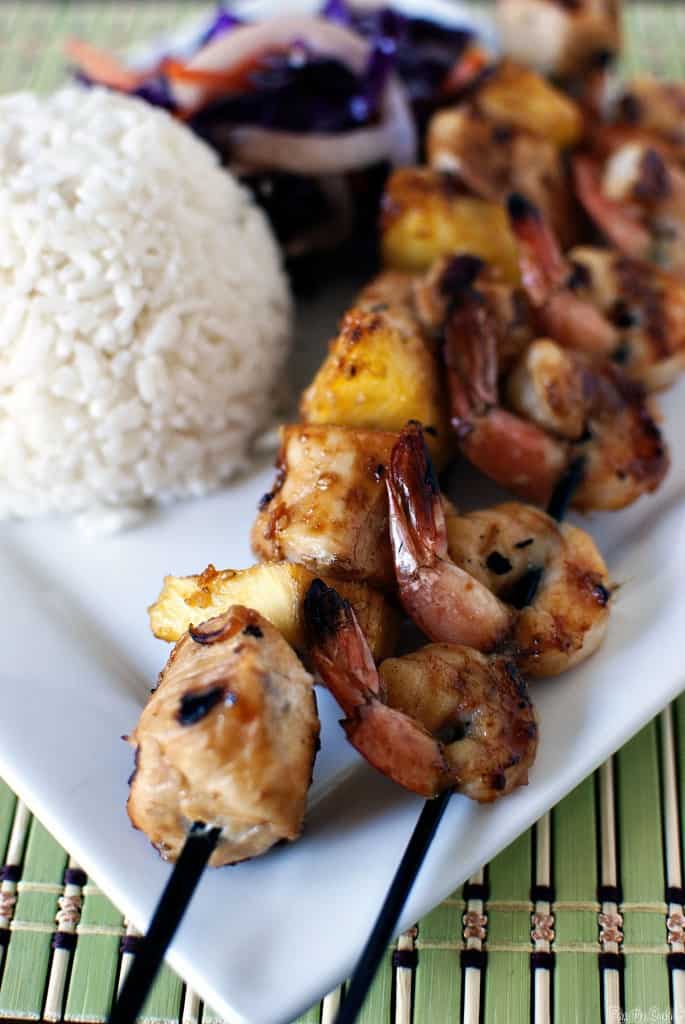 cuz everything's better on a stick.
Ingredients:
2 large chicken breast
½ cup Trader Joe's Soyaki, or tropical marinade of choice
24 large shrimp, cleaned and shells removed except for the tails
2 cups diced pineapple
Preparation:
Dice the chicken and let it mingle with Trader Joe's Soyaki for a few hours. Skewer the chicken and pineapple and throw them on a well oiled grill over medium-high heat for 10 to 12 minutes or until cooked through, rotating about every 2 minutes. Meanwhile, skewer the shrimp, about 6 per kabob and place over medium heat for approx 5 to 8 minutes, turning once halfway through. Baste both the chicken and shrimp kabobs with extra marinade if desired.
I served this with:
Coconut Rice
from Coconut Oil Cooking
Ingredients:
3 cups long grain white rice
2 cups coconut milk
2 cups water
1 teaspoon Kelapo coconut oil
1 teaspoon salt
Preparation:
Combine all ingredients in a saucepan. Bring to a boil over high heat, cover tightly, reduce heat to very low, and simmer for 20 minutes. Fluff rice when cooked.
I had never worked with coconut oil before this meal, and to be honest, I tried a few other recipes (to be posted soon) with it as well just to get a better feel for it. When I mentioned coconut oil to people, it seems their opinions vary in that its either a health fad that's amazing for you or that it is possible the worst thing in the world for you.
What I can tell you though, is that despite every other form of coconut I have worked with has been strong in flavor, this oil is rather mild. I anticipated my house would smell like the tropics when I opened the jar, but it didn't (easily corrected by lighting some fancy candles) and the flavor wasn't over powering in the other recipes I tried at all. I loved the coconut flavor of the rice, but I'm not sure how much of that can be contributed to coconut oil. The rice did cook in and absorb two cups of coconut milk.
This is a product I am definitely interested in, and will be working more with. But for now, I'm rather neutral on it (which is probably a good thing as its an oil). I can't wait to experiment more though with nibbles like this granola recipe from Katrina's Kitchen!