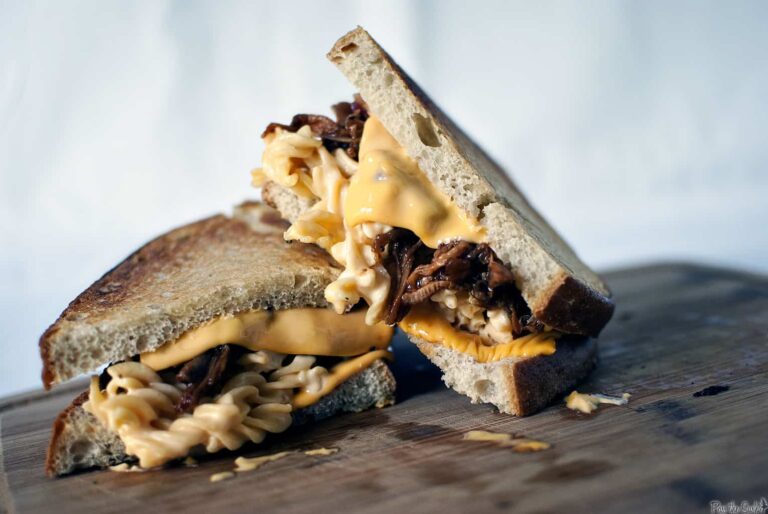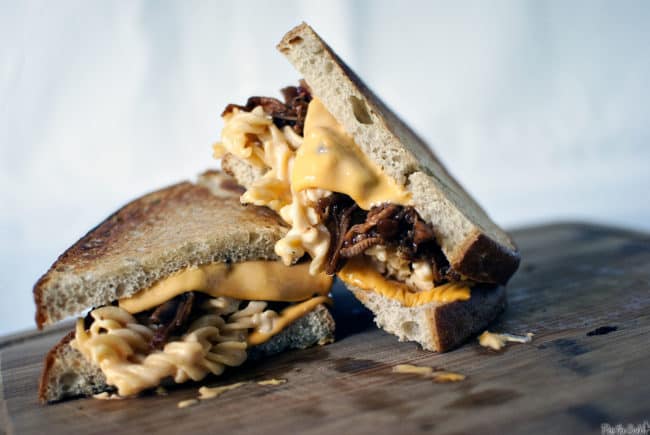 #Manfoodweek and the last of my Father's Day menu for the week is one of those go big or go home type of meals. It can be summed up in two words "fat kid-tacular" as stated and copyrighted by my boyfriend who when asked to help choose the pictures stated, "It doesn't matter. They are all amazing." For those of you who don't know him, that says a lot - because he never ever tells me when he likes or dislikes a meal. Ever.
Sometimes my mind wanders, especially when there is leftover mac and cheese in the fridge. My inner fat kid whispers inside of me the guilt ridden things I could do with all that leftover ooey gooey gluttony. It's moments like these when I sneak quietly into the kitchen and unleash some magic.
I put dinner on the table without saying a word, knowing that this grilled mac and cheese with pulled pork would be met with wide eyes of shock and horror.
No one in their right mind would want to eat carb on cheese covered carb with some bbq pork shoved in the middle. Because I admit, I had to be out of my own mind to create such a thing. And yet, dinner disappeared in silence and leftovers were consumed within the next few days.
With the promise that only lettuce and broth were on the menu for the rest of the week.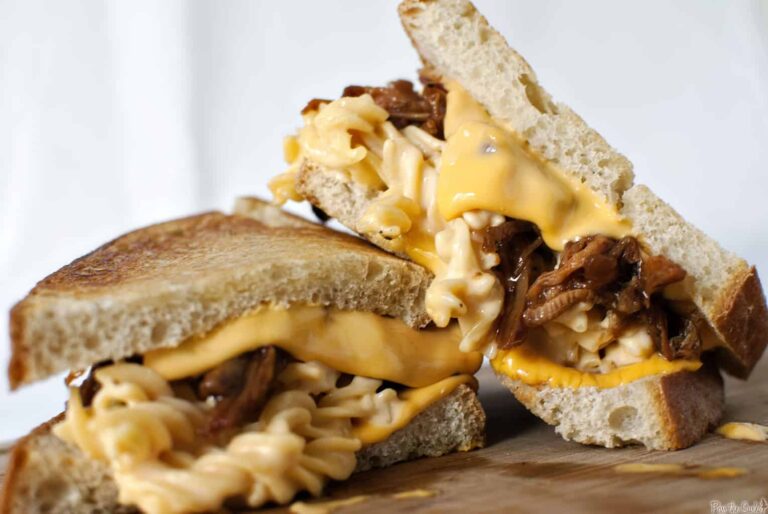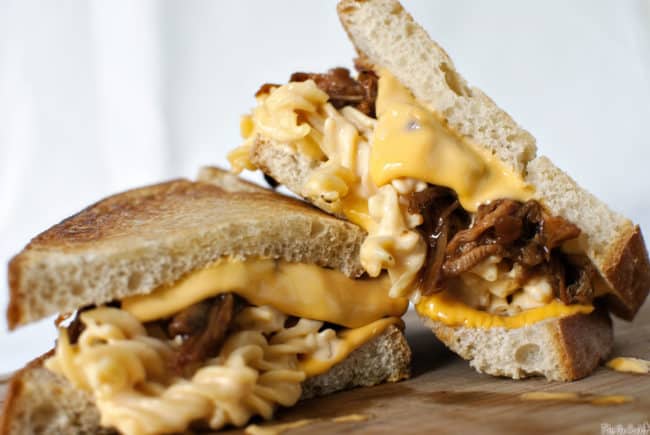 "The Manwich" - Grilled Mac and Cheese with Pulled Pork
Adapted from Food Network Magazine April 2011
Ingredients:
1 stick unsalted butter; softened
6 tbs mayo
4 cups prepared macaroni and cheese, warmed
2 onions, thinly sliced
Kosher salt and freshly ground black pepper
1 cup barbecue sauce
2 cups prepared pulled pork
8 slices buttermilk or white bread
12 slices sharp cheddar cheese
Preparation:
Put 6 tbs butter and the mayo in the bowl of a stand mixer; beat with the paddle attachment until combined, scraping down the sides of the bowl as needed. Set aside.
Spread the macaroni and cheese in an 8-inch-square baking dish to abut ¾ inch thick. Cover with plastic wrap and chill until firm, about 45 minutes. Cut the macaroni and cheese into squares that are slightly smaller then the bread slices.
Meanwhile, melt the remaining 2 tbs butter in a skillet over medium high heat. Add the onions and cook, stirring, until caramelized, about 20 minutes. Season with salt and pepper.
Combine the barbecue sauce and pulled pork in a saucepan over low heat and cook until warmed through, about 5 minutes.
Generously spread the butter-mayo mix on one side of each bread slice. Slip over half of the bread slices; layer 1 slice of cheddar, 1 macaroni-and-cheese square and another slice of cheddar on each. Top each with one-quarter of the pulled pork and caramelized onions and another slice of cheddar. Top with the remaining bread slice, butter-side up.
Heat a large skillet or griddle over medium-low heat. Working in batches, cook the sandwich until the cheese melts and the bread is golden, about 5 minutes per side.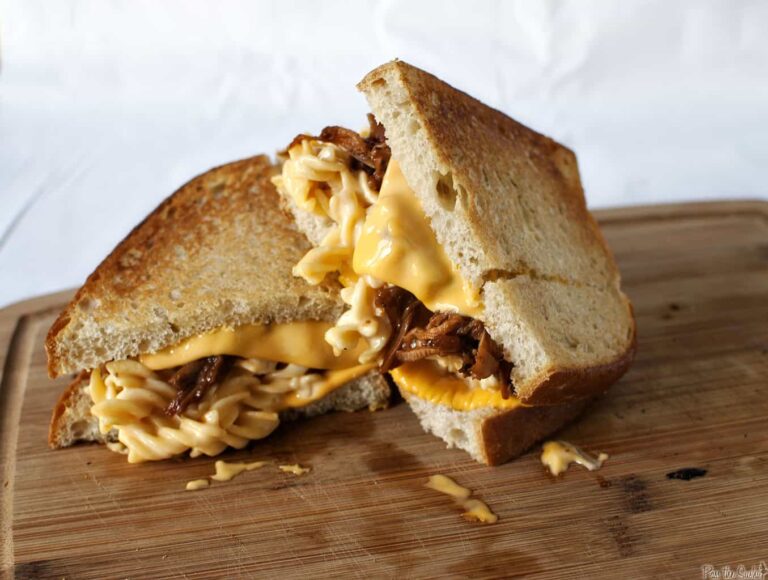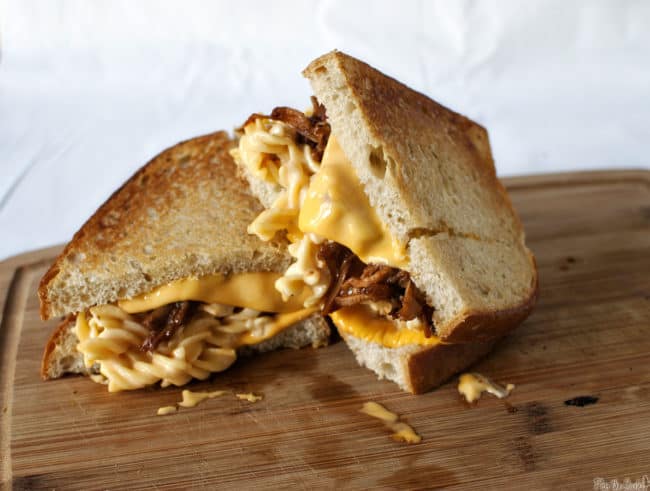 I added bacon. My thought was that this was already so bad for me that bacon really wouldn't add any more build up to my arteries than what I was already getting myself into.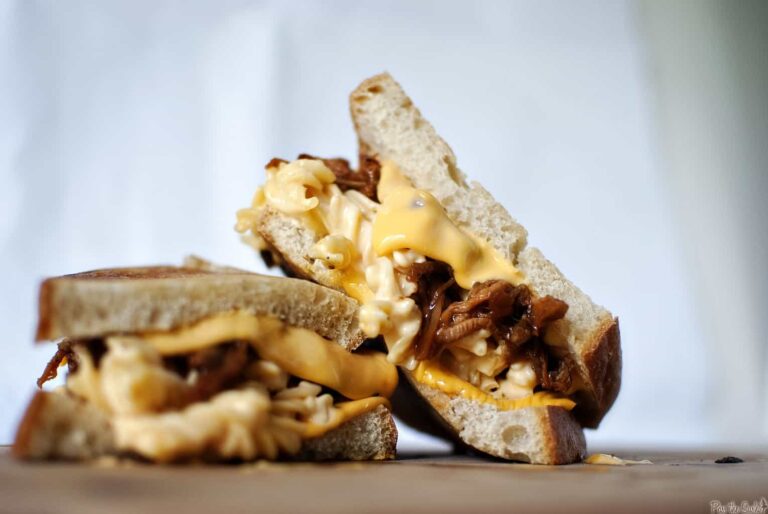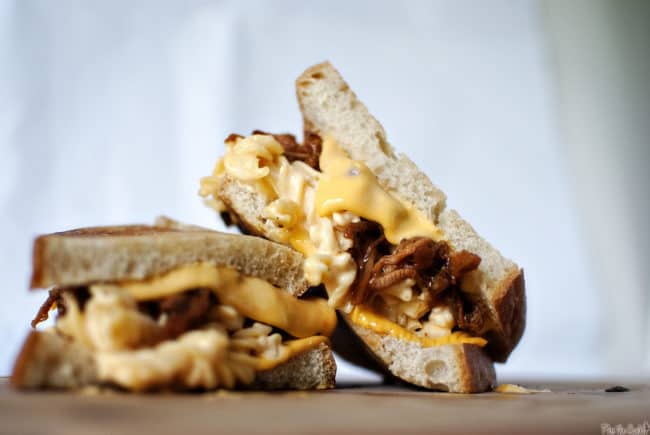 Yeah, this grilled mac and cheese makes Paula Deen and all her sticks of butter looks like a choir of angels.