Turn heads with these savory grilled venison kabobs with romaine. The perfect venison appetizer or light dinner.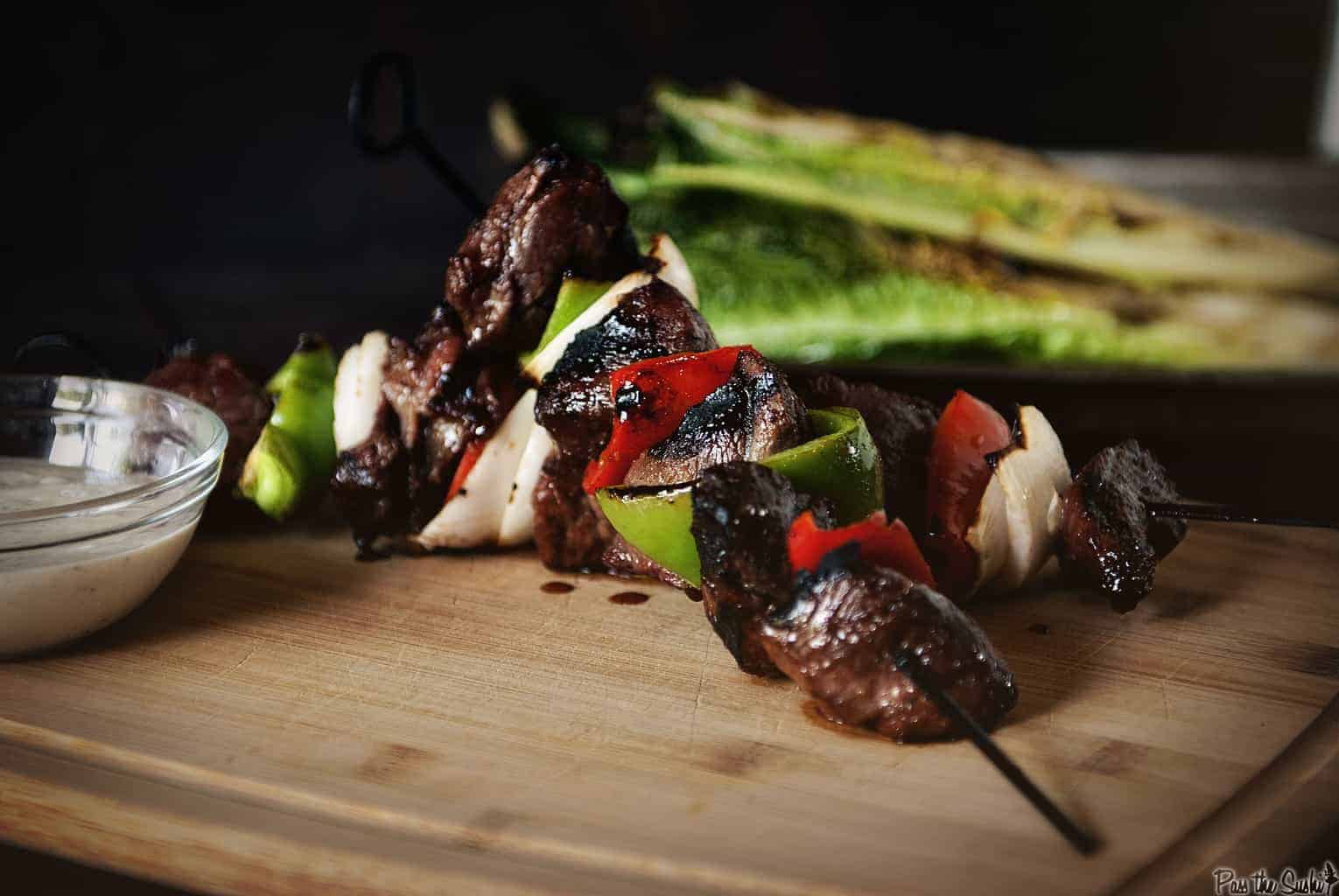 Quick Social Media Rant
Before we get to the Venison Kabobs I just have to say one thing. It seems like a day can't go by without one social media network changing things for the better. Every time I think I have one figured out, poof.
Facebook makes it harder to see 'pages' feeds, google weren't all timeline on me, Pinterest changed something (though, I can't remember what, so it really must not have been that important) and Twitter gave us three more characters. Well, #%!…
I'm pretty sure our phones can flirt with people on Christian Farmer Mingle without us knowing it and my personal photos can be viewed by all on Picasa.
If you are still wandering the interwebs lost and alone, looking for more places to get up to date news about how I tried to get changed in a used porta-potty with a tick crawling dangerously close to the seat cover and a spider dangling near the exit handle and me pretty sure I was going to end up falling out, half-naked, in front of a hundred strangers screaming random obscenities at nature, make sure to check out all the links below the recipe and follow me.
No, let's get on to the venison kabobs.
I know you're here for the food. And these venison kabobs are going to make your day. I know my mouth is watering.

Why Eat Venison?
If you are lucky enough to know someone that provides you with venison, give them a big hug. Venison is the ultimate in lean red meat. Even cornfed deer have a much lower percentage of fat than cows do, so your meat will be super lean.
For some recipes this may not work as well, and you are going to have a hard time getting your venison burgers to hold their shape. But for anything where you are looking to have a lean tender piece of meat in the mix, venison is the perfect fit.
Venison Kabobs on the Grill
If you are going to make kabobs, and use some of your dear deer venison to do it, light up that grill. There is no better way to import a smokey outdoor flavor to your meat than live fire.
Grab some lump charcoal, and even some smoker chips if you really want to heap that flavor on. Grilling your venison is the way to go.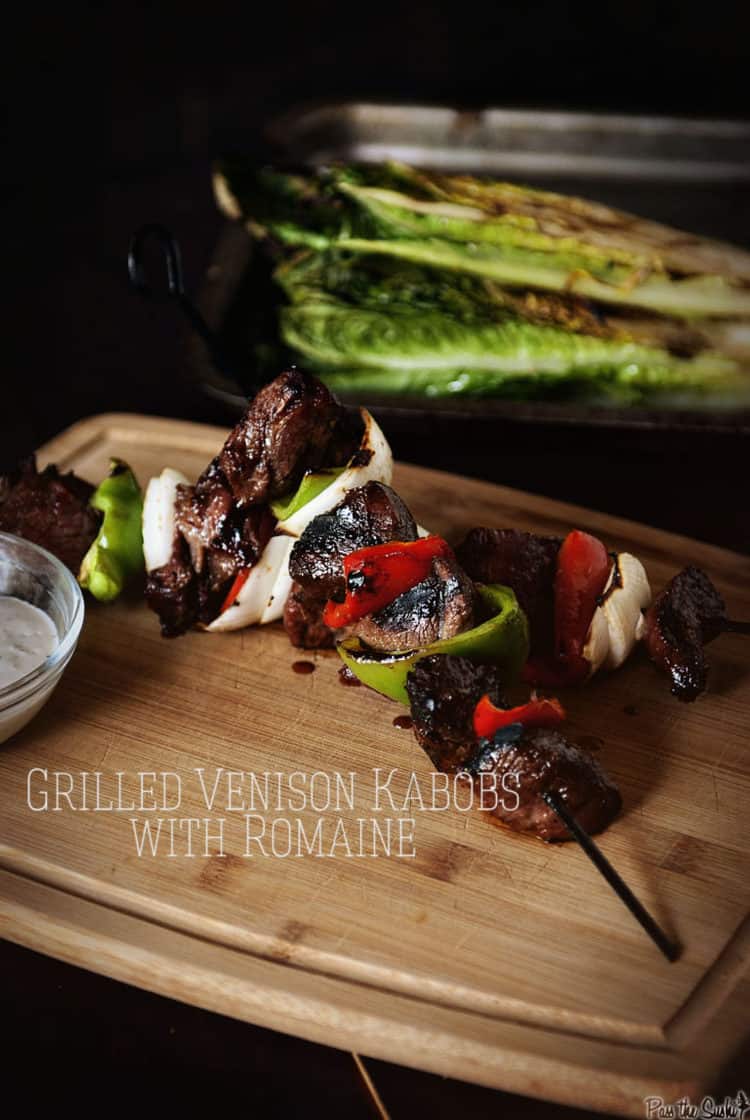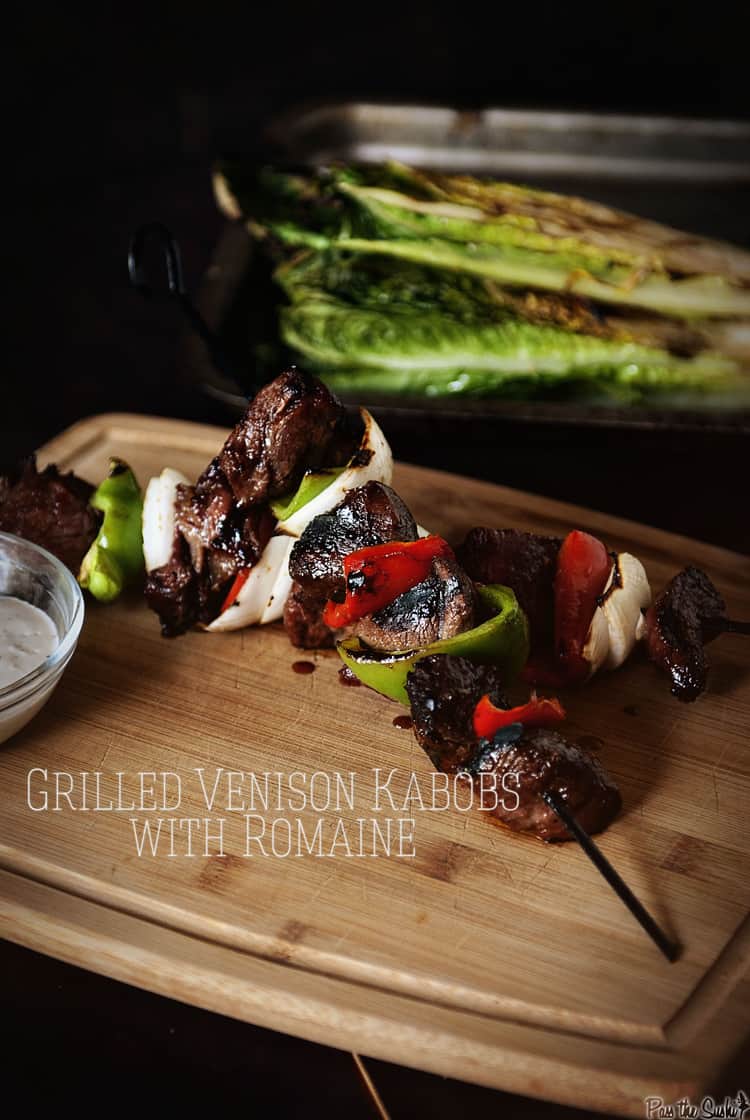 So now that I've told you all about why you should be eating venison, you probably need more recipes. Try these out!
Serve these delicious venison kabobs alongside the grilled romaine salad, pair it with a comforting mixed vegetable soup, and toasted bread for a savory meal!
If you've tried this Grilled Venison Kabobs with Romaine recipe or any other recipe on passthesushi.com please don't forget to rate the recipe and let me know where you found it in the comments below. I love hearing from you! You can also follow along for more good eats and travel tips on Instagram @passthesushi & @girlcarnivore, Twitter & Facebook.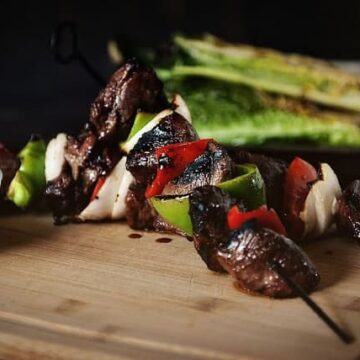 Grilled Venison Kabobs with Romaine
Turn heads with these savory grilled venison kabobs with romaine. The perfect venison appetizer or light dinner. 
Print
Pin
Rate
Ingredients
2

lbs

venison roast

-

cut into 1 1/2" cubes

3/4

cup

low sodium soy sauce

3/4

cup

vegetable oil

1/3

cup

apple cider vinegar

3

tbsp

fresh grated ginger

1

tbsp

garlic salt

1/2

cup

brown sugar

2

red pepper

-

cut into large 1" pieces

2

green pepper

-

cut into large 1" pieces

2

onion

-

cut into large 1" pieces

mushrooms

2

large heads romaine

-

sliced in half

olive oil

salt and pepper
Instructions
In a large resealable bag, mix together the soy sauce, vegetable oil, apple cider vinegar, ginger, garlic salt, and venison.

Place in fridge and let marinate for 6 to 24 hours.

When ready to cook, preheat grill to high. Dream the venison.

Thread the peppers, onions, and venison onto metal skewers (if using wood skewers, make sure to soak 30 minutes before grilling).

Sprinkle the romaine with olive oil on all sides and season with salt and pepper.

Reduce heat to medium-low and carefully grease grates. Place kabobs on the grate, close the lid, and cook for 9-12 minutes, turn once mid way through cooking.

Grill the romaine for 5 minutes, or until brown and beginning to char, flipping once during cooking.

Serve romaine with kababs and peppercorn dressing.
Nutrition
Serving:
1
g
|
Calories:
712
kcal
|
Carbohydrates:
35
g
|
Protein:
62
g
|
Fat:
37
g
|
Saturated Fat:
6
g
|
Polyunsaturated Fat:
28
g
|
Trans Fat:
1
g
|
Cholesterol:
171
mg
|
Sodium:
2092
mg
|
Fiber:
6
g
|
Sugar:
23
g
Nutritional informations provided as a courtesy and is only an approximatation. Values will changes based on ingredients used.
⭐ Tried this recipe? Rate it ⭐
Help out the next person and give it a star rating below!
And no, I didn't forget about those social links
"Break it down for me, Kita!" Sure thing, I am all about shameless self-promotion. 😉
If you want the daily post, pic of the recipe and link – follow me here. I occasionally post random stuff that I find amusing too (and maybe took the cat joke a little too far last Christmas), but it's the most filtered and easy access to what's happening. PS. This post from TidyMom is great if you are wondering why you no longer see all the pages you follow in your news feed (because facebook is trying to make us 'pages' pay for your attention…).
Unfiltered, unedited, inappropriate random thoughts and things I probably shouldn't share on the internet if I am 'building a brand' (thank God I threw that dream out the window). Sometimes its comics, sometimes its biking, and if I remember, a daily link back to the site.
my inner girl, nerd, geek, dreamer, and fat kid all combine on pinterest. Everything from rocking high heels to bacon slathered in gravy. I have boards on office spaces, puppies, clothes, and barbecue. So, if you are looking for random crap to pin forward – follow me here. (I often wonder what my family thinks of my random pins).
the social network I am destined to share an adult rated photograph on some day. Not on purpose – never on purpose. But with all these darn buttons on my phone it's bound to happen. Be gentle when it does.
Also, if you realllly want your daily dose of Pass the Sushi action, there is an email subscription box up above the menu bar (Never Miss A Bite!). Fill that out and posts will come directly to your inbox.