The best part about summer entertaining is cooling off with a tropical libation. These Chocolate Dipped Boozy Pina Colada Popsicles are just what your next party needs! All the flavors of the classic cocktail, with just a teeny bit of the punch. So sit back, pretend a cabana boy is giving away free rounds, and enjoy one (or two) of these.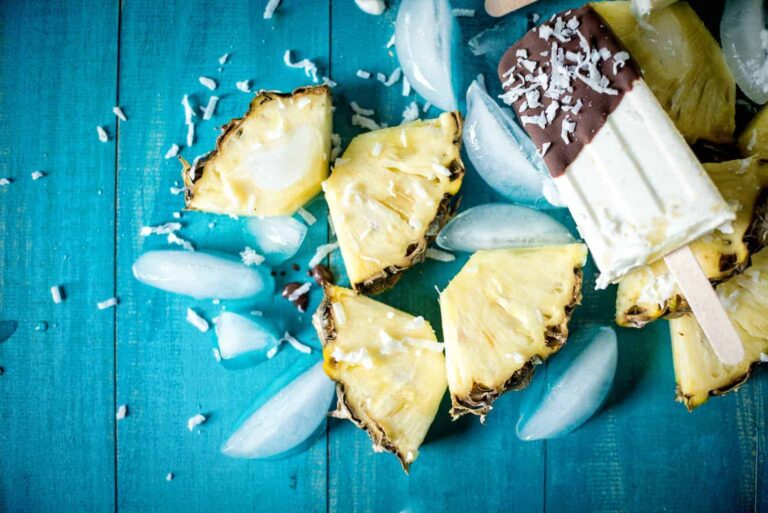 Someone once explained time to me. They said it is relative to our experiences. The long hot days of summer away from recess and our friends seemed endless as a child because we have had fewer of them to establish a sense of time. As we grow, one season becomes a smaller fraction of the time we have sent, seeming to speed up the days and moments making it rush past before we have truly had a chance to savor it.
This idea seemed crazy to me. But after hearing about other theories of time, I have been obsessing with lately, and maybe they were on to something. Or maybe they were tripping on acid. But once again, I look at my list of to-do's wondering where they day went before the sun set, what seems to be hours earlier than the night before. The list occupied most of my day, as it often does, and I am not precisely sure how much work I can admit to accomplishing. It feels like those endless summers have transposed themselves to endless tasks organized by priority.
And yet, this weekend, I took the time to turn the lists off. To be selfish and absorbed in the heat. I hosted a game night for friends kicking off the weekend, did yoga, road my bike, went to the beach, had a fun dinner out, and didn't once check my email or work. I consciously checked out. And it was hard.
There was that beep of the phone every so ofter lighting up to remind me I hadn't read the latest email or responded to tweets. There was the pull from that lack of dopamine begging me to check facebook and get another hit. And yes, I did post on Instagram (though less than my average and far less filtered now that we can use Instagram stories for an uncurated glimpse into real life again - PS, I LOVE THAT). But that is all. I maintained all willpower, refusing to allow my time soiled by any possible emails or work that required immediate attention. I jotted a few notes down on paper to remember for when I clocked in, but I honestly forced a weekend off.
For now, let's pretend it's still time to check out. That we're punched out of work and relaxing as the heat makes the days hazy and humid. Let's sit back and wander along our imaginative beaches, enjoying what summertime is indeed made for in between those crucial hours of getting all the things done. Slowing down, detoxing from online drama and soaking up real social experiences, enjoying something a little more refreshing for the soul.
Especially if it means, boozy pops. Chocolate Dipped Boozy Pina Colada Popsicles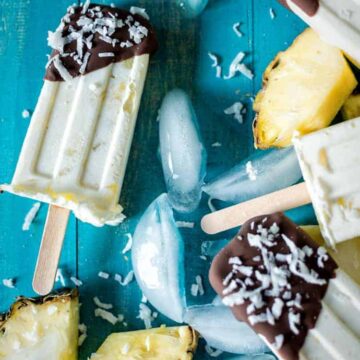 Chocolate Dipped Boozy Pina Colada Popsicles
This recipe works with fresh pineapple, but save some time and effort and use a already packaged frozen pineapple if pineapple isn't on the shelves of your local market.
Print
Pin
Rate
Ingredients
1

cup

pineapple

-

diced and frozen for 20 minutes

8

oz

Cool whip

-

thawed

2

tbs

cream of coconut <-- I use this kind

2

tbs

coconut rum

¼

cup

flaked coconut

-

plus extra for garnishing

1

teas lime zest
For the Chocolate Coating
2

tbs

coconut oil

1

cup

semi-sweet chocolate chips
Instructions
In a blender, pulse the cold pineapple until only tiny chunks remain. Spoon into a large bowl.

Fold the cool whip. Whisk the cream of coconut, rum, flaked coconut, and lime zest together in a small bowl. Fold into the pineapple mixture.

Divide the mixture evenly into popsicle molds and allow to freeze over night.

When ready to serve, make the chocolate coating. Toss the coconut oil and chocolate chips in a microwave safe bowl. Heat in 20 second bursts, stirring a bit inbetween, until chocolate is melted enough to stir smooth. Pour the chocolate coating into a tall glass, wide enough that the pops can fit in. Dip each pop, one at a time, allowing the coating to set about 5 seconds before sprinkling with extra coconut flakes if desired. Serve responsibly.
Nutritional informations provided as a courtesy and is only an approximatation. Values will changes based on ingredients used.
⭐ Tried this recipe? Rate it ⭐
Help out the next person and give it a star rating below!