From scratch green bean casserole is just what it sounds like. There are no canned "cream of" soups harmed in the making of this classic green bean casserole recipe!
My family is one of those traditional ones as far as the Thanksgiving dinner menu goes. Turkey, sausage cornbread stuffing, and Mama's mashed potatoes. I got a look as though I was questioning the existence of Santa when I suggested a cranberry sage stuffing as opposed to our very traditional (normal) stuffing.
However, for fear of be voted out of the kitchen, I am bringing a from scratch green bean casserole to Thanksgiving this year. I wasn't asked to, and I'm risking exile to the porch with my new casserole, but I'm bringing it – because it's that good.
From Scratch Green Bean Casserole
from The Pioneer Woman
Ingredients:
2 pounds Fresh Green Beans, Ends Cut Off
4 slices Bacon, Cut Into 1/4 Inch Pieces
3 cloves Garlic, Minced
½ whole Large Onion, Chopped
4 Tablespoons Butter
4 Tablespoons All-purpose Flour
2-½ cups Whole Milk
½ cups Half-and-half
1-½ teaspoon Salt, More To Taste
Freshly Ground Black Pepper, To Taste
⅛ teaspoons Cayenne Pepper
1 cup Grated Sharp Cheddar Cheese
1 jar (4 Ounce) Sliced Pimentoes, Drained
Extra Milk For Thinning If Necessary
1 cup Panko Bread Crumbs
Preparation:
Prep your green beans by trimming the ends off. Cut green beans in half if you like pieces to be a little smaller.
Blanch the green beans: drop them into lightly salted boiling water and allow green beans to cook for about 3 to 4 minutes. Remove them from the boiling water with a slotted spoon and immediately plunge them into a bowl of ice cold water to stop the cooking process. Drain beans once they're cool and set aside.
Add bacon pieces to a skillet over medium heat. Cook bacon for two minutes, then add diced onion and garlic and continue cooking for 3 to 5 minutes, or until bacon is done (but not crisp) and onions are golden brown. Remove from heat and set aside.
In a separate skillet or saucepan, melt butter over medium heat. Sprinkle flour into the pan and whisk immediately to evenly mix it into the butter. Cook for a minute or two, then pour in milk and half and half. Continue cooking, whisking constantly, while sauce thickens, about 2 minutes. Add salt, pepper, and cayenne then add the grated cheddar. Stir while cheese melts. Turn off heat.
Add pimentos to pan, then add bacon/onion mixture. Stir to combine. Pour over green beans and stir gently to combine. Pour into a baking dish and top with panko crumbs.
Bake at 350 degrees for 30 minutes or until sauce is bubbly and panko crumbs are golden.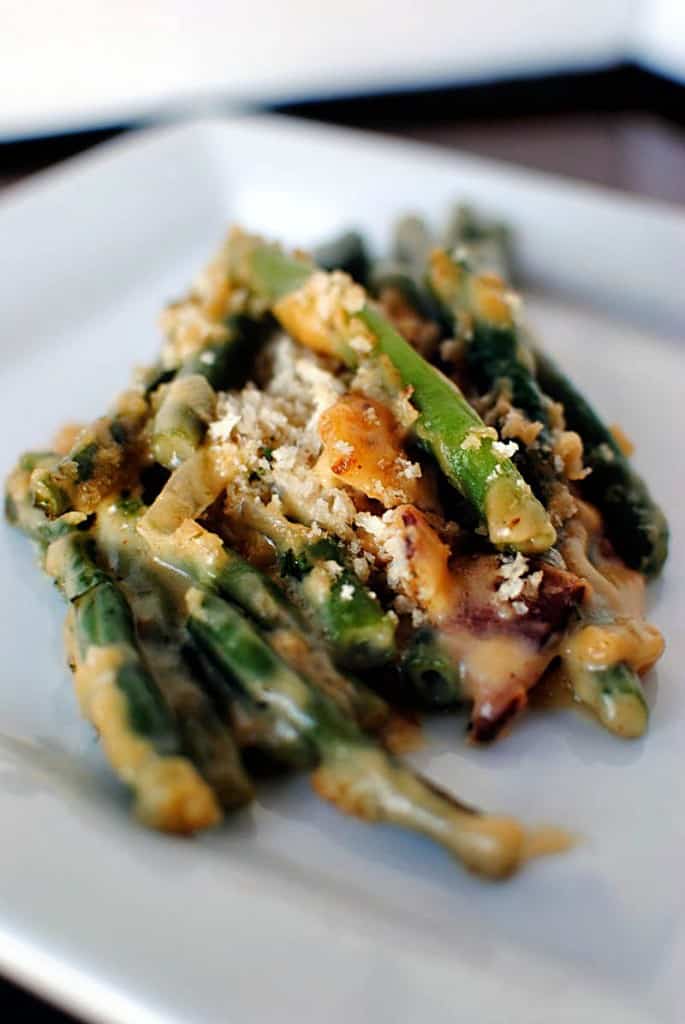 Fresh, crunchy green beans in a cream sauce = Heaven.
Seriously, I may be in love with the Pioneer Woman. Yeah, that doesn't make me sound creepy at all.
Just try this from scratch green bean casserole. I bet you'll feel the same way.