Chicken Cordon Bleu is a classic French dinner. This recipe is a fun twist, turning it into a sandwich, making it perfect for lunch or dinner!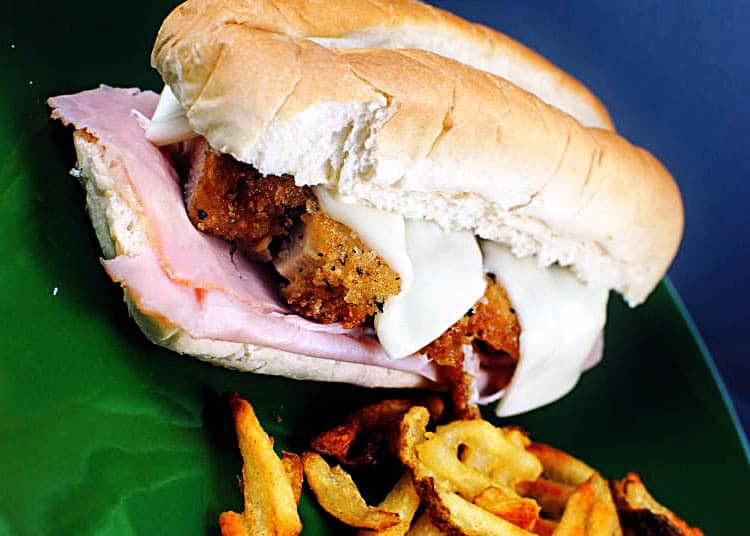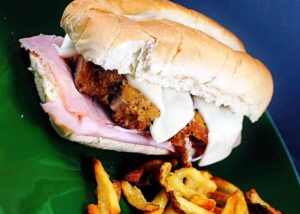 If you're anything like me there is a mountain of turkey, mashed potatoes and other heavy but delicious foods headed your way on Thursday, so I'm doing everything I can to stay away from poultry and keep things simple in the kitchen until then.
Well, this chicken Cordon Bleu sandwich isn't as far away from poultry or kinda heavy as I have mandated for the rest of the week, but it was pretty tasty and fit the simple requirement.
Here's a shocker for you: I have never fried chicken before.
Why not? Well, I have always thought it to be way too unhealthy, soggy, and time consuming to make. Not to mention, in these parts, the only thing that counts as 'fried chicken' is KFC, and well, ew.
This chicken Cordon Bleu sandwich was awesome, though!
Crispy, golden brown and delicious. I could have eaten the chicken alone (and probably did eat more than my fair share). The whole sandwich came together super quickly and was rather filling. I had everything done and ready in less time then it took the quick oven baked French fries to finish cooking.
Chicken Cordon Bleu Sandwich
From America's Test Kitchen 30-Minute Suppers Winter 2010
Ingredients:
½ cup AP Flour
2 large eggs, lightly beaten
1 ½ cup panko bread crumbs
2 tbs mayo
¼ cup Dijon mustard
4 thin-cut skinless chicken cutlets
S&P
¼ cup peanut of vegetable oil
4 sub rolls, split
8 slices deli ham
8 slices Swiss cheese
Preparation:
Adjust oven rack to middle position and heat oven to 400 degrees. Spread flour in shollow dish. Beat eggs in second shallow dish. Spread panko in third shallow dish. Mix mayonnaise and mustard together in small bowl until smooth.
Pat chicken dry with paper towels and season with salt and pepper. Dredge each cutlet in flour, dip in egg, and dredge in panko, pressing to adhere. Heat oil in large nonstick skillet over medium-high heat until shimmering. Add chicken, lower heat to medium, and cook until golden brown and crisp, about 2 minutes per side. Transfer cutlets to paper towel-lined plate.
Place rolls n rimmed baking sheet and spread equal amounts of mustard mixture on cut sides of each roll. Slice each cutlet on bias into 4 pieces (16 pieces in total). Layer 2 slices ham on one side of each roll, then 4 slices chicken, and finish with 2 slices cheese. Position top rolls on layered meats and press rolls closed. Bake until cheese is melted. 3 to 5 minutes. Serve.
What I did differently:
The only thing I knew about "fried chicken" is to soak the chicken in buttermilk, so I did that overnight.
We don't care for mustard, so it was a 2 tbs mayo, 1 tbs mustard mixture for us. It was just enough tang for our taste buds.
We were fresh outta Swiss cheese, so I used white American (don't hate me).
I left the chicken cordon bleu sandwiches un-topped when in the (toaster) oven, laying the tops next to them, so that they would brown a little.