You will have your guests guessing at the secret ingredient that makes these Mama's Mashed Potatoes. Light and fluffy with a signature tang - this is a perfect batch of mashed Yukon Gold potatoes, just like my mom used to make them.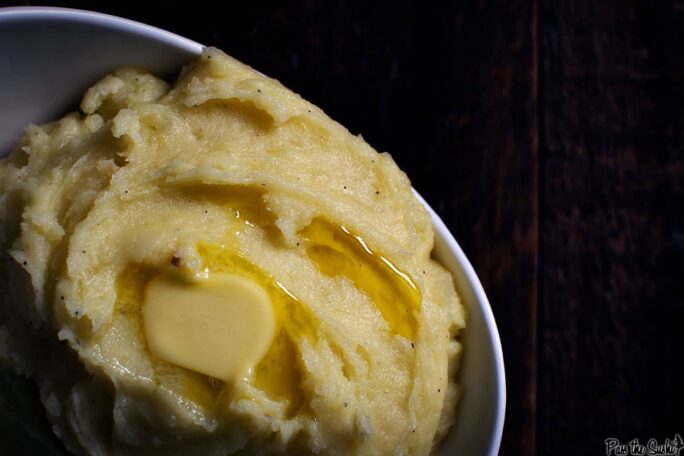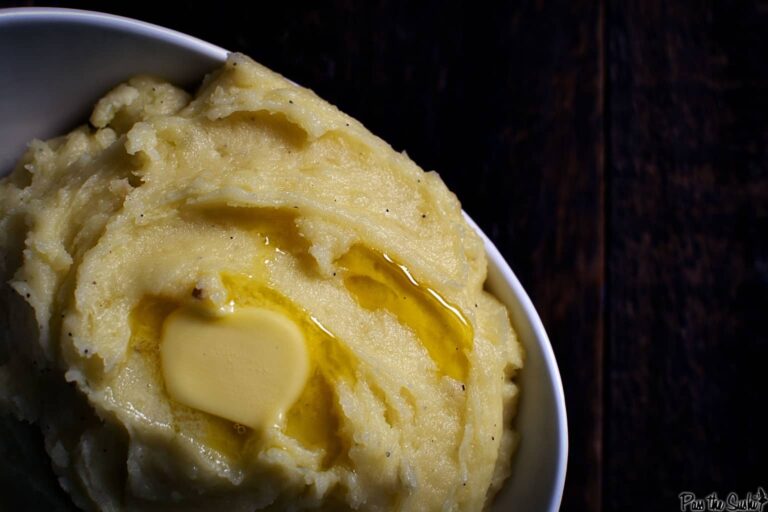 Ever have a batch of bad potatoes? My best friend, an amazing cook, and the woman who initially inspired this home cooked life I live, and I were chatting and whipping up a big family dinner, like we often did (every single night), and something was just wrong with our mashed potatoes. We used Yukon Golds. We whipped, buttered, creamed, seasoned and whipped some more. Sadly, the giant bowl tasted horrible. Just like a mouth full of starch. The whole thing was off.
Not wanting to call it quits, we started rooting through the fridge for all of the substitutes and tricks that we had picked up along the way to spice up these potatoes. Ranch dressing was mixed in. Still tasted like starch. Heavy cream. Still starchy. Garlic. Oh, garlic starch. Sour cream, cayenne, other herbs, so on and so forth. And finally I recalled something my mother used to put in her potatoes - mayonnaise. We tried a bit of that as well.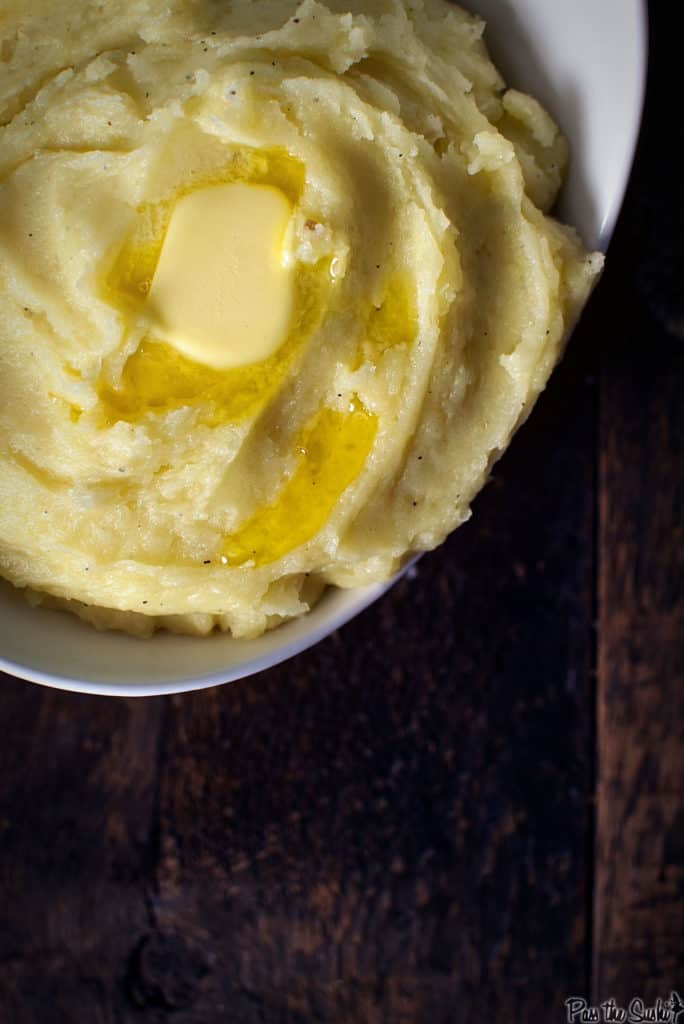 Sadly, nothing saved that batch. The texture was amazing, with all that cream and goodness mixed in. But the potatoes never lost that overpowering starch taste. We ended up trashing the whole pan and starting again in a fit of laughter at how a well-seasoned cook and I messed up the most simple of things. Ever since that night, anytime I make mashed potatoes, I keep waiting for a batch to come back and bite me. To remind me that every now and then, nothing can save supper except a whole lot of laughter.
And every now and then, when I am feeling nostalgic, I find myself searching to recreate the few meals that my mom would sit on the table in front of us. I remember watching her boyfriend pull out a can of mayo as we sat in our RV prepping supper and stirring in several large spoonfuls. Even as a child, I was perplexed by the idea. Something foreign I'd never seen added to the trusty pot of goodness before. And when things are thin at home, or when I am just craving that familiar tang, I find myself skipping some milk and adding a spoonful of mayo to the pot instead. I am pretty sure the only one who would ever guess what that signature flavor was is me.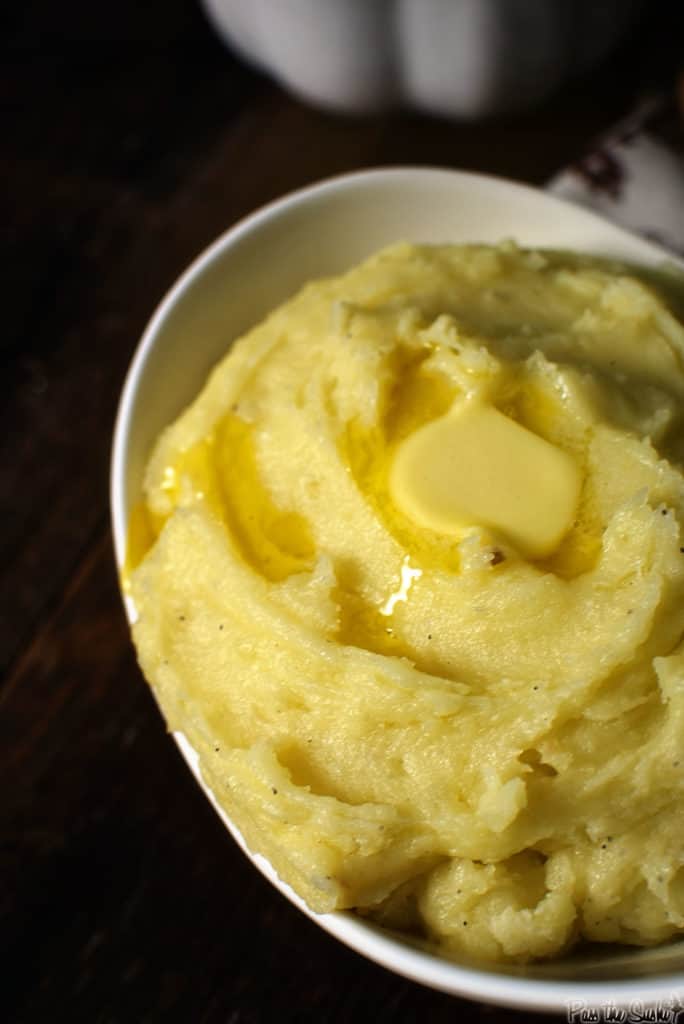 If you're like me, you're probably trying to round up a selection of side dishes for a feast (It's Tuesday right?). I've got you covered.

Ultimate Creamy Stovetop Mac and Cheese Recipe
Slow Cooker Rum Soaked Fig Cranberry Sauce
Outside the Bird Stuffing (aka Dressing)
Cauliflower with Apples and Pecans
If you've tried my Mama's Mashed Potatoes recipe or any other recipe on passthesushi.com please don't forget to rate the recipe and let me know where you found it in the comments below, I love hearing from you! You can also follow along for more good eats and travel tips on Instagram @passthesushi & @girlcarnivore, Twitter & Facebook.
Yield: 1 Recipe
Mama's Mashed Potatoes Recipe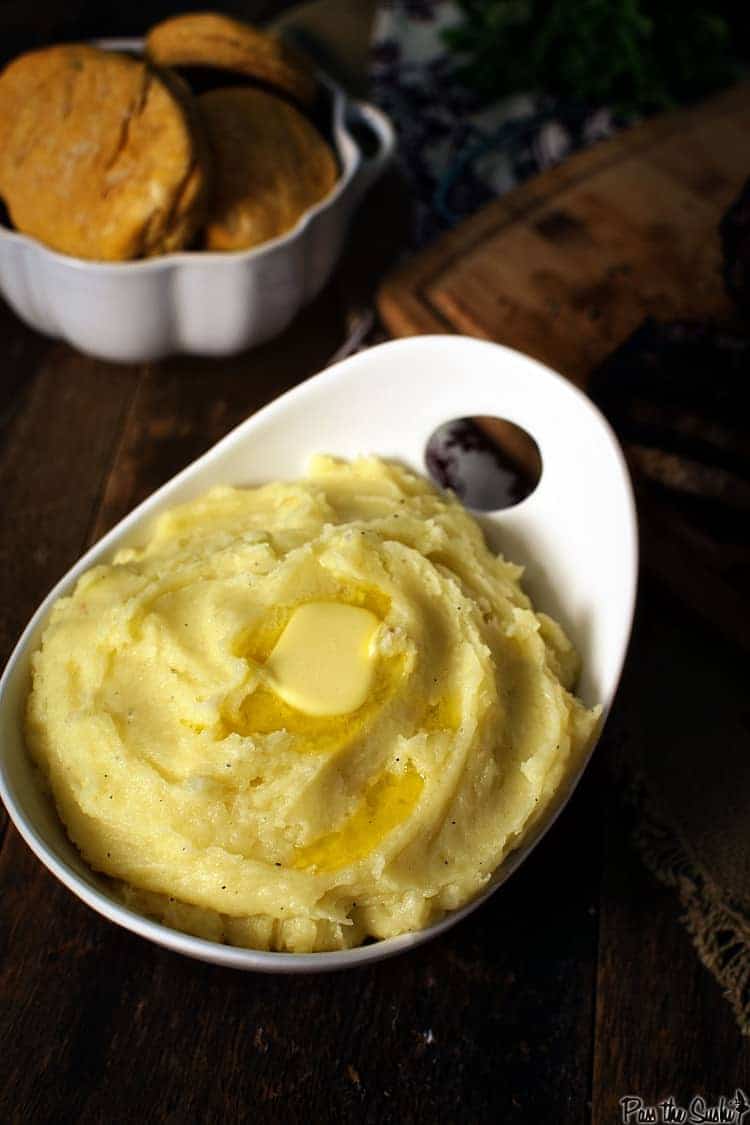 Light and fluffy with a signature tang – this is a perfect batch of mashed Yukon Gold potatoes, just like my mom used to make them.
Ingredients
3 lbs Yukon gold potatoes, scrubbed, peeled and cut into even cubes
¾ cup mayonnaise
4 tablespoon salted butter
salt and pepper to taste
Instructions
Bring the potatoes to boil and cook until fork tender, about 12 minutes.
Drain and return the potatoes to the hot pan or a warmed bowl with deep sides.
Mash the potatoes a bit by pressing on them with the mixers from your hand mixer (they should pretty much squish under the pressure).
Add the mayonnaise and butter and whip.
Mix on low until almost all of the large clumps are gone.
Turn the speed up a bit and knock out the rest of those lumps. Turn the speed gradually up higher and whip the potatoes until light and fluffy. Add more mayo if needed, depending on the moisture content.
Season with salt and pepper and serve.
Recommended Products
As an Amazon Associate and member of other affiliate programs, I earn from qualifying purchases.
Nutrition Information:
Yield:
12
Serving Size:
1
Amount Per Serving:
Calories:

233
Total Fat:

14g
Saturated Fat:

4g
Trans Fat:

0g
Unsaturated Fat:

10g
Cholesterol:

16mg
Sodium:

154mg
Carbohydrates:

24g
Fiber:

3g
Sugar:

1g
Protein:

3g
Nutrition information provided is an estimate from nutritionix.com. For specific health concerns, please put the recipe into your Dr recommended nutrition calculator.