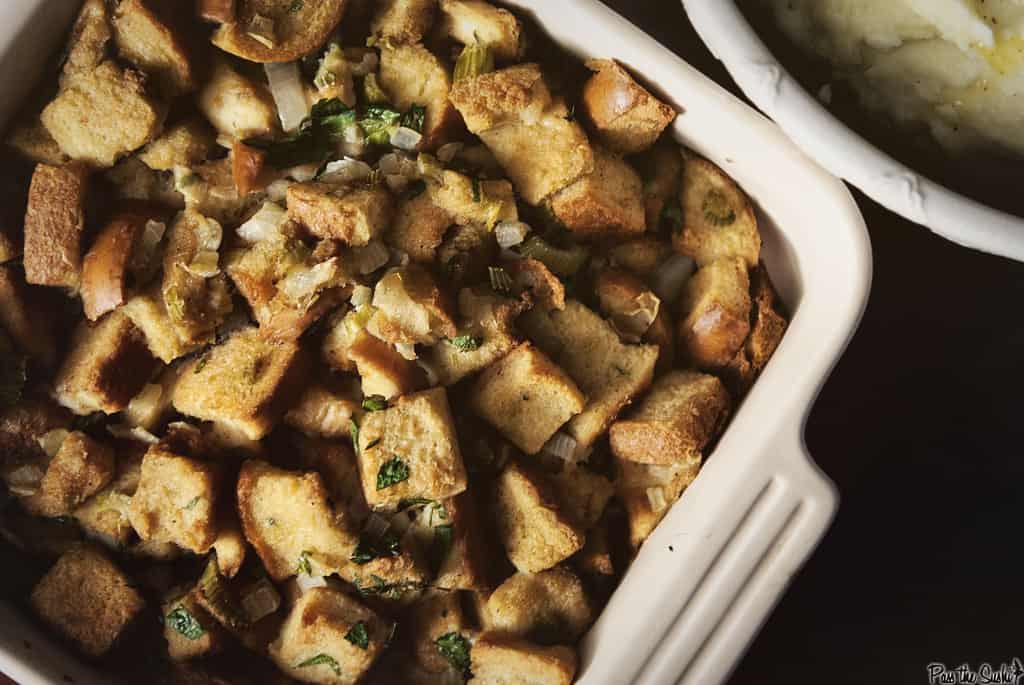 Think outside the bird for this Stuffing. Baked crunchy soaked carbs are amazing, and can be had even with there is no chicken or turkey to be seen.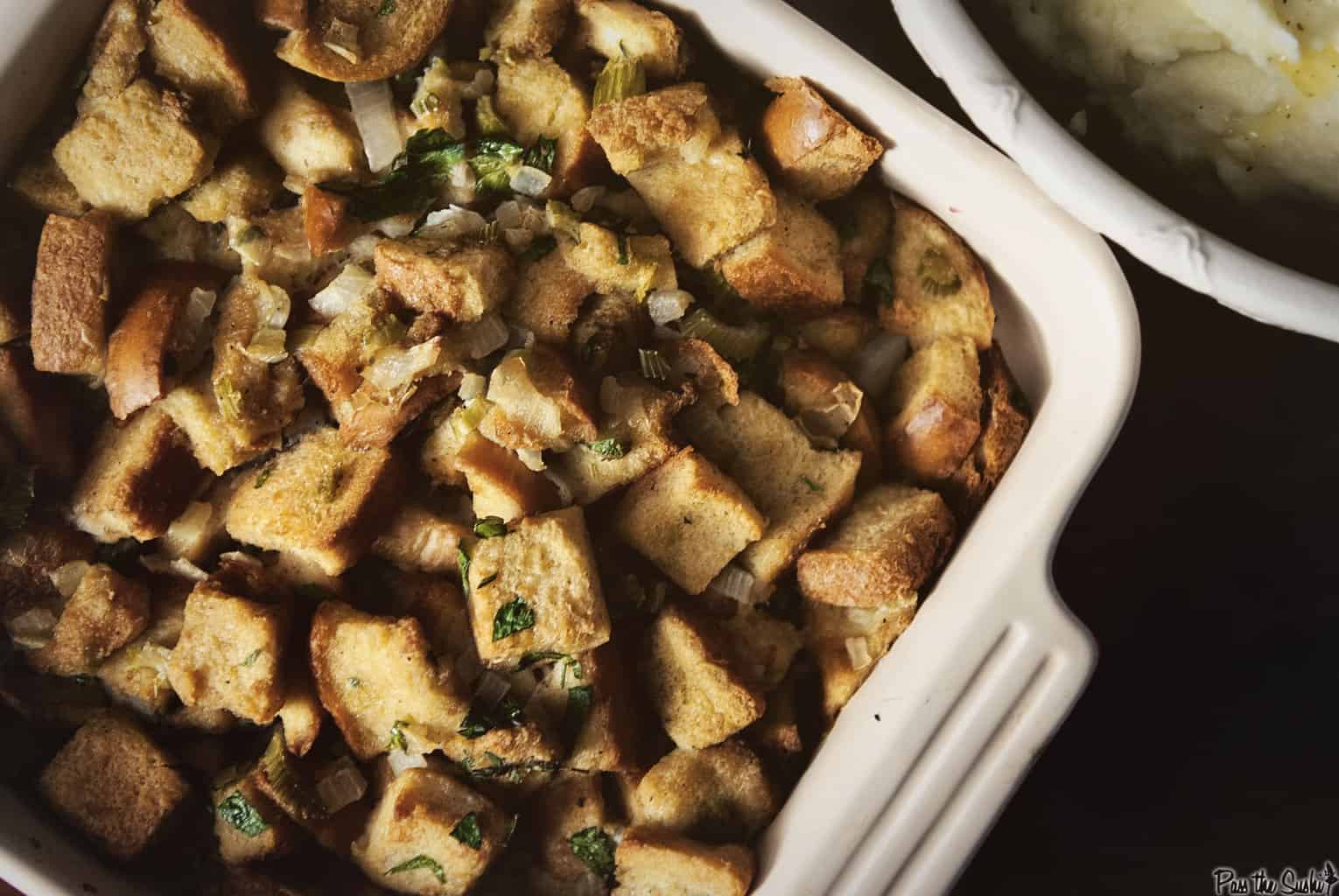 Yes, it's dressing if it is outside of the bird. This is not stuffing. But I grew up calling it stuffing, so stuffing it is. And yes, cooking it inside the bird has health risks, but I also eat raw cookie dough by the spoonful… and probably one too many bites of it, so my family is probably not going to change any time soon. However, since starting this foodie hipster thing with my iPhone and skinny jeans, I have discovered that stuffing comes in all shapes and sizes and if I want fruit or sausage in it it can have that too. No really, the schnozberries can taste like schnozberries. (see link for those not getting the joke and making me feel old). Also, I have cool hip vegetarian friends now, and I like having options for them at my table that I know could be converted to fit their diets as well, another reason to explore stuffing outside the bird. Lastly, baked crunchy soaked carbs are amazing, and can be had even with there is no chicken or turkey to be seen. I could be crazy and serve dressing with a ham (I said crazy) and people could be all like whoa. There are many reasons to explore stuffing and dressing. This one happened to be because I was smoking the bird, and even though I am all like 'run wild and free' to salmonella poisoning when in a nice toasty oven, the low heat, moist environment, and contrast dripping of a smoker had me pretty convinced that it wouldn't be ok. But smoked stuffing. That could be it's own thing? Right. Yeah, I might be on to something.
(no, I don't really have an iPhone, the glasses are prescription and I swore I wouldn't own skinny jeans… but I do)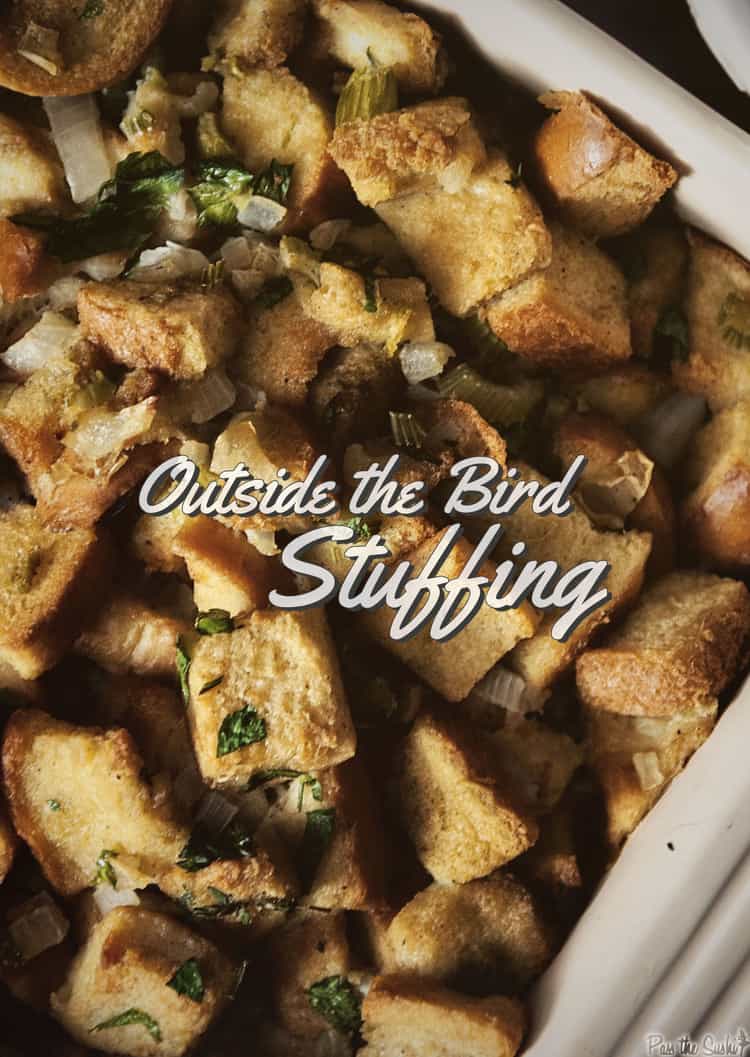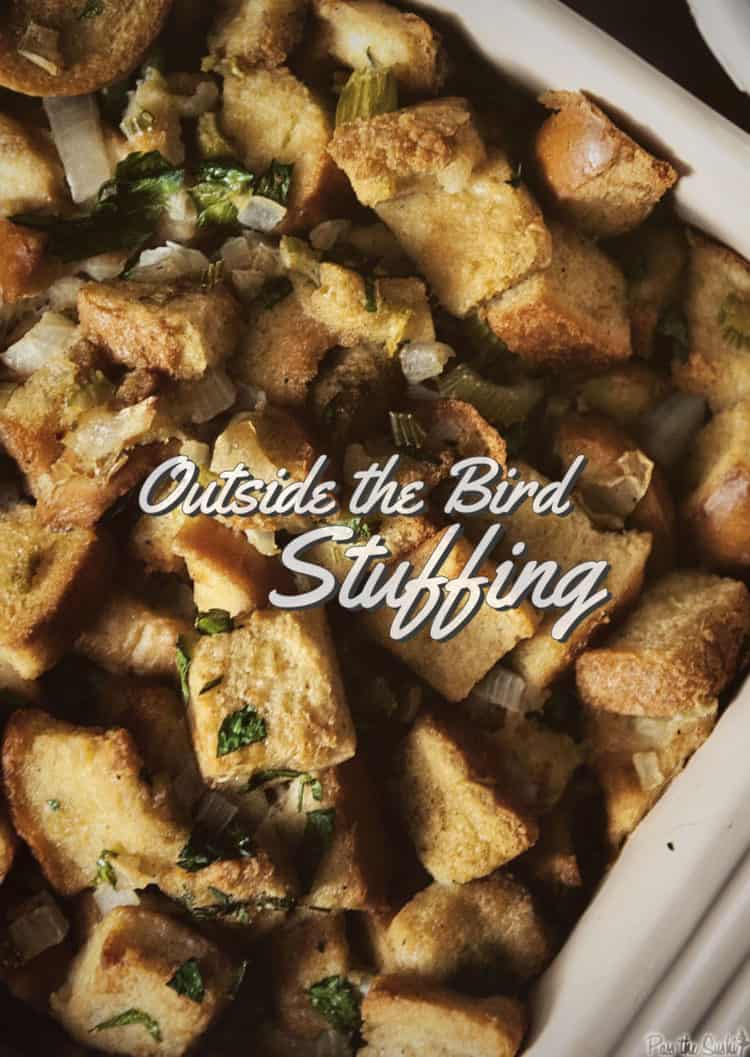 For more Thanksgiving sides, make sure you try my most popular sides.
If you've tried this Outside the Bird Stuffing recipe or any other recipe on passthesushi.com please don't forget to rate the recipe and let me know where you found it in the comments below. I love hearing from you! You can also follow along for more good eats and travel tips on Instagram @passthesushi & @girlcarnivore, Twitter & Facebook.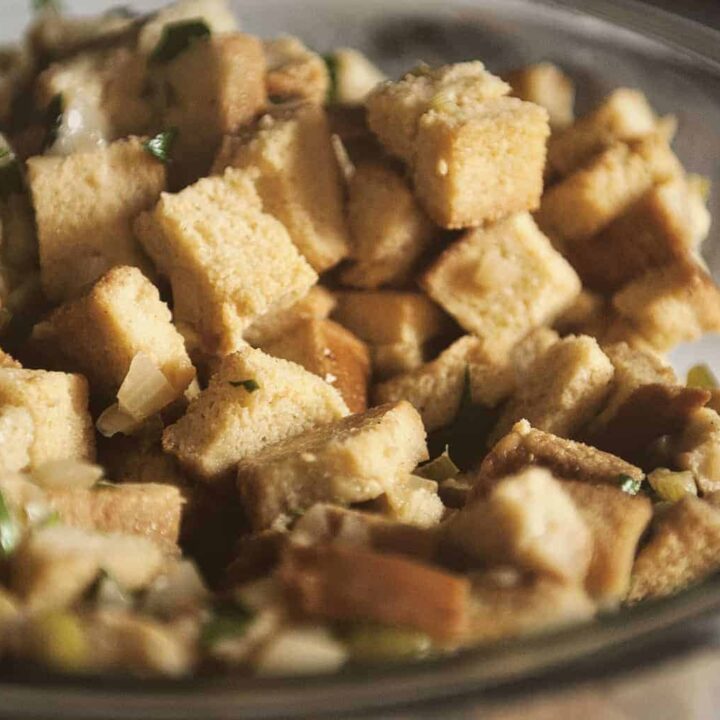 Outside the Bird Stuffing (aka Dressing)
Cook Time:
1 hour
10 minutes
Total Time:
1 hour
25 minutes
Ingredients
24 oz loaf hearty country white bread, cut into 1/2? cubes
8 tbsp unsalted butter
2 onions, chopped
3 celery stalks, trimmed and chopped
4 garlic cloves, minced
3 tsp Bells seasoning, if you can't find Bells, use a mix of sage and thyme
4 cups low-sodium chicken broth
1 tbsp soy sauce
4 large eggs
1 1/2 cups half and half
1/4 cup fresh snipped parsley
1 tsp salt
1 1/2 tsp ground pepper
Instructions
Adjust the racks in your oven to the middle top and middle bottom position. Preheat the oven to 325 degrees F.
Arrange the bread cubes on two baking sheets in even layers. Bake for 30 minutes, until golden. Stir the bread and switch pans halfway through baking. Set aside to cool.
Meanwhile, grease a 9 x 13" pan and set aside.
In a large skillet, melt 4 tbs butter over medium heat. Add the onions and celery and cook for 10 minutes, until starting to softened and turn golden.
Add the garlic and Bells seasoning. Cook, stirring, for 30 seconds.
Stir in the broth and soy sauce. Simmer until slightly thickened, about 10 minutes. Remove from heat. Let cool 10 minutes.
Whisk the eggs, half and half, and parsley in a large bowl. Slowly whisk in the broth mixture.
Fold in all of the breadcrumbs, making sure to coat all. Let sit for 20 minutes until bread is soaked with the liquid mixture (some will still be in the bowl).
Pour the bread mix into the prepared pan.
Melt the remaining butter and drizzle over the stuffing.
Bake on lower middle rack for 50 minutes, until top is crispy. Serve warm.
Notes
Cook's Holiday Entertaining
Nutrition Information:
Yield:

10
Serving Size:

1
Amount Per Serving:
Calories:

367
Total Fat:

18g
Saturated Fat:

10g
Trans Fat:

0g
Unsaturated Fat:

7g
Cholesterol:

112mg
Sodium:

1202mg
Carbohydrates:

40g
Fiber:

3g
Sugar:

7g
Protein:

12g
Nutrition information provided is an estimate from nutritionix.com. For specific health concerns, please put the recipe into your Dr recommended nutrition calculator.