Cornbread stuffing is typically something you see on tables around Thanksgiving, but a sausage cornbread stuffing recipe as good as this one is deserves to be made all year long. It's moist, flavorful, and delicious!
I know its way early in the season for stuffing, but I don't care – I am in love with Anne Burrell right now (she's just so darned cuddly!). I was feeling all down and out, so I decided to take up some time in the kitchen and I went a little overboard.
I made a smoked chicken, potato soup, this cornbread stuffing recipe, and dessert (that didn't photograph for crap – oh, the Tastespotting gods love to spite me – haha, it's not that I'm just a crappy photographer).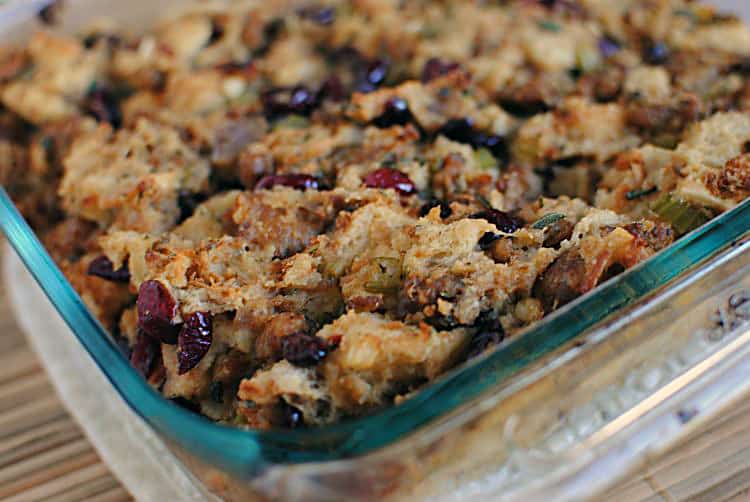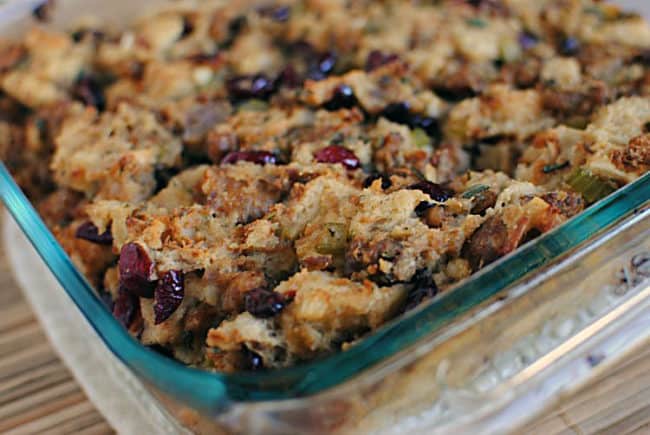 This cornbread stuffing recipe though – o.m.g.!
Once the aroma of sage and rosemary hit the pan, you might as well call it a day because nothing is getting better then that. I will be making this again and again and again. I don't care how many calories it has or how fat I get. This sausage cornbread stuffing is glorious, gluttonous heaven.
Sausage Cornbread Stuffing
Adapted from foodnetwork.com
Ingredients:
Extra-virgin olive oil
1 large onion, small dice
3 ribs celery, small dice
Kosher salt
1 pound spicy sausage, casing removed, broken into bite-size chunks

* I used andouille *

3 cloves garlic, smashed and finely diced
3/4 cup coarsely chopped walnuts * I omitted these because I didn't want them *
10 sage leaves, finely chopped
3 sprigs rosemary, leaves finely chopped
10 cups stale cornbread, cut into 1-inch cubes
2 cups dried cranberries
3 to 4 cups chicken stock
Preparation:
Preheat the oven to 350 degrees F.
Coat a large saute pan with olive oil, add the onions and celery and saute over to medium heat. Season with salt and cook until the vegetables start to become soft and are very aromatic. Add the sausage and cook until the sausage begins to brown. Stir in the garlic and saute for another 1 to 2 minutes. Add the walnuts, sage and rosemary and cook for another minute, then remove from heat.
In a large bowl mix together the cornbread, cranberries, and the sausage mixture. Add chicken stock and knead with your hands until the bread is very moist, actually wet. Taste to check for seasoning and season with salt, if needed and transfer to an ovenproof dish.
Bake the stuffing until it is hot all the way through and is crusty on top, about 30 to 35 minutes. MMMMM…stuffing!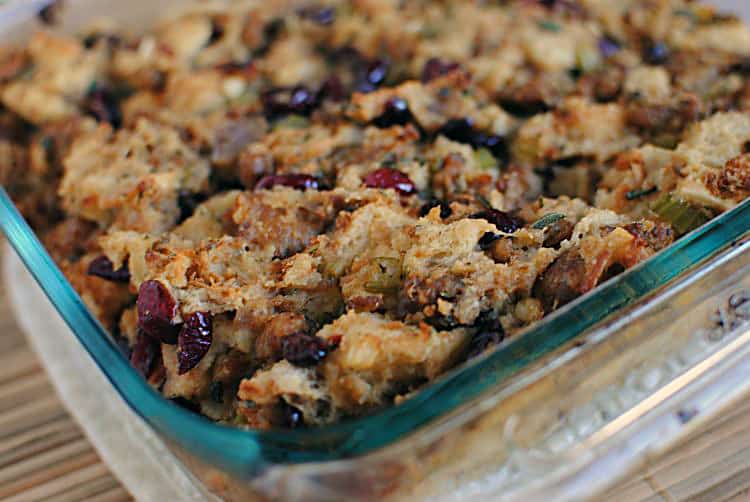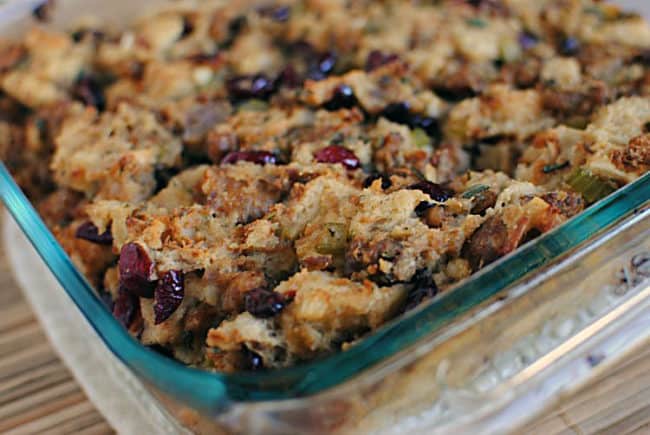 Yes, "MMMM…stuffing!" was really part of the recipe.
Don't get my wrong. I know stuffing in general is pretty basic and that this really isn't a far stretch from normal, but it really did fill the house with the most amazing aroma that brought fall, winter and all things warm and snugly knocking at my front door.
I work manana, but I am itching to remake the dessert I made the other day and try my hand at some other baked goods this week. I got a wonderful package in the mail (that I bought and paid for) from Bake it Pretty the other day and am trying to try stuff out. Obviously, if it is an epic fail *cough* like that angel food cake *cough* there will be no evidence of it on this page and this part of my post will get caught in an internet fire.