Butter pecan praline tart will be the star of your holiday dessert table. Not just because of the buttery crust and praline pecans stuffed inside of it, but also because of the whiskey maple cream sauce that's drizzled over the top of it!
I hope everyone has a happy and safe Thanksgiving!
Mine will be spent with close family around a mountain of good food and laughter. That is, if Handsome and his father don't kill each other.
Hopefully this butter pecan praline tart will keep the atmosphere sweet.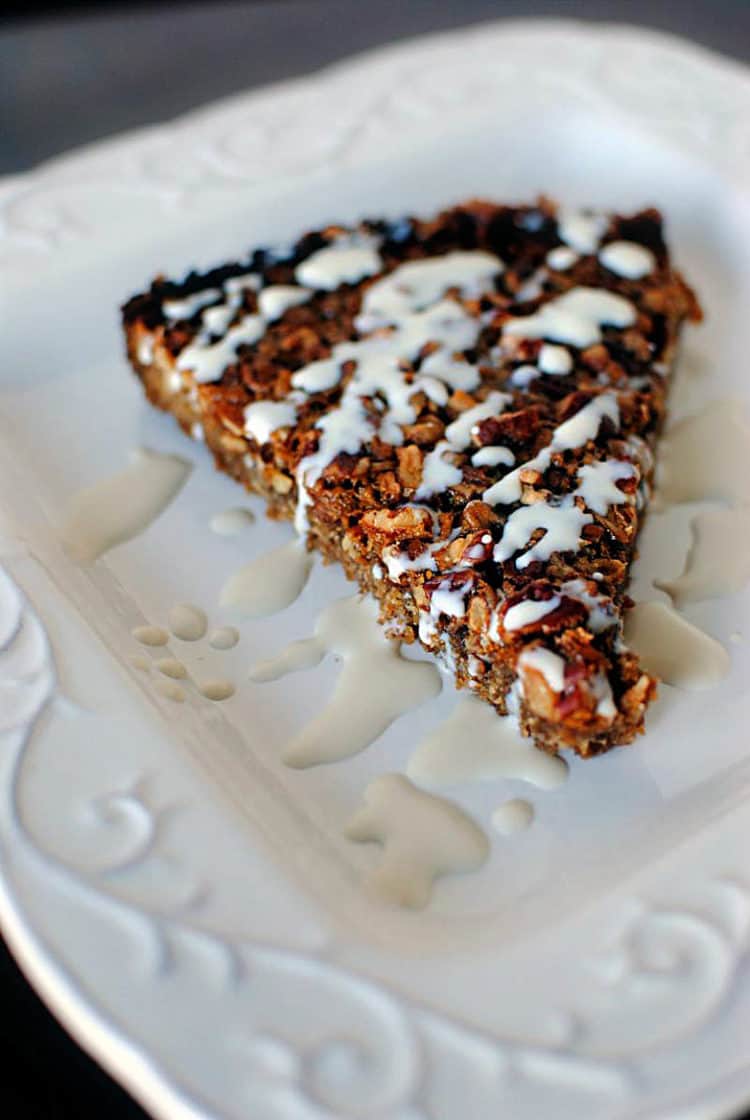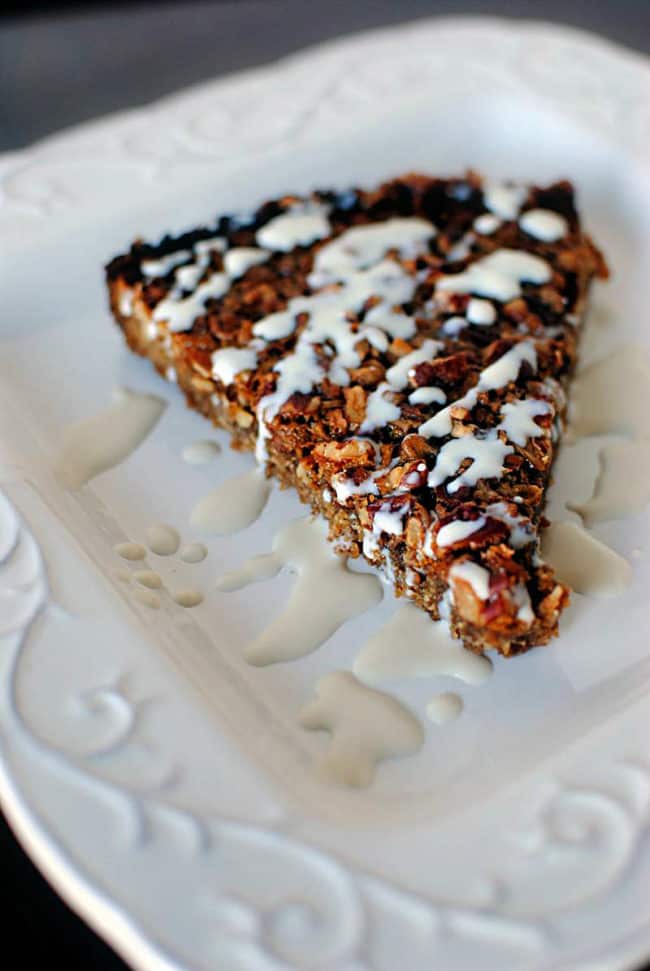 Golden Brown Butter Pecan Praline Tart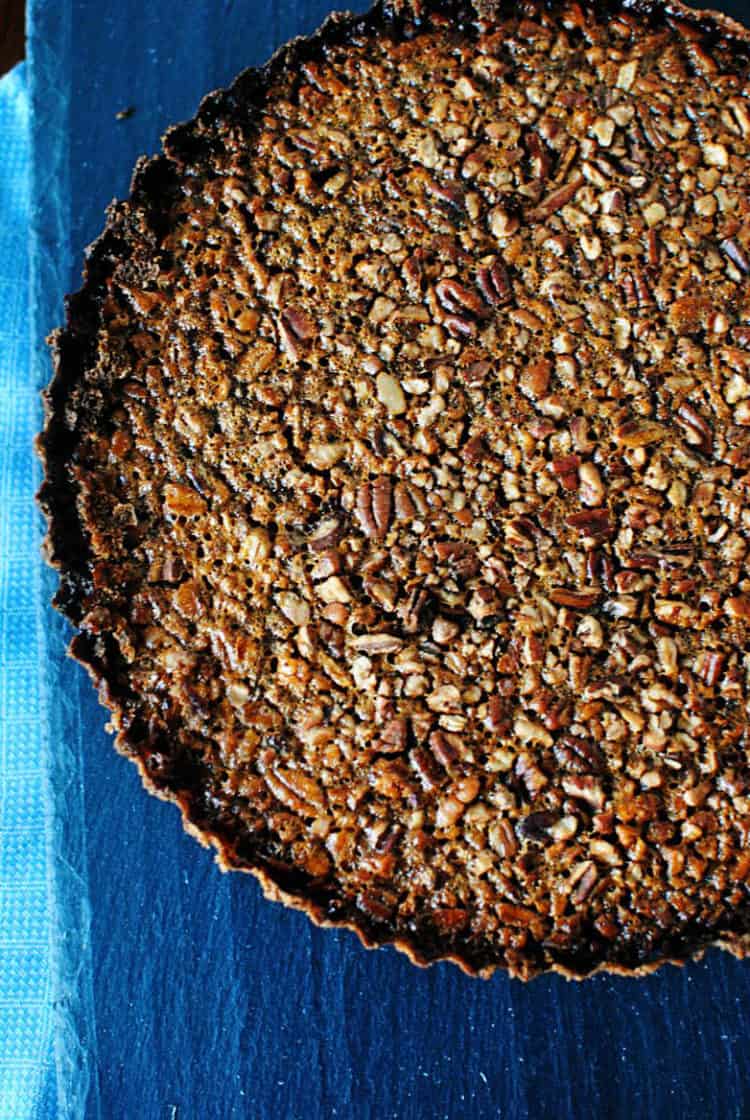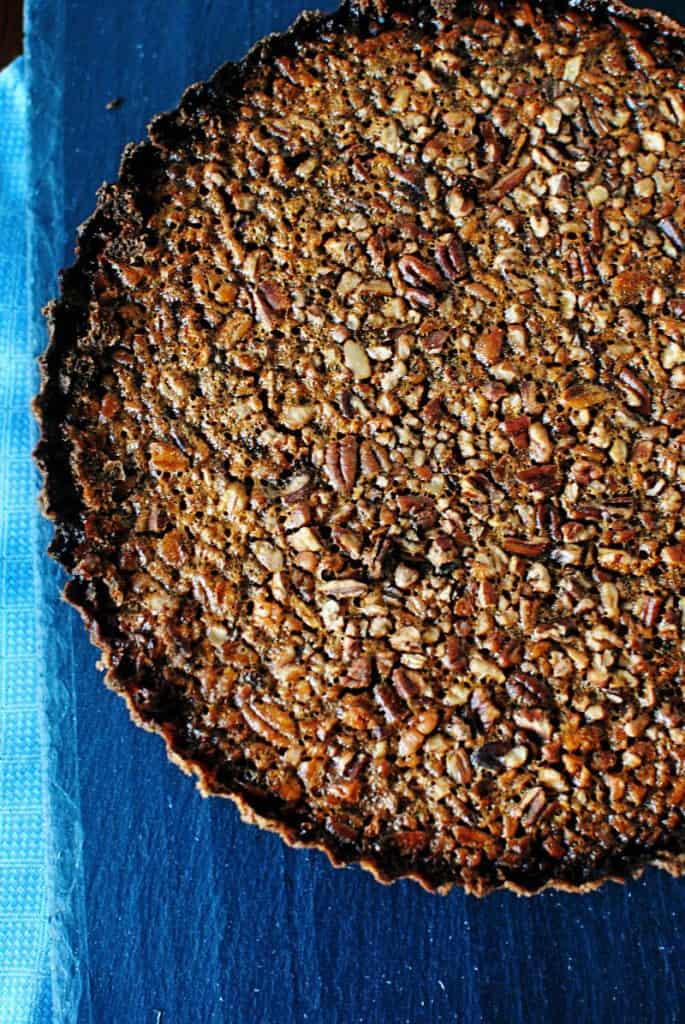 from Bon Appetit November 2010
Ingredients:
For the crust
¾ cup (1 ½ sticks) unsalted butter
1 ¼ cups unbleached all purpose flour
¼ cup (packed) golden brown sugar
½ teaspoon salt
For the filling
1 large egg
½ cup (packed) golden brown sugar
½ cup golden syrup (such as Lyle's Golden Syrup)
¼ cup heavy whipping cream
¼ teaspoon salt
1 cup coarsely chopped pecans, toasted
Preparation:
The Technique: Press-In Crust A press-in crust eliminates the (sometimes tricky) steps of rolling out the dough and transferring it to the tart pan. Instead of rolling, just combine the crust ingredients and press the sandy, crumbly mixture onto the tart pan. Start in the middle and work outward, or—if you're concerned about running out of crust as you go up the sides—start with the edges and work inward. That way, you'll have plenty of dough to form edges of uniform thickness for a pretty presentation.
Ingredient info: Look for golden syrup at some supermarkets and at specialty foods stores.
Crust:
Cook ¾ cup butter in heavy small saucepan over medium heat until butter turns golden brown (nut-colored), watching carefully to prevent burning, about 4 minutes. Remove from heat. Pour melted brown butter into 1-cup glass measuring cup. Let melted butter stand until barely warm, 15 to 20 minutes.
Meanwhile, position rack in center of oven and preheat to 375°F. Butter bottom and sides of 9-inch-diameter tart pan with removable bottom. Whisk flour, brown sugar, and salt in medium bowl to blend. Add ½ cup of barely warm melted brown butter and stir with fork until moist dough forms (mixture will resemble wet sand). Transfer dough to prepared tart pan. Using fingertips, press dough firmly and evenly onto bottom and up sides of pan (dough will look glossy). Let crust rest 5 to 10 minutes at room temperature. Bake crust until set and just golden brown, 15 to 18 minutes.
Filling:
Meanwhile, whisk egg and brown sugar in medium bowl until well blended. Whisk in golden syrup, whipping cream, and salt. Stir in remaining melted brown butter, leaving most of darkened solids behind in bottom of measuring cup. Stir in pecans. Pour filling into warm crust, distributing pecans evenly.
Bake tart until filling is browned and slightly puffed and set at edges (center will still move slightly when pan is gently shaken), 25 to 27 minutes. Cool tart completely in pan on rack (center of filling will set as tart cools).
DO AHEAD Can be made 1 day ahead. Cover loosely and store at room temperature.

Oh and lets not forget the amazing topping for this butter pecan praline tart!
Whiskey Maple Cream Sauce:
From The Pioneer Woman (Thanksgiving Throwdown with Bobby Flay)
Ingredients:
1 ½ cups whipping cream
5 tablespoons real maple syrup
3 tablespoons light corn syrup
1 tablespoon whiskey
Preparation:
Pour the whipping cream into a saucepan. Add the maple syrup and corn syrup and stir over moderate heat until thickened and reduced by about ⅓, approximately 15 minutes. Stir in the whiskey. Refrigerate mixture until it is cold and thick. Drizzle over warm pecan pie.

Update:
This Butter Pecan Praline Tart post made it to the Foodbuzz Top 9!