Remember that old saying, "You'll catch more flies with honey than with vinegar?" Its a statement that pretty much defines how you should always treat your client in the business of sales (though, I'm pretty sure it should be bees and not flies). The thing is though, I'm seeing more and more rude sales people every day.
The other day I over heard a salesmen get downright disrespectful to my boss as his time was 'being wasted' and my boss 'didn't trust' the salesman. We let you come in, sit down, and go into your pitch – we have a few reasonable questions and instead of answering them confidently, you get all pissy with us? Well, act like that and I would not only not give you any trust, but I would have booted your pretentious ass out. Had it gone on any longer (as the manager in charge of ass kicking) I would have done just that. Instead the sales person stomped out of the store like a 6 year old that was told no more TV. Not exactly top notch salesmanship there. The economy sucks – everything is a hard sell, so you have to work for it. Don't act like I am bothering you by giving you my money. The world is a small place these days and your product or service is no longer exclusive. Remember folks, the customer doesn't need you – you need them.
Chicken and Broccoli Stir-fry

from foodnetwork.com

Ingredients

1 pound boneless, skinless chicken breast (about 2 breasts), sliced against the grain
2 cloves garlic, minced
1-inch piece peeled fresh ginger, minced
2 tablespoons sugar
1 tablespoon, plus 1 teaspoon cornstarch
1 1/4 teaspoons kosher salt and freshly ground black pepper
1 tablespoon dry sherry
1 tablespoon dark sesame oil
About 1/3 cup chicken broth or water
3 tablespoons vegetable oil
5 cups broccoli, trimmed sliced stalks (about 1/4-inch thick) and medium florets (keep the 2 cuts separate)
Serving suggestion: rice

Directions

Toss the chicken with about half the garlic and ginger, the soy sauce, sugar, 1 teaspoon of the cornstarch, 1 teaspoon of the salt, the sherry, and the sesame oil in a bowl. Marinate at room temperature for 15 minutes. Mix the remaining cornstarch with the 1/3 cup broth or water.

Heat a large nonstick skillet over high heat. Add 1 tablespoon of the oil and heat. Add the broccoli stems, and stir-fry for 1 minute. Add the florets and the remaining garlic, ginger, 2 tablespoons of water, and season with 1/4 teaspoon salt, and pepper, to taste. Stir-fry until the broccoli is bright green but still crisp, about 2 minutes. Transfer to a plate.

Get the skillet good and hot again, and then heat 2 more tablespoons oil. Add the chicken and stir-fry until the chicken loses its raw color and gets a little brown, 3 to 4 minutes. Return the broccoli to the pan and toss to heat through. Stir in the reserved cornstarch mixture and bring to a boil to thicken. Add more water if need to thin the sauce, if necessary. Taste and season with salt and pepper, if you like. Mound the stir-fry on a serving platter or divide among 4 plates; serve with rice.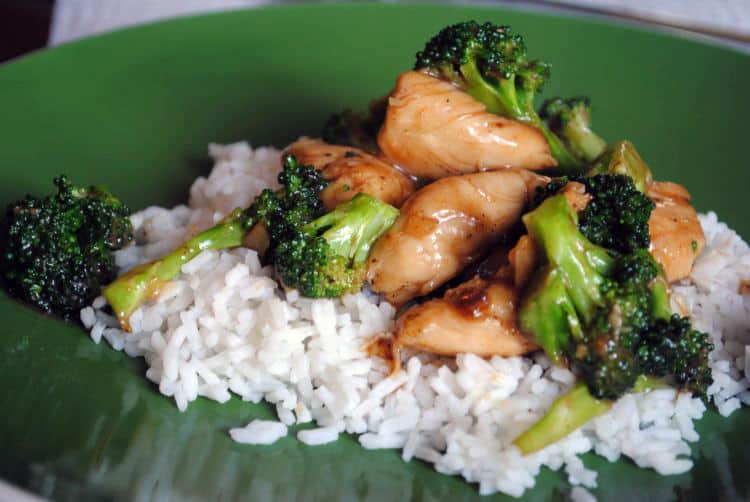 Go on, live on the wild side and throw all the veggies in here you like. Peppers, onions and mushrooms were all a part of the plan (they didn't make it, but part of the plan…).