Spicy cashew chicken is a super quick dinner recipe with chicken, broccoli, peppers, cashews, all covered in spicy Asian sauce.
I love my big, black, sturdy… wok.
Yeah, it rhymes, but I promise I wasn't going there. Now, get your mind out of the gutter and back to spicy cashew chicken.
Seriously, my wok has got to be one of the most valuable things in my kitchen. My cherry red Kitchenaid stand mixer is amazing. I will never dispute that, but the things it does, I could do myself (just not as quickly, effectively, or without complaining later about how sore my arms are). My food processor, just as awesome, but I would never tell a new cook they must have one. The meat grinder, deep fryer, sausage stuffer, 15 types of baking pans and three crock pots are all amazing tools – But the must have, the secret weapon, the key ingredient to graduating to the supreme level of iron chefdom – a good heavy cast iron wok. Or at least if you want to graduate to "quick delicious healthy fast weeknight dinner on the table chef".
OK, I won't lie. You should really have a crock pot, wooden spoon,  and iron skillet too. I think those are pretty much staples.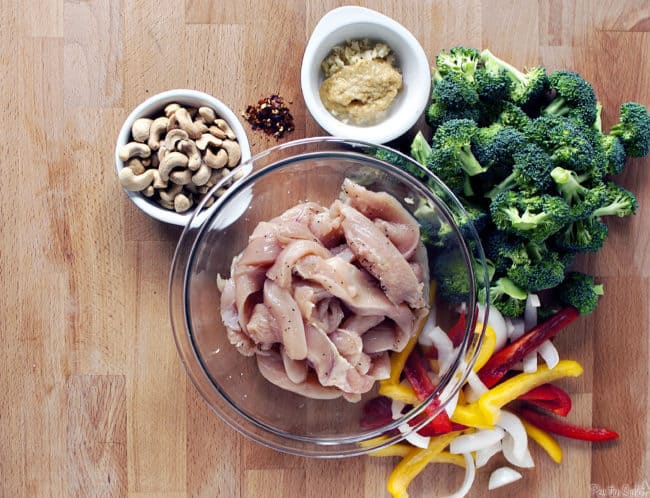 Spicy Cashew Chicken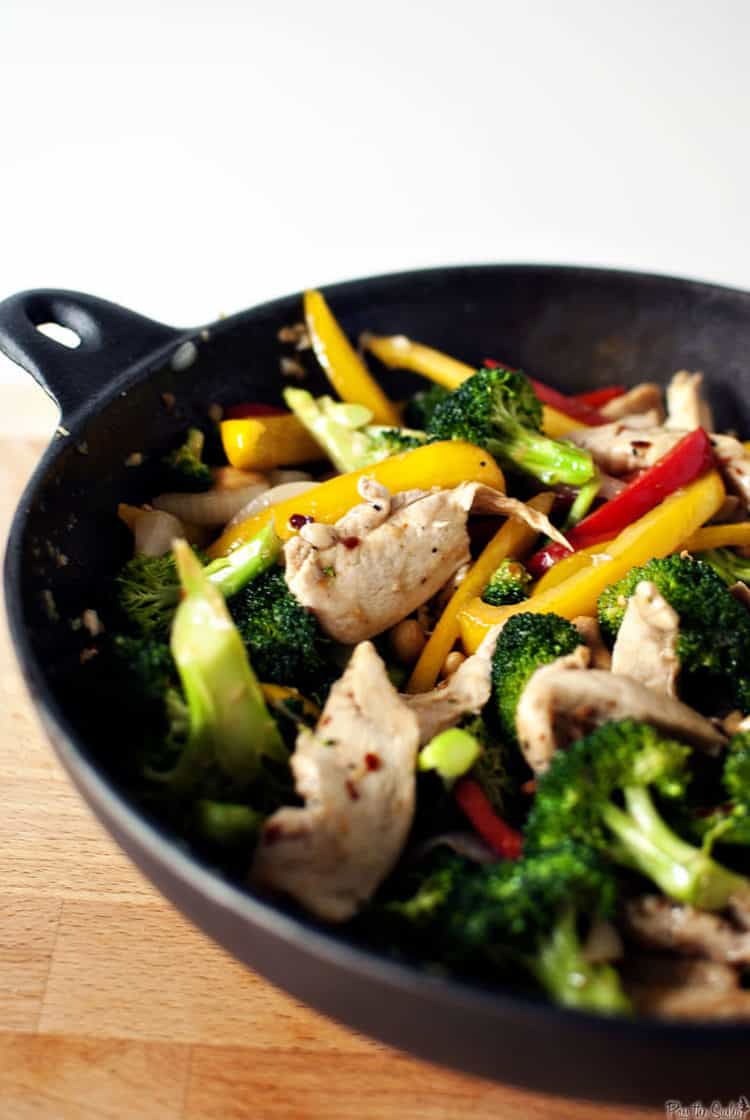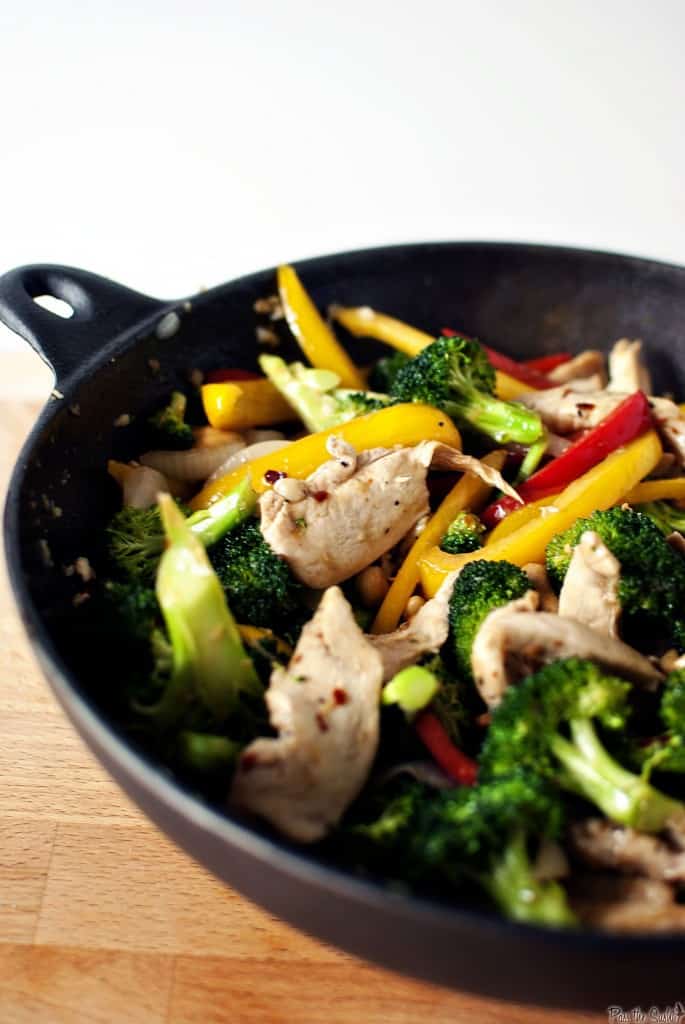 from All Day I Dream About Food
Ingredients:
1 tbs vegetable oil
1 tbs toasted sesame oil
1 1/2 lbs boneless, skinless chicken thighs or breasts, sliced into thin strips
1/4 cup onion, sliced thin
2 cloves garlic, minced
1 tbsp fresh ginger, minced
1/2 medium red pepper, thinly sliced
1/2 medium yellow pepper, thinly sliced
3 cups broccoli florets, cut to about 1 to 1 1/2 inch thick pieces
1/2 cup unsalted cashews, lightly toasted*
2 tbsp soy sauce
1/3 cup water
1 tbsp cornstarch
1/2 tsp red pepper flakes
Preparation:
Stir fries are all about quick cooking. Make sure all of your ingredients are diced, minced, measured, and on standby for things to go smoothly.
Mix the vegetable oil and sesame oil in a small bowl.
Heat 1 tbs of the oil mix in a wok or large skillet over medium-high heat, until shimmering. Add chicken and cook, stirring frequently, until no longer pink, 3 to 5 minutes. Remove and let sit in a bowl. The chicken will continue to cook a bit while resting in the bowl. I'm not telling to you remove it from the wok raw (be smart about this) but know that you don't have to over do it while the chicken is hanging out in the pan (over cooked dry chicken is hard to chew and not so awesome for the taste buds). 
In same wok or skillet over medium-high heat ( you may have to adjust your heat a bit depending up on your wok/skillet/stove top so that you are not smoking up the house), add the remaining oil, and when hot, add onion, garlic,  and ginger. Cook, stirring frequently, for 1 minutes. Add pepper slices and broccoli and continue to cook until vegetables are tender yet maintain some crunch, 3 to 5 minutes. Keep everyone moving around the wok by stirring constantly. Add cashews and cook 1 minute more. Throw chicken back into the party and stir.
While everyone is cooking in the wok, whisk together soy sauce, water, cornstarch, and red pepper flakes. When everything is cooked through, add to the wok and mix well. Sauce will thicken quickly.
Serve right away with some rice.
*To toast cashews, preheat oven to 350. Spread cashews on parchment paper lined baking sheet and bake, stirring every so often for about 7-10 minutes. Make sure not to walk away from the oven during this process as nuts go from toasted to burnt in the blink of an eye.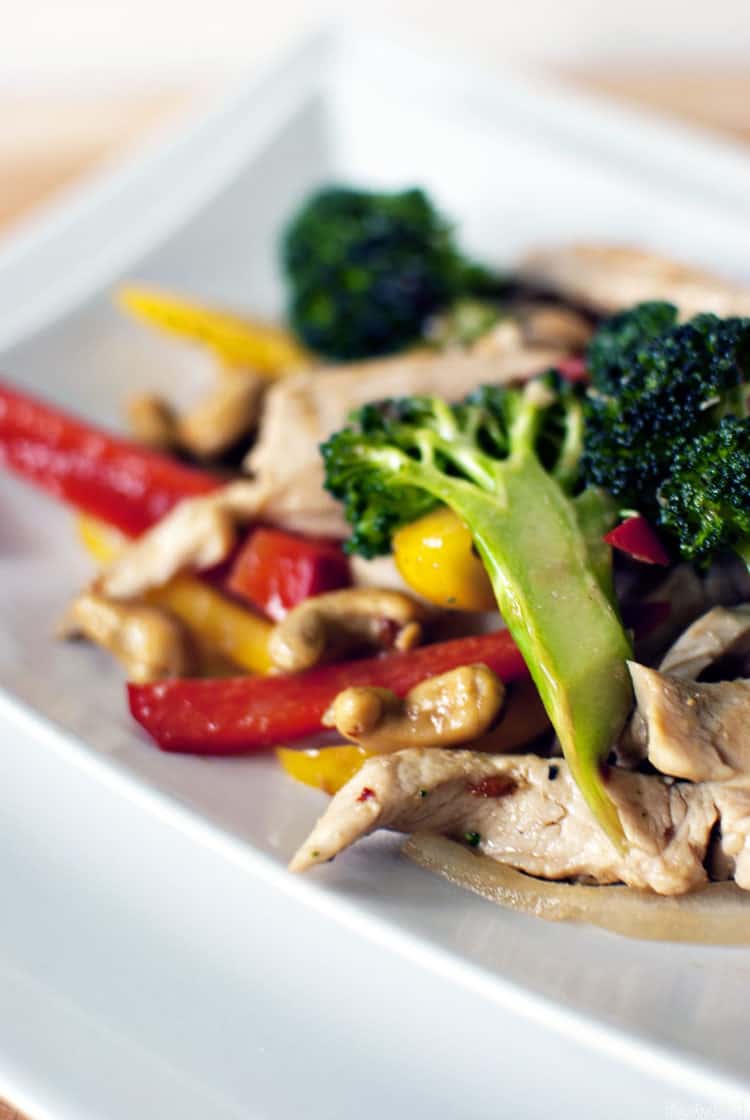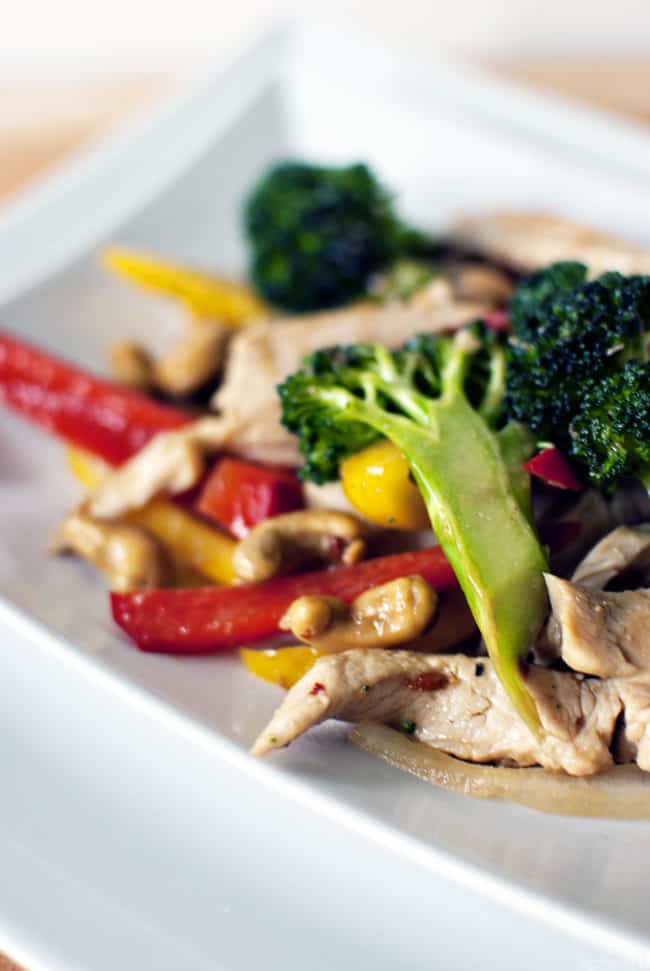 The thoughts and opinions of this post may have been effected by a little afternoon alcohol indulgence. Just sayin.