Things have been really kicking up for us the mountain biking front so I thought my novice mountain biking self should share some thoughts with you.
You will fall. You will have cuts, scrapes, and bruises.
But, until the day you fall in horse poop, you're not having a bad day.
Stop thinking and peddle through it. Whenever I just push a little harder, I usually make it over the rocks, roots and other impediments.
Freeze your extra water bottle. It's gotten so hot that I cleared my only water in like 15 minutes on one of our last rides. Regretted that 5 minutes later.
Even when you suck, you're doing better then the person who already gave up.
The gear may look silly, but it really serves a purpose. Your butt will thank you later.
I won't lie, I am not very good at mountain biking. I am not quick in the switchbacks and the tight windy trails leave me gripping my spiffy grips until my knuckles turn white. But I keep trying. And where a short 3 mile trail would leave me winded and tired last year, 6-8 miles doesn't phase me any more. There has been progression and I may never be a mounting bike racing queen but I feel better about myself for doing it. I want to set up healthy active lifestyles now before my metabolism fails on me and I have to give up the Fat Kid Friendly part of this site.

Tuscaloosa Tollhouse Pie
in other words: Giant Chocolate Chip Cookie Pie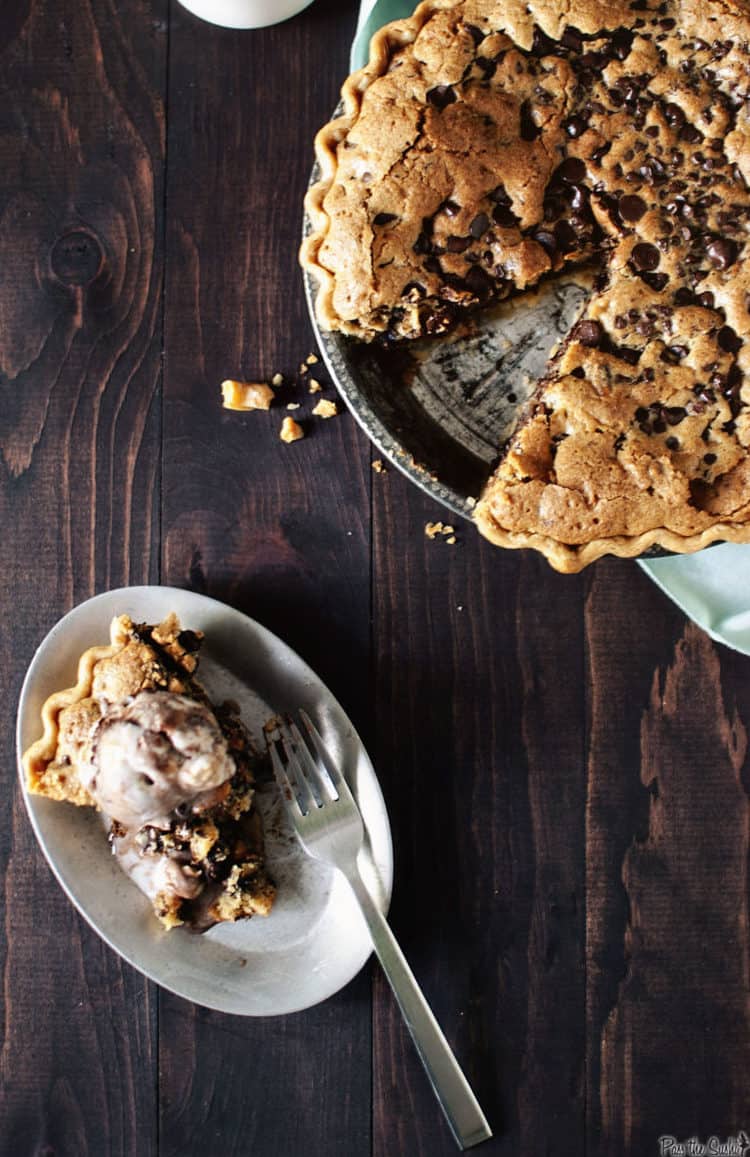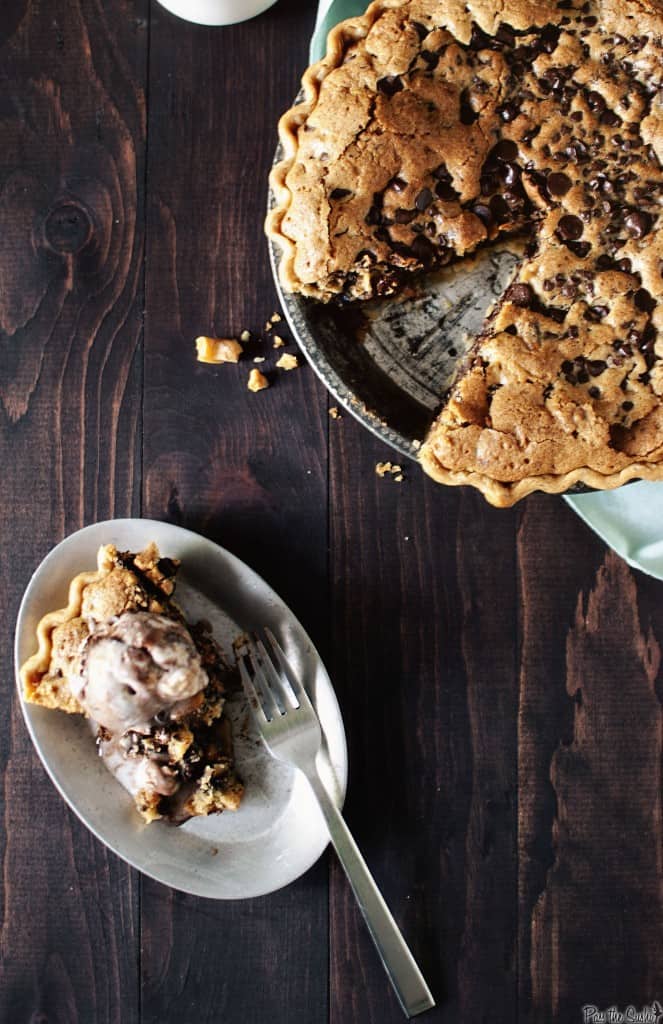 from Baked
Ingredients:
1 ball of Classic Pie Dough (½ recipe), chilled*
½ cup flour
½ cup sugar
½ cup firmly packed dark brown sugar
2 eggs
¾ cup (1 ½ sticks) unsalted butter, softened and cut into cubes
1 tbs whiskey
¾ cup walnuts, toasted and chopped
1 ¼ cups semisweet chocolate chips
Preparation:
Sprinkle a clean work surface with flour. Roll out the dough into a 12-inch round. Transfer dough to pie plate, folding any overhang under and crimping the edges as you go. Wrap and freeze until firm, about 2 hours.
Preheat the oven to 350 degrees F.
In a medium bowl, whisk the flour and sugars together. Set aside.
In the bowl of an electric mixer, fitted with the whisk attachment, beat the eggs until foamy on high, about 3 minutes. Replace the whisk attachment with the paddle and with the mixer on low, a little at a time add the flour mixture. Turn the mixer to high and beat for 2 minutes until everything is mixed together well. Scrape down the sides of the bowl and add the butter. Beat on high until everything is combined. Scrape once more, being sure to get the bottom, and add the whiskey. Beat on high again for 1 minute.
Remove the bowl from the mixer and fold in the walnuts and ¾cups of the chocolate chips.
Pour the filling into the frozen pie shell and spread evenly. It will be really thick, so be gentle. Top with the remaining ½ cup chocolate chips.
Bake for 25 minutes, then cover the edges of the crust loosely with aluminium foil and continue to bake for another 25 minutes, or until a knife inserted in the center comes out clean. If there are clumps of batter sticking to the knife, it is not done yet. Transfer to a wire rack to cool (the hardest part) before serving.
This pie is outstanding on day two, with a minor blast in the microwave and a giant scoop of ice cream on top.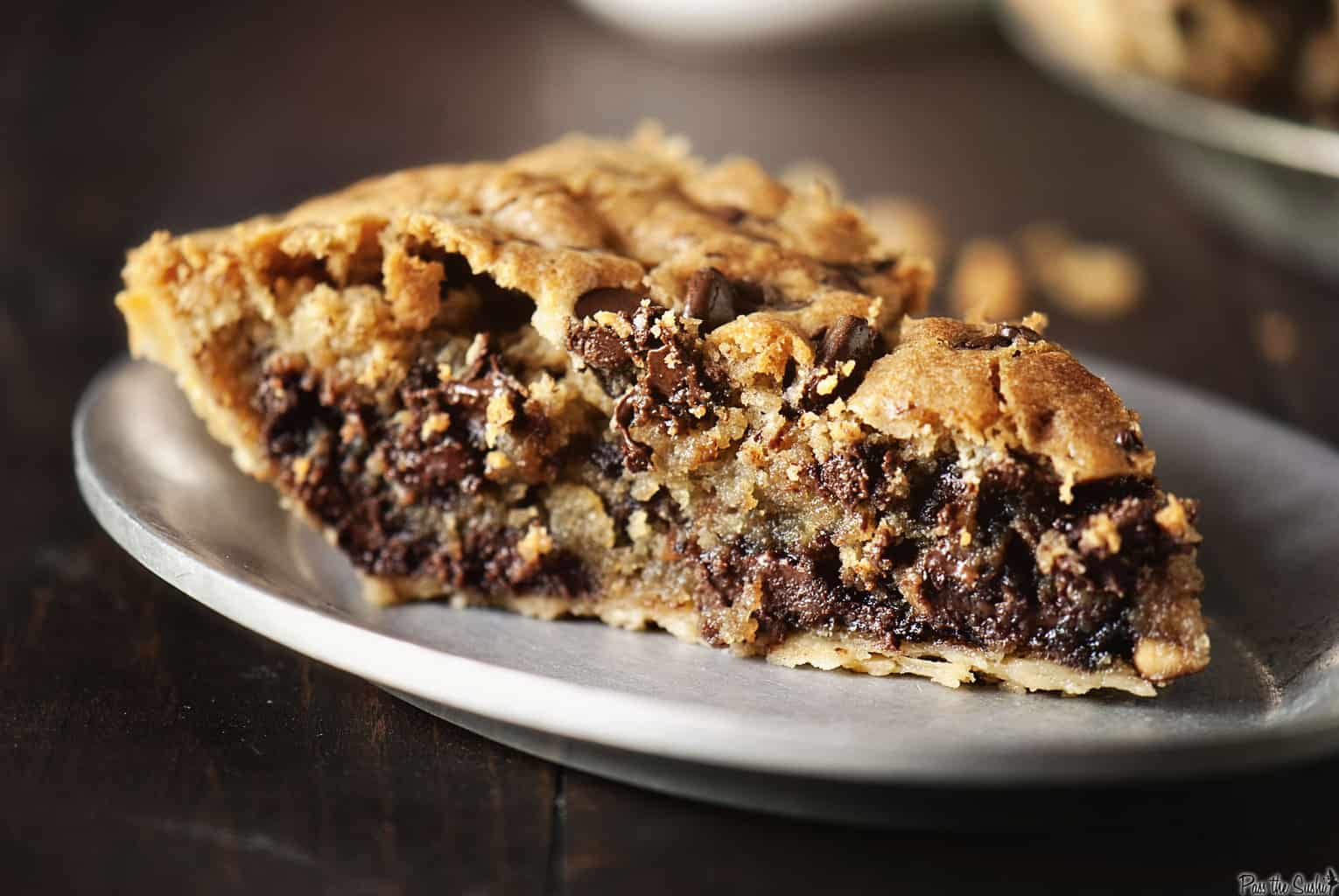 *Classic Pie Dough
Ingredients:
3 cups flour
1 tbs sugar
1 teas salt
1 cup (2 sticks) unsalted butter, cold, cut into cubes
¾ cup ice water
Preparation:
In a medium bowl, whisk together flour, sugar, and salt. Add the cold butter into the flour mixture and toss to coat. Put the flour mixture into a food processor and pulse in short bursts until the pieces of the butter are beginning to crumble.
With four quick pulses, drizzle the ice water into the feed tube.
As soon as the dough begins to form a ball, remove it from the processor and divide it into two equal balls. Flatten to a disk and wrap each first in parchment paper and then in plastic wrap. If using right away, firm up in the refrigerator for at least 1 hour. Dough can be stored in the freezer for up to three months. Thaw in refrigerator before proceeding with recipe.