Can you believe there are only a few weeks of winter left? And that means only a few more weeks of low and slow Mondays. I may cry. My slow cooker and I have had some major bonding moments and I am scrambling to narrow down the dozens of recipes I still want to test out to only 4 more. That or I may just continue slow cooker Monday's through the spring. One recipe I knew I had to make was this beef filling. First, Mexican food is one of my go-to's. Second… no really, I just live Mexican.
Handsome however, does not.
Whenever we go out to eat, it's never Mexican. Unless I can bribe a friend to suggesting it as the location. That's the only way I ever get Mexican. Or if I make tacos, or Gringo enchiladas. We may need a relationship counselor. He suffers through it though when I make things like this at home. And by suffer, I let him because I was in heaven! The flavor of the beef is awesome and the prep work is really easy.  Add to that the delicious layers of guacamole, salsa, cheese, rice and beans. Oh sweet baby Jesus. This recipe will definitely be made again and again. Now I'm wondering how can I sneak four more Mexican slow cooker recipes into the round up.  (think he'll notice?)…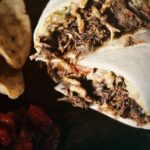 Slow Cooker Chipotle Beef Burritos
Ingredients
2

onions

minced

1/3

cup

chili powder

3

tbs

canned chipotle chiles in adobo sauce

minced

2

tbs

vegetable oil

6

garlic cloves

minced

1

jalapeno

stemmed, seeded, and minced

1

tbs

tomato paste

1

tbs

ground cumin

1 15

oz

can tomato sauce

2

teas brown sugar

1/2

teas liquid smoke

3

lbs

boneless beef chUck

trimmed and halved

Salt and pepper
Instructions
In a heat proof bowl, combine the onion with the ingredients through the cumin and microwave until the onions are softened, about 5 minutes, stirring occasionally.

Stir the tomato sauce, sugar, and liquid smoke into the slow cooker with the onion mixture.

Season the beef with salt and pepper on both sides. Place in slow cooker and spoon sauce over top. Cover and cook on low for 9 to 11 hours.

Transfer the beef to a bowl and discard any excess fat. Shred the beef with two forks.

Skim any fat from the surface of the liquid remaining in the slow cooker. Ladle 1 cup, or more if needed, into the shredded beef to moisten and add flavor.
Recipe Notes
Kickin' Burritos
Ingredients:
large tortillas
guacamole
salsa
shredded cheese
black beans
rice
beef filling
Preparation:
Lay the tortilla on a flat surface. Spread an even layer of guacamole, salsa, cheese, black beans, rice, and a large portion of shredded beef. Fold the ends up and wrap. If you are feeling feisty, toast the burrito in a preheated skillet over medium heat with a weight (like a plate) pressing down on top until golden. Flip and repeat.
Serve with sour cream and hot sauce, if desired. Live Mas.
 The winner of the Crock Pot Giveaway is Sugar and Shake!