If there has been one thing to steal my heart from the wonderful clouds of smoke from my grill this year, it has been my slow cooker. I have always loved having a magic dinner-ready-when-I-walk-into-a-house-filled-with-tummy-growling-awesomeness tool but this year I really feel in love with it. And why? BBQ nachos waiting for me at 9:30 at night after a long day of work, creamy soups comforting me when I can't chew, and this cookbook.
America's Test Kitchen Slow Cooker Revolution has been my most used cookbook this year. I am constantly flipping through it tabbing more and more pages. I have expanded my slow cooker collection to one large one, two small, and now one of those fancy triple ones for parties (thank you, Santa) and there are days when I feel like I could possibly use all of them. Every time I think I can walk away from this cook book for a little while, I am drawn back in by one more recipe I just have to try.  (Heck, I have made two from it this week alone!)
Now, because this is a book from America's Test Kitchen (cough, Cook's Illustrated) even this slow cooker book is not for a novice chef. It's not dump everything in and walk away, poof, dinners ready 7 hours later. There is prep work, though it's not terribly much. There may be some browning, or some simmering before hand but because its a ATK book, you know they did some crazy amount of research to make that simmering and browning 100% worth it.  Every recipe I have tried from the 336 page thick book has been mouth watering, hearty, and satisfying.
No, the following recipe is not from Slow Cooker Revolution. It's a simple, fast, and painless kind of meal with no prep work and the product of some quick rummaging through the pantry. But I did want to get you all excited about the book. Why? Well I guess you will just have to scroll down a bit more.

Slow Cooker Chicken Tacos
Ingredients:
1 1/2 lb boneless skinless chicken (breasts or thighs, whichever you prefer)
1 8oz can enchilada sauce
4 teas taco seasoning (I love this recipe)
a few dashes of tabasco sauce
1/8 teas pepper
2 oz cream cheese
1 cup shredded sharp cheddar cheese
Whole wheat soft taco shells
Toppings:
1 bunch cilantro
black beans
salsa
1 green pepper, diced
1 red onion, diced
guacamole
sour cream
Preparation:
Toss chicken in slow cooker with enchilada sauce, taco seasoning, tabasco sauce, and pepper. Cook on low for 5-7 hours, until chicken is easily shredded with two forks. After shredding, stir in cream cheese and cheddar until melted.
Serve with soft shell tacos and desired toppings.
I'm sure many of you are wondering where the pomp and circumstance when when I hit 2000 fans on facebook like I said was coming. I didn't forget! Promise. Life just got, well, you know how it is…. So now, to celebrate 2100 fans – I am giving away a copy of Slow Cooker Revolution.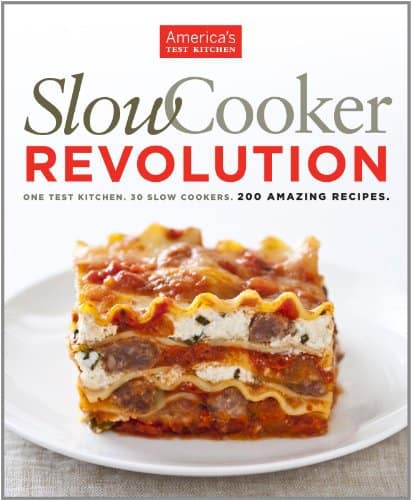 This post was not sponsored by anyone buy my piggy bank and me. This is a giveaway I am hosting to thank you for being great readers and to share my own enthusiasm for this book.
To enter to win a copy of Slow Cooker Revolution
Leave a comment here telling me a slow cooker recipe you would love to see featured on PtS.

Earn Extra Points by doing the following and leaving me a comment saying you have:
Following Pass the Sushi on Facebook 
Joining the Email Subscription
Following Pass the Sushi on Twitter
Tweeting about this giveaway including @passthesushi
Subscribing to my RSS Feed
Give this post a thumbs up with StumbleUpon!
Pinning this post
Entries accepted through March 25th at Midnight EST. Winner will be announced on 3/28/12. The winner will be notified by email and allowed to choose a digital copy for Kindle or a paperback copy.