Colorado red chile enchiladas sauce makes incredible red chile enchiladas. Yeah, this girl ain't messing around today.
Tell Bobby Flay to get his cute ass down here, because I have a recipe for you that would kick his sauce lovin' booty to the ground.
You'll want to master the recipe for this Colorado red chile sauce – having it in your back pocket is good.
You'll use it for special occasions, social gatherings, or to let the new guy know you can bring him to his knees in the kitchen. Or in my case, when you feel like smack talking a celebrity chef from the safety of your own home.
After you've successfully made the sauce once, you will be able to throw your own spin on it, customizing it to your liking. And if you're thinking, "Why bother, when enchilada sauce is so cheap at the market in those adorable little cans?", trust me on this. This Colorado red chile sauce is worth the hunt for dried Mexican chile peppers. You may never resort to the convenience of premade enchilada sauce again.
OK, you will, but you'll be secretly longing for this red chile sauce as you try to make the canned convenient version feel special, ultimately coming back to this one. Some loves are just harder to forget then others…)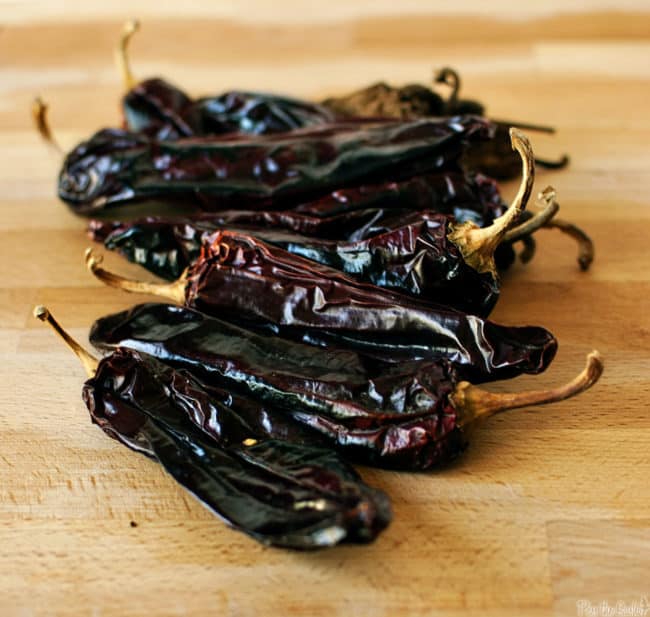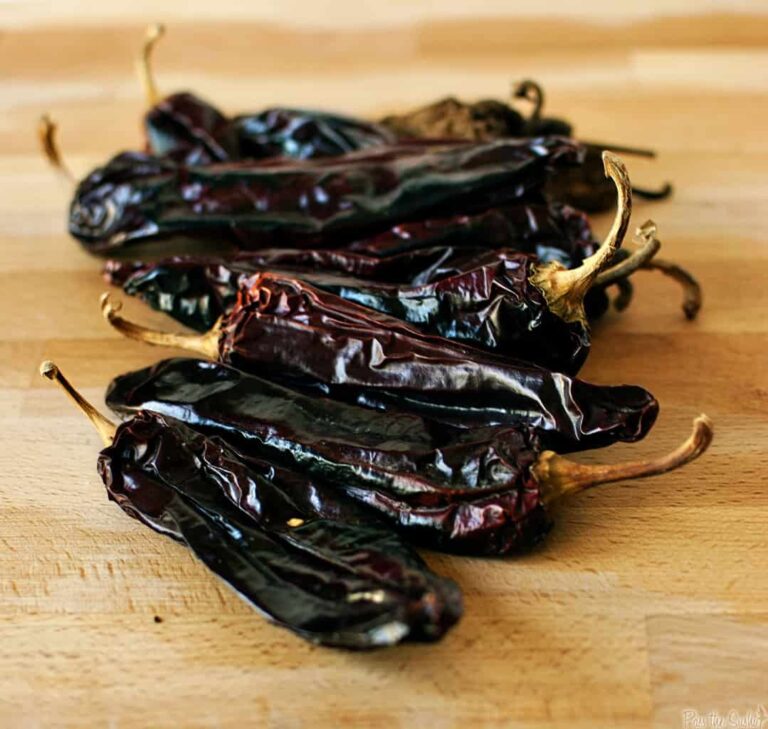 Colorado Red Chile Sauce
from BHG Special Interest Publication: Mexican 2011
Ingredients:
4 ounces dried New Mexico chile peppers
4 dried chipotle chile peppers
1 tbs olive oil
1/2 cup chopped onion
3 cloves garlic, minced
1 Tablespoon sherry vinegar
1 teas sugar
1.5 teas fresh oregano or 1/2 teas dried oregano, crushed
1/2 teas ground cumin
1/2 teas salt
1 14-ounce can chicken broth
Preparation:
Heat an ungreased griddle or skillet over medium high heat. Toast all peppers on hot griddle for about 1 minute or until fragrant, turning frequently.
Cup open dried peppers; discard stems and seeds. Cut peppers into small pieces. In a bowl, combine pepper pieces in enough boiling water to cover. Cover and let stand for 30 minutes. Drain and reserve peppers.
In a large skillet, heat oil over medium heat. Add onion and garlic; cook for about 3 minutes or until tender.
In a blender or food processor, combine pepper, onion mixture, vinegar, sugar, oregano, cumin, and salt. Add half of the can of broth. Cover; blend until nearly smooth. Add remaining broth; blend until broth in incorporated.
Strain mixture through a fine-mesh sieve; discard seeds and skins.
Add strained mixture to skillet. Simmer for 10 minutes to mellow flavors, stir ring constantly. If desired, add additional chicken broth to thin to desired consistency.
For Colorado Red Chile Enchiladas:
Cook 3 chicken breasts or thighs in a slow cooker for 6 hours (or until chicken can be pulled apart with a fork and is cooked through) on low with 1/2 cup chicken broth and 1/2 cup red chile sauce. Remove from slow cooker and shred chicken adding some of the liquid back in for moisture (for Gringo enchiladas add a little cream cheese to the shredded chicken). In a 9 x 13 inch pan, spread enchilada sauce in the bottom. Fill 8 tortillas with shredded chicken mixture and roll tightly. Cover in remaining sauce and cheese. Bake at 350 degrees F for 20 minutes, or until cheese is melted and bubbling. Top with scallions if your BF hasn't caught on to them being 'green onions' yet.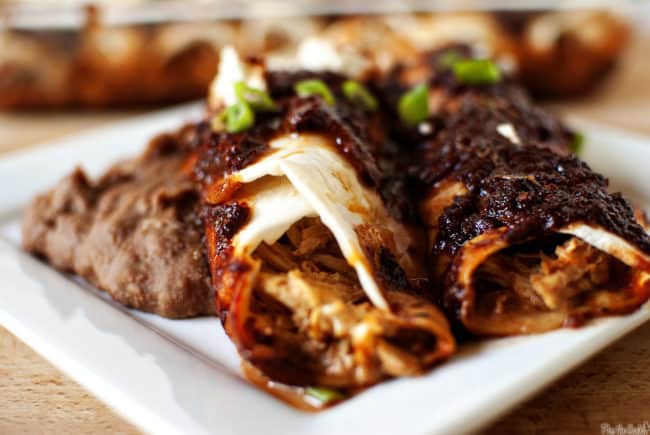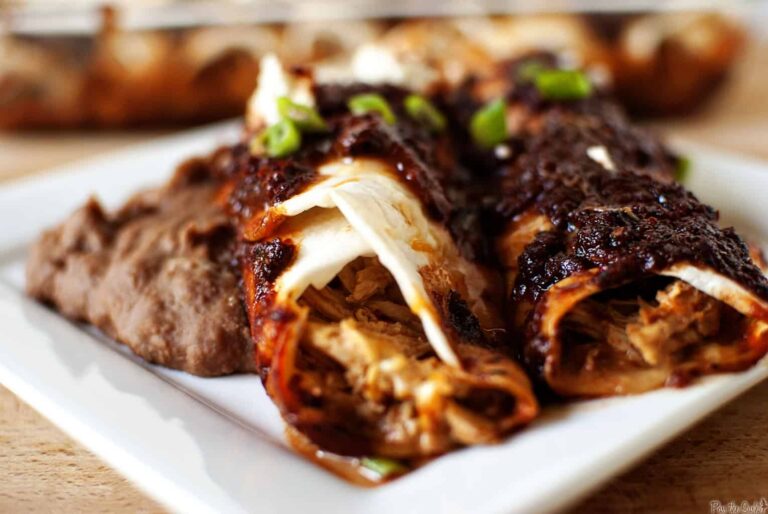 This Colorado red chile sauce takes a good bit of time to make, but it blasts your taste buds with the perfect combination of smoke, sweet and spice. When I make it again, I am easily tripling the recipe to have enough left over to save because this batch vanished and in editing pictures and writing this post I am craving more.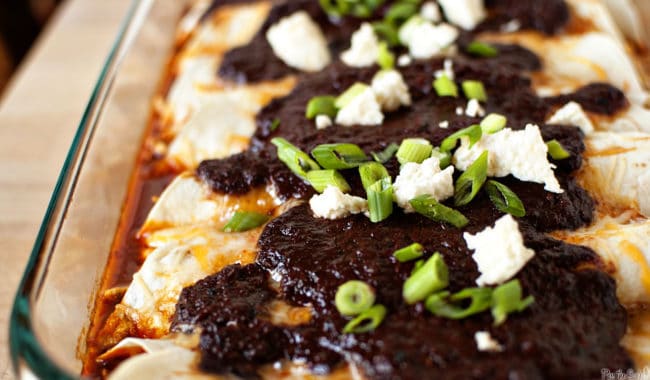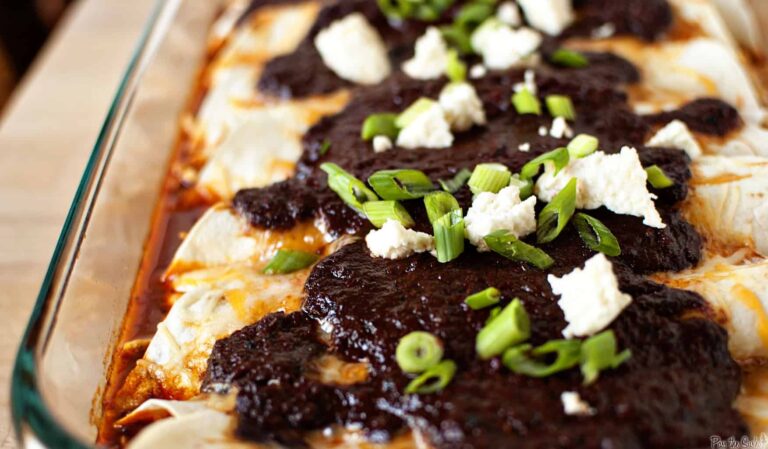 Are you drooling yet?