Pork tinga is a Mexican tostada dish made with flavorful shredded pork. It's an easy to prepare, hearty, and filling comfort food dinner.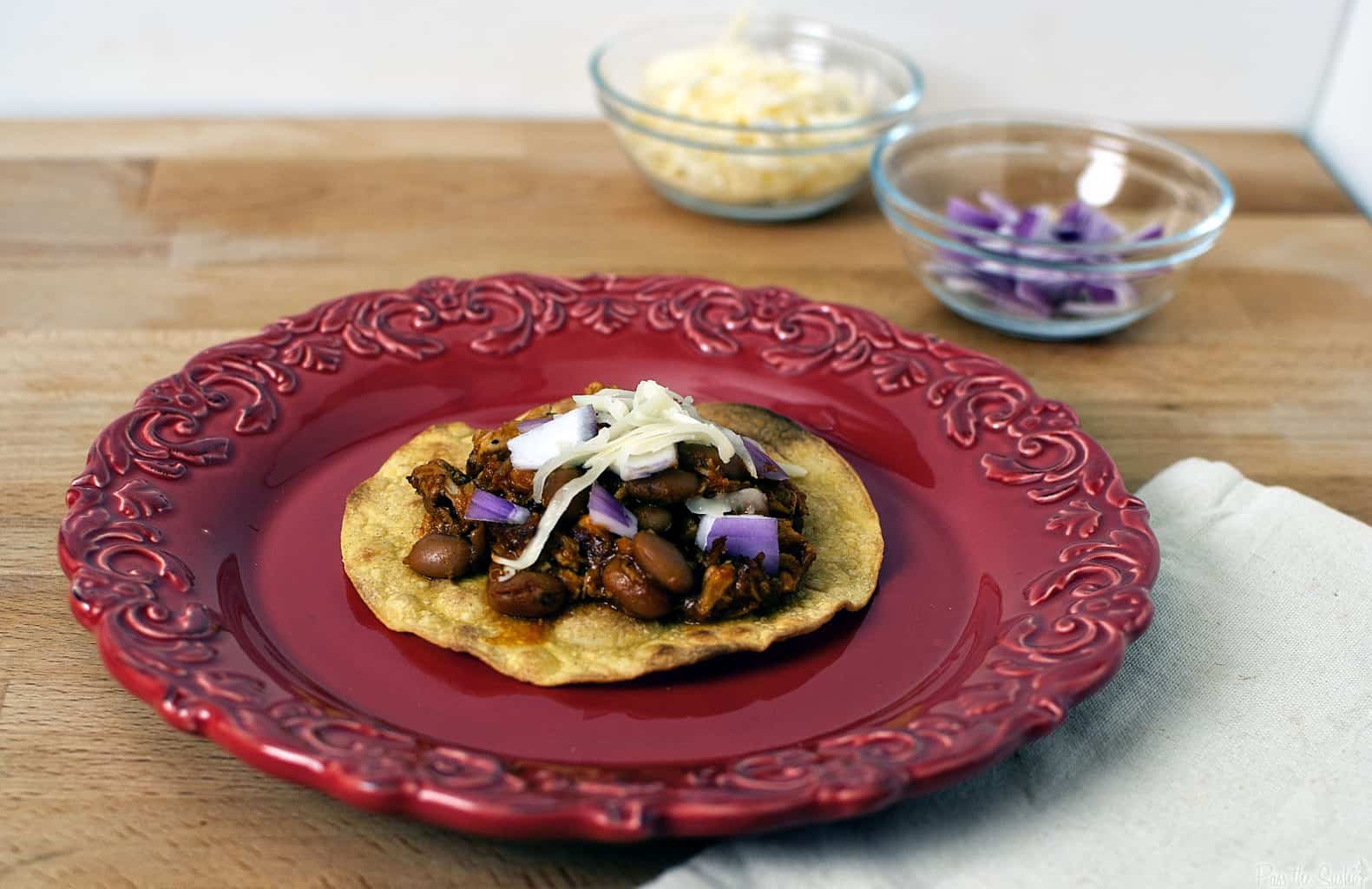 When it comes to simple recipes that are delicious and comforting, this Mexican shredded pork tinga. You can use it as a filling for enchiladas or tacos or turn it out over crispy tortillas for tostada. It even makes an amazing omelet or scramble mix in with eggs.
It's an easy recipe that can be used in a variety of ways! Served along side a bowl of spicy jalapeno Chicken Corn Chowder and smooth margarita, it's the perfect meal!
Time for a delicious, filling pork tinga dinner recipe.

Mexican Shredded Pork Tinga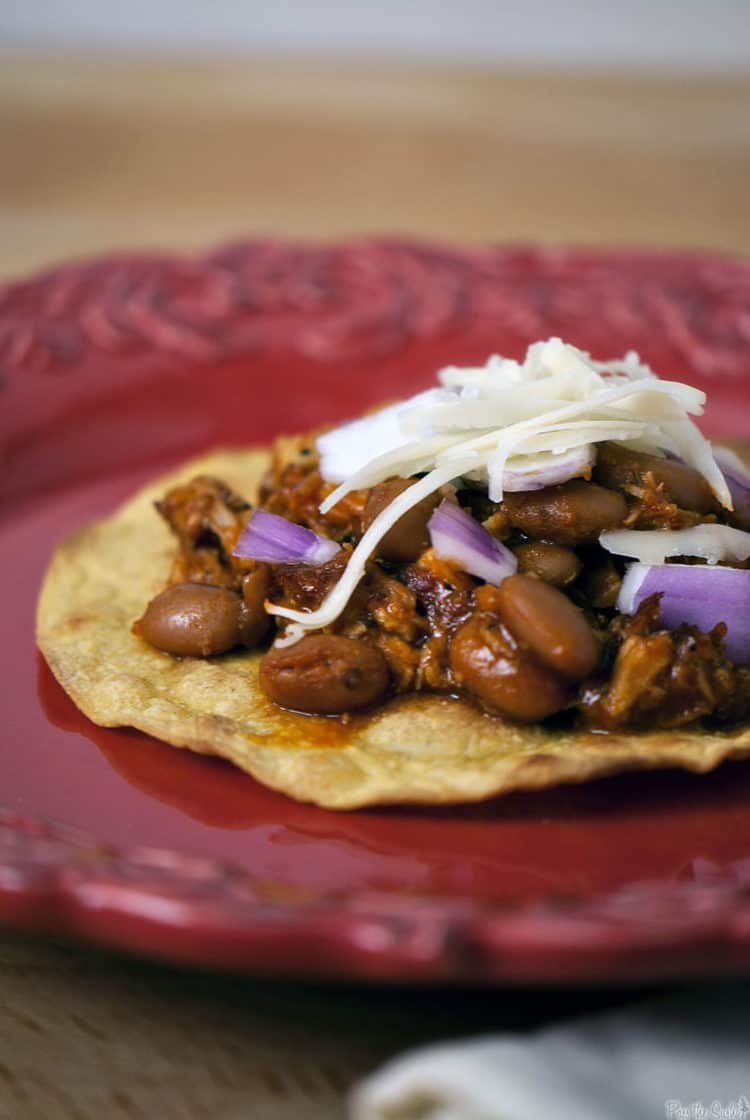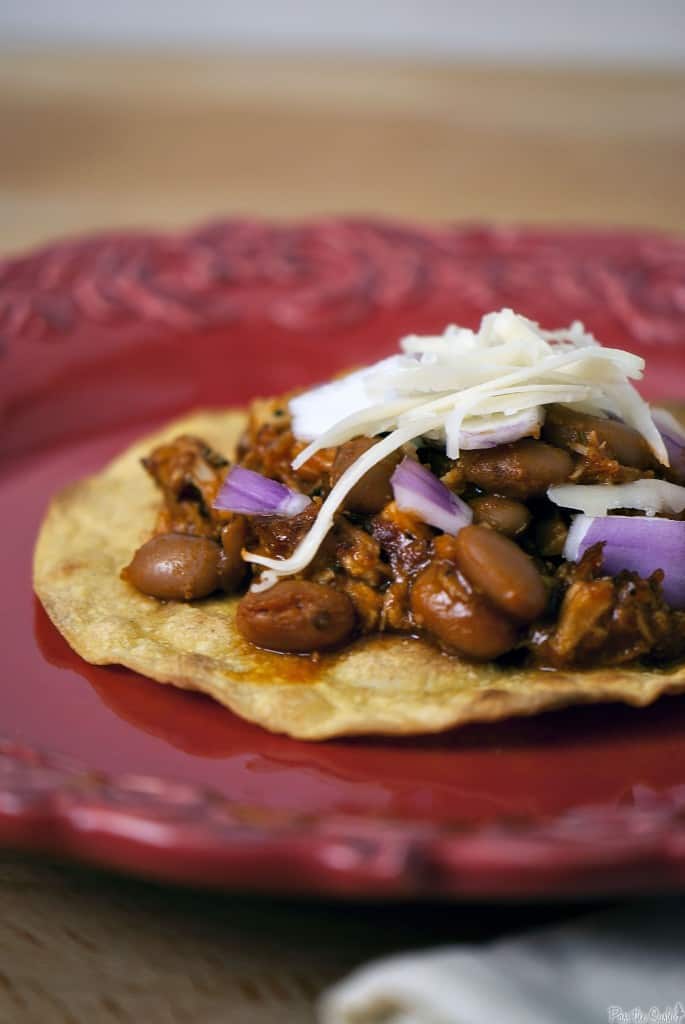 From America's Test Kitchen Light and Healthy 2011
Ingredients:
For the tostadas:
12 (6-inch) corn tortillas
Vegetable oil spray
For the tinga:
4 cups water
1 lb boneless pork butt, trimmed of all visible fat and cut into 1 inch cubes
2 onions, 1 quartered and 1 minced
5 garlic cloves, 3 peeled and smashed 2 minced
4 sprigs fresh thyme
2 teas olive oil
½ teas dried oregano
15 oz. canned tomato sauce
15 oz. canned pinto beans, drained and rinsed
1 tbs ground chipotle powder
2 bay leaves
salt and pepper
Preparation:
For the tostadas: Adjust the oven racks to the upper-middle and lower middle positions and heat the oven to 450 degrees F. Spread the tortillas on 2 rimmed baking sheets. Lightly coat both sides of the tortillas wit vegetable spray.
Bake untl lightly browned and crisp, 8 to 10 minutes, switching and rotating the baking sheets halfway through. Set the tostadas aside.
For the tinga: Bring the water, pork, quartered onion, smashed garlic, and thyme sprigs to a simmer in a large saucepan over medium-high heat, skimming off any foam that rises to the surface. Reduce hte heat to medium-low, partially cover and cook until the meat is tender, 11/4 to 1 ½ hours.
Drain the pork, reserving 1 cup of cooking liquid. Discard the onion, garlic, and thyme sprigs. Return the pork to the saucepan and, using a potato masher, mash until the pork is shredded into rough ½ inch pieces.
Heat the oil in a 12 inch non-stick skillet over medium-high heat until just smoking. Add the shredded pork and minced onion and cook, stirring often, until the pork is well browned and crisp, 5 to 7 minutes. Stir in the minced garlic and oregano and cook until fragrant, about 30 seconds.
Stir in the reserved coking liquid, tomato sauce, beans, chipotle powder, and bay leaves. Bring to a simmer and cook until almost all the liquid has evaporated, 5 to 7 minutes. Remove and discard the bay leaves and season with salt and pepper to taste. Spoon ⅓ cup of the tinga into the center of each tostada and serve.
Serve with red onion, shredded cheese, fresh cilantro and tabasco.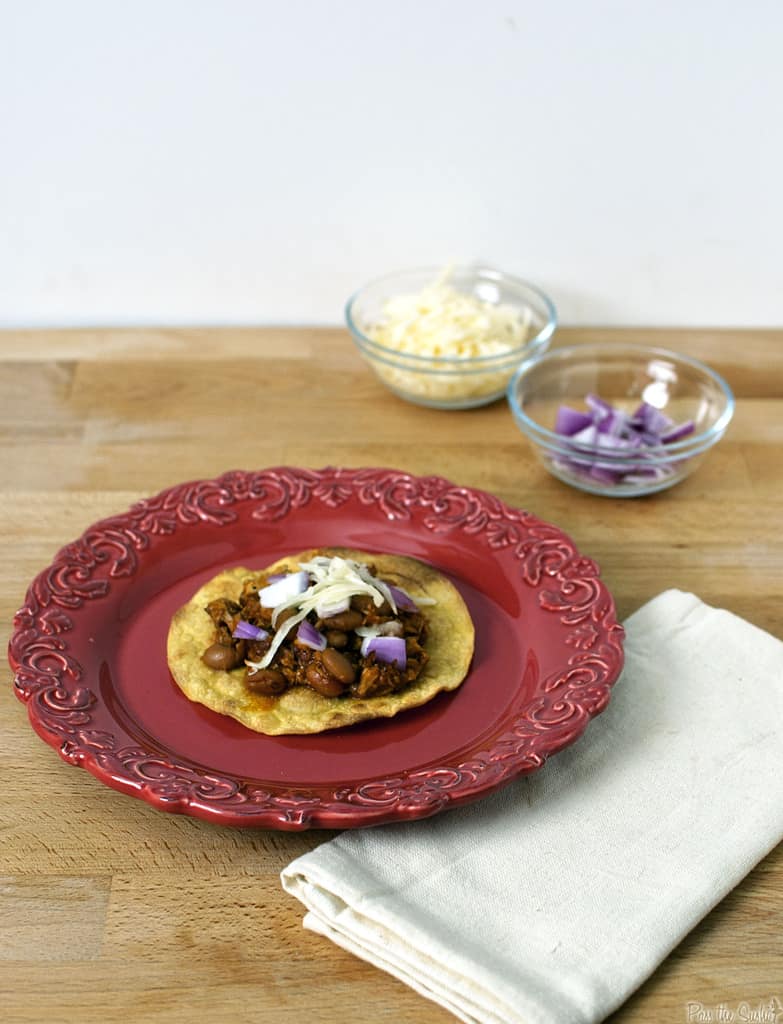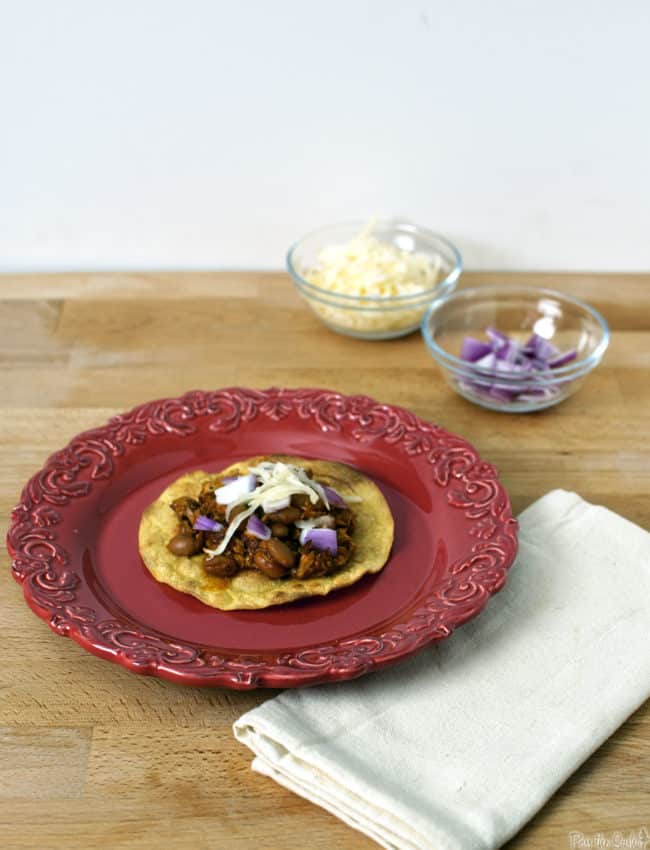 Serve the pork tinga with a side of Mexican rice and some chips and guacamole.