I figured I owed us a little dessert to make up for all the savory features this week. 😉
Lemon is one of those things that up until I was writing a food blog, I could live without. I'd never spritzed any on my fish, enjoyed a lemon based sauce, and the thought of a lemon dessert made me stick up my nose in protest like a small child.
And then it happened… There was a Ina's Cheese Danishes with just a hint of lemon zest (which at the time I didn't enjoy that much), a lemon pie, the infamous Baked Lemon Lemon loaf (which I think was really where it all went downhill), and even lemony pops (which were awesome to me but too tart for the BF's sweet-tooth).
I know they say that our taste-buds change over time but I really believe the my new more open outlook on foods has a lot more to do with me broadening my horizons more then any physical change. I've experimented with fruit this season – FRUIT?! For those of you who don't know me…. well that's just craziness in my kitchen. There have been strawberries, honeydew, bananas, and even blueberries all in this kitchen within the last few weeks. What the heck is happening to me?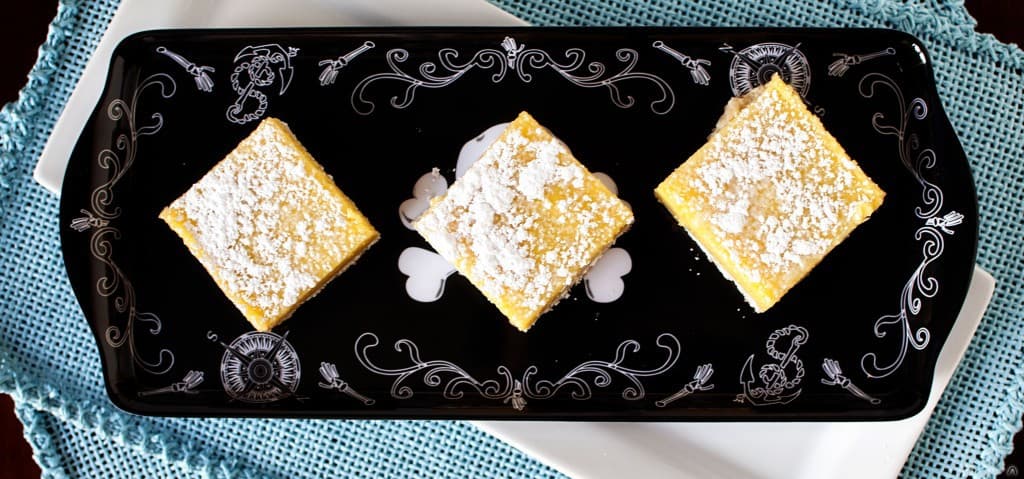 Lemon Bars

Discovered on Tracey's Culinary Adventures from Baking Illustrated

Ingredients:

For the Crust:

1 1/4 cups (6 1/4 oz) all-purpose flour
1/2 cup (2 oz) confectioners' sugar
1/2 teaspoon salt
8 tablespoons (1 stick) unsalted butter, softened & cut into 1-inch pieces

For the Filling:

7 large egg yolks, plus 2 large eggs
1 cup plus 2 tablespoons (7 7/8 oz) sugar
2/3 cup freshly squeezed lemon juice
1/4 cup lemon zest
pinch salt
4 tablespoons (1/2 stick) unsalted butter, cut into 4 pieces
3 tablespoons heavy cream

Preparation:

To make the crust: Spray a 9-inch square baking pan with cooking spray. Line the pan with aluminum foil, leaving an overhang on opposite sides to lift the bars out after they've baked. Spray the aluminum foil with cooking spray.

Add the flour, confectioners' sugar and salt to the bowl of your food processor. Pulse a few times to combine. Add the butter and process to blend, about 8-10 seconds. Pulse just a few more times, until the mixture is pale yellow and resembles coarse meal. Dump the mixture into the prepared baking pan and use the tips of your fingers to press it into an even layer over the bottom of the pan. Refrigerate the crust for 30 minutes.

While the crust is chilling, preheat the oven to 350 F. Bake the crust for about 20 minutes, or until golden brown.

While the crust bakes, make the filling: In a medium bowl, whisk the egg yolks and eggs together until combined. Combine the sugar and lemon zest in a small bowl and use your fingertips to rub the zest into the sugar until the sugar is moist and fragrant. Add the sugar to the egg mixture and whisk to combine. Finally, add the lemon juice and salt and whisk until all ingredients are blended.

Transfer the filling to a medium saucepan and add the butter. Stirring continuously, cook over medium-low heat until the curd thickens slightly and registers 170 F on an instant-read thermometer. Pour the curd through a strainer into a medium heatproof bowl. Add the heavy cream and stir to combine. Pour the filling over the warm crust (this is important – you don't want to let the crust cool before adding the filling).

Bake for 10-15 minutes, or until the filling is shiny and the center jiggles just slightly when shaken. Remove the pan to a wire rack and cool completely. Use the foil to lift the bars out of the pan and cut into squares. Dust with confectioners' sugar if desired.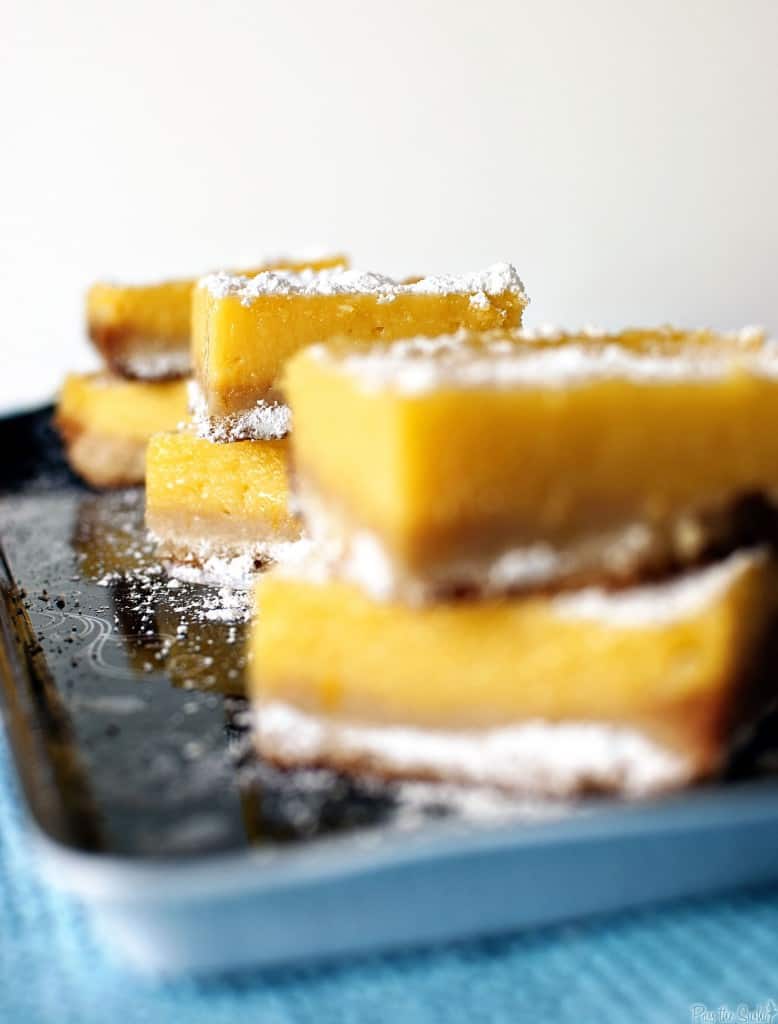 I ate one of these and enjoyed it!
Do our taste buds really change or is that just our parents way of trying to get us to try something we would have normally protested?