Iron skillet pan seared burger patties of perfection? Sold. The From Away Burger. This was a recipe I had to try.
I am a meatarian any which way you slice it. I'll enthusiastically take a slab of beef over the worlds most tantalizing desserts every single time. I'm not sure how my parents programmed me to salivate over beef and not over candy but that's just the way I'm wired - (For all I know I was rewarded for ringing a bell when I was first learning to crawl with jerky) and I get the impression I may not be alone.
So, upon seeing the image of meat being ground to perfection and a tag line stating 'grinding your own meat is best' on Foodgawker it wasn't a stretch to think that I clicked on it instead of the 57 other wonderful photographs featured that day. Iron skillet pan seared patties of perfection? Sold. This was a recipe I had to try. Immediately. (Twist my arm to use my meat grinder - go on, try me).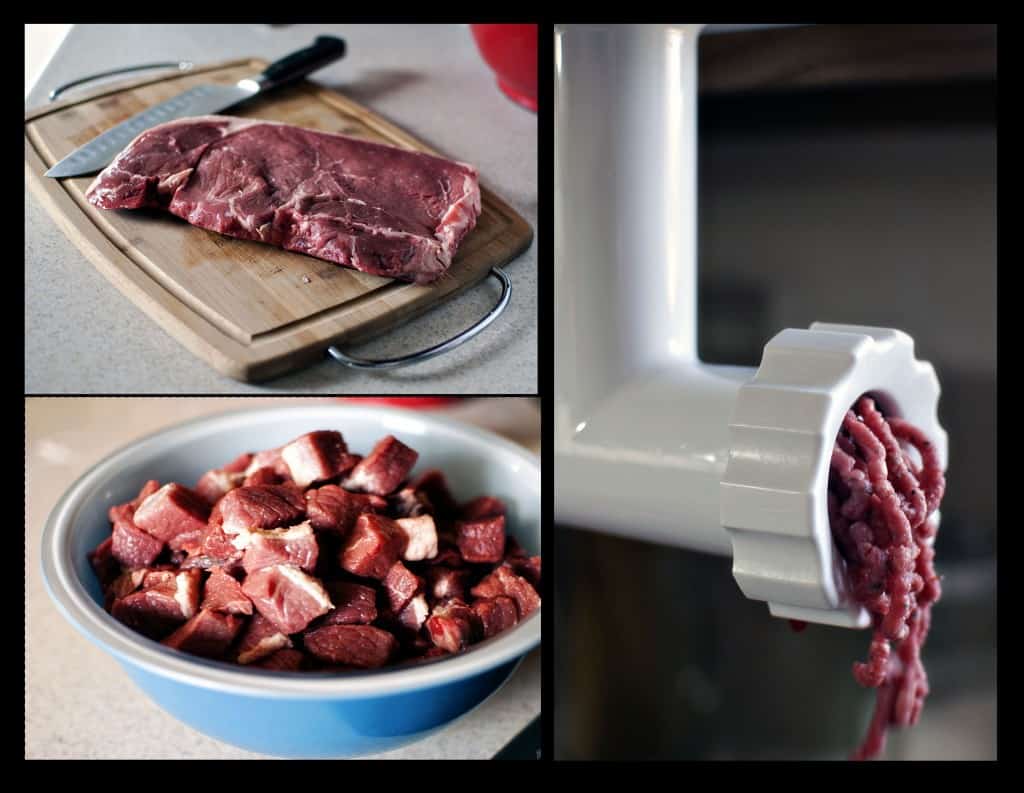 But a Pan Seared Burger? What about the grill?
While cooking these burgers, I pondered how blasphemous it was to sear a burger in a pan on a hot summer day with a fresh bag of charcoal less than 20 feet from my kitchen. I had never conceived of the idea of preparing a burger in a pan. Even in the dead of winter, a small path from the back door to the grill is cleared of snow and I am more than happy to freeze my booty off for the wonderful taste of a juicy burger. But, I hid my panic at the thought of all of that fresh beautiful ground meat I had just worked so hard on going to waste and pushed through.

And holy crap am I glad I did. (Can I say holy crap on my blog? screw it, it's my blog).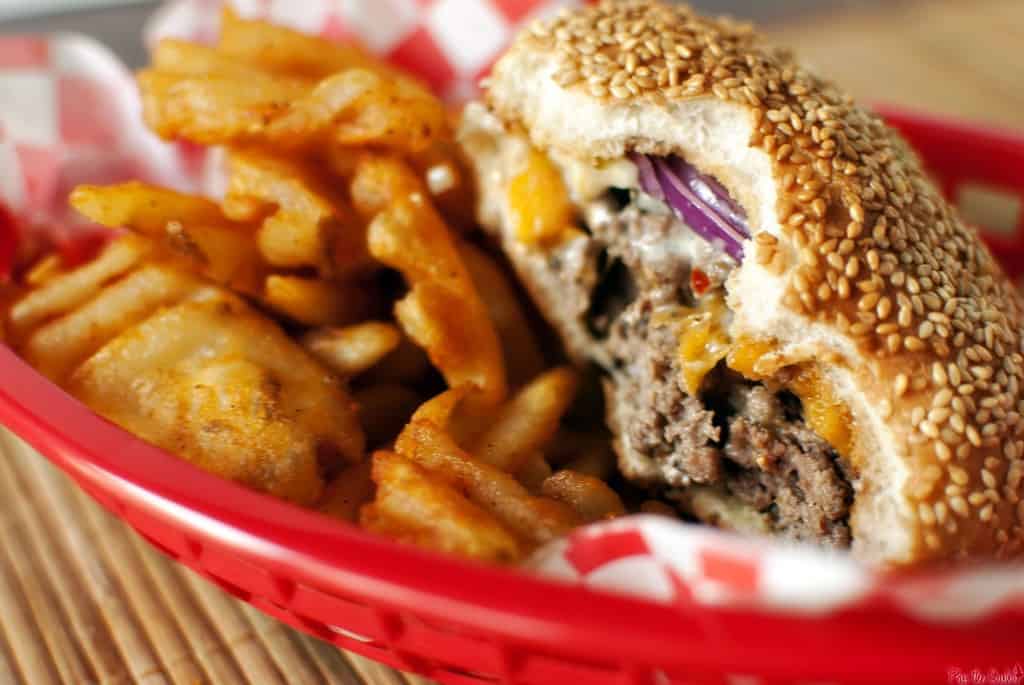 Much to my surprise though, these were everything I wanted them to be and more from the pictures and description on the From Away blog. Crisp and succulent, packed with flavor, and gooey with cheese. The kind of burger that has you eating seconds with no time to consider the guilt of over indulging.

This burger takes no prisoners. You've been warned.
If you're like me and always searching for the perfect burger, try these out!

The Conquistador Turkey Burger
Roasted Garlic Butter Burgers
Panko Fried Oyster Bayou Burger Recipe

And don't forget to join the Burger Month excitement every year!
If you've tried my Pan Seared "From Away" Burger recipe or any other recipe on passthesushi.com please don't forget to rate the recipe and let me know where you found it in the comments below, I love hearing from you! You can also follow along for more good eats and travel tips on Instagram @passthesushi & @girlcarnivore, Twitter & Facebook.
Yield: 3 Double Cheeseburgers
The "From Away" Burger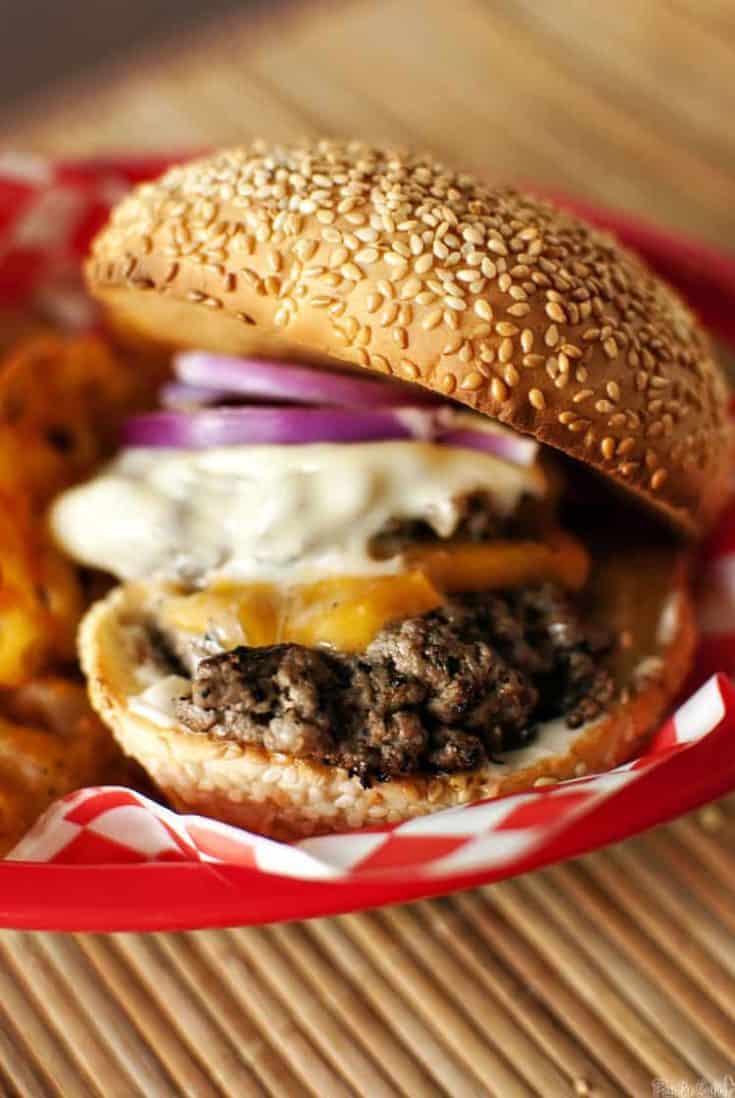 Iron skillet pan seared patties of perfection? Sold. This was a recipe I had to try.
Ingredients
3 Sesame Hamburger Buns
2 tablespoons butter
7 ounces beef sirloin tips
7 ounces beef brisket
7 ounces boneless beef chuck
Fresh thyme
2 tbs Worcestershire sauce
1 teaspoon McCormick Hamburger Seasoning
Salt and pepper (to taste)
3 slices American cheese
3 slices Cheddar cheese
3 Slices of red onion
Mayonnaise
Instructions
Prep the Meat
Cut beef into 1-inch cubes.
In a large bowl combine meat, thyme Worcestershire and seasonings; cover with plastic wrap and let mingle in the refrigerator at least one hour.
Before grinding the meat, place the bowl in the freezer, and chill until meat is very cold, but not quite frozen; about 10 minutes (it's more like 20 to 30 in my freezer).
Make sure all equipment touching the meat is cold.
Toss partially frozen beef in bowl to combine, and push meat through meat grinder using the coarse attachment.
After all meat is ground, grind again; this helps mix the different cuts thoroughly.
Make The Burgers
Quickly and loosely shape ground beef into 6 piles (approximately 3-4 ounces each), and press flat with the back of a spatula.
Don't overwork or overshape the meat; you want loose, ragged strands, not a hard-pressed patty.
Heat a cast iron skillet over high heat until nearly smoking and add the butter.
Season hamburger patties heavily with salt and pepper, and place in the skillet, working in shifts if needed.
When burgers release from pan, flip and add American cheese to three patties, and Cheddar cheese to three patties.
Cover and cook until cheese melts, about two minutes.
Remove from heat and set aside to rest, while you assemble the buns.
Assemble
Toast your buns while burgers are cooking and smear with the condiments of your choice, in my case, just a bit of mayo.
Add a Cheddar-topped hamburger patty, then an American patty.
Top with onion.
Eat immediately. Growl a little, if you'd like. (
Notes
Adapted From Away (Seriously, go read this post – it's amazing and you'll learn a thing or two)
Recommended Products
As an Amazon Associate and member of other affiliate programs, I earn from qualifying purchases.
Nutrition Information:
Yield:
3
Serving Size:
1
Amount Per Serving:
Calories:

902
Total Fat:

53g
Saturated Fat:

24g
Trans Fat:

1g
Unsaturated Fat:

23g
Cholesterol:

263mg
Sodium:

1218mg
Carbohydrates:

30g
Fiber:

1g
Sugar:

7g
Protein:

73g
Nutrition information provided is an estimate from nutritionix.com. For specific health concerns, please put the recipe into your Dr recommended nutrition calculator.