Hello my name is _____!
That's right, today's juicy burger is up to you to name, and you can only do it by going to the Cheese & Burger Facebook page and commenting my burger. Scroll down for instructions on how to enter to win!
This one is a smoky blend of chipotle cranberry cheese, candied bacon, sweet potatoes and your favorite barbecue sauce all atop a spiced turkey patty. It started as a desire to make a healthy burger, something a little leaner for dinner… but then I started thinking about delicious things… like candied bacon… and how I wanted a crunch to my fries, instead of baking… that chipotle cranberry cheddar and how kicking some barbecue sauce would be on top of it all…
And this happened. And now you get to be a part of it! I'm really excited to see what you come up with!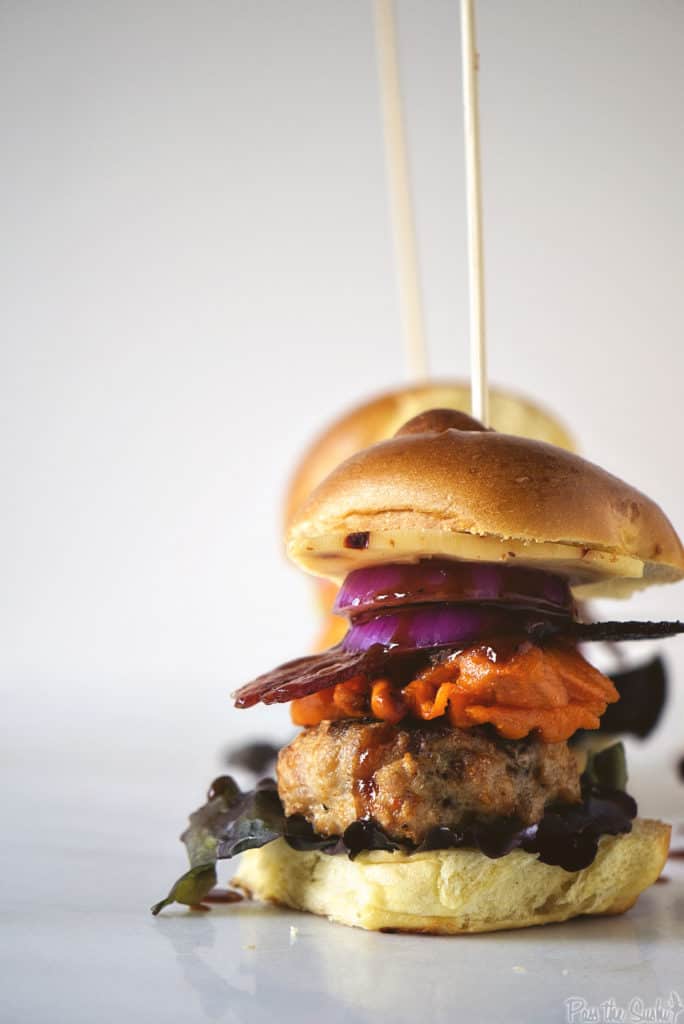 The Conquistador Turkey Burger
This post is part for the Cheese & Burger Facebook page - where you can name this burger and win some swag!
Ingredients
1 1/2 lbs ground turkey or chicken
Salt and pepper
1 teas onion powder
1/2 teas chipotle chili powder
1 teas cumin
1 clove garlic, minced
Brioche Slider Buns
1/4 cup mayo
1/2 cup Barbecue sauce, divided
Candied Bacon*
Red onion, sliced
Red leaf lettuce
Sweet potato waffle fries, cooked according to package
Wisconsin Cheese Cranberry Chipotle Cheddar, sliced
Instructions
Preheat a grill to medium high heat, grease grate if needed.
Mix the ground turkey with the salt, pepper, onion powder, chipotle chili powder, cumin, and garlic. Form into small patties slightly bigger than your bun size. Using your thumb, make a small indent in the center of each.
Reduce heat to low on the side you will be cooking on and toss the patties on the grill. Grill each turkey patty until cooked through, about 4 to 5 minutes per side, or until internal temp reaches 165
degrees F. Baste with 1/4 cup barbecue sauce when flipped (make sure to keep this separate from the remaining sauce you will be topping the burgers with)
Remove burgers from grill. Brush the buns with a light coating of mayo. Stack red leaf lettuce on the bottom of the bun, top with a burger, sweet potato fries, red onion, a smear of the reserved barbecue sauce and the Cranberry Chipotle Cheddar Cheese. Top these stacks with the
remaining half of the bun and jam a toothpick in there to secure.
Candied Bacon:
Preheat the oven to 325 degrees F. Line a baking sheet with foil. Place a wire rack on top.
In a bowl combine 1/3 cup brown sugar and 1/2 teas pepper.Sprinkle 8 to 10 slices of bacon sugar mix and press to coat. Arrange the bacon on the wire rack on the baking sheet and cook in the oven for 20 – 25 minutes, until crispy.
Let cool for a minute or two before touching as the sugar will be very hot and start to crystallize.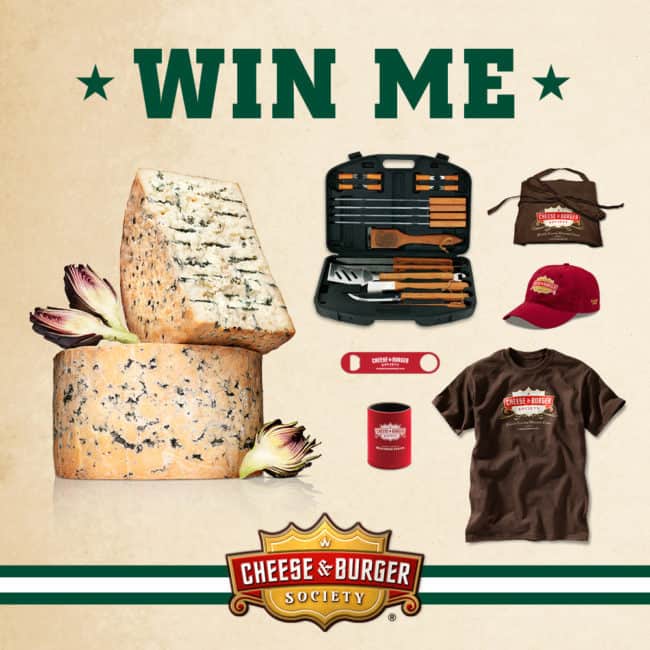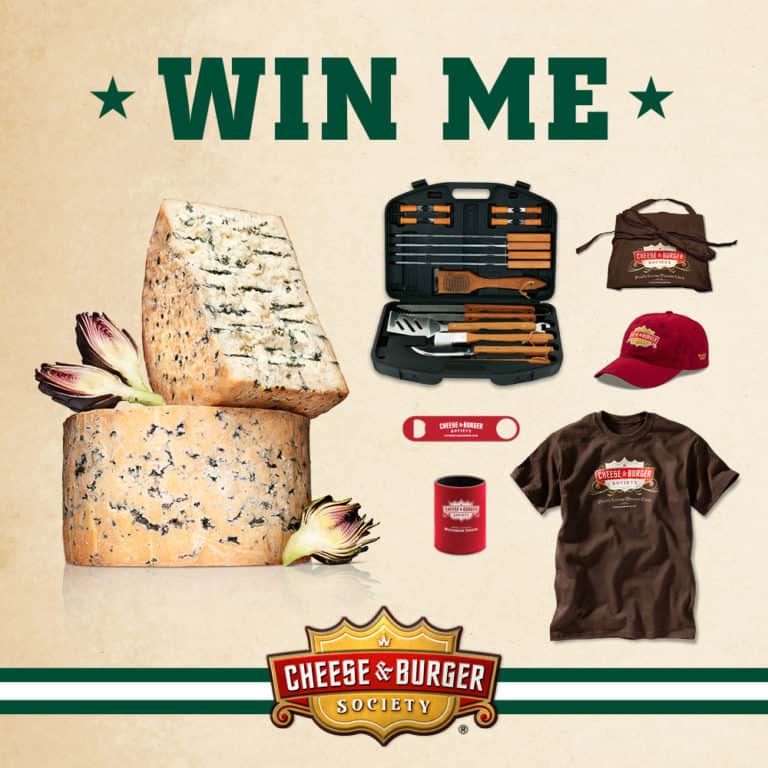 How to Enter:
Visit the Cheese & Burger Facebook page and leave a comment on the "Hello my name is _____" post with your cheeseburger name suggestion.
Enter through Sunday July 13th to suggest a creative cheeseburger name. On Monday the 14th, the winner will be picked!
The prize will be cheeseburger grilling kit: and 18 pc stainless steel barbecue set with storage case, $50 worth of Wisconsin Cheese and Cheese and Burger Society swag (apron, can koozie, bottle opener, t-shirt, hat). I might have our team creative a graphic to visualize this prize that I can send to you to use as well.
Official Rules:
Entrants must be U.S. residents.
Entries are limited to one per household.
One quality entry will be chosen at random.
Entry period ends

Sunday, July 13

, at

5 p.m. EST

.
The winner will be chosen and announced in the same Facebook post on

Monday, July 14, 2014

.