Did you know that for the entire month of July we are celebrating #burgermonth over at GirlCarnivore? That's right – 31 days of awesome burger goodness spread out over 31 kicking blogs. Each featuring a creation that will leave you inspired and ready to make your own epic burger.
Today's patty o' awesome was inspired by the fresh crisp pickles from Farmer's Garden and a craving for something a little bolder, a little bigger, and very very messy. Today's burger is a Cajun spiced all beef patty with spicy grilled shrimp topped with shredded lettuce, tomato and a zesty remoulade sauce. It's a Shrimp Po Boy Burger that will make anything less look like it forgot to take it's vitamins. Get inspired with the simple moments that make backyard grilling perfect for friends and family and make your own #farmtojar burger creation.
For more on the Farmer's Garden by Vlasic pickles, follow the conversation on their Facebook and Twitter page and search for the hashtag #FarmToJar
Farmer's Garden is celebrating the authentic taste of #FarmToJar with the Savor Simplicity Sweepstakes running from 5/7/14 – 7/31/14.
Enter at www.Farmersgardenvlasic.com for a chance to win a weekend cooking adventure or summer entertaining package, each worth $1,500! One winner will be chosen each month. A $1 off coupon will also be given to all entrants immediately following entry.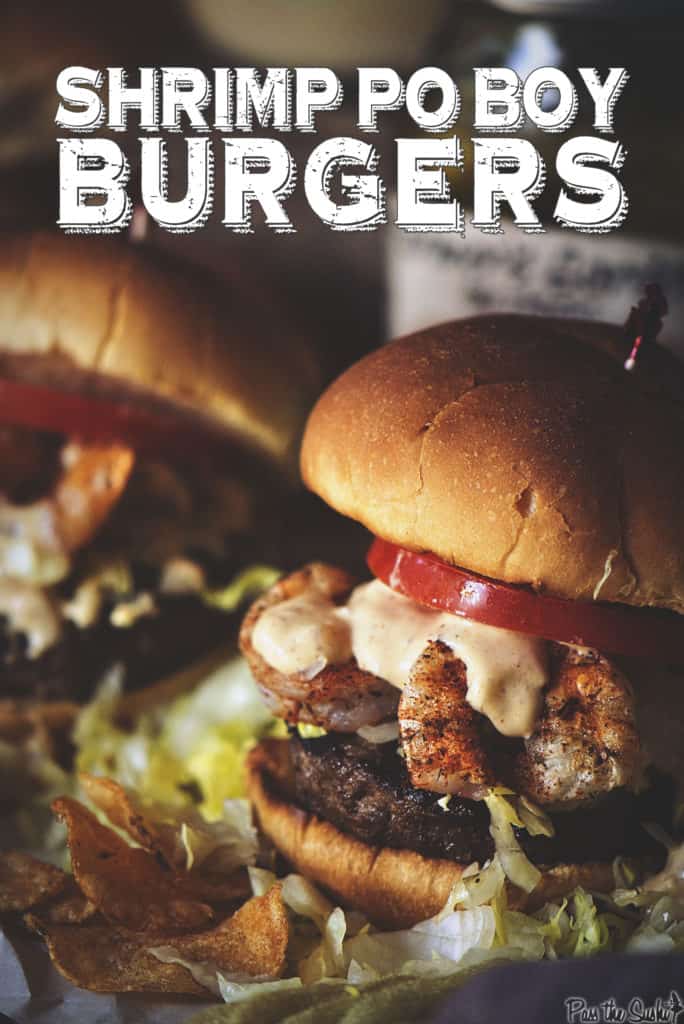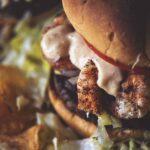 Shrimp Po Boy Burgers #FarmToJar
Ingredients
1/2

cup

mayonnaise

1/2

teas chipotle hot sauce

2

teas Cajun seasoning

plus 2 tbs

2

teas chiptle mustard

2

teas Worcestershire sauce

plus 2 tbs

1

clove

garlic

2

tbs

Farmer's Garden pickles

minced

1.5

lbs

ground beef

1

lbs

shrimp

peeled and deviened

Toasted buns

shredded lettuce, and sliced tomato for serving
Instructions
Whisk the mayo, hot sauce, 2 teas Cajun seaoning, chipotle mustard, 2 teas Worcestershire sauce, garlic clove, and minced Farmer's Garden pickles in a small bowl. Cover and chill until ready to use.

When ready to grill, preheat grill to medium high an grease grill grate.

Mix the ground beef with 1 tbs Cajun seasoning and remaining 2 tbs Worcestershire sauce. Form into 6 patties with an indent in the center from your thumb to avoid poofy patties on the grill.

Skewer the shrimp onto grilling skewers and seasoning with remaining 1 tbs Cajun seasoning.

Grill the patties 5 to 8 minutes, flipping once half way through, until cooked to desired temp. Remove from grill and cover with foil to keep warm.

Grill the shrimp 3 to 4 minutes, flipping once halfway through until cooked through. Remove shrimp from skewers carefully.

Serve the burgers on toasted buns topped with tomato, lettuce, shrimp and a heaping dollop of remoulade sauce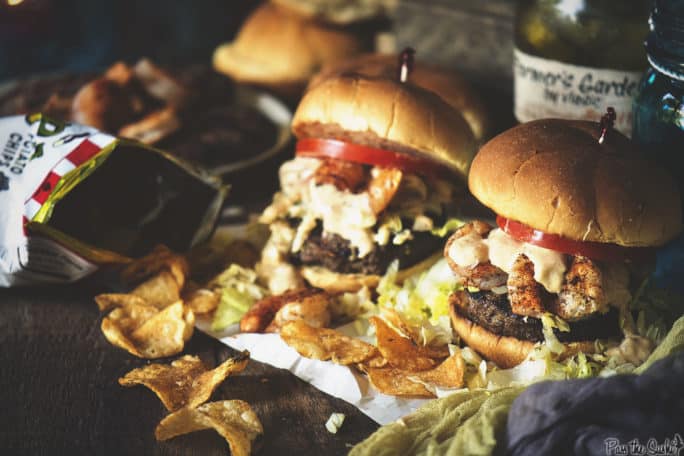 For all the hot off the grill burger action this July, follow along at GirlCarnivore.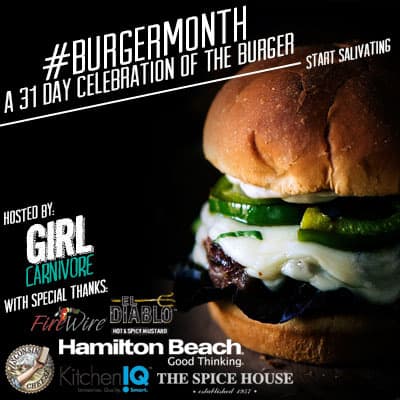 This post is sponsored, however the thoughts and opinions expressed are my own and the recipe was inspired by the Savor Simplicity #FarmToJar program. Girls gotta pay the bills.