When they say the Greek gods only ate ambrosia, they were surely talking about the sheer indulgence of Budino. After one bite of its luxuriously creamy texture, delicious caramel, and just a hint of salt, you'll have to agree.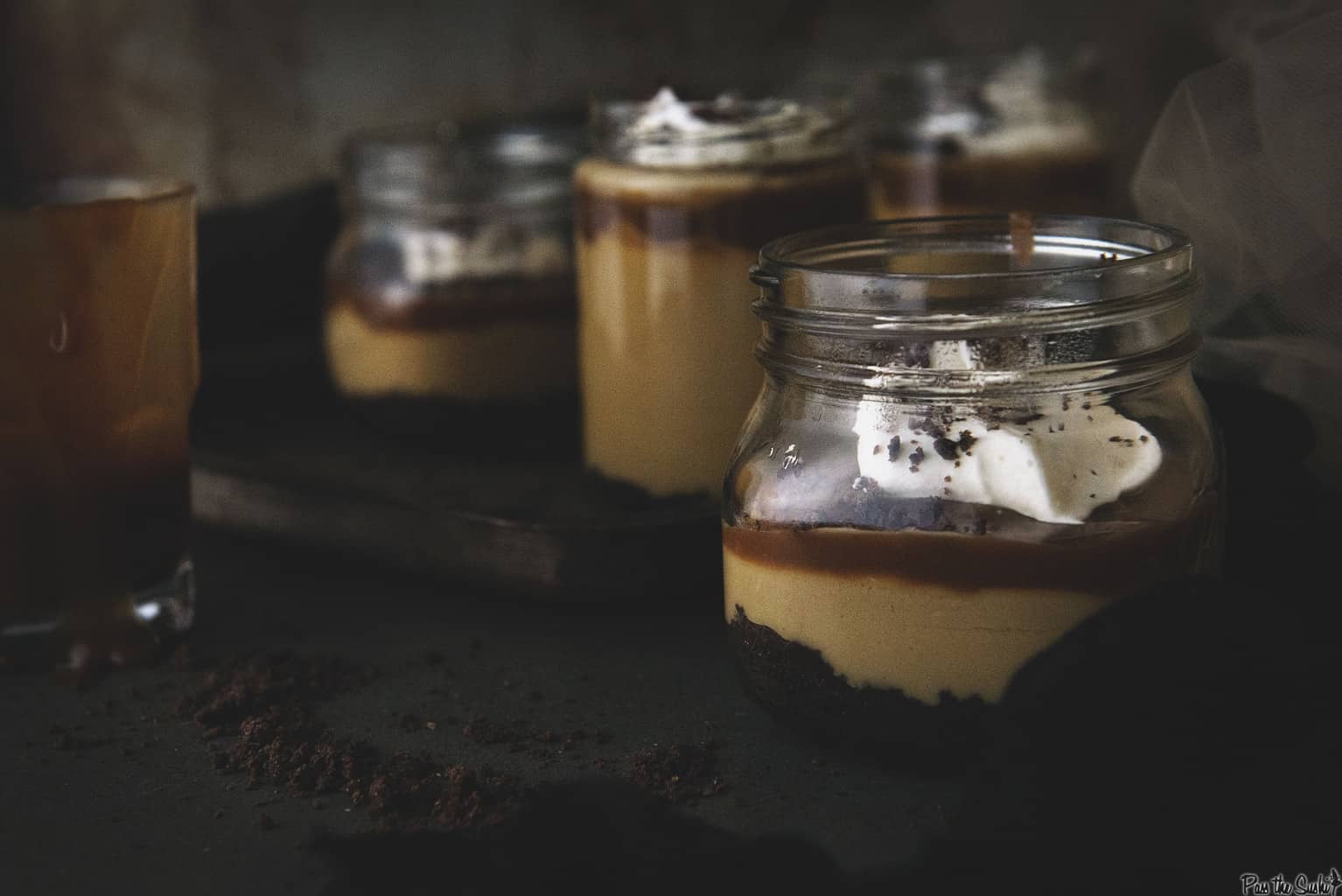 Budino is a creamy Italian dessert, reminiscent of a delicate pudding. Like this Vanilla Pudding and Chocolate Whiskey Pudding, Budino uses heavy cream and egg yolks to create a super creamy base that melts in your mouth with each bite. If you're looking for an easy decadent dessert to serve at a party or whip up after a long day, make yourself some Budino.
What Is Budino?
It's an experience unto itself. Presented in a cup or glass and with a haphazard dollop of whipped cream on top, this unassuming dessert looks more like a grown-up version of a pudding cup than a restaurant-quality finale, but don't let that fool you. Grab a spoon and watch it slide through the creamy caramel topping and into the thick pudding base and take a bite. You'll find a perfectly smooth pudding made with flawlessly tempered eggs and a rich flavor that is more nuanced than your childhood favorite snack. 
The soft subtle caramel mixed with notes of vanilla bean and just enough salt to balance the sweetness—paired with a simple crust made of cookie crumbs—transforms this dessert into an experience. This make-ahead dessert, also known as Italian pudding, is ideal for special occasions like a dinner party or bridal shower, or for any day that ends in y. 
If your dessert desires lean more towards cake and ice cream, try this Drunken Fig and Honey Cake and Brown Sugar Brandy Ice Cream.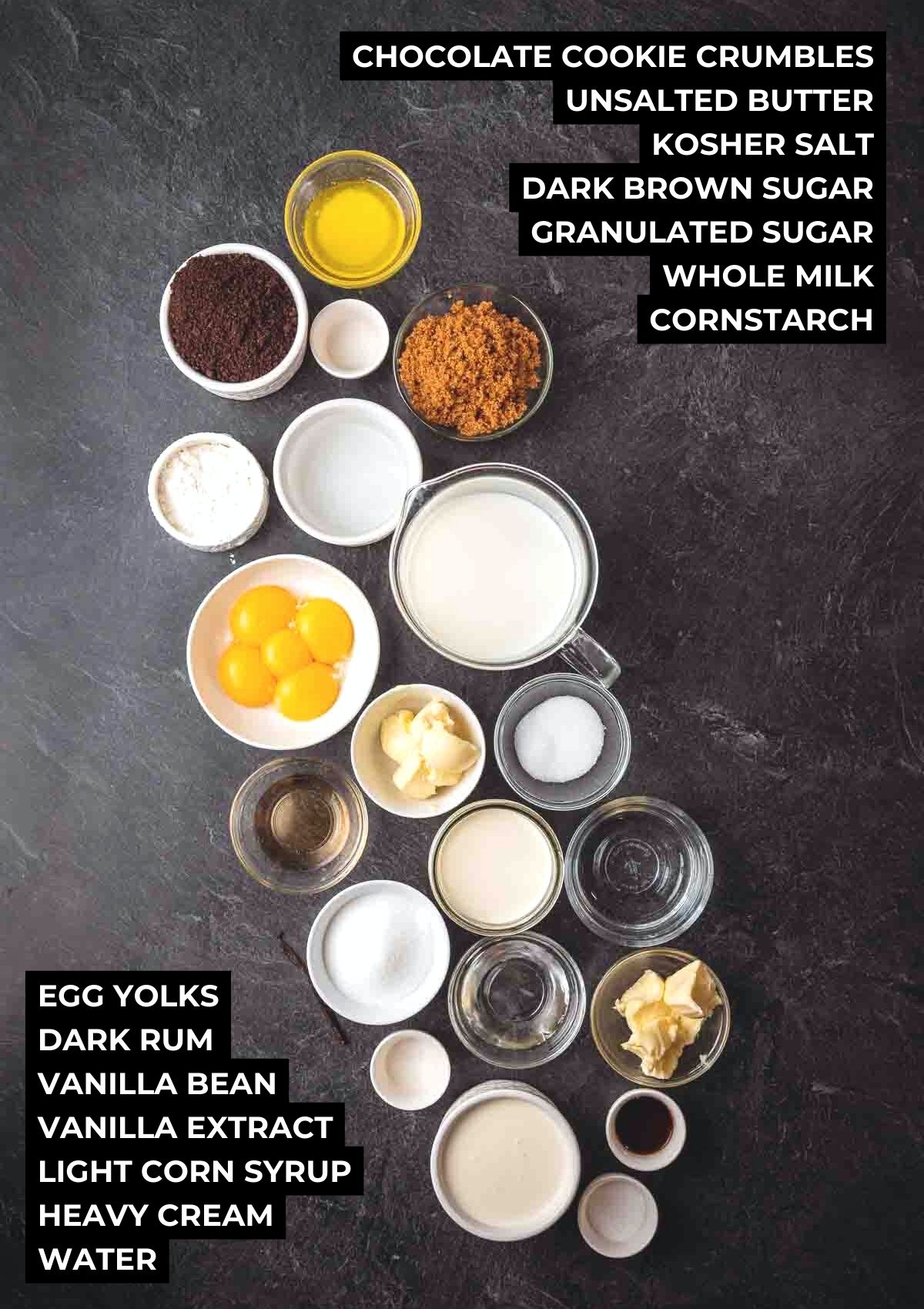 Ingredients:
Now that your tastebuds are tantalized, it's time to dive into this Salted Caramel Budino recipe. Here is a list of ingredients you'll need for each layer of rich pudding.
Chocolate Cookie Crumbles
Unsalted Butter
Kosher Salt
Dark Brown Sugar
Granulated Sugar
Whole Milk
Cornstarch
Egg Yolks
Dark Rum
Vanilla Bean
Vanilla Extract
Light Corn Syrup
Heavy Cream
Water
How to Make Italian Budino
Watch: How to make this caramel pudding
Lean back and relax as this video shows you all the steps to creating your best budino yet. From separating the yolks from the egg whites to making the egg custard to whipping up that fresh whipped cream, this cooking process is for those who love to be hands-on in the kitchen.
What to Serve With Italian Budino
This pudding doesn't need anything else, but it's always nice to have a friend. A sprinkle of sea salt and a small bowl of fresh raspberries, strawberries, or cherries balances your palate while a smoky old fashioned or midnight coffee cocktail makes for a delectable for a late-night treat.
Expert Recipe Tips
Budino recipes are made for mise en place. Prepare all your ingredients, your small, medium, and large saucepans, and individual cups before any other step.
Read through the recipe thoroughly before beginning! There are a lot of steps to achieve the perfect ending. 
Caramel can burn easily! Keep the caramel mixture on low heat and constantly stir to avoid burning.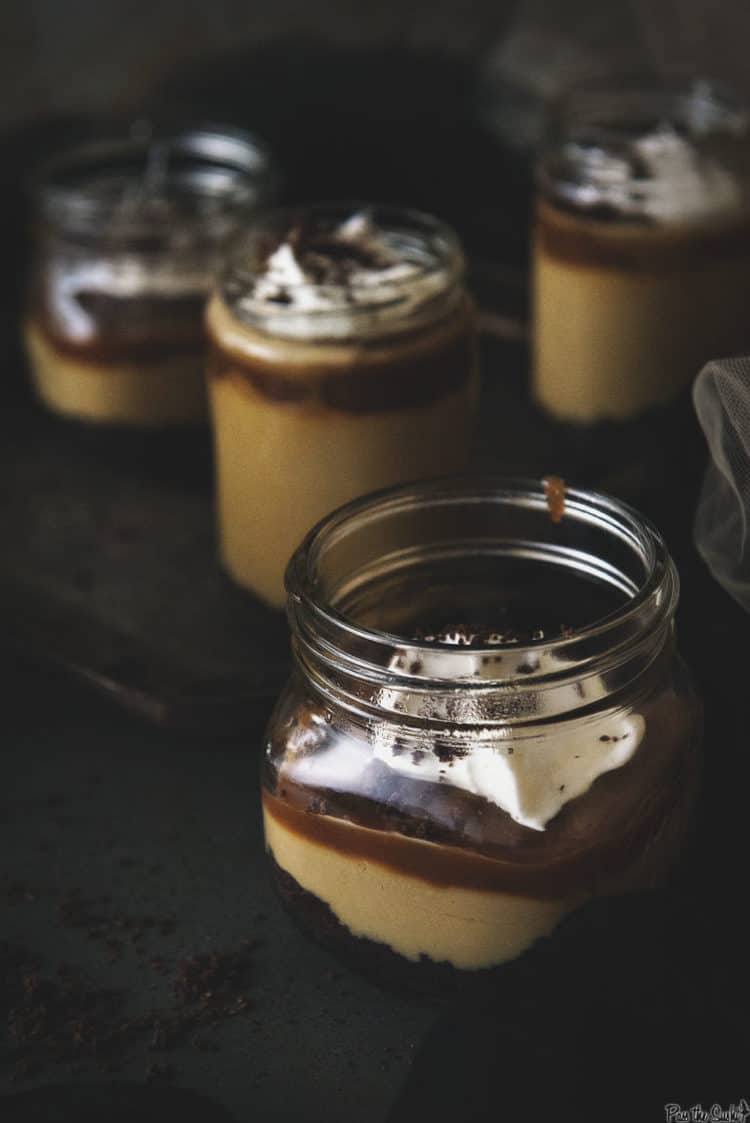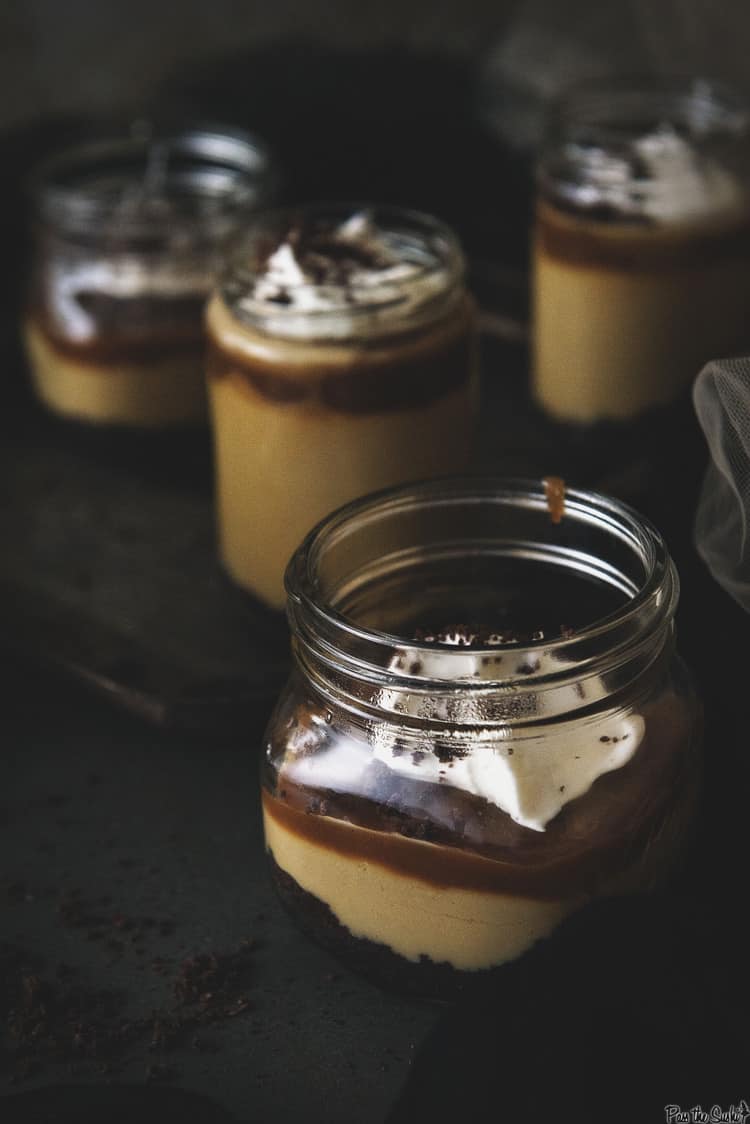 Leftovers
The proof is in the pudding—this recipe is good for up to a week when stored properly in an airtight container and wrapped in plastic wrap. Make as many as you like and have some on hand for dessert whenever you need it.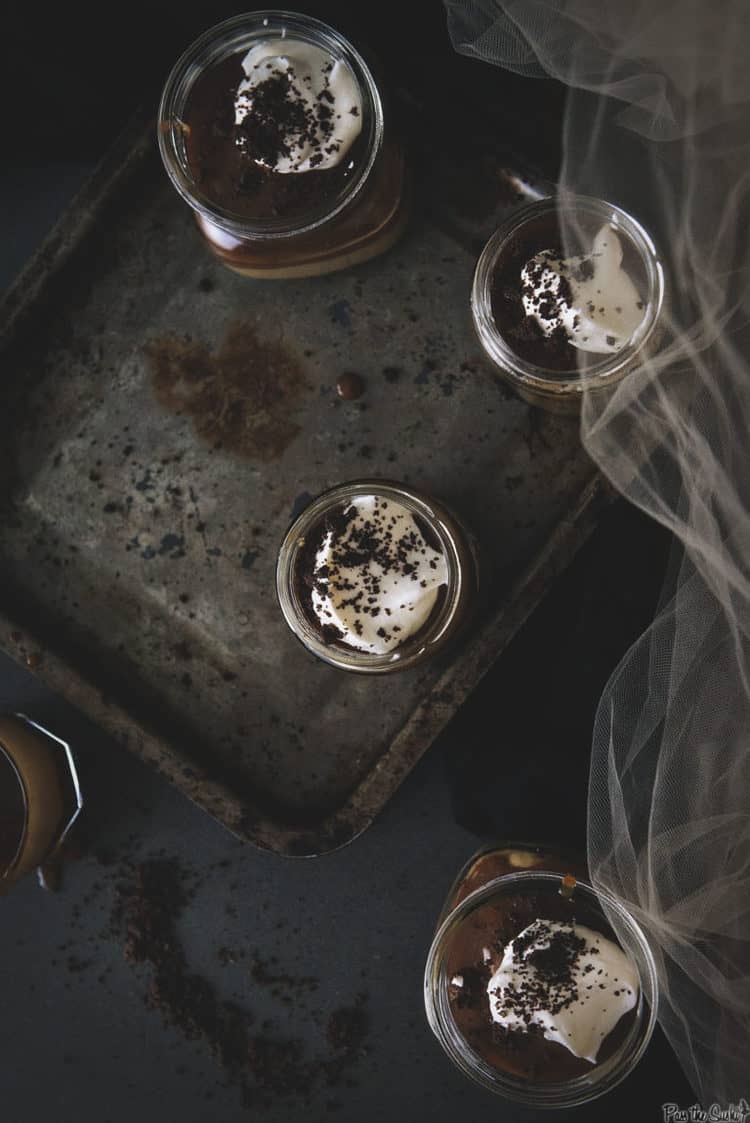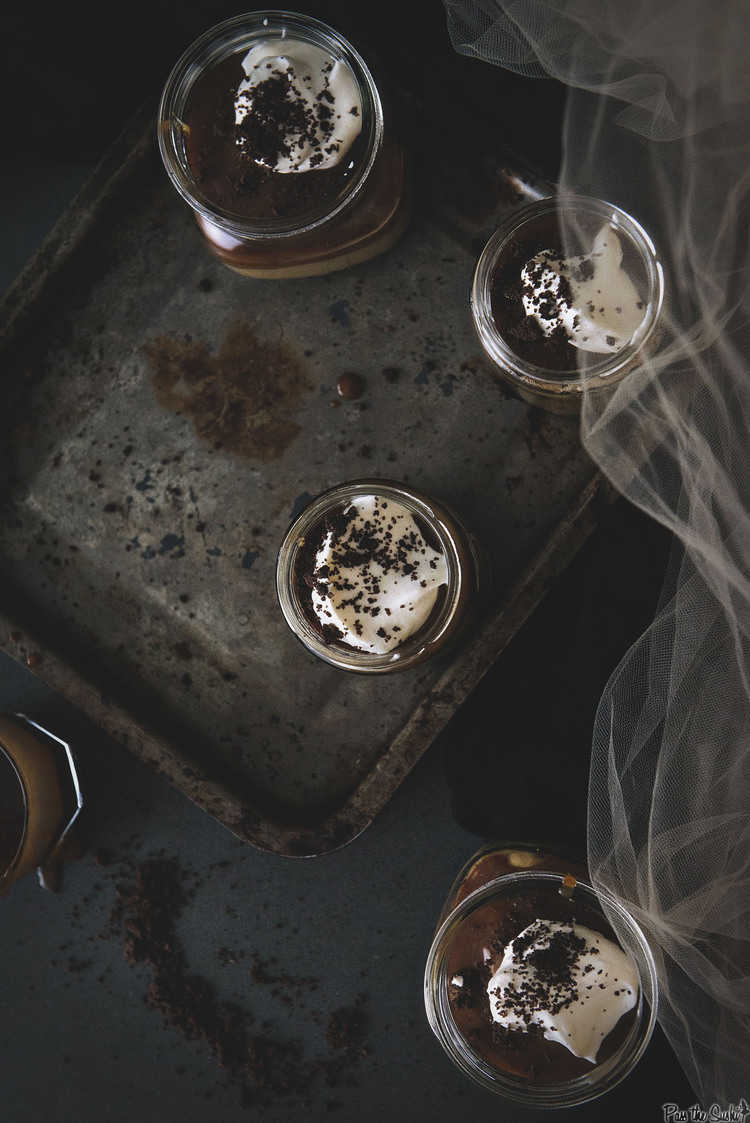 More Pudding recipes
Pudding is amazing when done right. Use these recipes for inspiration to think outside the plastic cup!
Grab a spoon and light some candles. This pudding recipe is the perfect nightcap. If you've tried this recipe, be sure to rate the recipe and drop a comment below to help the next guy!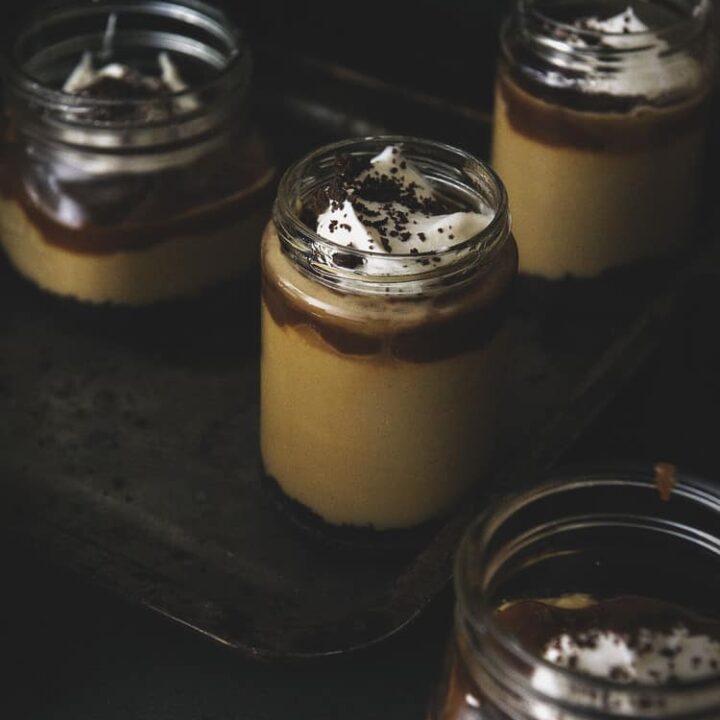 Salted Caramel Budino | AKA Italian Pudding
Whip up a luxurious and creamy Budino, Italy's beloved pudding dessert, with our easy and delicious recipe. Perfect for special occasions or a sweet treat, this decadent dessert will have you and your guests craving more.
Print
Pin
Rate
Ingredients
For the Cookie Crust bottom
1

cup

chocolate wafer coookies

-

crushed

2

tbs

unsalted butter

-

melted

1/8

tsp

kosher salt
For the Budino
3/4

cup

packed dark brown sugar

3/4

cup

water

3

cups

whole milk

-

divided

1/4

cup

cornstarch

5

large egg yolks

3

tbs

unsalted butter

2

tbs

dark rum

1

tbs

kosher salt
For the Salted Caramel Sauce topping & Whipped Cream
3/4

cup

plus 2 tbs heavy cream

-

divided

1/2

vanilla bean

1/2

cup

sugar

3/4

cup

water

2

tbs

light corn syrup

4

tbs

chilled unsalted butter

-

diced into small cubes

1/4

tsp

kosher salt

1

cup

heavy cream

1

tsp

vanilla

2

tsp

sugar
Instructions
For the Cookie Crust bottom
In a bowl, combine the cookie crumbs with the butter and salt.

Mix with your fingers or a fork until all the crumbs are moistened.

Set aside 2 tablespoons for later in an airtight container.

Press the remaining mixture into the bottom of 8 small 8-ounce mason jars. Set jars aside.
For the Caramel Budino
In a heavy-bottomed saucepan, combine the sugar and water.

Cook over medium heat, stirring gently until the sugar dissolves.

Stop stirring and increase the heat to medium-high.

Cook until a candy thermometer temps between 210 and 220 F.

Remove from heat.

In a small bowl, whisk the remaining 1/2 cup of milk and cornstarch.

Heat 2 1/2 cups milk in a small saucepan to a gentle simmer; Set aside.

Whisk the egg yolks quickly in a large bowl.

Carefully pour in the hot milk and then the cornstarch, whisking constantly.

Lastly, whisk in the caramel until smooth.

Pour the mixture back into the heavy-bottomed saucepan and cook, stirring constantly, over medium heat to 175 F and the pudding thickens (3 to 7 minutes about).

Remove from heat and stir in the butter, one tablespoon at a time.

Whisk in the rum, and salt.

Strain the mixture if needed using a fine mesh sieve.

Divide among prepared mason jars with the cookie crumble.

Cover with plastic wrap pressing directly onto the surface of each pudding and chill until set, at least 4 hours.
For the Salted Caramel Sauce topping & Whipped Cream
Split the vanilla bean down the center and scrape the seeds out carefully.

Add the bean to the measuring cup of heavy cream and allow to sit for a few minutes.

Meanwhile, stir the sugar, corn syrup, and water in a clean heavy bottom saucepan and allow the sugar to dissolve over medium heat, stirring gently.

Stop stirring and increase the heat to a boil over medium-high.

Allow the sugar to cook for 5 to 8 minutes, for a rich deep amber color, watching closely as to not burn the sugar).

Remove from heat and carefully stir in the vanilla cream. It will bubbly up, just keep whisking rapidly.

Return to medium heat and whisk until creamy, about 2 to 4 minutes.

Remove from heat and stir in the butter and salt until nice and smooth.

Allow to cool before transferring to an airtight container.
For the Whipped Cream
Beat the cream in the bowl of your stand mixer over medium speed for 30 seconds.

Add the vanilla and sugar and increase the speed to medium-high.

Whip to soft, moist peaks, 3 to 5 minutes.
To serve
Spoon the caramel sauce over each of the prepared chilled puddings.

Top with a dollop of whipped cream and sprinkle the reserved cookie crumbles.
Notes
Nutrition
Serving:
1
g
|
Calories:
551
kcal
|
Carbohydrates:
54
g
|
Protein:
9
g
|
Fat:
34
g
|
Saturated Fat:
19
g
|
Polyunsaturated Fat:
12
g
|
Cholesterol:
221
mg
|
Sodium:
1124
mg
|
Fiber:
1
g
|
Sugar:
45
g
Nutritional informations provided as a courtesy and is only an approximatation. Values will changes based on ingredients used.
⭐ Tried this recipe? Rate it ⭐
Help out the next person and give it a star rating below!
Recipe FAQs
What makes Italian Budino different from American pudding? 
Budino is just the Italian word for pudding! If you like creamy, decadent desserts pudding or budino​ is perfect for you. 
Why does my pudding keep separating? 
​This can happen when eggs are either mixed not enough or too much. It's a delicate balance that even the most seasoned home cooks can have trouble with. Make sure to read the recipe before beginning and know that going slow is okay! It's better to work a little more slowly to get the desired result than cutting corners to save time. 
Why is my pudding watery? 
Pudding can be a fickle fiend! Just like with mixing the eggs for this recipe, mixing the pudding itself needs to be done enough to fully combine the ingredients, but not over-mixed. Remember to work slowly and follow the instructions thoroughly. You can also use a starch product to help thicken your pudding, but the eggs-only method is what gives that silky smooth texture budino is known for.