After my first bite of budino, it was launched into the top tier of my favorite desserts ever. With the rich pudding, delicious caramel and hint of salt, you can only imagine why. This recipe is perfect to make ahead, adding the finishing touches just before serving to anxious guests!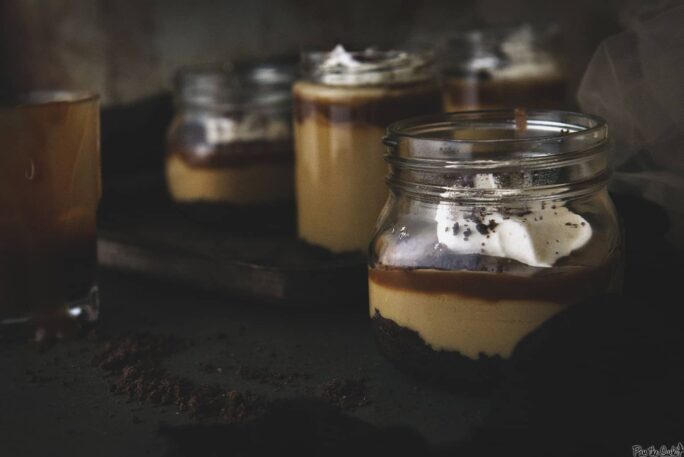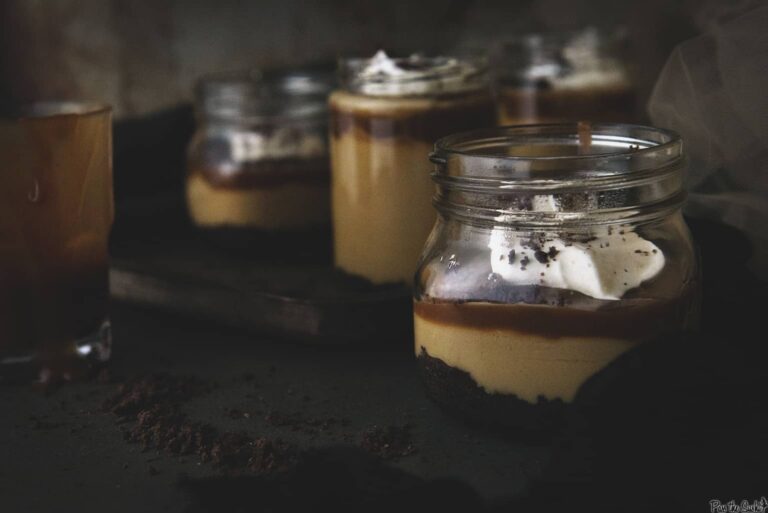 What is Budino?
Have you ever had budino? It's an experience unto itself. It comes out unassuming and presents itself as a modest cup of thick pudding. It's appearance notably underwhelming when lined up against sensual cheesecakes or delicate pastries.
Served in a cup or glass, it looks more akin to one of Grandma's standby dessert mixes then a restaurant quality finale. But, you have it set in front of you, what else are you to do?
The spoon slides it's way through the creamy caramel topping and into the thick pudding base. It's not even the prettiest of desserts to stare at with it's haphazard dollop of whipped cream on top. In that moment, you have prepared yourself for an underwhelming bland taste with a promise of burnt sugar from the caramel. Your first bite...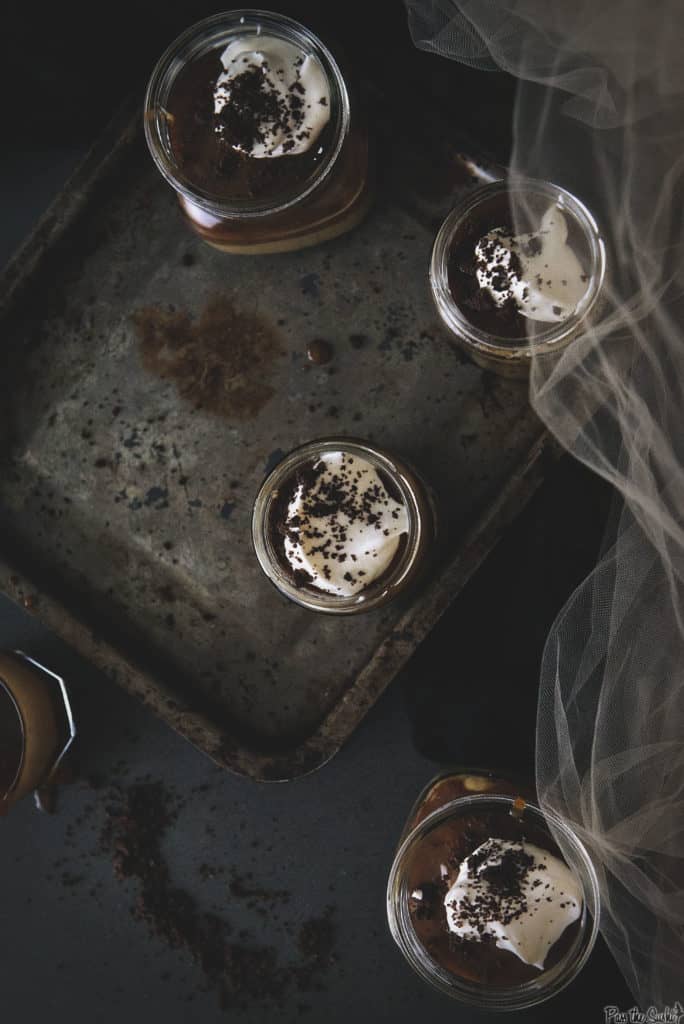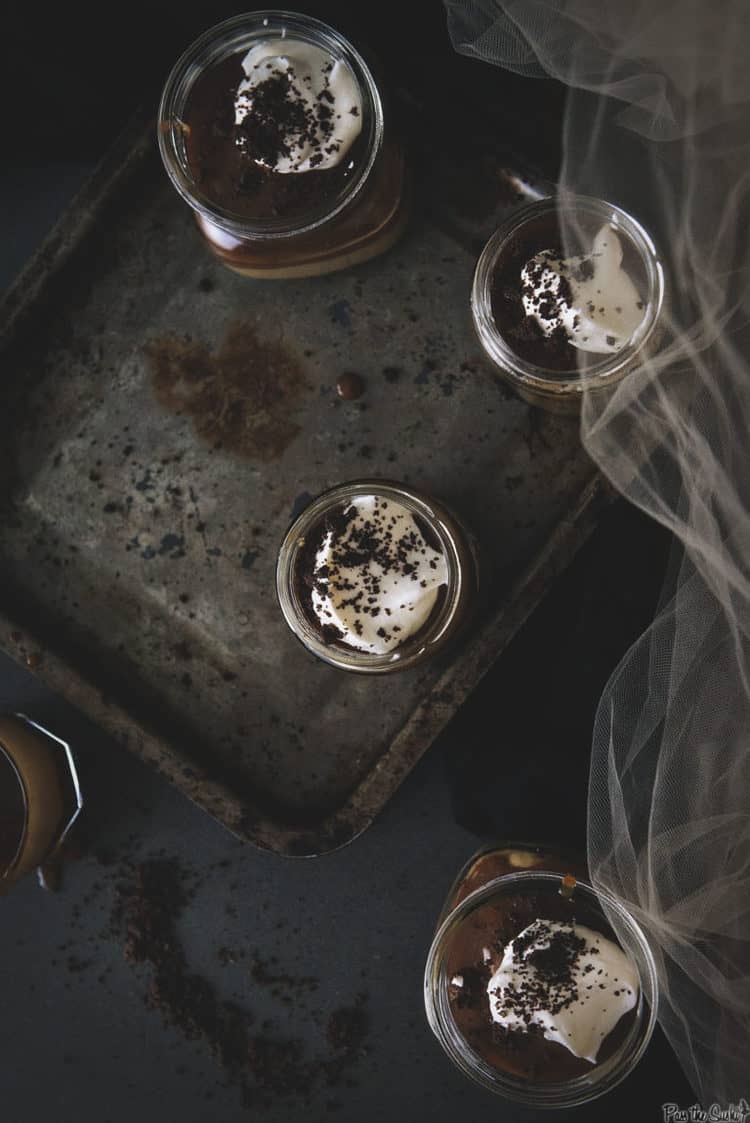 In that instant, the budino melts on to your tongue. The texture is perfectly smooth, not runny. There's no hint of cornstarch, every egg has been tempered flawlessly for a rich finish. The flavor, unexpected, is an upscale version of childhood lunch box fantasy that a mature palate can appreciate.
The soft subtle caramel mixing with the notes of vanilla and just enough salt bring this dessert instantly into the running for the best yet. Its simple cookie bottom adds just the right amount of texture to the whole experience and you take a moment to savor.
To enjoy that bite and the elements that make this simple pudding dish so sublime. You know this is the first of many budino to come. And the quest begins to discover the simple nuances of this dessert to your own kitchen.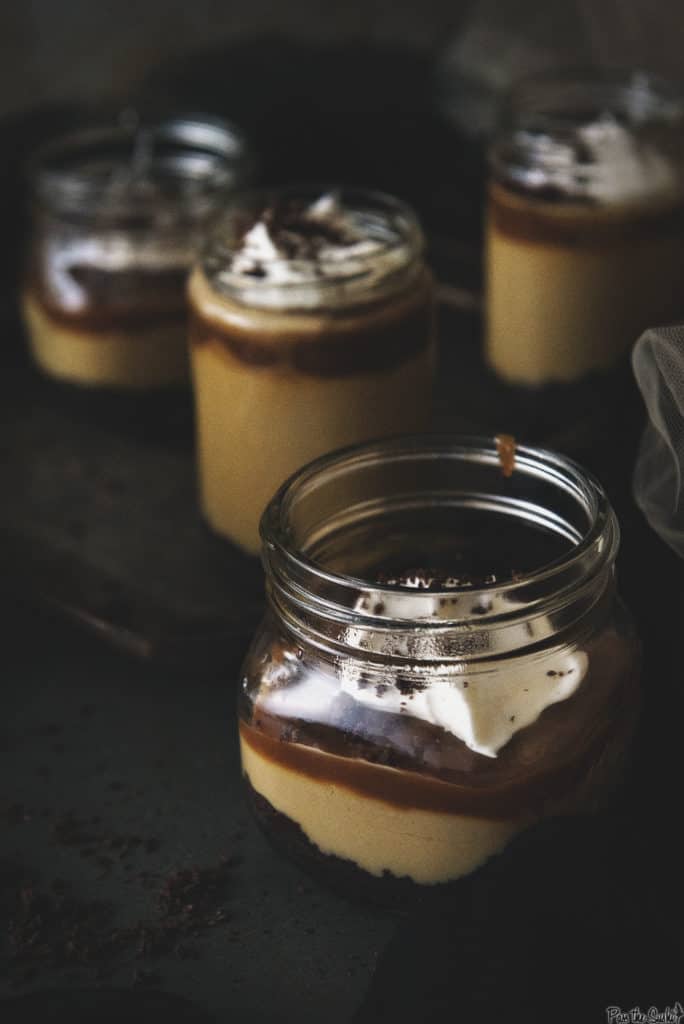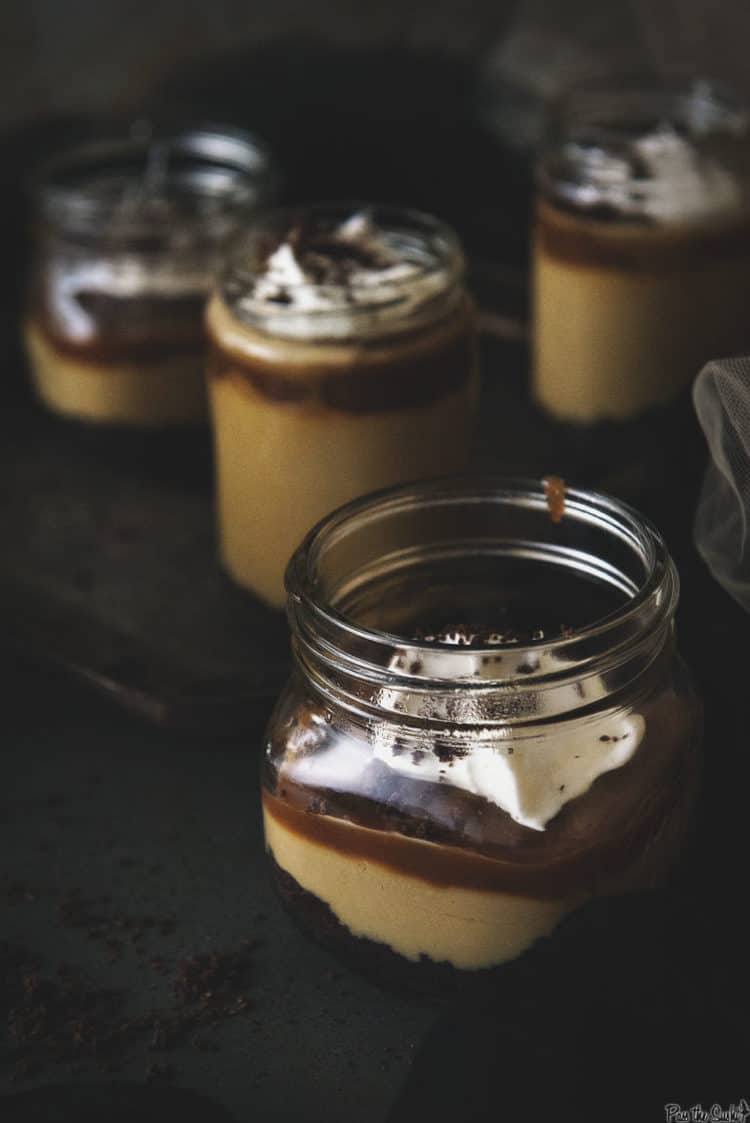 Pudding is amazing when done right. Use these recipes for inspiration to think outside the plastic cup!

Salted Caramel Butterscotch Pudding Recipe
Chocolate Whiskey Pudding
Pumpkin Bread Pudding with Cinnamon Spice Glaze
If you've tried my Salted Caramel Budino recipe or any other recipe on passthesushi.com please don't forget to rate the recipe and let me know where you found it in the comments below, I love hearing from you! You can also follow along for more good eats and travel tips on Instagram @passthesushi & @girlcarnivore, Twitter & Facebook.
Yield: 8 servings
Salted Caramel Budino | AKA Italian Pudding
With the rich pudding, delicious caramel and hint of salt, this Budino is a high class dessert. This recipe is perfect to make ahead, adding the finishing touches just before serving to anxious guests!
Ingredients
For the Cookie Crust bottom
1 cup chocolate wafer coookies, crushed
2 tbs unsalted butter, melted
⅛ teaspoon kosher salt
For the Budino
¾ cup packed dark brown sugar
¾ cup water
3 cups whole milk, divided
¼ cup cornstarch
5 large egg yolks
3 tbs unsalted butter
2 tbs dark rum
1 tbs kosher salt
For the Salted Caramel Sauce topping & Whipped Cream
¾ cup plus 2 tbs heavy cream, divided
½ vanilla bean
½ cup sugar
¾ cup water
2 tbs light corn syrup
4 tbs chilled unsalted butter, diced into small cubes
¼ teaspoon kosher salt
1 cup heavy cream
1 teaspoon vanilla
2 teaspoon sugar
Instructions
For the Cookie Crust bottom
In a bowl, combine the cookie crumbs with the butter and salt.
Mix with your fingers or a fork until all the crumbs are moistened.
Set aside 2 tablespoons for later in an airtight container.
Press the remaining mixture into the bottom of 8 small 8-ounce mason jars. Set jars aside.
For the Caramel Budino
In a heavy-bottomed saucepan, combine the sugar and water.
Cook over medium heat, stirring gently until the sugar dissolves.
Stop stirring and increase the heat to medium-high.
Cook until a candy thermometer temps between 210 and 220 F.
Remove from heat.
In a small bowl, whisk the remaining ½ cup of milk and cornstarch.
Heat 2 ½ cups milk in a small saucepan to a gentle simmer; Set aside.
Whisk the egg yolks quickly in a large bowl.
Carefully pour in the hot milk and then the cornstarch, whisking constantly.
Lastly, whisk in the caramel until smooth.
Pour the mixture back into the heavy-bottomed saucepan and cook, stirring constantly, over medium heat to 175 F and the pudding thickens (3 to 7 minutes about).
Remove from heat and stir in the butter, one tablespoon at a time.
Whisk in the rum, and salt.
Strain the mixture if needed using a fine mesh sieve.
Divide among prepared mason jars with the cookie crumble.
Cover with plastic wrap pressing directly onto the surface of each pudding and chill until set, at least 4 hours.
For the Salted Caramel Sauce topping & Whipped Cream
Split the vanilla bean down the center and scrape the seeds out carefully.
Add the bean to the measuring cup of heavy cream and allow to sit for a few minutes.
Meanwhile, stir the sugar, corn syrup, and water in a clean heavy bottom saucepan and allow the sugar to dissolve over medium heat, stirring gently.
Stop stirring and increase the heat to a boil over medium-high.
Allow the sugar to cook for 5 to 8 minutes, for a rich deep amber color, watching closely as to not burn the sugar).
Remove from heat and carefully stir in the vanilla cream. It will bubbly up, just keep whisking rapidly.
Return to medium heat and whisk until creamy, about 2 to 4 minutes.
Remove from heat and stir in the butter and salt until nice and smooth.
Allow to cool before transferring to an airtight container.
For the Whipped Cream
Beat the cream in the bowl of your stand mixer over medium speed for 30 seconds.
Add the vanilla and sugar and increase the speed to medium-high.
Whip to soft, moist peaks, 3 to 5 minutes.
To serve
Spoon the caramel sauce over each of the prepared chilled puddings.
Top with a dollop of whipped cream and sprinkle the reserved cookie crumbles.
Recommended Products
As an Amazon Associate and member of other affiliate programs, I earn from qualifying purchases.
Nutrition Information:
Yield:
8
Serving Size:
1
Amount Per Serving:
Calories:

551
Total Fat:

34g
Saturated Fat:

19g
Trans Fat:

0g
Unsaturated Fat:

12g
Cholesterol:

221mg
Sodium:

1124mg
Carbohydrates:

54g
Fiber:

1g
Sugar:

45g
Protein:

9g
Nutrition information provided is an estimate from nutritionix.com. For specific health concerns, please put the recipe into your Dr recommended nutrition calculator.