Asian chicken burgers bring the best Asian flavors to simple, ground chicken, then those burgers are grilled up to tasty perfection.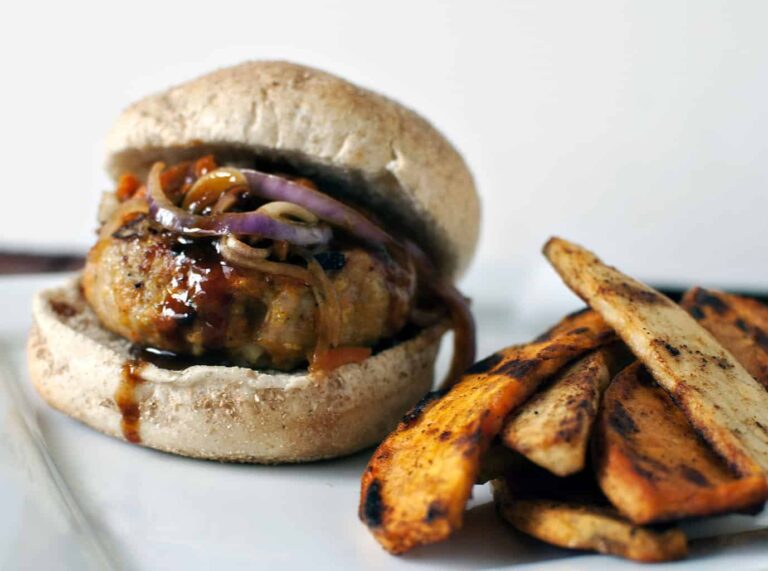 Can you smell that? It's the smell of hot coals and an open flame, the low heat of a smoker slowly infusing its flavor into a thick piece of meat, the joy of a hot dog and it's plethora of toppings. That's right. It's time to fire up those grills.
I may not have a brick oven tucked into my gardens, but my little back yard has its fair share of outdoor cooking equipment. And oh, the bonding we are going to do this summer. There will be a lot of smoking and grilling, over both propane and charcoal. Marinating, pulling and kabobing (really, kabobing – it's a word. Trust me.). I'm no pit master, so there will be lots and lots of experimenting too, but I know it will be delicious experimenting.
Let's kick things off with these tasty little Asian chicken burgers, and be sure to stay tuned for all of the BBQ adventures we've got planned this season.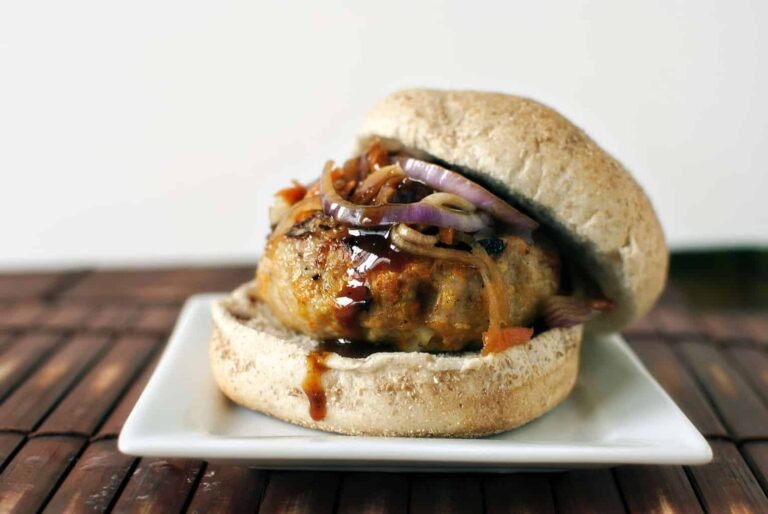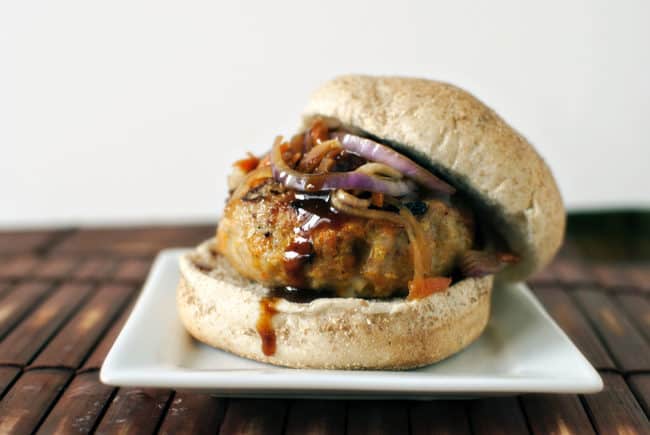 Asian Chicken Burgers
Food Network Magazine Jan/Feb 2011
Ingredients:
Cooking Spray
1 small carrot
1 small red onion, halved
1 lb ground chicken
1/4 panko (Japanese breadcrumbs)
1/4 cup hoisin sauce
1 tbs grated peeled ginger
4 tbs low-sodium soy sauce
3 tbs hot Asian chili sauce, such as sombal oelek
8 ounces white mushrooms, thinly sliced
2 teas toasted sesame oil
Juice of 1 lime
4 whole-wheat sesame hamburger buns
Preparation:
Preheat the oven to 375 degrees F. Mist a baking sheet with cooking spray. Grate the carrot and 1/2 onion into a large bowl. Add the chicken, panko, 2tbs hoisin sauce, the ginger, 3 teas soy sauce and 1 teas sambal oelek and mix until combined. Shape he chicken mixture into 4 patties and place on the prepared baking sheet. Bake until cooked through, about 20 minutes.*
Meanwhile, thinly slice the remaining 1/2 onion. Toss with the mushrooms, sesame oil, lime juice and remaining 1 teas soy sauce in a bowl. Mix the remaining 2 tbs hoisin sauce and 2 teas sambal oelek with 1 tbs water in another bowl.
Warm the hamburger buns in the oven. Serve the burgers on the buns with a drizzle of the hoisin-sambal sauce and some of the mushroom mixture.
*I went the grill route and just cooked these over an open flame.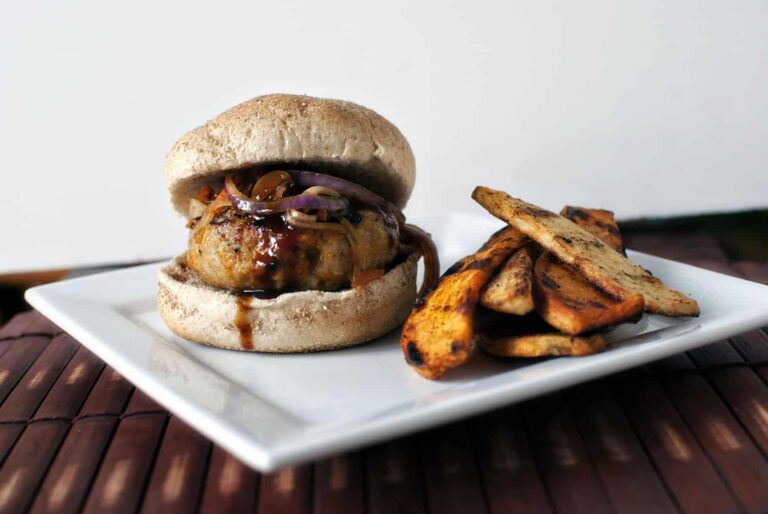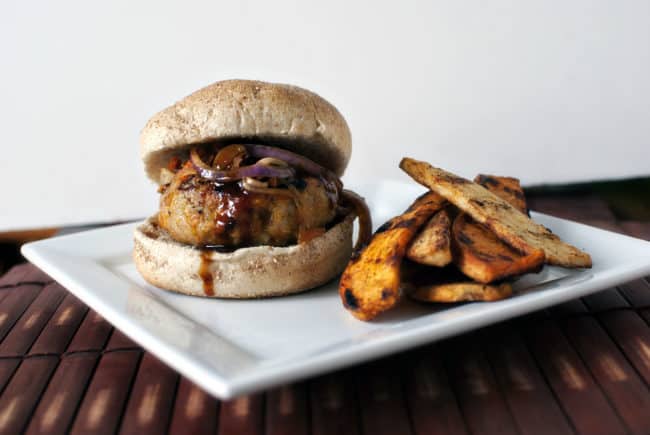 This Asian chicken burgers post was featured in my May email newsletter. If you would like to receive my recipe-filled emails, just sign up here.
I paired the Asian chicken burgers with grilled sweet potato fries, and for the fun of it, regular potato fries.