Ice cream sandwiches, fresh and made at home! Once you've made them from scratch, you'll never want to buy the boxed kind again!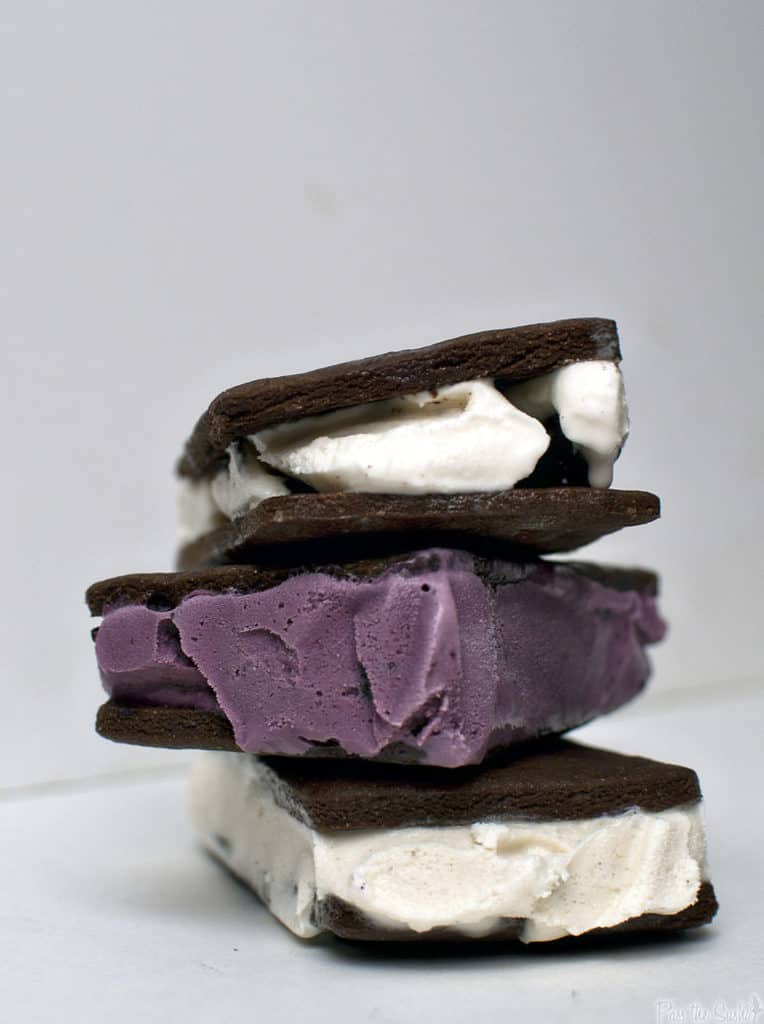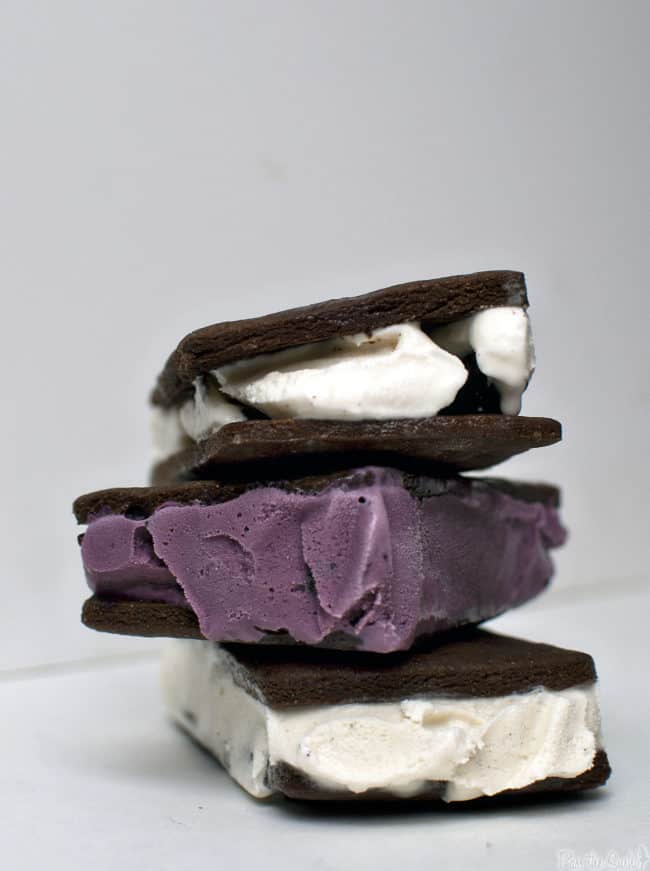 I got the best email the other day. It pretty much read, "would you like to sample some ice cream?" Um, yeah. Do you really need ask a girl if she wants to sample some ice cream? Might as well just send it and assume no one will turn down the mail man when he comes knocking.
Graeter's Ice Cream quickly shipped out 6 pints of their signature flavors in a sturdy styrofoam cooler with dry ice and it arrived pretty much over night and really …uh, annoyed Handsome by telling him we couldn't eat any until I could figure out how to review it. Not one bite.
I read that this ice cream was featured on Oprah, and if she says it's good, the whole world knows about it and wants it. But I don't watch Oprah, and I'm not down with reading her magazine reviews, so I was clueless.
What I can say about Graeter's is that it's the only time I've 'sampled' more than a spoonful of chocolate ice cream. Normally, I hate it, but there is something about their chocolate that isn't too thick or artificial tasting. There are chunks of delicious chocolate that are soft to the bite, and yet still tact and firm. Not like that one time I broke a tooth…
The black raspberry flavor has large chunks of black raspberries in it. No difference with strawberry, and the vanilla is so simple and smooth, it's just pleasant to enjoy one spoonful at a time.
This ice cream is also very, very scoop-able, making it really hard to prep for photographs. It's so soft, there is no struggle with the spoon. I thought maybe my freezer had just changed its setting, but I had another brand in the same freezer and well, we'll just say my spoon was not as happy to be in that container.
I did check the Graeter's website after licking the bowl clean to find out if it was stocked any where near me. It's not. 🙁
But they do offer mail order, and if it is nearly as quick and efficient as my samples, I'm sure it won't disappoint.
Now let's make some homemade ice cream sandwiches with it!
Ice Cream Sandwiches

From Annie's Eats, adapted from Tartlette

Ingredients:

4 tbsp. unsalted butter, at room temperature
¼ cup vegetable oil
1 cup light brown sugar
2 large eggs
1 tsp. vanilla extract
½ cup unsweetened cocoa powder
2 cups all-purpose flour
1 tsp. baking powder
¼ tsp. salt
Ice cream for the centers

Preparation:
In the bowl of an electric mixer, combine the butter, vegetable oil and brown sugar.  Beat on medium speed until combined.  Blend in the eggs one at a time, and the vanilla extract until smooth.  In a separate bowl combine the cocoa powder, flour, baking powder and salt; whisk to blend.  With the mixer on low speed, add the dry ingredients to the bowl with the wet ingredients and mix just until incorporated and a soft dough forms.  Gather the dough into a disc, cover with plastic wrap and refrigerate until well chilled, at least 1 hour.

Preheat the oven to 350˚ F.  Line a baking sheet with parchment paper or a silicone baking mat.  On a lightly floured work surface, roll out the dough to about ¼-inch thick.  Use a cookie cutter to cut out as many pieces as you can, transferring the cut outs to the prepared baking sheet.  Gather and re-roll the dough scraps as needed.  If desired, use a wooden skewer to make a dotted pattern on the cookies.  Bake 8-10 minutes.  Let cool on the baking sheet a few minutes before transferring to a wire rack to cool completely.

To assemble the sandwiches, use the same cookie cutter that was used for the cookies to cut out pieces of ice cream.  Layer one piece of ice cream between two of the cookies and return to the freezer immediately.  Wrap the sandwiches individually as desired.  Keep frozen until ready to serve.

I used black raspberry, mint chocolate chip and vanilla for these ice cream sandwiches.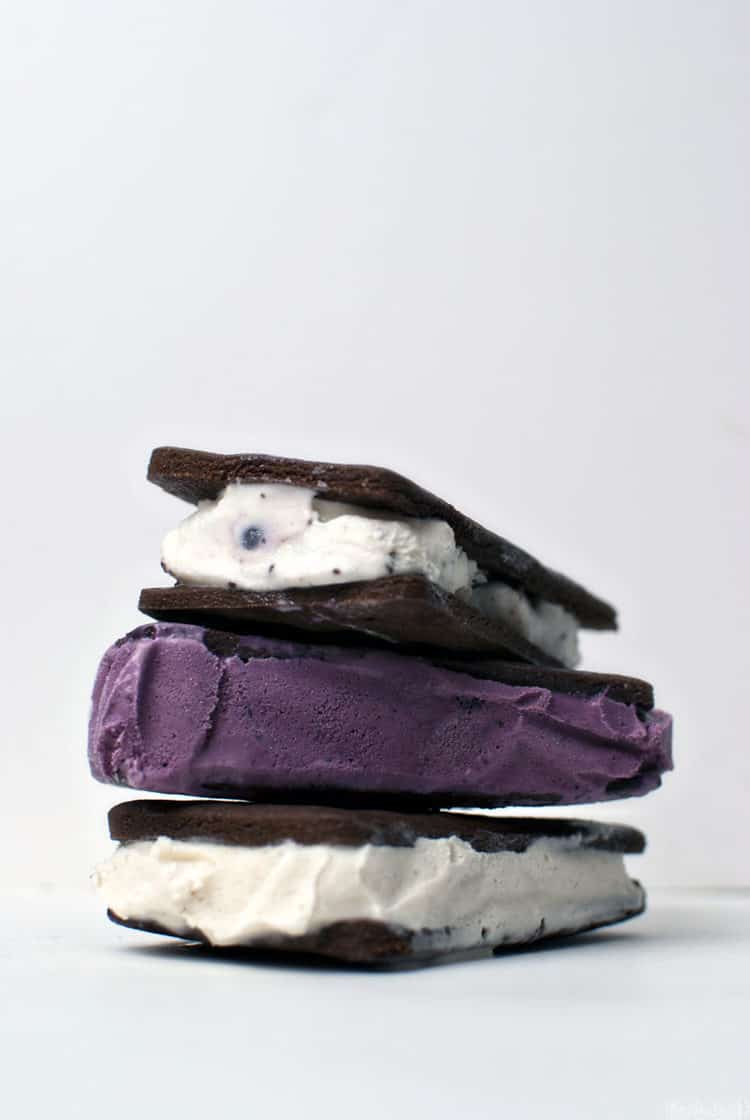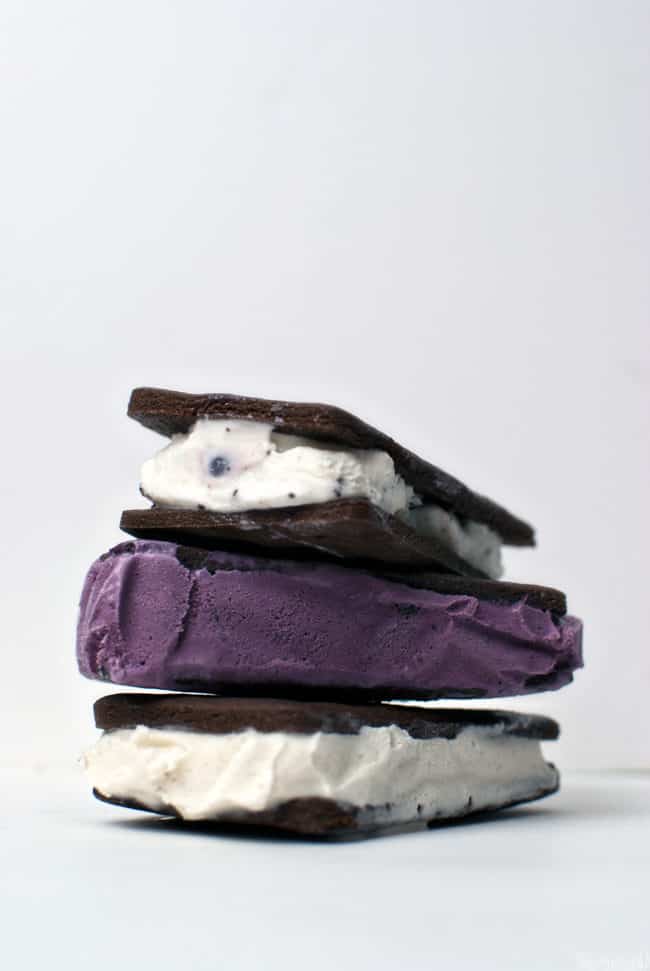 The giveaway originally noted in this post has ended.