Conchinita Pibil is a Mexican, slow roasted pork dish. It originates from the Yucatán Península, and it's loaded with flavor. It's the recipe I've chosen to celebrate Cinco de Mayo with!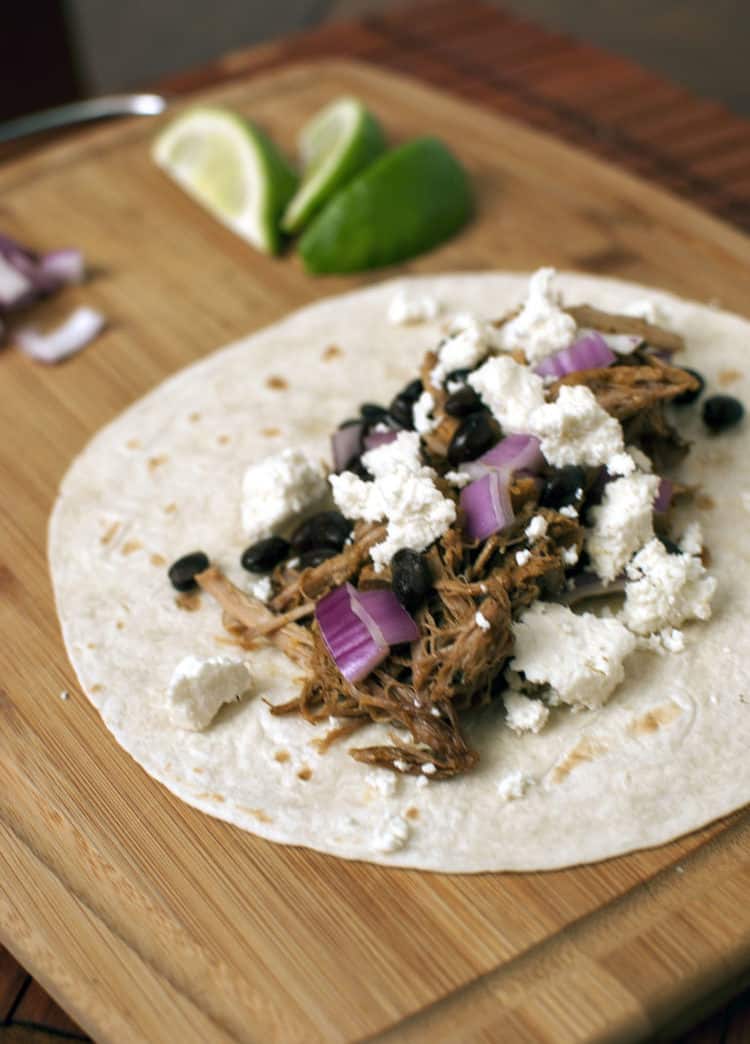 I love Mexican food. To be honest, I love all food, but I love Mexican more than any other. I dream of the day Mr. Ortega will ask for my hand in marriage, because then I can have tacos day and night.
Seriously, though. I want tacos – every single day. That may be the most awesome idea ever. Mexican food just screams layers of succulent flavor in every bite, and lucky for me, Cinco de Mayo is mañana – that's tomorrow!
Imagine my excitement when, while standing in line at the grocery checkout, I saw a magazine dedicated to Mexican recipes. It doesn't take much to excite me, I know. I bought it without even looking at the price. Every page was filled with traditional Mexican recipes and the most beautiful and rustic photos I had ever seen. Chorizo for breakfast – yes please. Ancho chile rubbed steaks, make that two. And real smoker recipes that made me think that I must be in heaven.
So grab a Dos Equis, and let's pretend we're in a world far away, with delicious Conchinita Pibil, great Mexican music, and lots of culture.
Felize Cinco de Mayo!
Barbecued Pork – Conchinita Pibil
from BHG Special Interest Publications: Mexican 2011
Ingredients:
2 teas ground ancho or pasilla chile pepper
1 teas salt
1 teas dried Mexican oregano, crushed
1 teas dried coriander
1/2 dried cumin
1/2 teas ground black pepper
1/2 teas cinnamon
1/4 teas allspice
2 tbs orange juice
1 tbs achiote paste**
6 garlic cloves, minced
1 tbs lime joice
1 tbs vegetable oil
1 3-lb bone in pork shoulder
8 hickory or oak wood chunks
Preparation:
Banana leaves (soaked in water for 1 hour before using) or parchment paper
Corn tortillas, guacamole, salsa, thinly sliced red onion, snipped cilantro, and lime wedges for serving
Preparation:
In a small bowl, combine ancho chile pepper, salt, oregano, coriander, cumin, black pepper, cinnamon, and allspice. Stir in orange juice, anchiote paste, garlic, lime juice, and oil until a paste forms.
Trim fat from roast. Using a small knife, make slits all over the roast. Wearing gloves, use hands to rub orange juice mixture evenly over the roast. Wrap roast in plastic wrap or place in a resealable plastic bag; place in a shallow dish. Chill for 4 to 24 hours.
Soak wood chunks in water for at least 1 hour before smoking. Remove plastic wrap from pork or remove pork from bag. Wrap roast in banana leaves or parchment paper. Secure with 100% cotton kitchen string. Wrap heavy foil tightly around wrapped roast.*
In a smoker, arrange preheated coals, drained wood chunks, and water pan according to manufacturer's directions. Pour water into pan. Place wrapped roast on the grill rack over water pan. Cover; smoke at 225 to 275 degrees F for 4 hours or until very tender, adding additional coals and water as needed to maintain temperature and moisture. (I set my smoker to 225 degrees F for 6 hours)
Let wrapped meat stand for 30 minutes. Unwrap meat shred or chop meat, reserving juices, skim fat from the reserved cooking juices. Serve meat with tortillas, guacamole, salsa, red onions, cilantro, lime wedges, and the reserved cooking juices.
*Oven directions: Preheat oven to 350 degrees F. Fill the bottom of a roasting pan with water. Place the foil-wrapped roast on a rack in the roasting pan positioned above the water. Cover roasting pan tightly with heavy foil. Roast for 4 hours or until very tender (an instant-read thermometer inserted in the center of meat should register at least 170 degrees F). Continue as directed in in the last step, beginning with let meat rest for 30 minutes.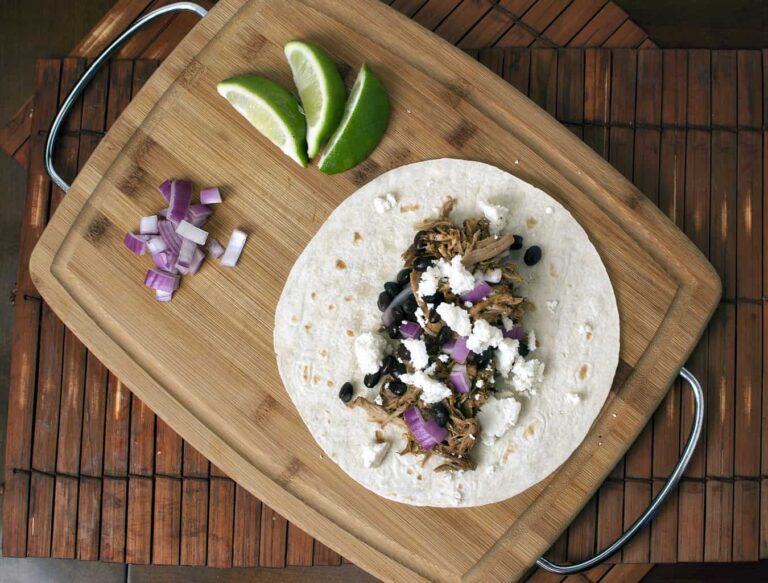 What are your plans for Cinco de Mayo? Making any good food or drinks? Please tell me that you'll try Conchinita Pibil next year!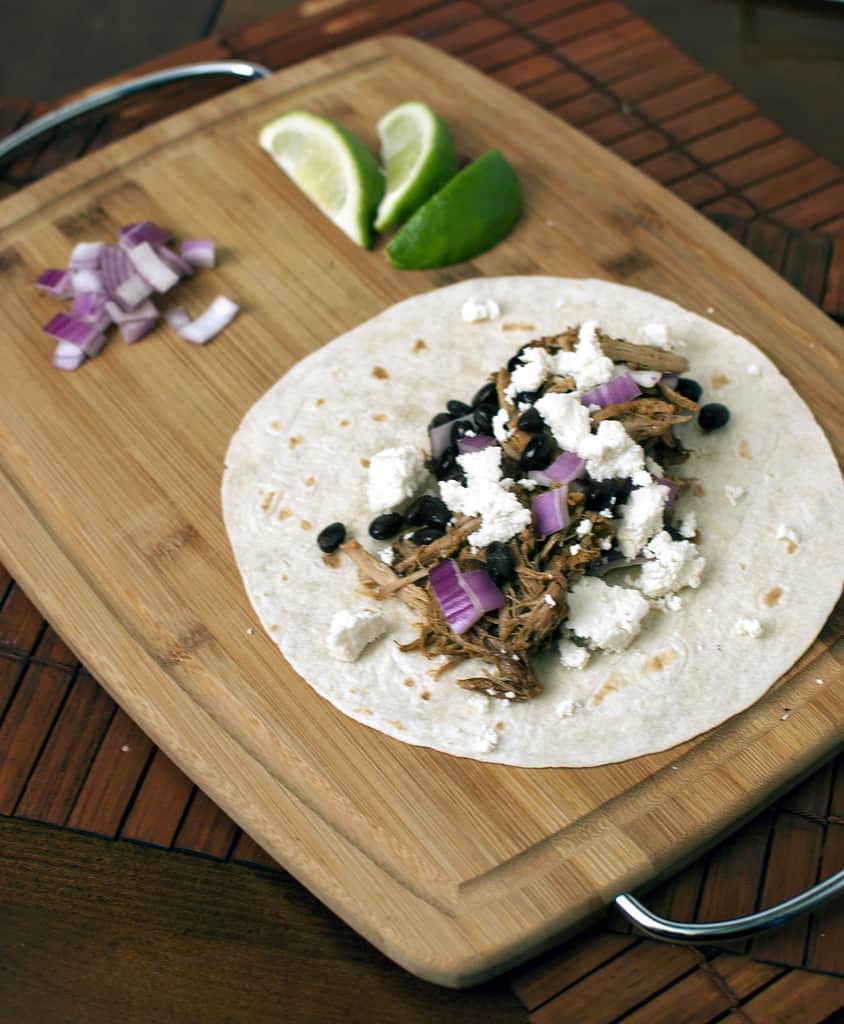 PS. My spell check is exploding… lol.