Chocolate peanut butter birthday cake - because everyone deserves that much goodness on their birthday.
It's my party - I do what I want.

OK, not really. But it is my birthday, and I thought we could celebrate with something a little special. In my opinion, there's not much better than a chocolate peanut butter combo, so chocolate peanut butter birthday cake is the obvious choice.

I'm not sure when my blogiversary would be, as I've owned Pass the Sushi for a few years but didn't actively start 'blogging' until last year. So, we're going to party down on my actual birthday. It's Wednesday, hump day, right smack in the middle and I'm working - so why not throw a virtual b-day bash?!

I turn a quarter of a century old today. It feels as though that should be some sort of milestone but really after you can vote and drink I'm not really sure any birthday matters until you can collect social security. Then I'll know I'm living. But at 25, I feel like I should reflect a little and look ahead.

So what have I accomplished in 25 years?
Ever since I was a little girl, I assumed I would go to college. Graduate top of my class and rock the world. I was a straight A student and it never occurred to me that not going to college was even an option. I know there is plenty of time ahead of me to rock the cap and gown, but I am rather disappointed in myself for not being there already.

However, I work a job that I love. I'm the manager of a comic book store. I got to grow up and work with the people that created stories for me in my childhood, and it's a pretty awesome job with a great group of customers. I know that everyone probably has their ideas of what 'comic nerds' are like, but I'm here to tell you you're wrong. They are some of the most genuine people you could ever want to meet. Sure, there's a bad weed every here and there, but that's with everything.

I have lost families and made new ones. I have learned that blood isn't always binding, but the people who are unconditionally loving are the ones who matter most. Family is patient and strong, even in the most trying of times. I have had sisters and brothers come and go. I've scattered my mother's ashes along the mountains of Shenandoah and held tight to the few happy memories we had.

My father and I have an inseparable bond that I wouldn't trade for the world.
I've fallen in and out of love and am still learning what all of that really means. I've seen the magic of a couple flirt after 74 years together. I'm happy where things are and feel no need to rush anything.

I have two of the best icing stealing, frosting licking kittens in the world. My parents had better spoil them, because that's the closest thing they are getting to grandchildren.

Best of all, things are just getting started.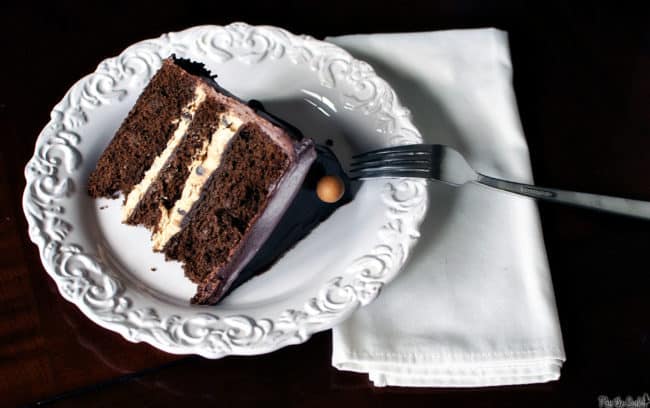 And as for the future, I want to become more girly. I want to be able to paint my nails someday. Wear a skirt like I know how.

I know I will continue to grow in business, whether it be comics or something else, because I will never let my creative side smother.

I will have a small house surrounded by woods. It may not be in the mountains, but I will at least be able to pretend it is.

There will be a dog in my future life, and I already know what I'm naming it. (Don't worry, Marble, I still love you.)
I hope I never stop singing at the top of my lungs.

I'll always believe in Santa.

Also, since this is the closest thing to a blogiversary as we're going to get around here, I would like to say thank you to everyone for reading. I love the comments and growing community that Pass the Sushi is becoming. You keep coming back for seconds, and I'll keep the oven on. 🙂

And I think its time to celebrate.
So light a candle, make a wish, and enjoy a slice of chocolate peanut butter birthday cake.
Update: I have been diving deep into creating all sorts of over the top cakes these days. If Peanut Butter and Chocolate aren't really your thing (don't tell me, them's fighting words) check out these creations!

Drunken Fig Layer Cake with Salted Honey Butter Frosting
Irish Dream Cheesecake
Hummingbird Cake Recipe
If you've tried my Chocolate Peanut Butter Birthday Cake recipe or any other recipe on passthesushi.com please don't forget to rate the recipe and let me know where you found it in the comments below, I love hearing from you! You can also follow along for more good eats and travel tips on Instagram @passthesushi & @girlcarnivore, Twitter & Facebook.
Yield: 1 Cake
Chocolate Peanut Butter Birthday Cake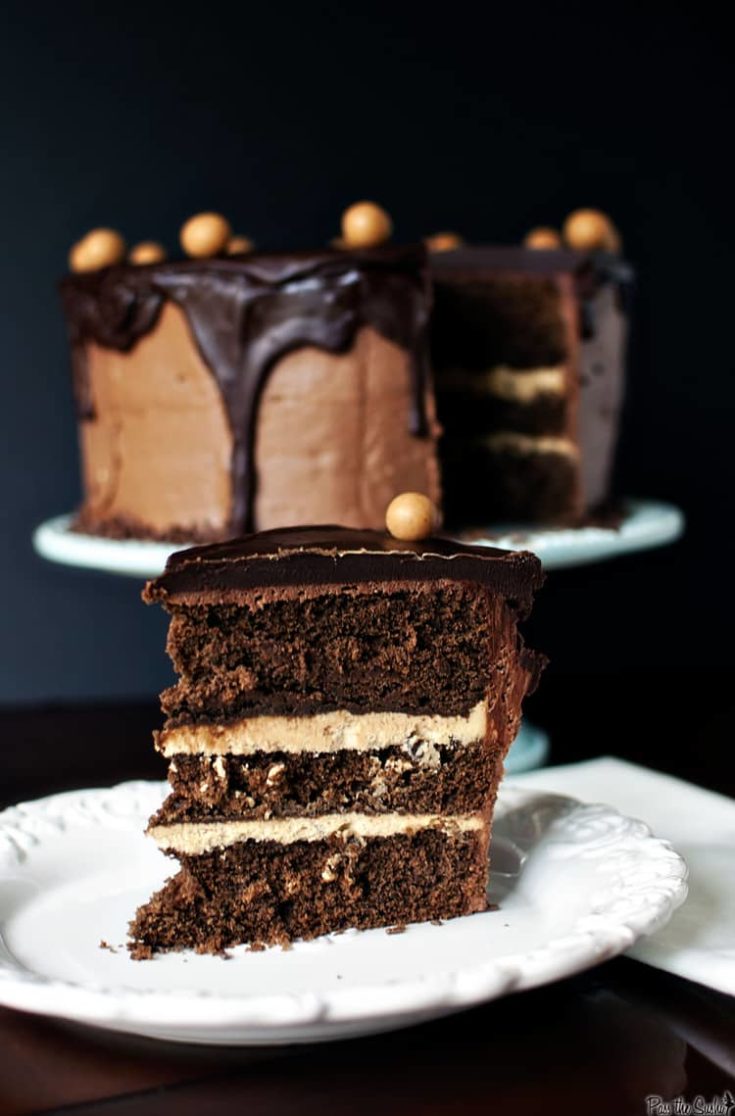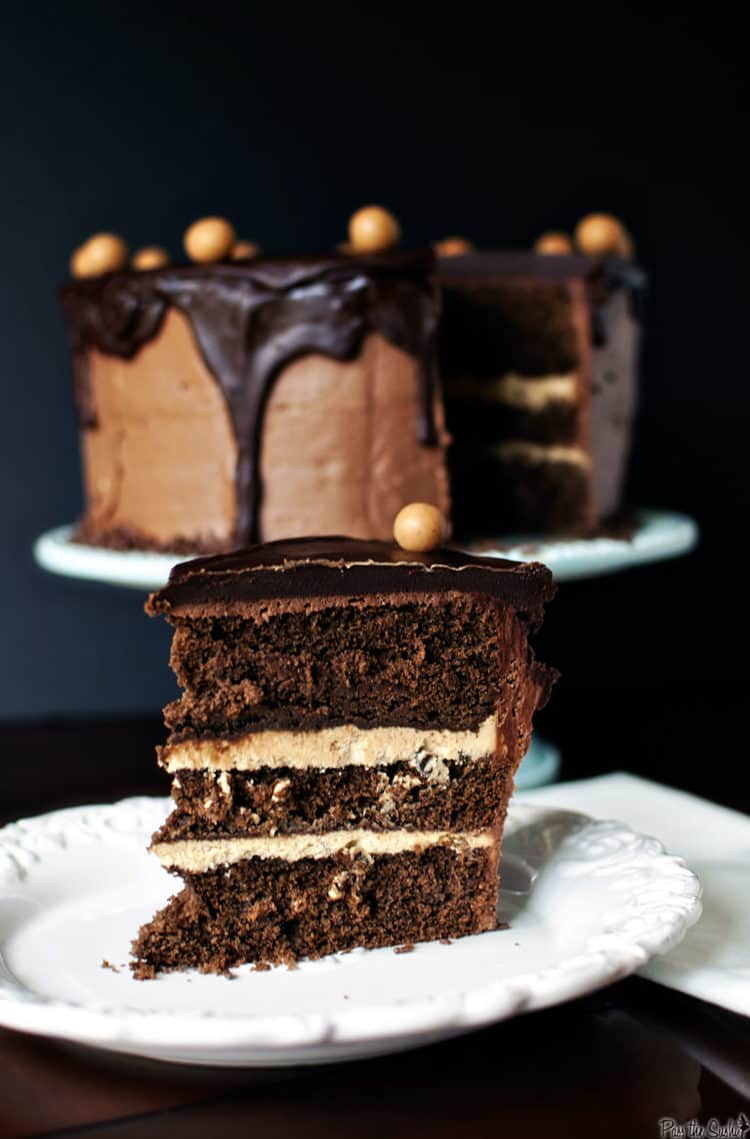 Chocolate peanut butter layer cake. Chocolate cake layered with creamy peanut butter filling and topped with rich chocolate frosting.
Total Time
1 hour
20 minutes
Ingredients
CHOCOLATE CAKE
¾ cup dark unsweetened cocoa powder
⅔ cup sour cream
2 ⅔ cups all-purpose flour
2 teaspoon baking powder
1 teaspoon baking soda
½ teaspoon salt
1 ½ sticks butter, softened and cut into cubes
½ cup vegetable shortening
1 ½ cups granulated sugar
1 cup firmly packed dark brown sugar
3 large eggs, at room temperature
1 tablespoon pure vanilla extract
PEANUT BUTTER FILLING
1 ½ sticks butter, softened
½ cup peanut butter
1 ounce cream cheese
½ teaspoon salt
¾ cup confectioners' sugar
½ cup mini chocolate chips
CHOCOLATE FROSTING
3 cups confectioner's sugar
¾ cup unsweetened cocoa powder
3 sticks unsalted butter, softened
3 ounces cream cheese
⅛ teaspoon salt
1 tablespoon pure vanilla extract
CHOCOLATE GLAZE
8 ounces good quality dark chocolate, coarsely chopped
¾ cup unsalted butter, softened and cut into ½ inch pieces
1 tbs light corn syrup
Instructions
Chocolate Cake Preparation:
Preheat the oven to 325 degrees F.
Butter three 8-inch round cake pans, line them with parchment paper, and butter the parchment. Dust the parchment with flour and knock out the excess flour.
In a medium bowl, mix the cocoa powder and sour cream with 1 ¼ cups hot water and set aside to cool.
In a large bowl, sift the flour, baking soda, baking powder, and salt together and set aside.
Using a standing mixer fitted with the paddle attachment, beat the butter and shortening together on a medium speed until light and fluffy, about minutes — the mixture will appear to string or ribbon throughout the bowl.
Add the sugars and beat on medium speed until light and fluffy, about 5 minutes more.
Add the eggs, one at a time, mixing about 10 to 15 seconds after each addition until the egg is incorporated into the mixture.
Then turn the mixer to low, add the vanilla, and beat until incorporated. Scrape down the sides of the bowl and mix again for 30 seconds.
Beginning with the dry ingredients, add the dry mixture and the cocoa mixture to the mixer bowl in three alternating parts, ending with dry.
Divide the batter among the prepared pans. Use an offset spatula to level the batter.
Bake the cakes from 35 to 40 minutes, rotating halfway through the baking time, until a toothpick inserted in the center comes out clean.
Transfer the pans to a wire rack and cool for 30 to 45 minutes. Turn the cakes out onto the rack and let them cool completely. Remove from parchment.
Meanwhile Prepare the Filling:
Using an electric mixer, beat the butter, peanut butter, cream cheese and salt at medium speed until smooth.
Mix in the confectioners' sugar at low speed until fluffy.
Mix in the chocolate chips.
Prepare The Frosting:
In a large bowl, whisk together the confectioners' sugar and cocoa powder.
Using an electric mixer, cream the butter, cream cheese and salt at high speed until fluffy.
Mix in the cocoa-sugar mixture 1 cup at a time at low speed.
Beat in the vanilla at high speed until fluffy.
Prepare the Glaze:
Place the chocolate, butter, and corn syrup in the top of a double boiler
Using a rubber spatula, stir the mixture until the chocolate and butter are completely melted and smooth.
Remove the pan from the heat and stir the glaze to release excess heat.
To Assemble the Cake:
If needed, trim the cakes using a serrated knife.
Place one cake layer on a cake plate.
Spread half of the peanut butter filling over the cake layer. Place the second layer and repeat process.
Top with the final cake layer.
Frost the top and and sides with chocolate frosting. Refrigerate 15 minutes to set.
Top with glaze and peanut butter whoppers. Refrigerate to set 15 minutes before serving.
Serve at room temperature.
Notes
CHOCOLATE CAKE & GLAZE
From Baked Explorations
PEANUT BUTTER FILLING & FROSTING
From Rachael Ray Magazine
Nutrition Information:
Yield:
16
Serving Size:
1
Amount Per Serving:
Calories:

978
Total Fat:

66g
Saturated Fat:

37g
Trans Fat:

1g
Unsaturated Fat:

24g
Cholesterol:

166mg
Sodium:

528mg
Carbohydrates:

93g
Fiber:

4g
Sugar:

67g
Protein:

9g
Nutrition information provided is an estimate from nutritionix.com. For specific health concerns, please put the recipe into your Dr recommended nutrition calculator.
Cakes really aren't my thing. Well, let's be fair, I've only featured a few cakes on here. Cupcakes are easier, cuter, and quicker to disappear with little evidence left behind. So, you'll have to forgive my lack of smooth frosting skills and decorating.
What I can tell you is this chocolate peanut butter cake is to die for.