How many of you tuned in for the Oscars? Did you throw big parties or just sit back with classy treats and enjoy Hollywood's tribute to the movies this year? I'm not one to watch awards shows. I don't watch enough TV or many new movies so they are rather lost on me. But I can't help but get caught up in the roar of twitter, internet and old fashioned gossip about outfits, who's with who, and general celebrity what nots.
Whether or not you like her, I'm an Angelina Jolie fan. I don't care who picked who as far as the Brad thing goes, I'm not a fan of the football team of children, but I have always dug her assertive craziness. She hasn't always chosen the best movies, but as I said earlier, I don't watch a whole lot of new movies.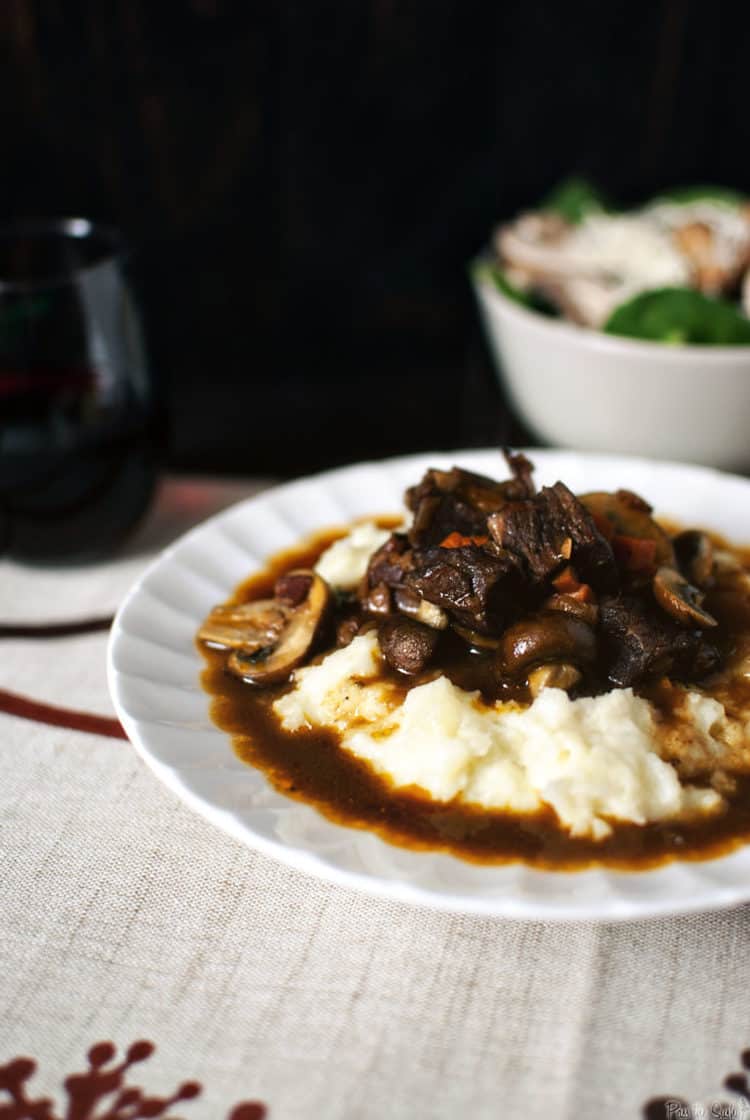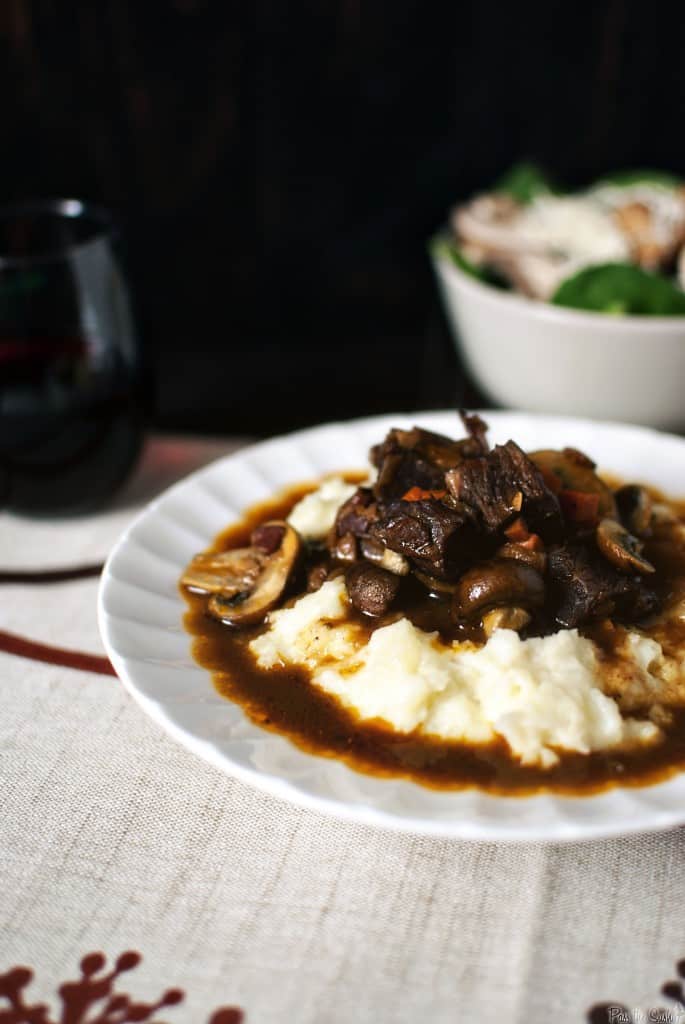 But even I saw the multiple clips of her jetting her leg out of that velvet dress and thought 'what the box.' Her poses were ridiculous and unnatural. The guys who went on after her totally made me giggle at their mocking of her, though I'm sure it was all in good fun. I can see why the twitter handle for her leg quickly had over 15k followers (now over 34k). There's even a Pinterst board for it.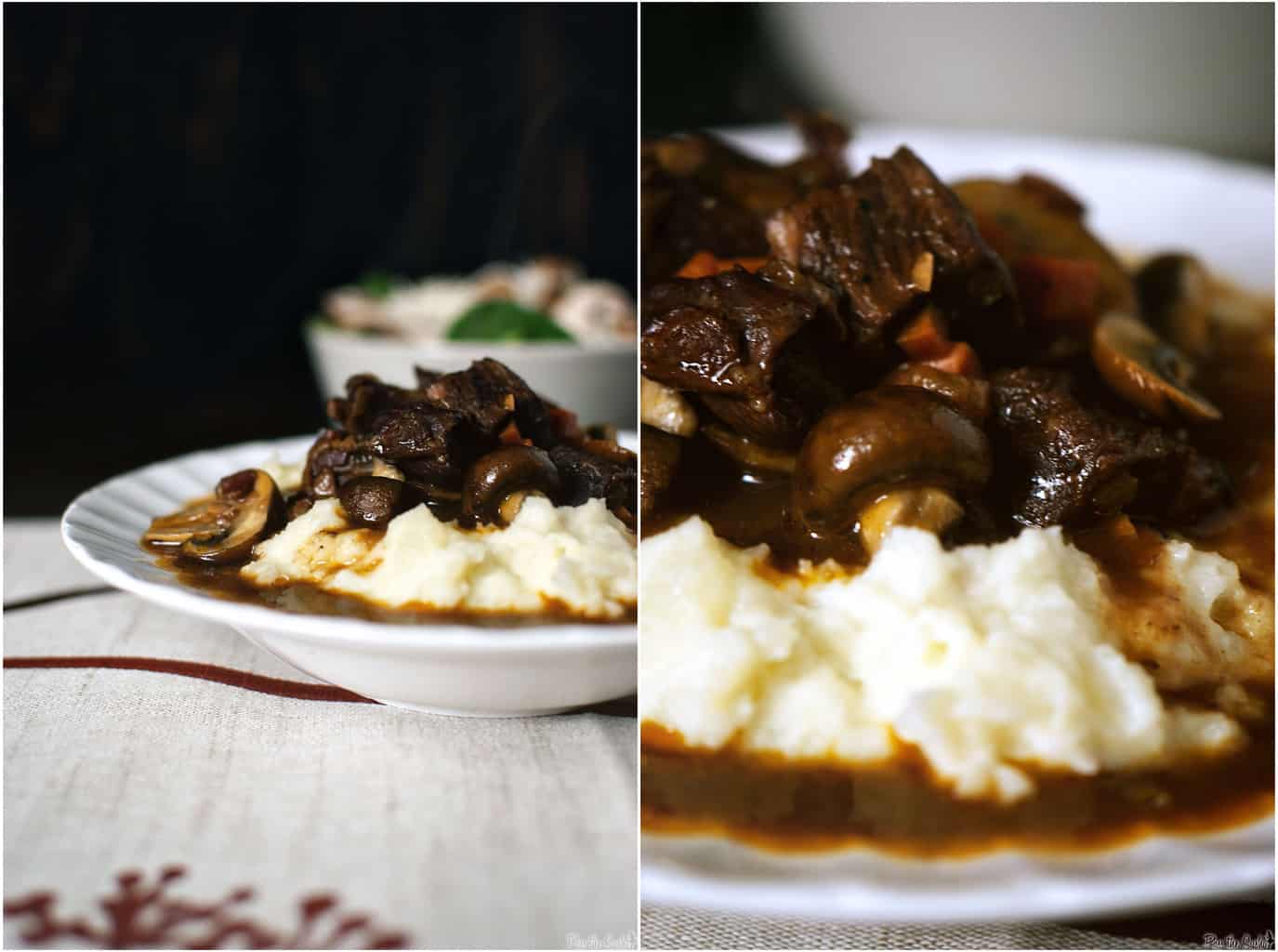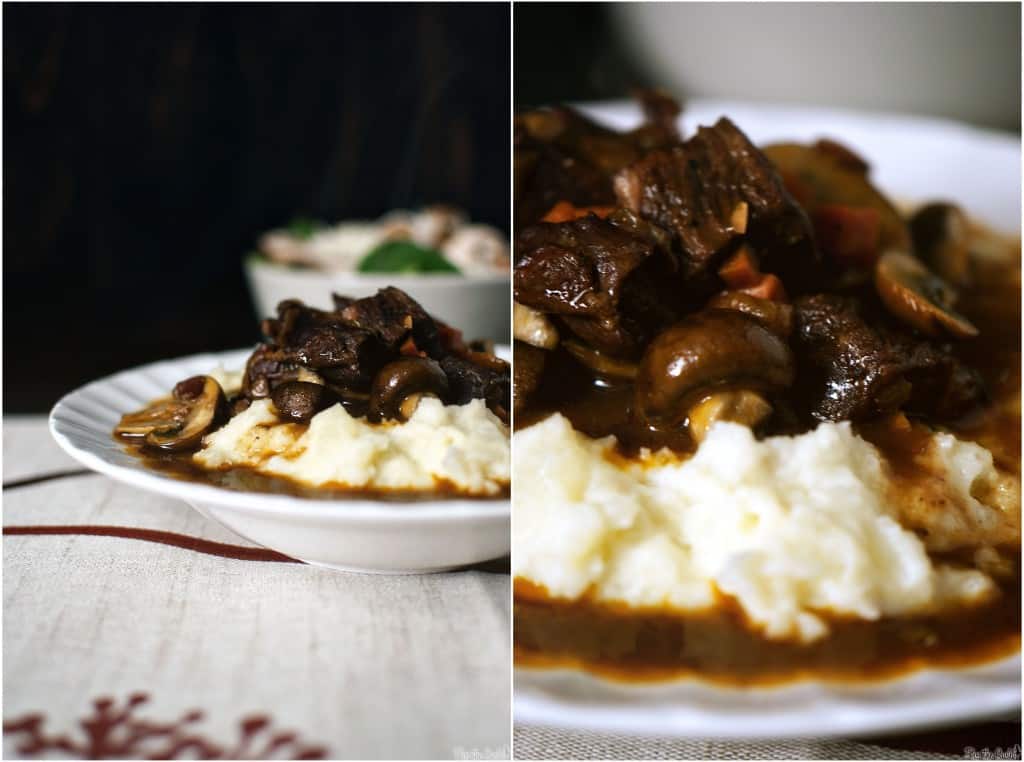 Burgundy Beef
Ingredients:
1 5 lb boneless beef chuck roast, trimmed and cut into 1 1/2 inch chunks
Salt and Pepper
1 tbs vegetable oil
4 oz bacon (about 4 slices), minced
3 onions, minced
1 carrot, peeled and minced
1/4 cup tomato paste
6 garlic cloves, minced
1 tbs minced fresh thyme
1/3 cup flour
2 1/2 cups Pinot Noir
1 1/2 cups low-sodium chicken broth, plus additional as needed
1/2 cup soy sauce
2 bay leaves
2 cups frozen pearl onions*
1/2 cup water
3 tbs unsalted butter
2 tbs sugar
1 lb cremini mushrooms, trimmed and halved if small or qurtered if large
Preparation:
Dry beef with paper towels and season with salt and pepper. Place half of beef in slow cooker. Heat oil in 12-inch skillet over medium-high heat until just smoking. Brown remaining beef well on all sides, 7-10 minutes; transfer to slow cooker.
Cook bacon in skillet over medium-high heat until crisp, about 5 minutes.  Stir in onions, carrot, tomato paste, garlic, and thyme and cook until onions are softened and lightly browned, 8 – 10 minutes. Stir in flour and cook for 1 minute. Slowly whisk in 1 1/4 cups wine, scraping up any browned bits and smoothing out any lumps; transfer to slow cooker.
Stir broth, soy sauce, and bay leaves into slow cooker. Cover and cook until beef is tender, 9 to 11 hours on low or 5 to 7 hours on high.
About 20 minutes before serving, bring frozen pearl onions, water, butter, and sugar to boil in 12-inch skillet. Reduce to simmer, cover, and cook until onions are fully thawed and tender, 5 – 8 minutes. Uncover, bring to a boil, and cook until all liquid evaporates, 3 – 4 minutes. Stir in mushrooms and cook until vegetables are browned and glazed, 8 – 12 minutes; transfer to slow cooker.
Add remaining 1 1/4 cups wine to skillet and simmer until it has reduced by half 6 – 8 minutes; transfer to slow cooker. Let stew settle for 5 minutes, then remove fat from surface using a large spoon. Discard bay leaves. (Adjust stew consistency with additional hot broth as needed.) Season with salt and pepper to taste and serve over mashed potatoes or egg noodles.
*totally forgot those little suckers.