I often wonder how I portray myself on this old blog of mind. People tell me they like my writing style and I sit and try to figure out what that means. Simply, I just try to be myself. No, there are some stories you are never going to get. Mainly because without a martini or two, they simply aren't as interesting. Get me tipsy and I'll tell you anything. I am not a mom blogger, diet, health, family friendly, or any sort of specialized blogger that would work to get me in a nitch with people. Sometimes I wonder if I should pick a corner of this great big blogging world and try to narrow my cooking focus.  I doubt ghetto fat kid meals will take off for the better, though, I'm sure with a title like that its guaranteed some hits. Don't doubt that I will add sliced American singles to just about anything to kick it up a notch.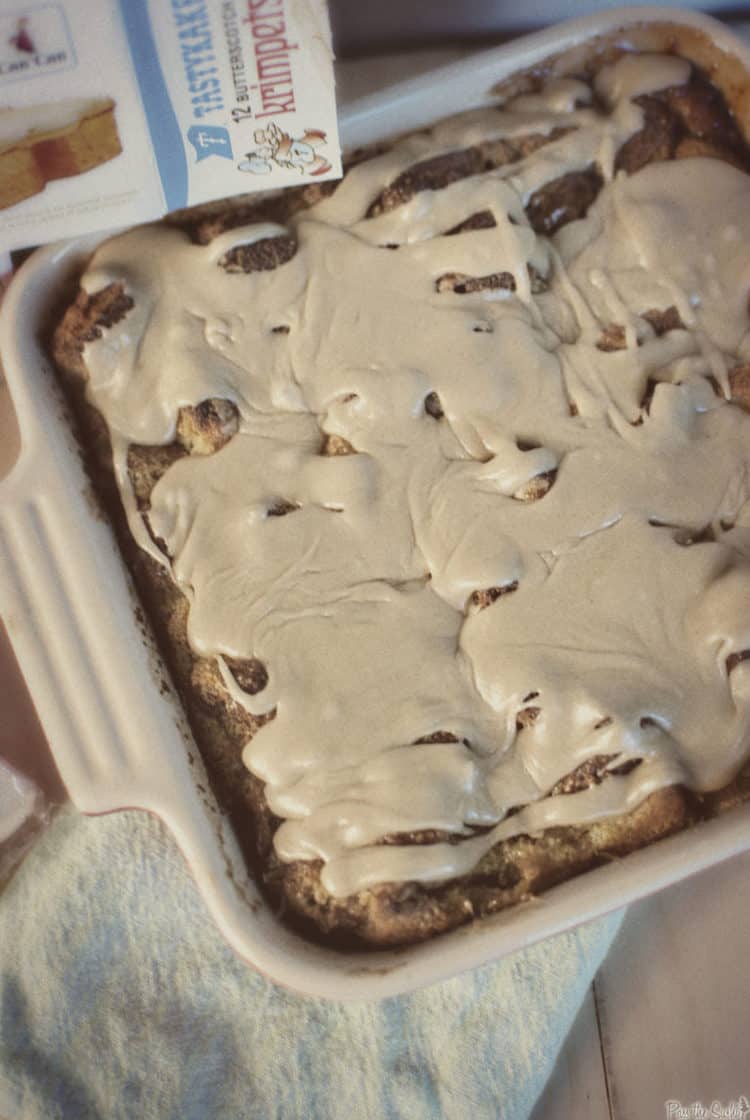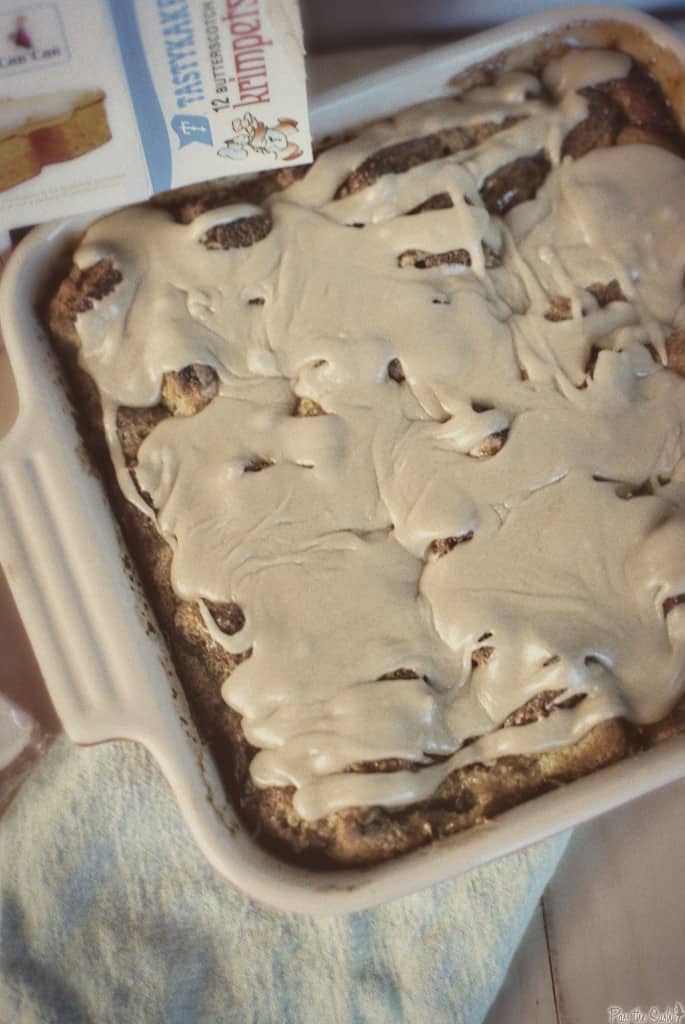 If you were to meet me in public and it wasn't on my native stomping ground (like in my comic shop), I would probably be quiet and reserved. But on the second date, expect to start to get to know the real me. The inappropriate, sassy, hard luck broke girl that I am. Or you could spare yourself the second date and just watch Kat Dennings' character on Two Broke Girls and you will have pretty much got me down. Though I don't have her awesome pouty lips, I crack just as many tacky unprofessional jokes every chance I get.
So what's this have to do with the bread pudding? In an episode of Broke Girls, the main character was in a cupcake baking class where they had to make things pretty. Pretty just wasn't her thing and she politely told the instructor what to do with her pretty frosting letters. Sure enough, this bread pudding proves it isn't always my thing either. But if you want a dose of diabetes on the quick, this bread pudding is damn delicious.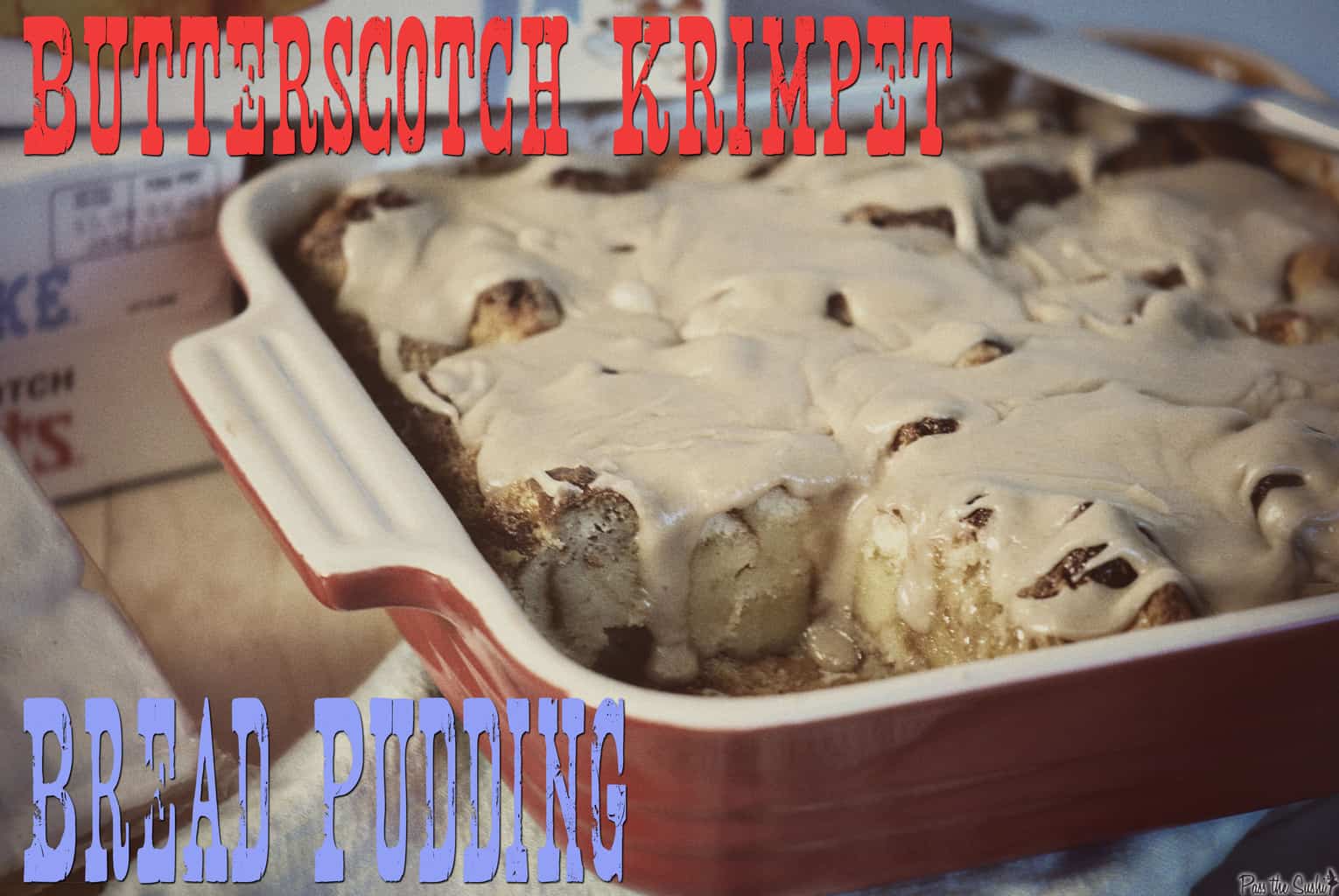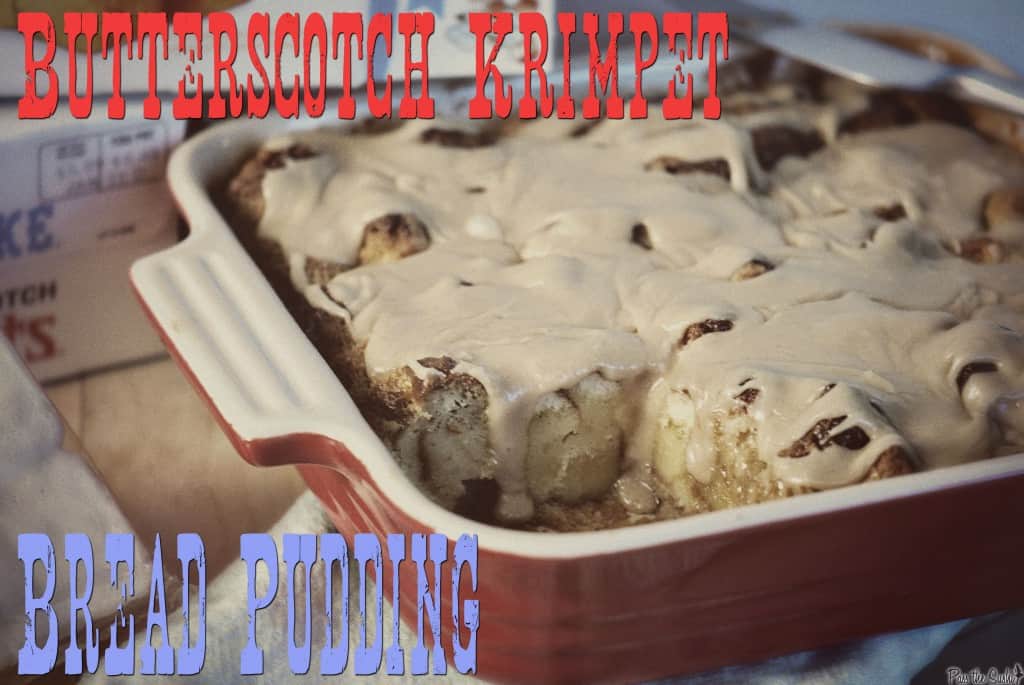 Butterscotch Krimpet Bread Pudding
from Food Network Magazine Dec 2011
Ingredients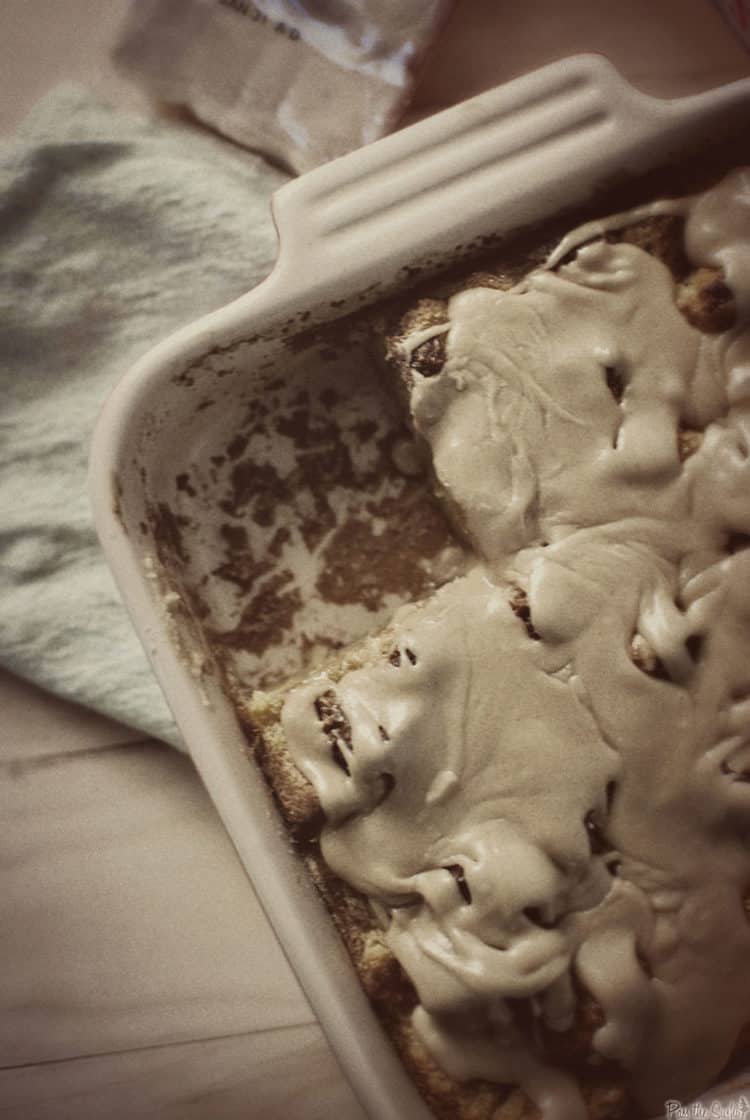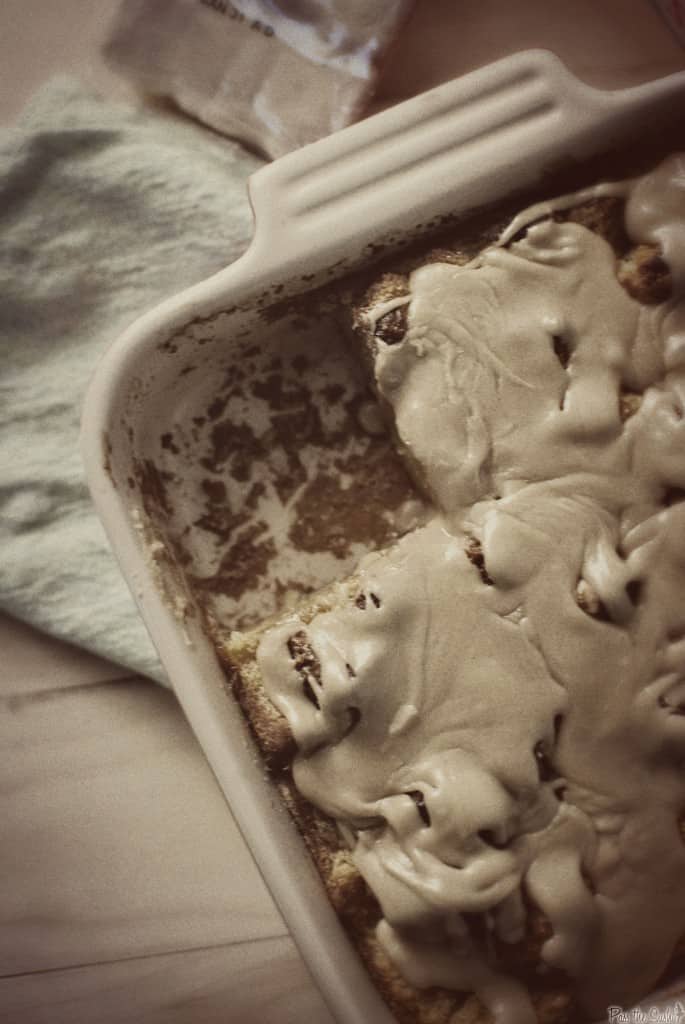 For the bread pudding:
24 Tastykake Butterscotch Krimpets (12 packs)
8 slices white bread, cut into 1/2-inch cubes
10 extra-large eggs, plus 5 egg yolks
1 cup granulated sugar
1 quart heavy cream
1/2 teaspoon vanilla extract
For the icing:
1 1/2 cups packed light brown sugar
1 stick unsalted butter
1/4 cup scotch (optional)
1/2 cup heavy cream
2 teaspoons vanilla extract
2 cups confectioners' sugar
Preparation:
Make the bread pudding: Preheat the oven to 325 degrees F. Scrape the icing off the Krimpets; reserve the icing. Cut each Krimpet into eighths and toss with the bread cubes in a large bowl.
Whisk the eggs, egg yolks and granulated sugar in a bowl. Bring the heavy cream to a gentle simmer in a saucepan over medium heat. Slowly whisk the warm cream into the egg mixture until combined, whisking constantly. Add the vanilla and reserved Krimpet icing and whisk until smooth.
Pour the egg mixture over the bread mixture and gently stir to coat. Transfer to a 9-by-13-inch baking dish; bake until a toothpick inserted into the middle comes out clean, 50 minutes to 1 hour. Transfer to a rack and let cool to room temperature.
Meanwhile, make the icing: Bring the brown sugar, butter and scotch to a simmer in a small saucepan over medium heat; cook, stirring, 3 minutes. Add the heavy cream and vanilla and cook, stirring, until the sugar dissolves, about 2 more minutes. Remove from the heat and let cool completely.
Transfer the icing mixture to a large bowl. Add the confectioners' sugar and beat with a mixer until smooth, about 1 minute. Spread on the bread pudding.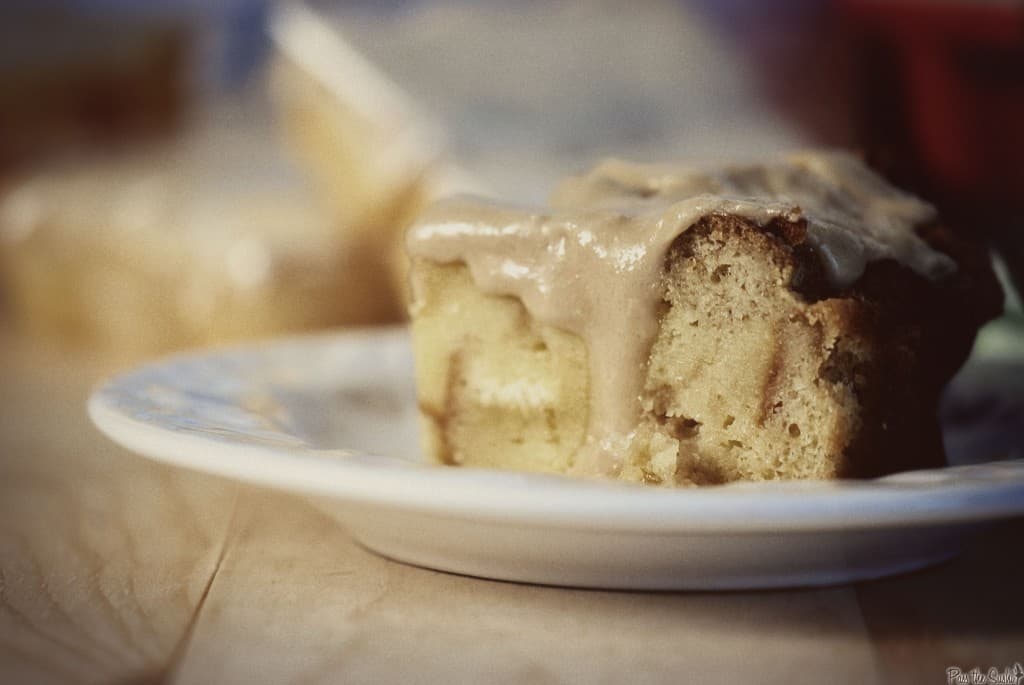 I guess I kind of forgot to explain what a butterscotch krimpet is huh? Tastykake is a local snack company that makes things I grew up finding in my lunch box, from peanut butter covered kandy kakes to these little butterscotch krimpets. Think Ho-ho's and Devil Dogs, just local and awesome.