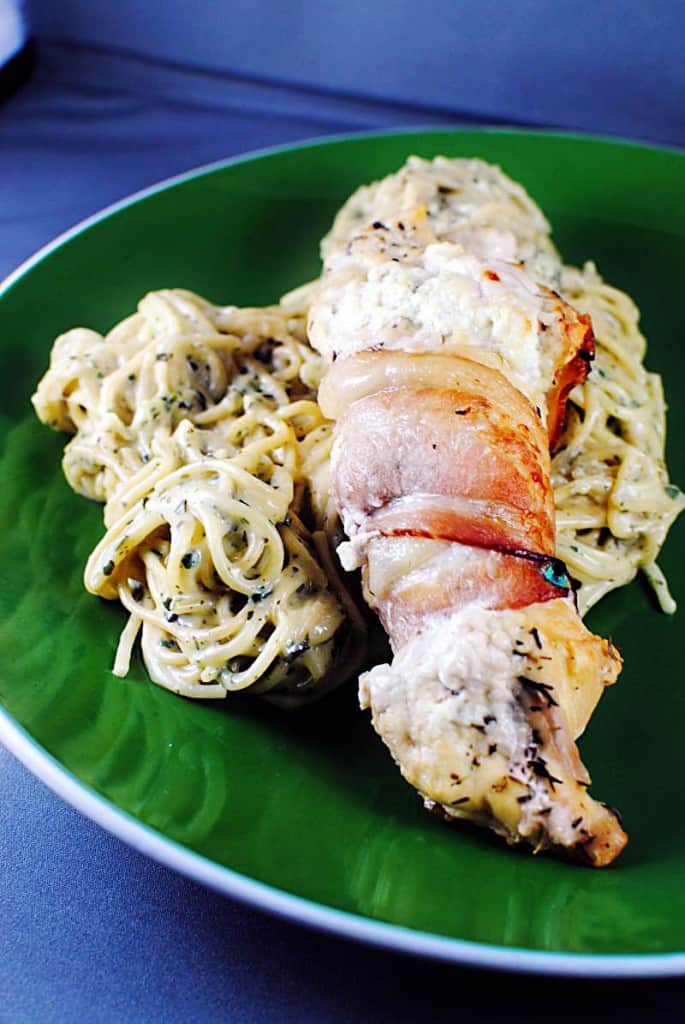 With all the tasty baked goods on Pass the Sushi it's hard to give the day to day dinners any of the limelight but I feel really strongly on solid family dinners and almost every night I try to have something on the table.
I grew up with family dinner – every night. It was nothing fancy (most nights just Shake and Bake) but it was a meat, starch and vegetable – the basics for any solid meal. I'm grateful for those dinners and not nights eating in front of the television. Now a days, not every meal I put on the table is complicated (heck, we know I'm not the next Food Network Star) or photo worthy, but they are good and I can't imagine not having them.
Stuffed Chicken with Goat Cheese

a la me

3 chicken breasts
1/4 cup goat cheese
1/2 teas basil
1/2 teas thyme
1/4 black pepper
3 slices bacon
toothpicks
Olive Oil

Preparation:

Slice goat cheese into thin strips.

On a flat surface pound out your chicken to 1/4 to 1/2 inch thick. Lay gaot cheese in the center of each piece of chicken and sprinkle basil, thyme and black pepper evenly over each. Using toothpicks to secure, fold the chicken up and wrap in bacon.

Preheat oven to 375F.

Heat oil in a skillet. Place chicken in skillet and cover for 5 minutes. Rotate and brown on all sides.

Transfer skillet to oven (or use a new baking dish) and bake for 15 minutes.

Serve with basil linguini and a salad.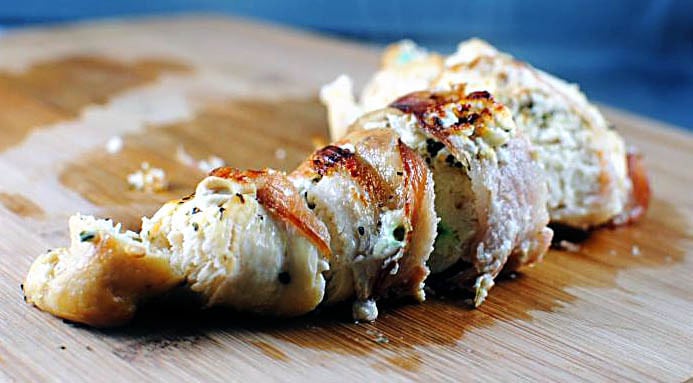 Not only is a good dinner healthy and rewarding but its great unwind time with the people you share your space with – or if you're solo, just unwind time. No TV, phones or other media – just simple, quiet time to decompress. Some of my favorite nights are the ones we spend just sitting at the table laughing at the pets. I wouldn't trade those moments for the world.
Update:
This post made the FoodBuzz Top 9!