Weeknight dinners are rough. Especially in December when the whole world seems to be spinning a wee bit faster. I get home and it's dark, I've worked all day and I am dog tired. And heck, I don't even have kids I have to worry about! But I take no excuses in the Pass the Sushi kitchen and believe there is always time for a real supper no matter how crazy things get. (Except for tonight, when I'm probably just picking up a pizza. Don't judge.) For those of you who want some real meal inspiration on the quick and easy for the month of December, check out the Quick Dinner Fixin's Category for quick dinners that take under 30 minutes to get on the table. With a little prep and some planning you can make sure those extra holiday pounds aren't from cheap take out.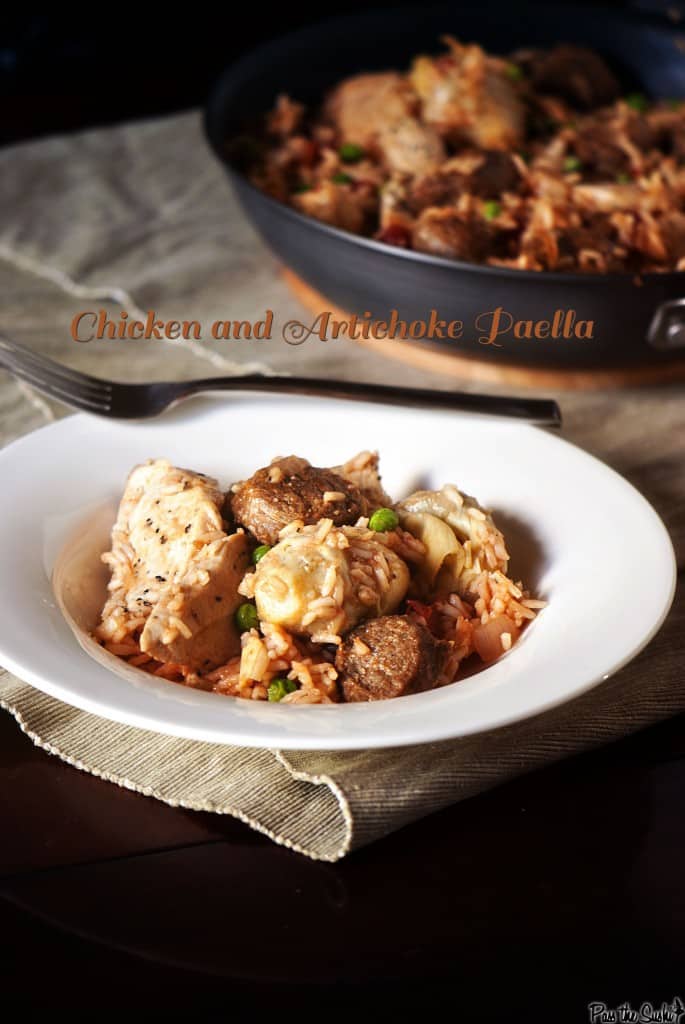 Quick Dinner Fixins' Chicken and Artichoke Paella
from 30 Minute Suppers Winter 2011
Ingredients:
1 cup long grain white rice
2 cups water, divided
salt and pepper
2 tbs vegetable oil, divided
8 oz chorizo, cut on the bias into ½" pieces
2 boneless, skinless chicken breasts, cut into ¼" thick slices
1 onion, chopped
3 garlic cloves, minced
¼ teas saffron threads, crumbled
1 14.5 oz can diced tomatoes
1 9 oz box frozen artichoke
½ cup frozen peas
Preparation:
In a microwave safe bowl, combine the rice with 1 ½ cups water and a sprinkle of salt. Cover with plastic wrap and microwave about 10-12 minutes, until the water is absorbed.
Heat 1 tbs vegetable oil in a large skillet over medium-high heat. Add the chorizo and cook until browned. With a slotted spoon, transfer to a plate. Cover with aluminum foil and set aside.
Season the chicken with salt and pepper and place in the skillet. Cook until lightly browned, about 2 minutes a side. Add the chicken to the plate with the chorizo. Cover and set aside again.
Add the remaining 1 tbs vegetable oil and onion to the empty skillet. Cook 5 minutes. Stir in the garlic and saffron and cook for 30 seconds. Add the tomatoes, cooked rice, and remaining ½ cup water. Bring to a boil, scraping the sides and bottom as needed. Reduce the heat to medium and cook until the rice becomes tender and the remaining liquid has been absorbed, about 10 minutes longer.
Add the chicken, chorizo and any juices on the plate back to the skillet. Add the artichokes and frozen peas. Cook until heated through. Season with salt and pepper to taste and serve.